Why I Do Not Celebrate Halloween
The first "Why" post that I wrote was nearly a year ago. It was about Not Thanking My Socks.
Now I would like to tell you why I do not celebrate Halloween. This was not a planned post. It is 5:20 p.m. on October 31st. So I may update this post later as I think of other things.
Dressing Up
First of all, let me tell you some positive things. Like, I think it is okay for my kids to put on Dress Up Clothes. My daughter especially likes to dress up all year long. She likes to pretend she is a princess. She has several princess costumes. Recently we visited Valley Forge on a field trip, and in the gift store she found a colonial dress-up dress in a beautiful shade of blue. She wanted it so much she bought it with her own money. She wore it a couple of weeks ago to a Barktoberfest that was having a costume contest. We enjoyed taking our dog to socialize with other dogs. It was fun to see dogs in costume, also. Isn't she cute?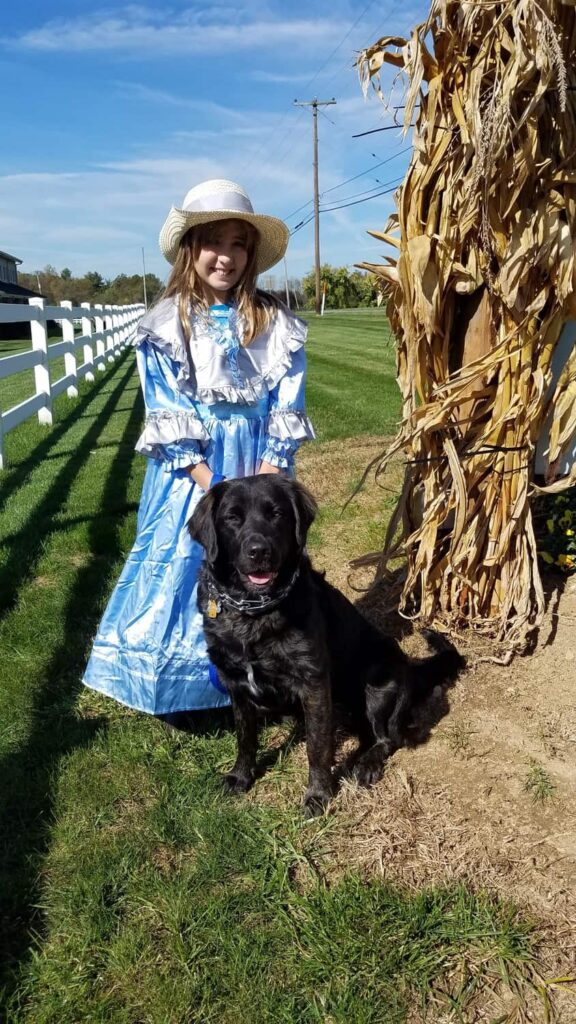 Candy
Secondly, I have nothing against candy! (Well, unless a person eats too much of it….) In fact, I love to go shopping the day after Halloween and buy candy (mostly chocolate) at half price. I rarely pay full price for the chocolate that I use in my baking. (Here's my Easy Fudge Recipe.)
So if I'm not against dressing up, and I'm not against candy, then why don't I celebrate Halloween?
I will tell you.
Darkness
I do not celebrate Halloween because it is a holiday devoted to gory and creepy things. Not only does it involve a lot of horror, darkness, and death themes, but the death is bloody and horrifying. It is done to terrify not only children, but adults also.
But it is all fun and games, you might say. Well, no, it isn't. There is real evil in the world, and it laughs at people who think Halloween is all fun and games.
Personally, I do not enjoy being scared. I know there are people who enjoy horror movies– I am not one of those people. (I don't even like roller coasters because they are too scary for me!!)
And so I don't want to associate with a holiday which has a purpose of being dedicated to darkness and evil, even if there are "fun" aspects to it.
I've talked with people about this when they ask about my children going Trick or Treat. They say that years ago, Halloween was not as bloody and gory as it is now. It used to be cute costumes. But decorations can be pretty awful these days. I am really glad when the season is over and neighbors take down their yard decorations (If you're reading this and happen to be my neighbor– don't worry– I'm not holding anything against you personally!)
No, my kids don't miss going Trick or Treat. They've never done it, so they don't miss something they've never done. They get so much candy all year long, that they don't need a special holiday just for Candy!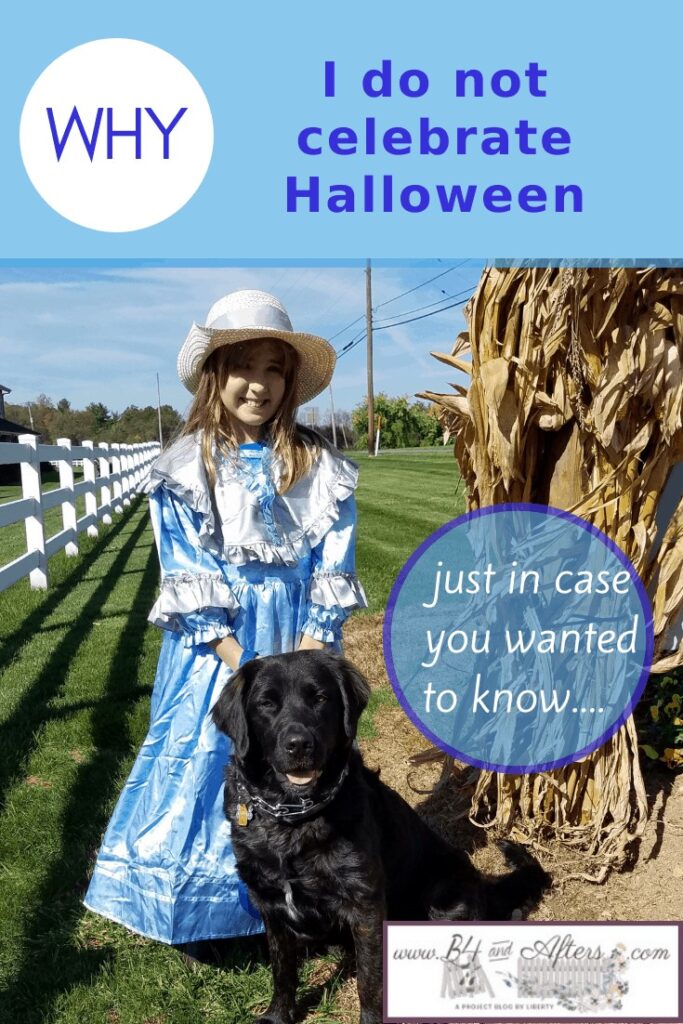 Light
Jesus said that He is the Light of the World. He is the exact opposite of the darkness that Halloween celebrates. Because He has redeemed me from a future of eternal darkness, why in the world would I want to celebrate a dark holiday? I want to stay as close to the Light as I can!
So when my door is closed and my porch light is off on October 31st every year, please don't think I am unfriendly. Just come visit me any other day of the year, and I would be glad to let you in and offer you something to drink and to eat. It is likely that I may even offer you candy! : )