Disguising Electric Boxes
*This post was featured at Thursday Favorite Things (Marilyn's Treats) and Wall to Wall DIY Wednesday.
Our electric boxes are near our sidewalk in the the corner of our front yard. I had seen various ideas online of how to disguise or hide outdoor eyesores like air conditioners. I decided to try my own version by using materials that I already had on hand. Here are our electric boxes looking out to the street:
Electric Boxes Before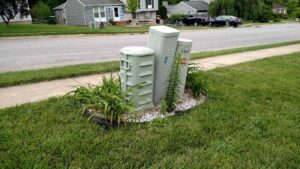 (*This post may contain affiliate links. By purchasing anything from these links, I may receive a small commission at no cost to you. More information is available on my Disclosure page.)
And here they are looking towards the yard.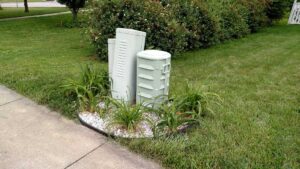 Here are the boxes when I first put down white marble rock chips, and planted flowers. The flowers grew, as you can see in the pictures above. But they didn't grow tall enough to hide the electric boxes.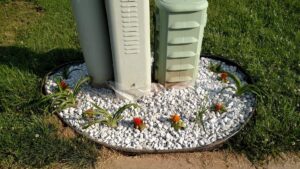 I decided to paint some of my leftover pickets from our old fence. I attached them to some plastic edging that I already had. I used a staple gun to staple the edging together in a circle. Then I attached the pickets using, well– outdoor caulk. At least I think that's what I used. Liquid Nails would probably have been a better choice, but I don't think I had any of that….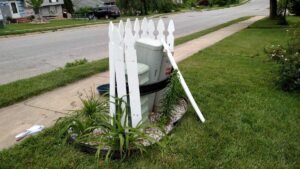 I invented the circle thing because I figured if the cable or electric people needed to get to the boxes, they could just lift the whole contraption up and over the top. (Later on, they did come without notifying us and completely removed the middle box when I wasn't home– they didn't know how easy it would have been to remove my disguise– so they tore some pickets off instead. Grrr.)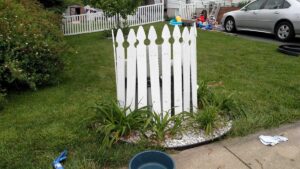 But before that happened, I enjoyed my pretty fence with flowers and a sign or two.
Electrical Boxes AFTER!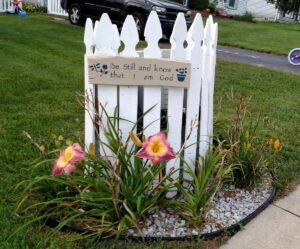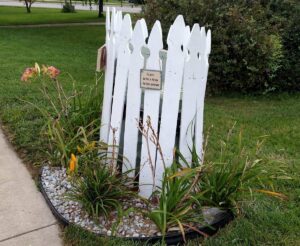 *This post was featured at Thursday's Favorite Things and Wall to Wall Wednesday.