Captivating Campground Cupcake Cake
This post contains links to affiliate websites, such as Amazon, and we receive an affiliate commission for any purchases made by you using these links. We appreciate your support!
You've probably noticed that I have been getting ready to show you this grand finale of a Campground Cupcake Cake. Maybe you are wondering how I happened to be making a cupcake cake with a camping theme? Well…..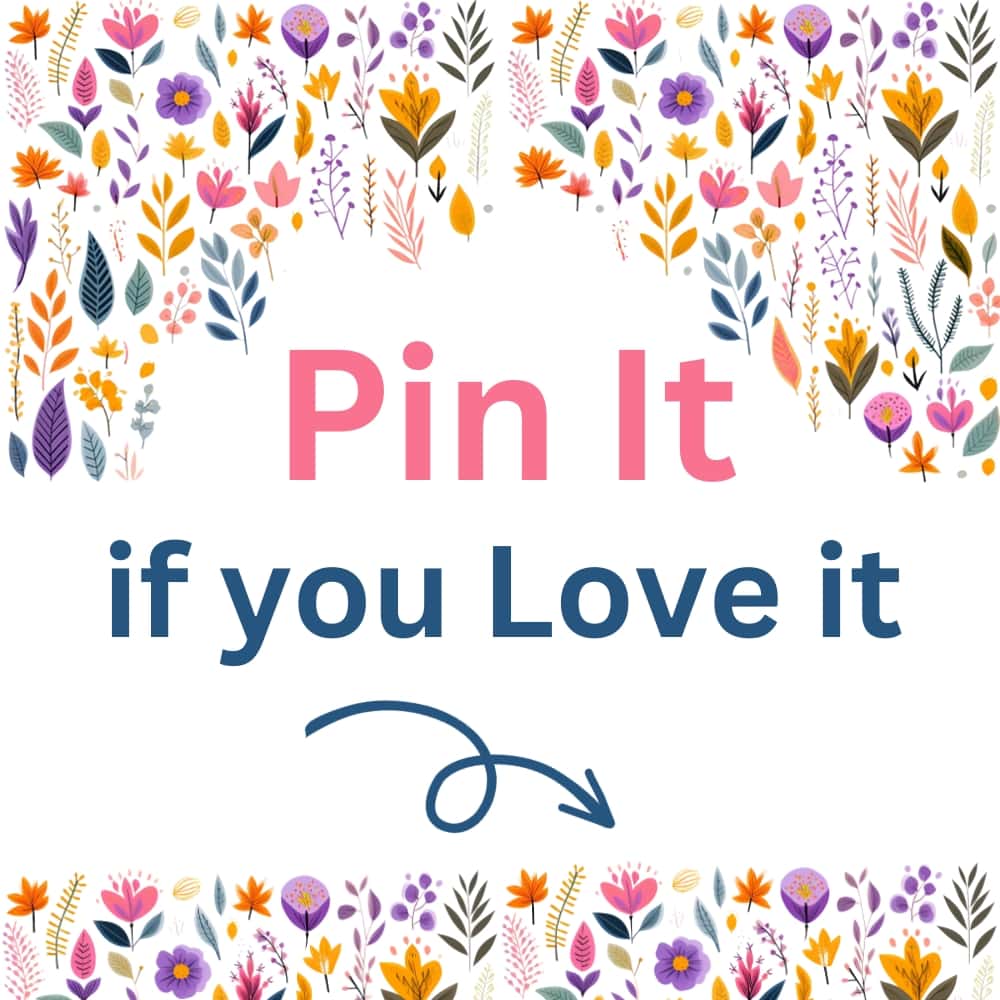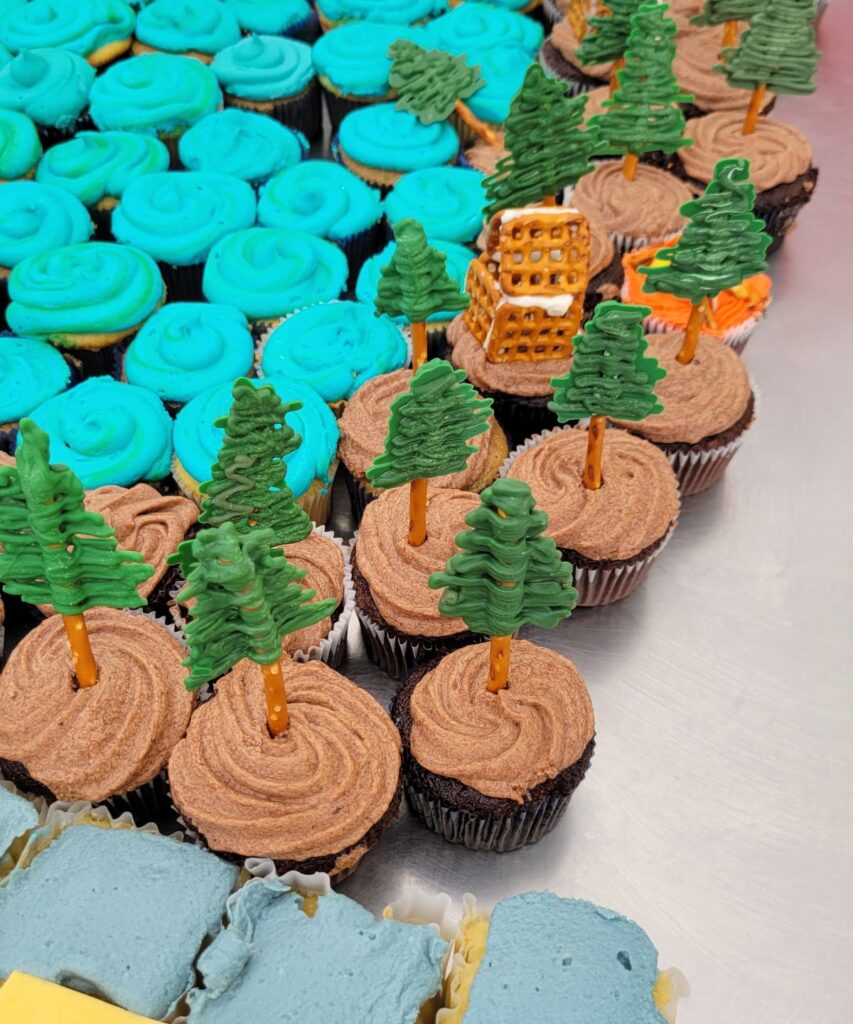 My daughter's birthday this year fell when she was at camp. So I offered to bring cupcakes for all the campers so that I could see her on her birthday… and that ended up being 170 cupcakes!! Whew!
I began planning for it weeks ahead of time. I bought the supplies, and I drew out a rough draft of a plan.
I modeled it after the triangle shaped lake at the campground. I had never been to the camp, but Google maps helped. And then I asked questions of people who had been there before me.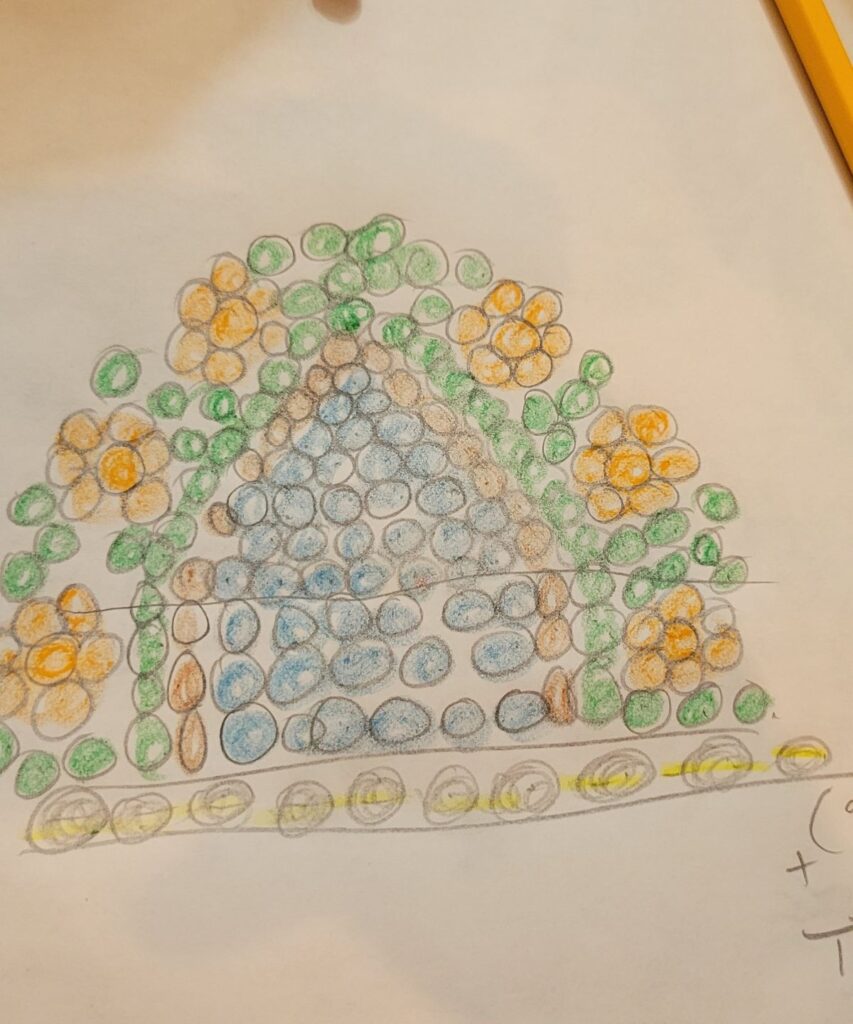 I made chocolate, vanilla, and gluten-free cupcakes, using 7 cake mixes. Most of them were round, but I made a few square ones for the road.
Get 5 Free Scrumptious Dessert Recipes!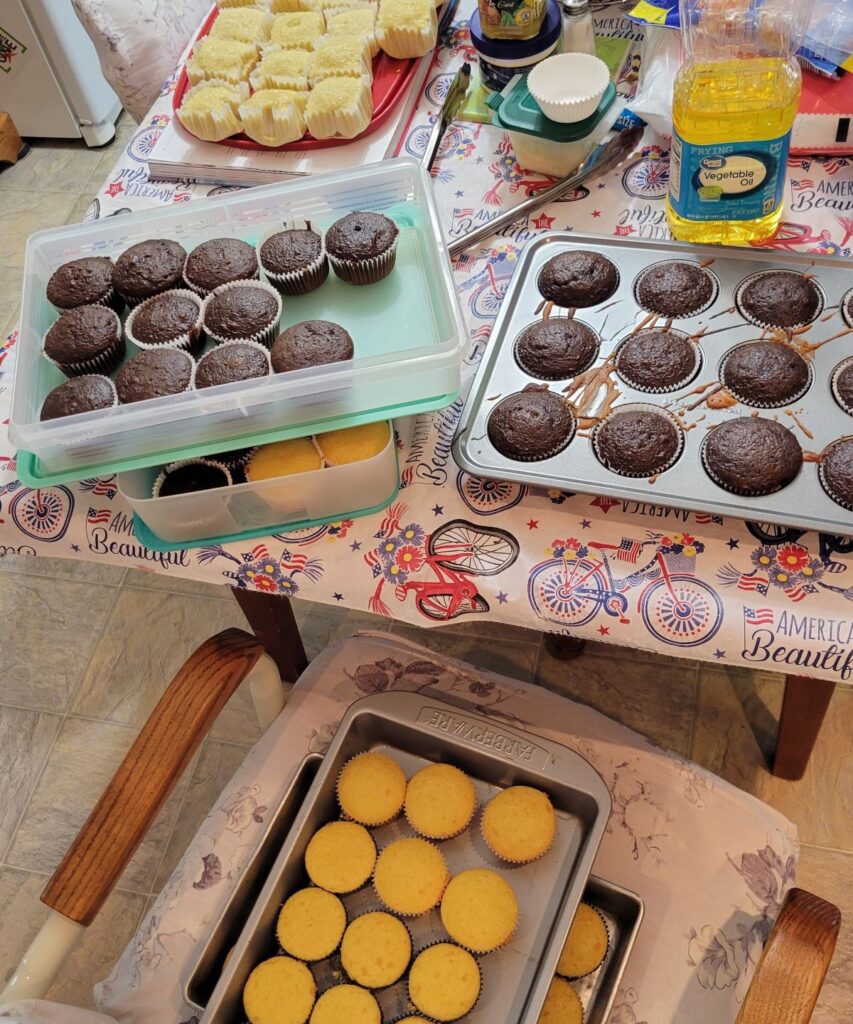 I staged them in my living room the day before. I was going to be transporting all of these cupcakes 3 hours, and setting them up in 80-90 degree heat! That was a dilemma! I asked some friends if they had any ideas, and one of them offered to lend me a gigantic cooler and some extra containers. So I refrigerated them all overnight (yes, I managed to fit them all into my fridge!) and they were cold when they went into the cooler for the trip.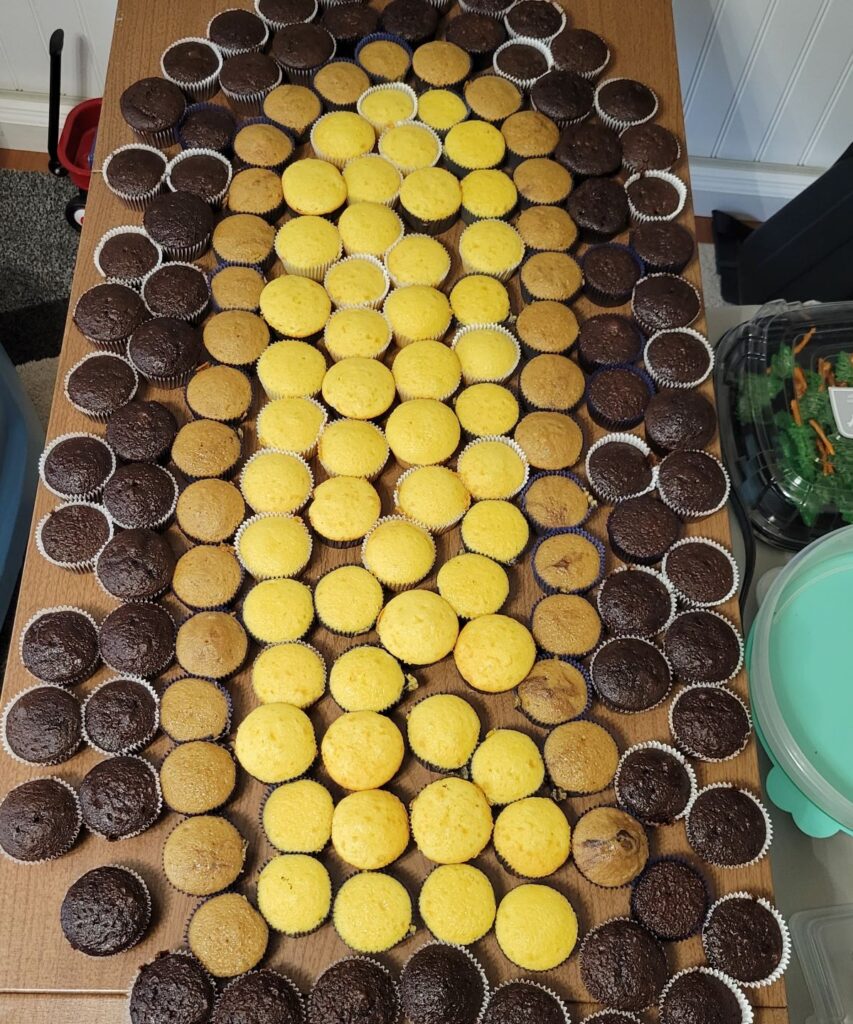 There is a road beside the lake. For the road, I used blue with a little black to make the gray frosting.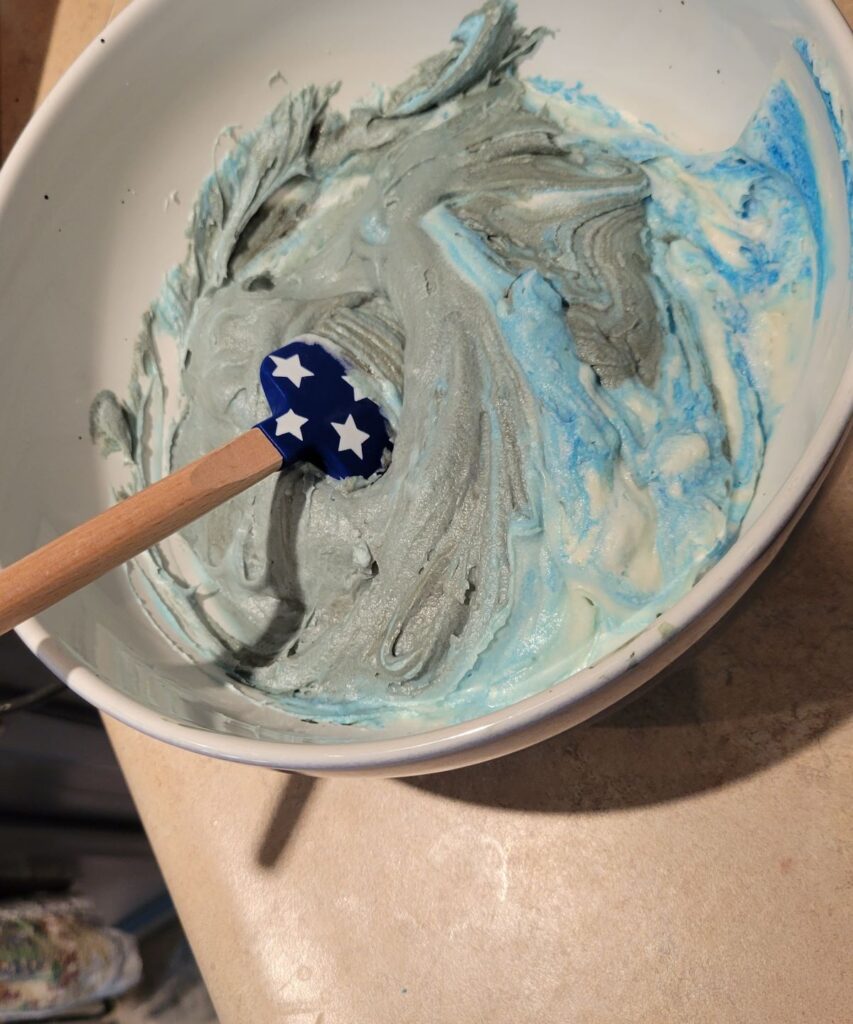 I used a really wide tip to frost the road. If I had been able to assemble it on site, I would have completely covered the cupcakes like a road. I added pieces of yellow gum for road stripes! [I didn't know it, but it was a gravel road…. oh well!]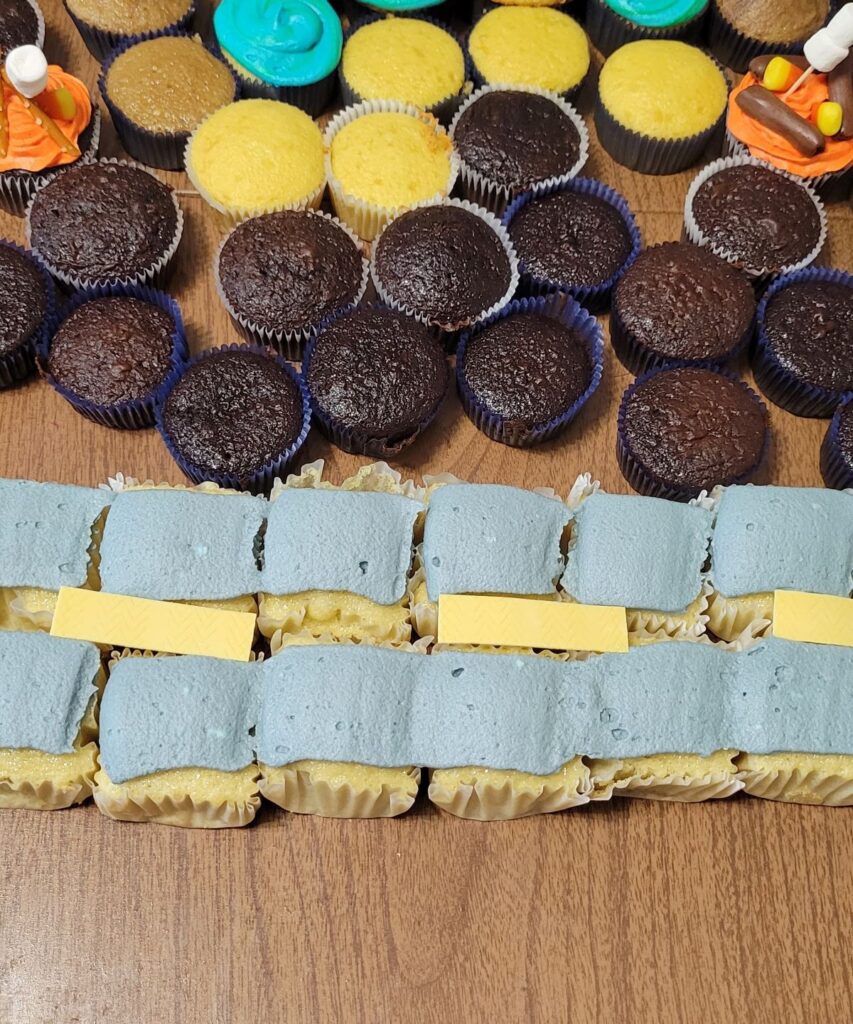 I made and colored all the frosting. To make the lake water look greenish, I dribbled green food coloring down the inside of the icing bag before filling it with blue frosting.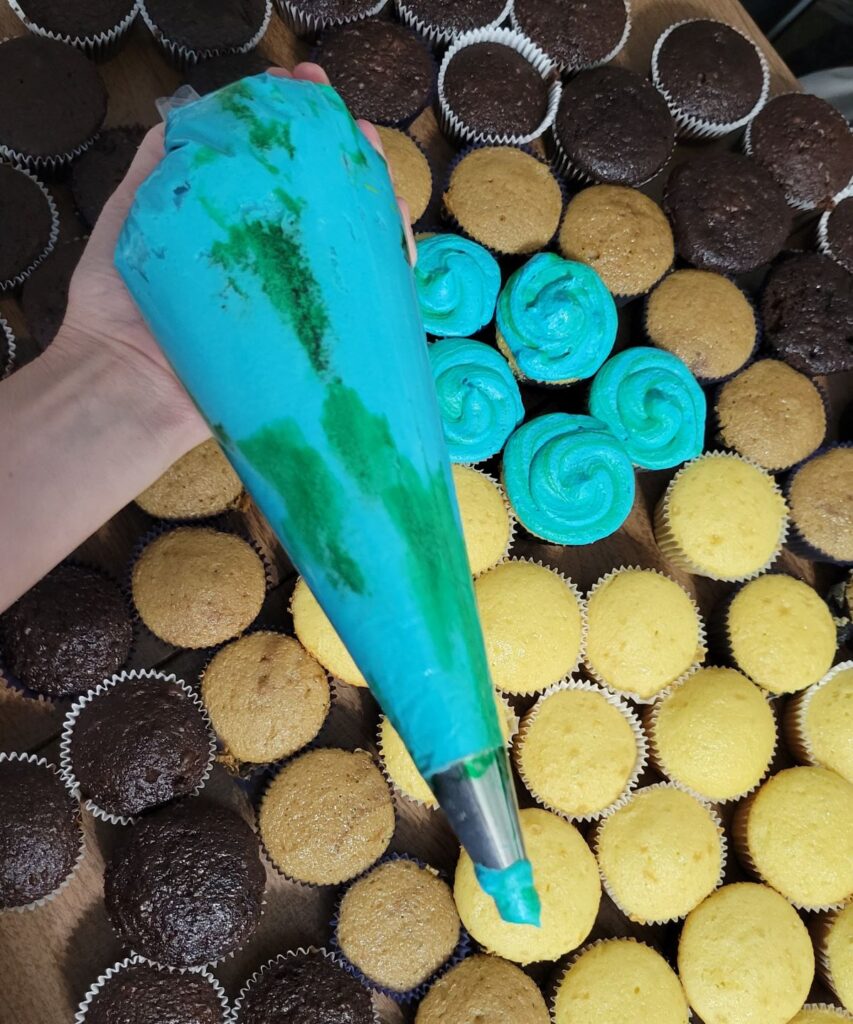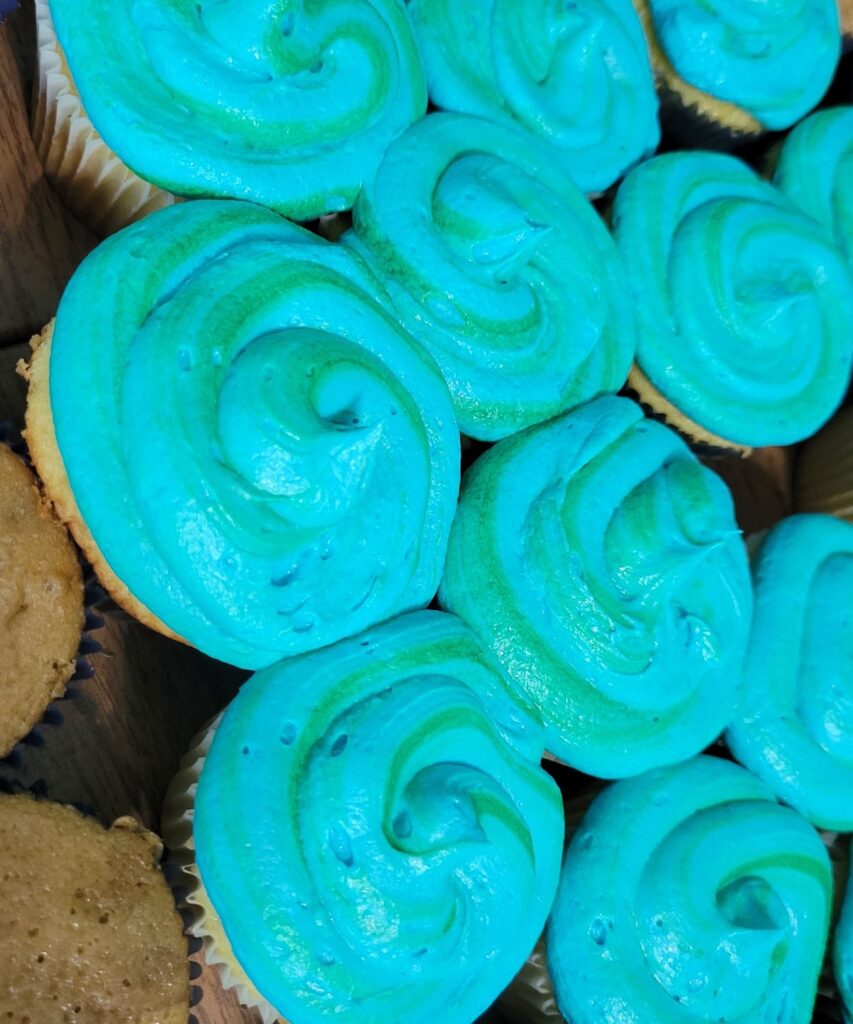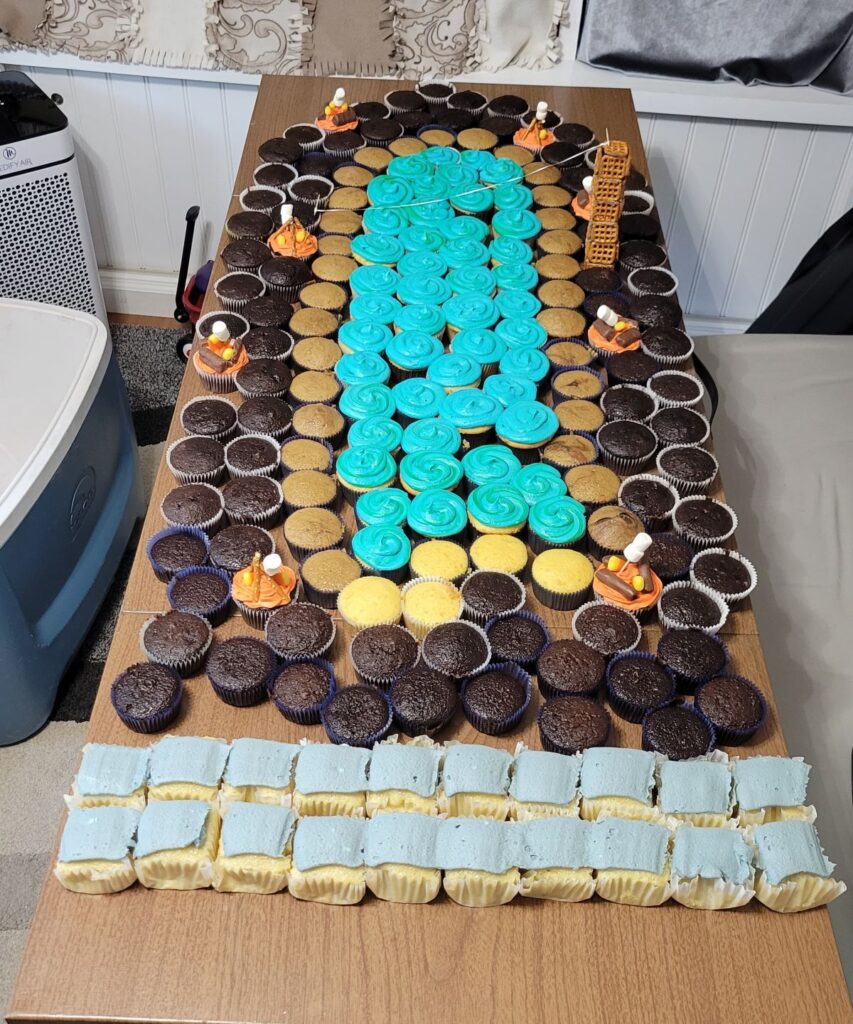 I made chocolate frosting for the chocolate cupcakes, for the base of the forest. This was as much as I could assemble ahead of time.
The cupcake choices were: a gluten free road, vanilla blue lake, or chocolate forest!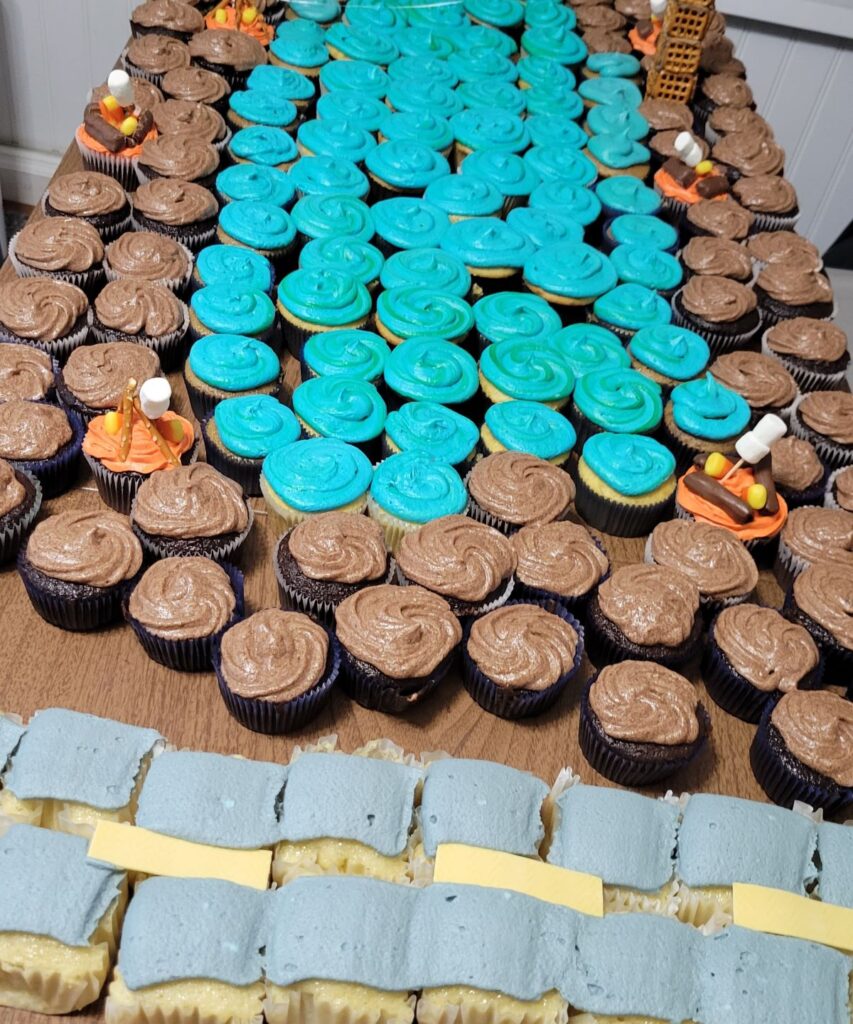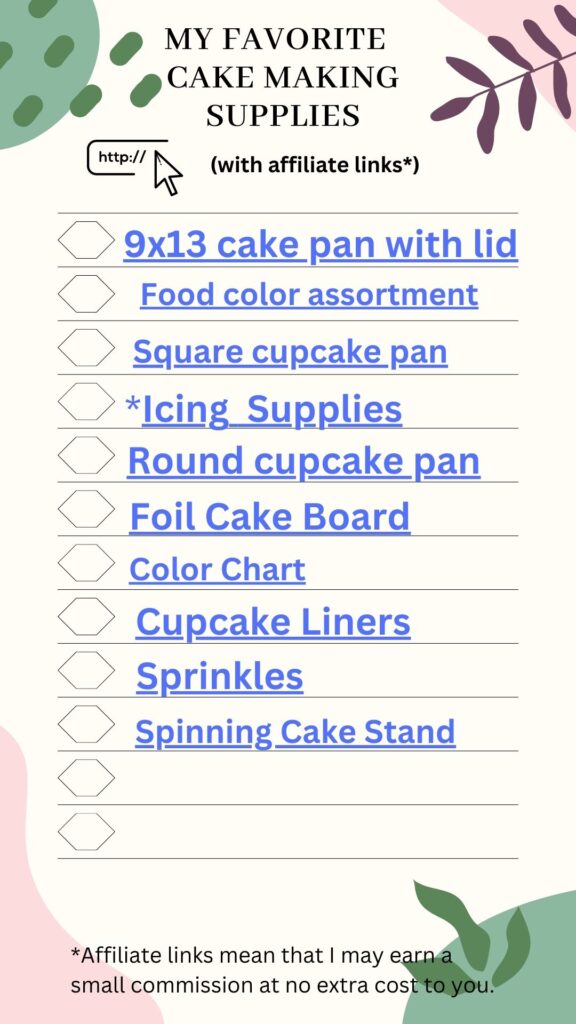 I had made over 70 pretzel trees, and pretzel cabins ahead of time.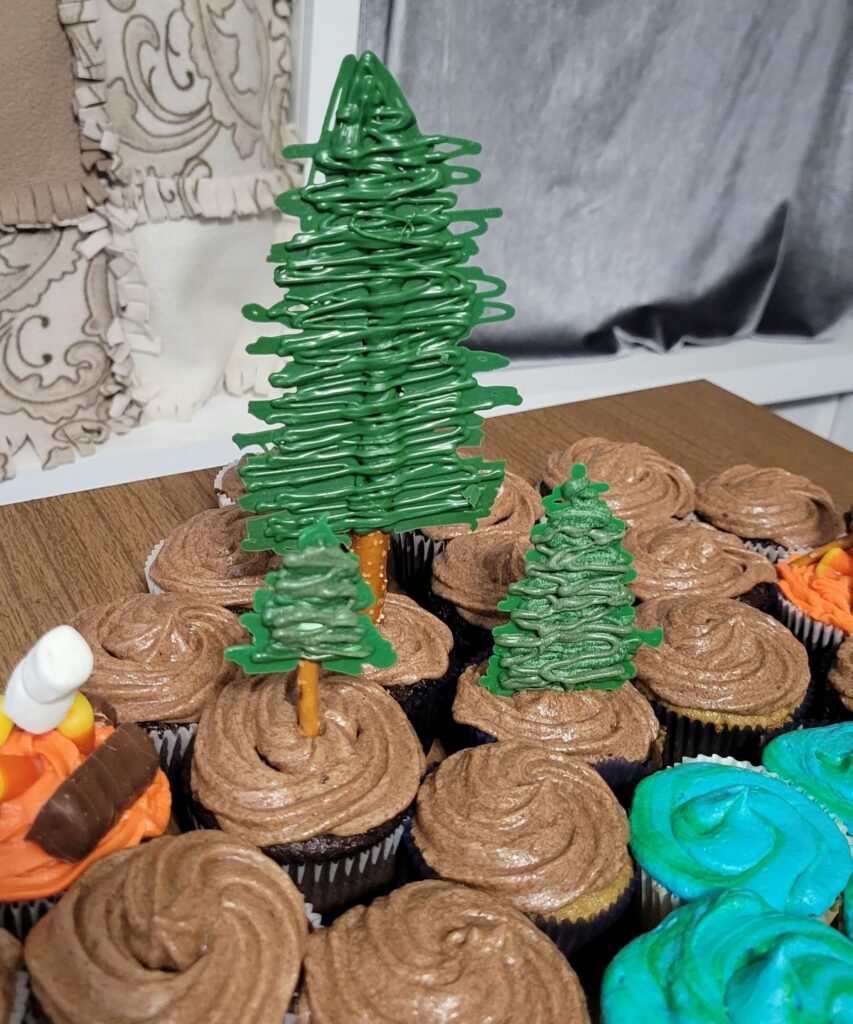 The camp has a zipline across the lake, so I made a pretzel tower and a zipline, too! I actually made two towers, so that I had a back up.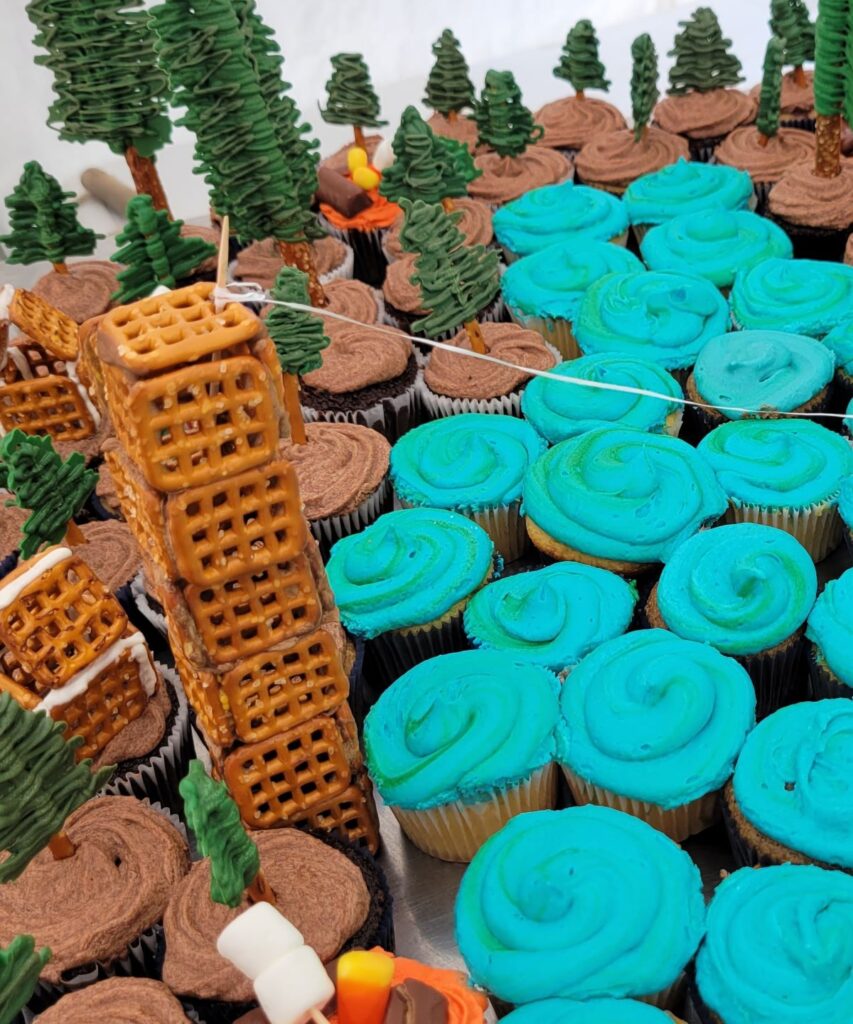 Get 5 Free Scrumptious Dessert Recipes!

It took me a day and a half to make this camp themed cake (and do all the dishes)!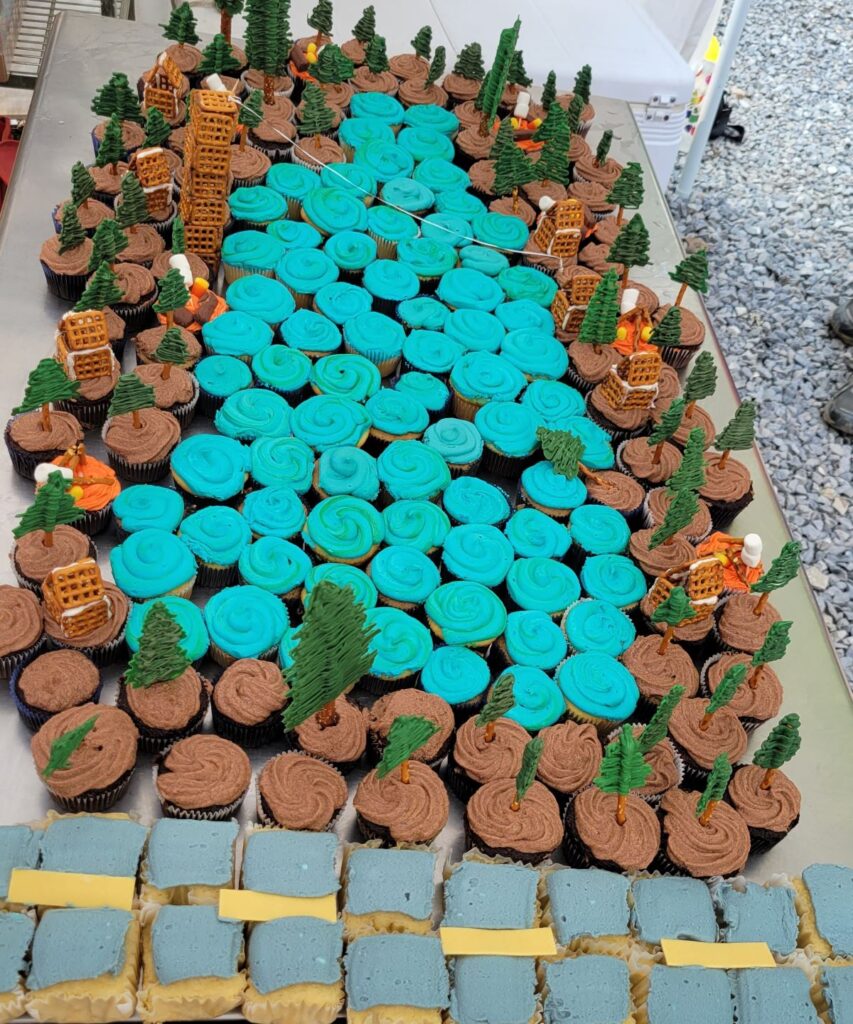 Everyone loved the Campground Cupcake Cake, and I hope you do, too!

Happy Birthday, Daughter!