Three Easy Ways to Make a Campfire Cupcake
Do you know how easy it is to make a Campfire Cupcake? They are one of the easiest kinds of cupcakes to make. In fact, they are so easy, I made 3 different ones! I'd love to hear which one is your favorite.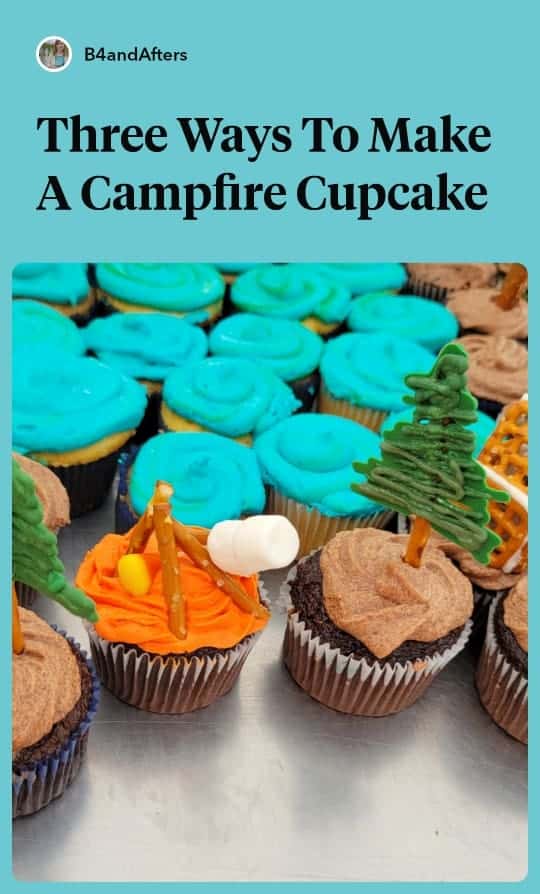 (*This post may contain affiliate links. By purchasing anything from these links, I may receive a small commission at no extra cost to you. More information is available on my
Disclosure
page.)
Feel free to rest your scrolling muscles and watch the video instead!

Each of these campfire cupcake versions begin with of course, a cupcake, and a base layer of orange frosting.
You will also need:
toothpicks
mini marshmallows
straight pretzels
miniature Twix bars
mini Tootsie Rolls
candy corn
How to Make a Campfire Cupcake Version 1
Cut mini Twix bars in half lengthwise.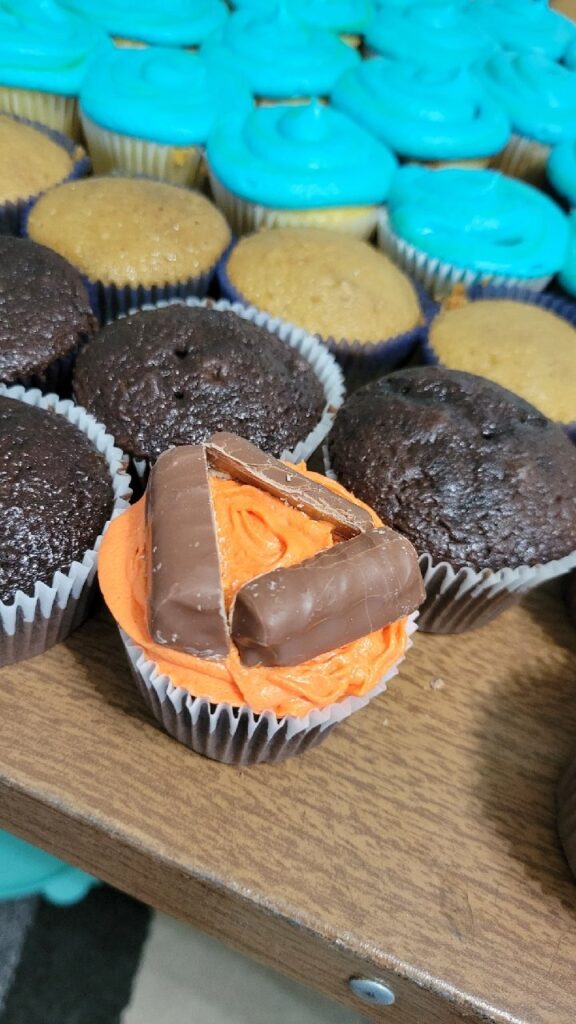 Place 3 halves on cupcake, then add 3 or 4 candy corn pieces. [Now you know what you can do with all of that candy corn nobody eats!]
[Actually, I do eat it, but I am picky about which brand. Did you know not all brands of candy corn taste alike? My favorite brand uses honey.]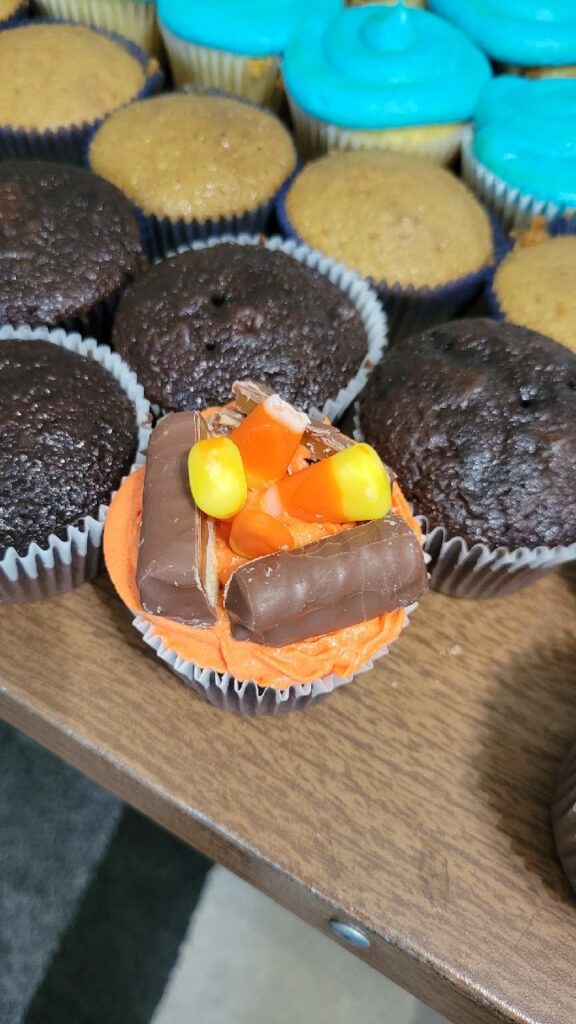 Poke two mini marshmallows with a toothpick and anchor it in the frosting.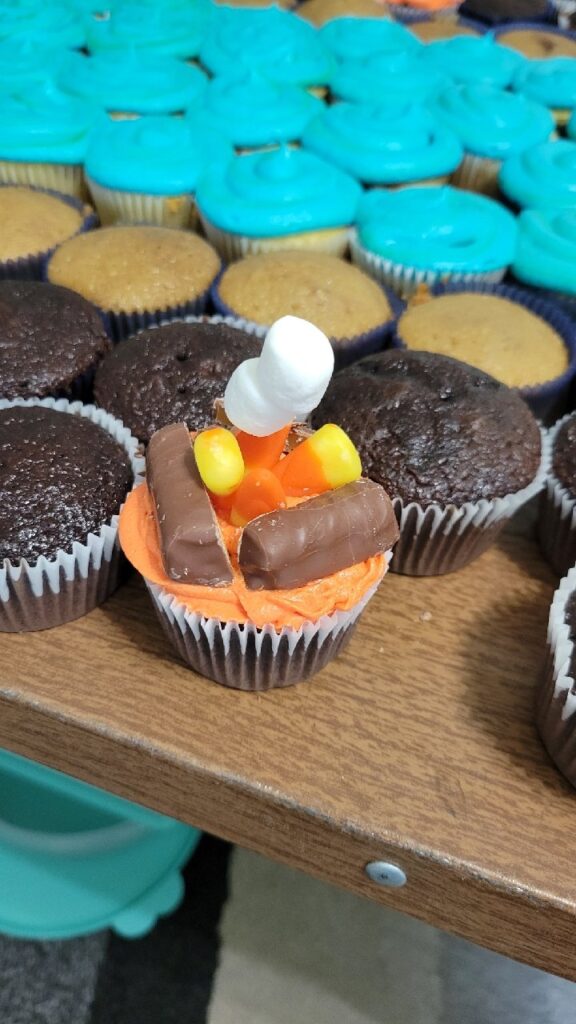 How to Make a Campfire Cupcake Version 2

Use mini straight pretzels for the logs, breaking them in half if they are too long.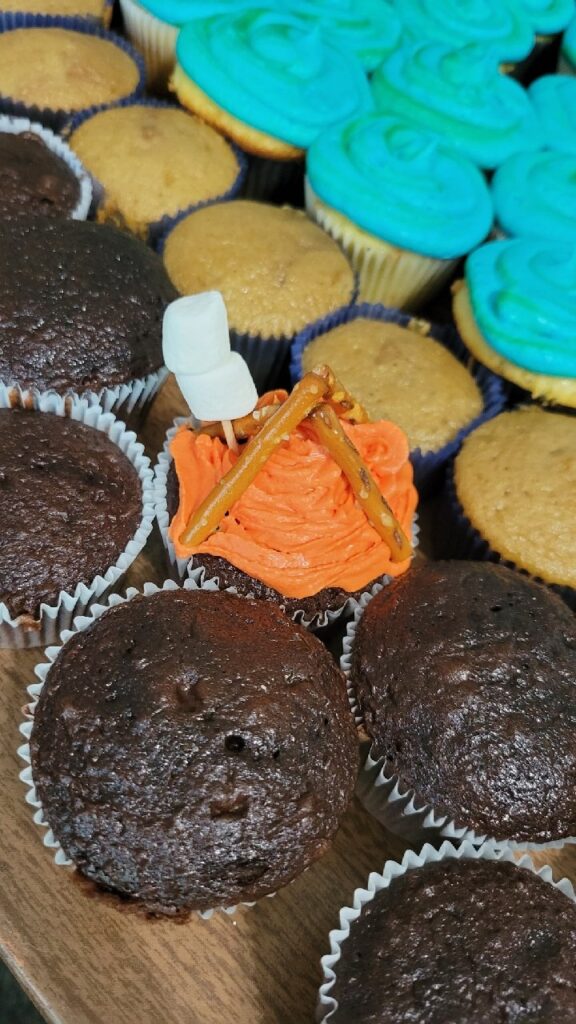 Add candy corn and two marshmallows on a toothpick. See? I told you they were easy!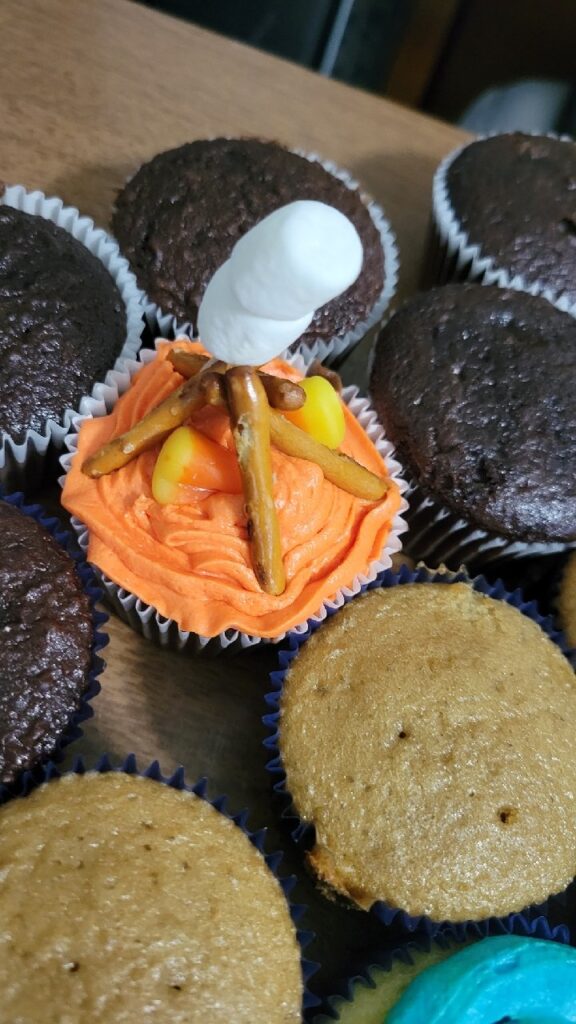 How to Make a Campfire Cupcake Version 3

For the Third version, warm three mini tootsie rolls in the microwave for 9 seconds. Roll between your hands to lengthen them into a log shape.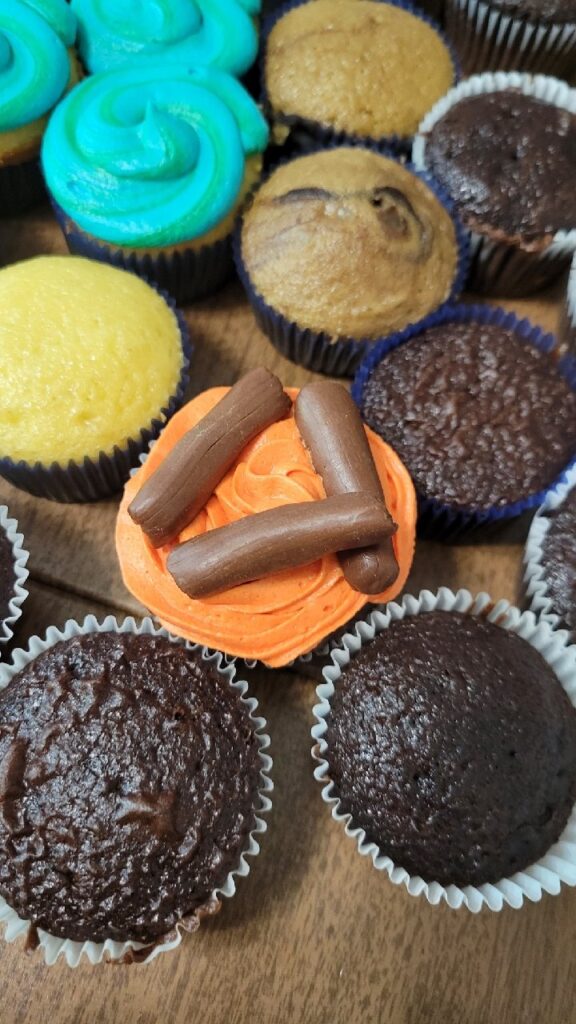 Add mini marshmallows on a toothpick.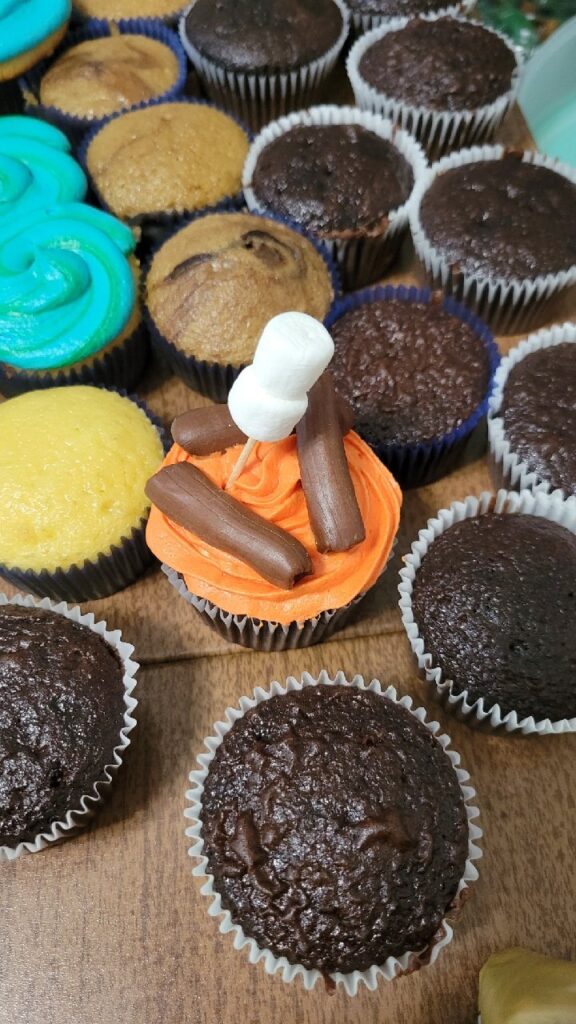 Add candy corn pieces for the fire.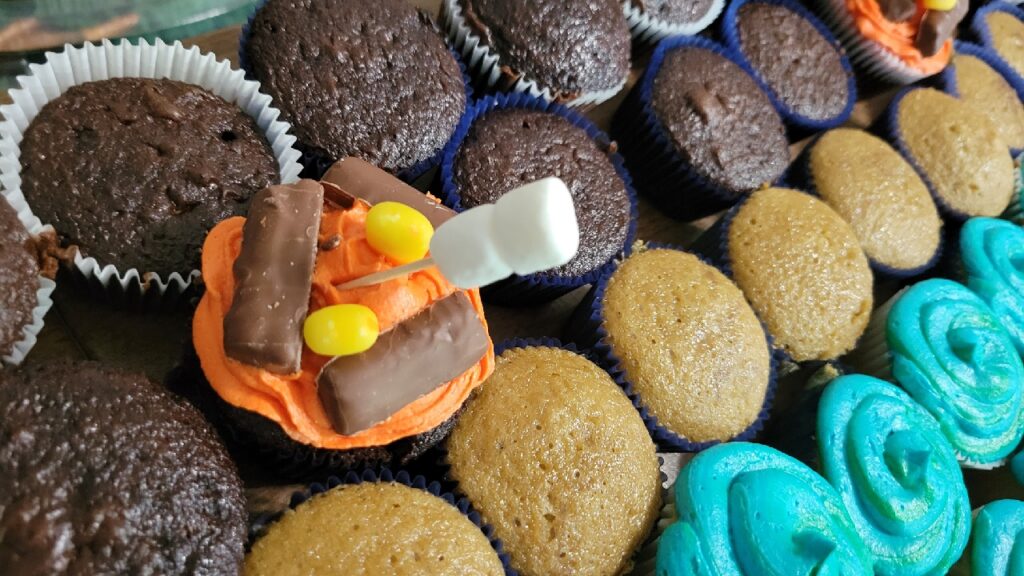 Then use the campfire cupcakes in a campground cupcake cake! (coming soon!)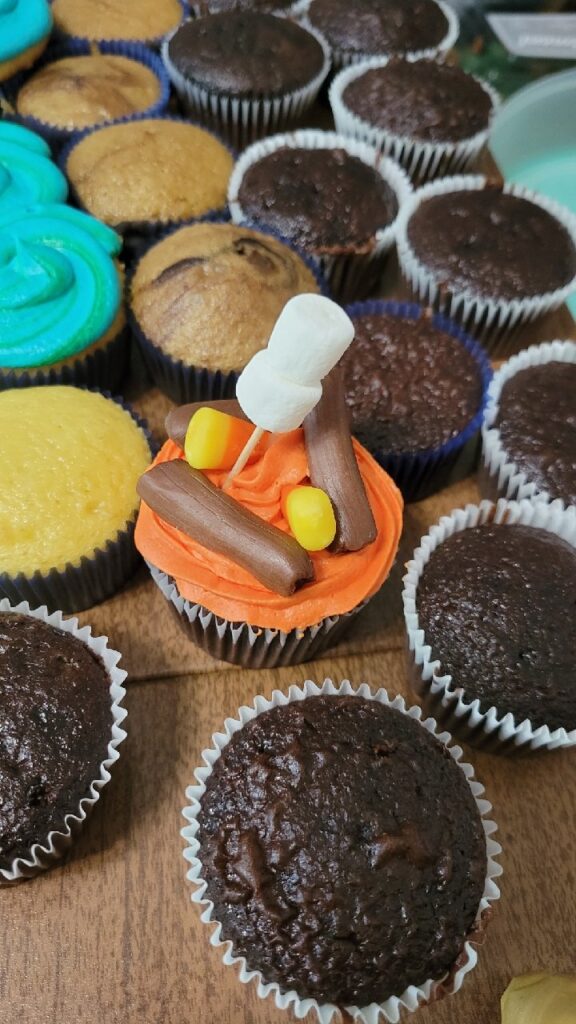 So which of these three would you enjoy eating the most? The pretzels will go stale unless you eat that version immediately. The mini marshmallows will harden the longer they go before you eat them. My favorite version is the first one, with Twix bars!

Shop for Supplies