How I Made my own DIY Fall Tiered Tray for $3
This post contains links to affiliate websites, such as Amazon, and we receive an affiliate commission for any purchases made by you using these links. We appreciate your support!
I have been wanting a tiered tray for awhile now. When they first became popular, I thought I didn't have room for one. Then I saw this one decorated for Christmas, and I started to want one. I realized I really could fit one on my table or on my hutch…. and it would be a great space saver, too!
I had a chance to go to the thrift store near me a couple of weeks ago… and guess what I found! No, not a tiered tray….. a 3 plate serving rack. Hmmm….. I wonder…. so for $3 I gave it a try, and this is what happened!
Tiered Tray, Before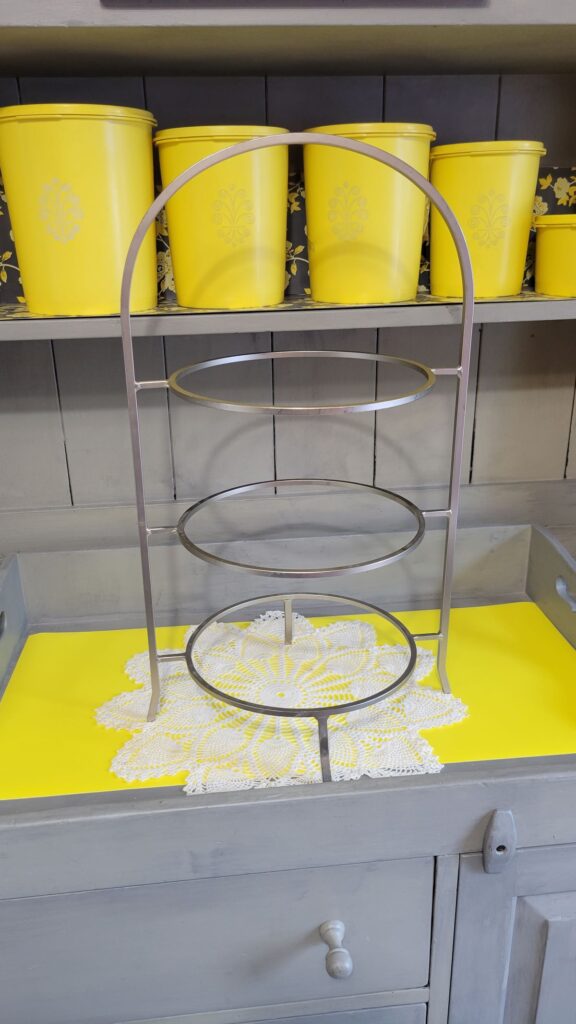 These are my best plates, but you know that was not my plan. I do like that I can use it for this if I want to, though! There were plate racks similar to this at my wedding reception…. which reminds me that I should keep an eye out to find one just like those one day.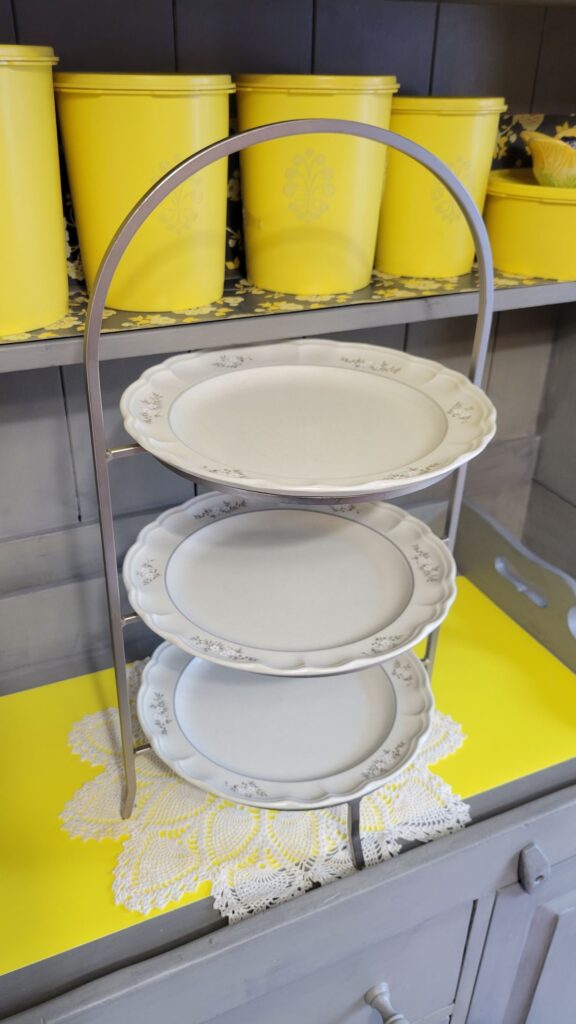 I didn't want to purchase anything else to make this plate rack turn into a tiered tray, so I started playing with my dishes and seeing which ones would fit.
It turned out that 2 of my pie plates, and one of my round cake pans would do the job!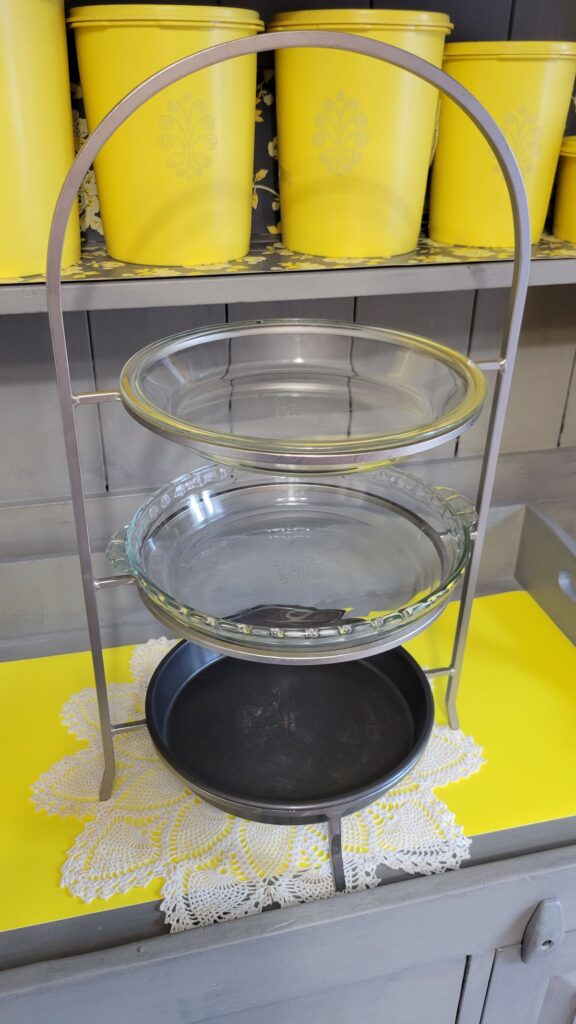 To disguise the fact that the metal cake pan didn't match the rest, I added a doily. Then I got out my fall decor boxes and started seeing what I had that was small enough and would fit between the tiers.
I like shaped candles, and it so happens that I have an apple pie candle and a pumpkin pie candle. I also have a purple maple leaf candle, and a maple leaf soap from Paula at Virginia Sweet Pea.
Tiered Tray, AFTER!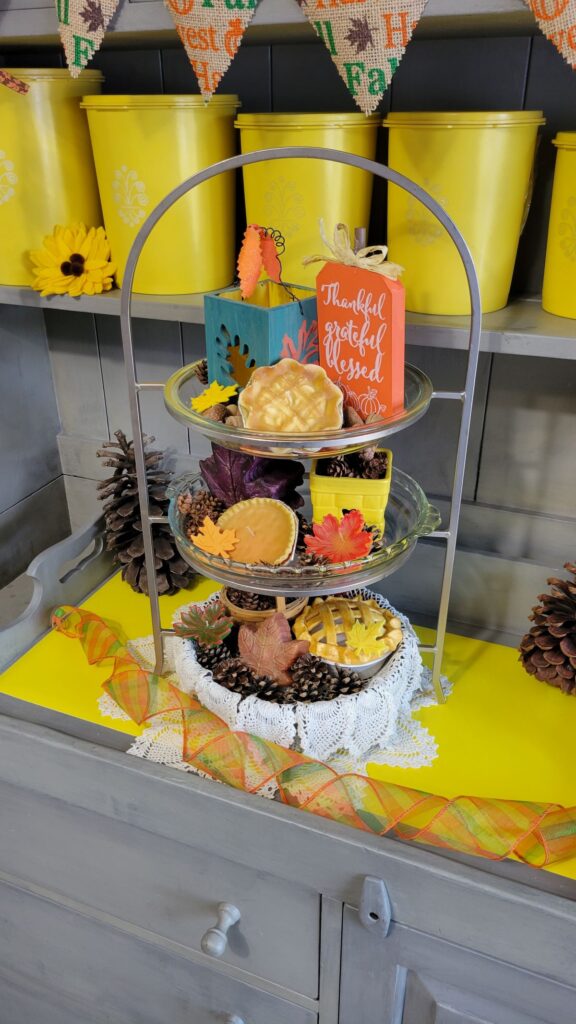 The 3 small leaf shaped candles were a yard sale find. I painted the leaf cut out box years ago, and I think the wooden pumpkin was from the Dollar Tree last year. The felt leaves are also from the dollar store.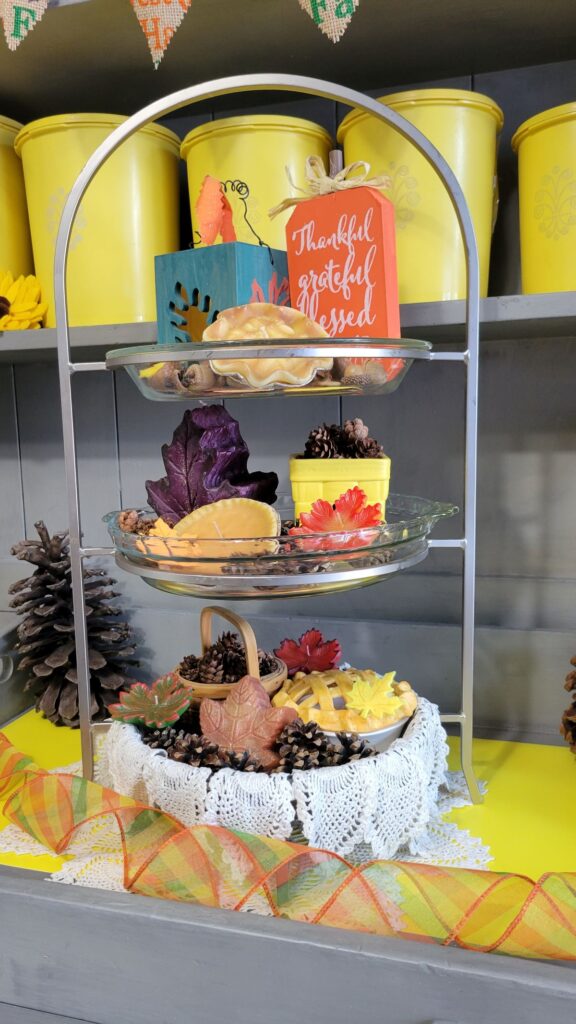 I love that I could decorate this Fall Tiered Tray with things I already had! For $3, I am tickled to death! (If you saw my Instagram post sharing this area, you know what the rest of my kitchen looked like at the time….)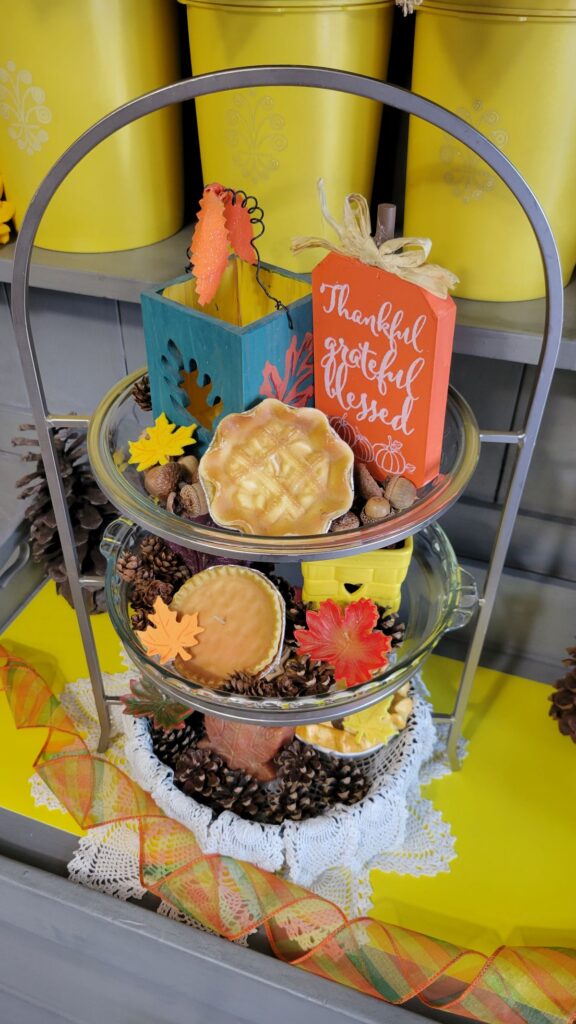 I plan to show you the rest of my hutch decorated for fall in another post.