DIY Flag Banner
*This post may contain affiliate links to websites such as Amazon. By purchasing anything from these links, I may receive a small commission at no extra cost to you. More information is available on my Disclosure page. I appreciate your support!
Have you ever made, or wanted to make, a flag banner? The Fourth of July will be here soon. With all the unrest in our country, it feels kind of hard to be in a celebratory mood. But perhaps that means we need to put forth the effort even more. Maybe it is more important than ever to celebrate our country.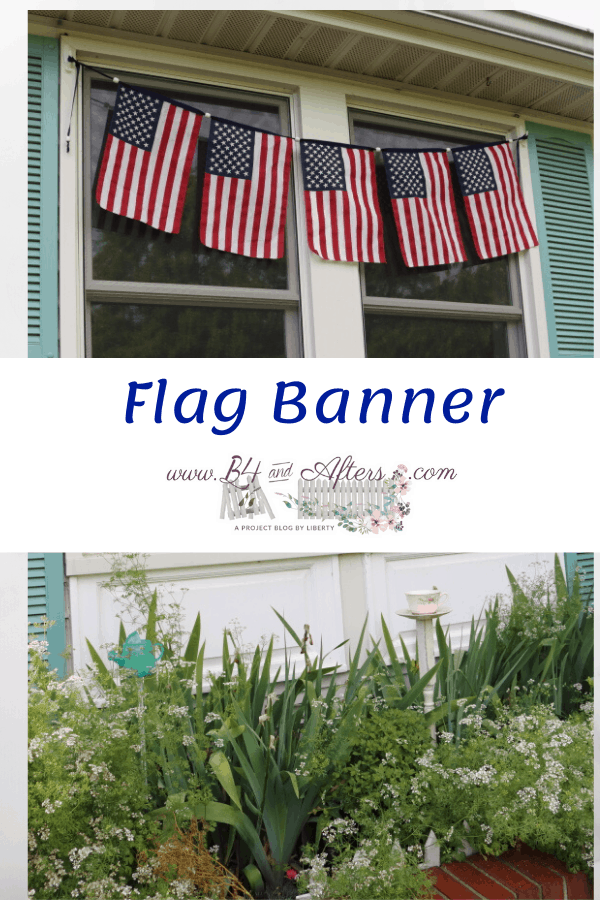 Last year while on a walk I noticed a ton of flags in someone's trash can. To be fair, they are lawn care people so they had probably mowed someone's grass and removed the flags. Many of the flags were still in good or great condition. I actually salvaged around 100 flags!!!
This year on Memorial Day, I used the flags myself in the very same way they had probably first been used.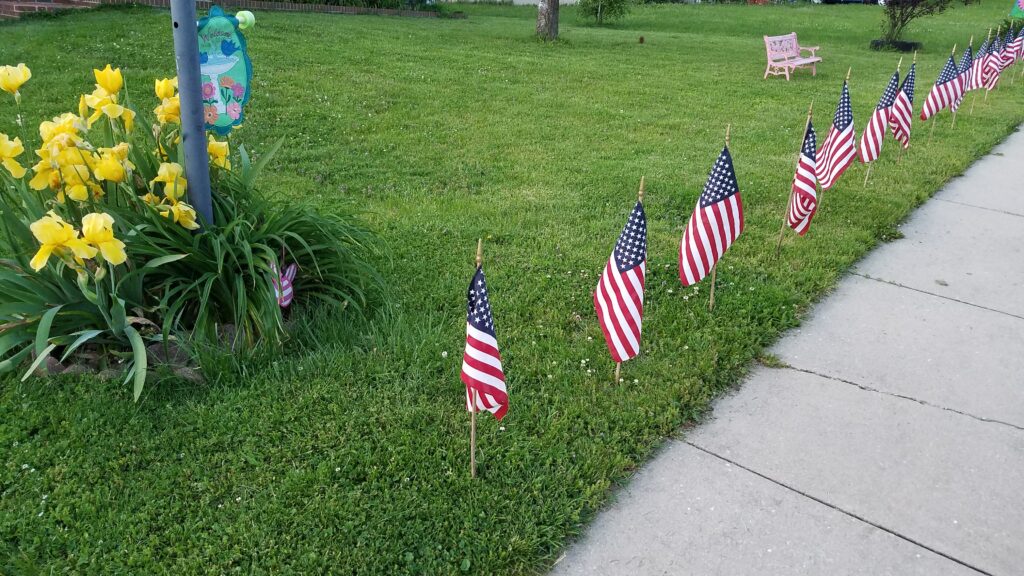 Some of the flags I salvaged had poles that were broken, but the flags were still in good shape. I knew that one of the things I wanted to do was make a flag banner.
I am a tad cautious about crafting with flags, because I don't want to dishonor them. It makes me nervous when I find fabric or clothing with flag patterns on it…. I'm not quite sure if it is appropriate sometimes!
Flags, Before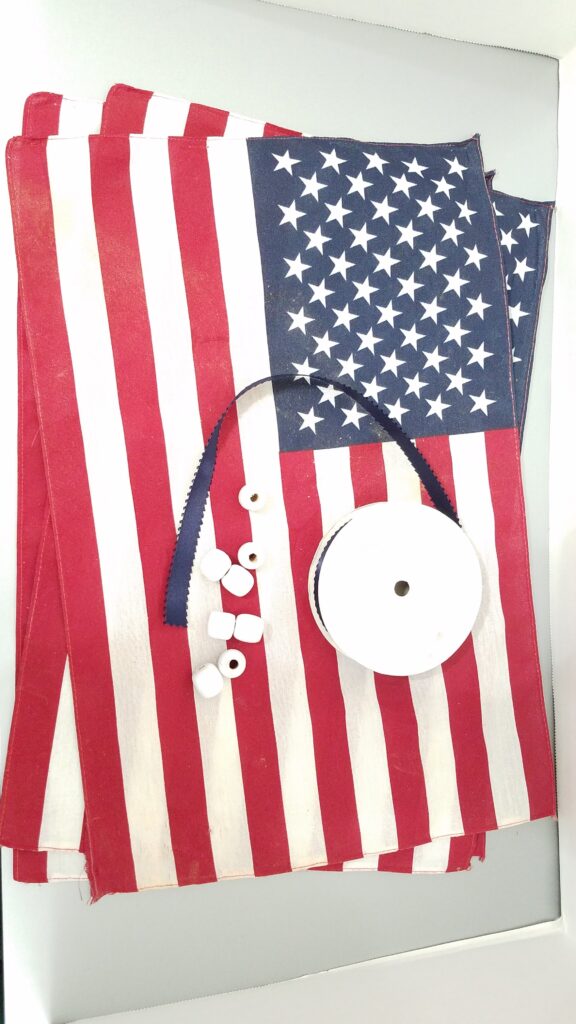 You may remember that I had some wooden beads leftover from making my Wood Bead Garland for my pine cone tree. I decided to use some of them for this flag banner.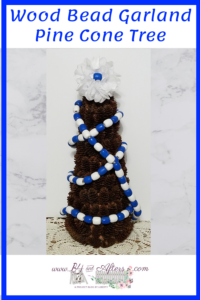 To make this banner, measure how long you will need your ribbon to be. I used some navy ribbon from my craft hoard supplies. Then, be sure to string on as many beads as you will need before you begin sewing. You will not be able to add beads after you sew the flags onto the ribbon!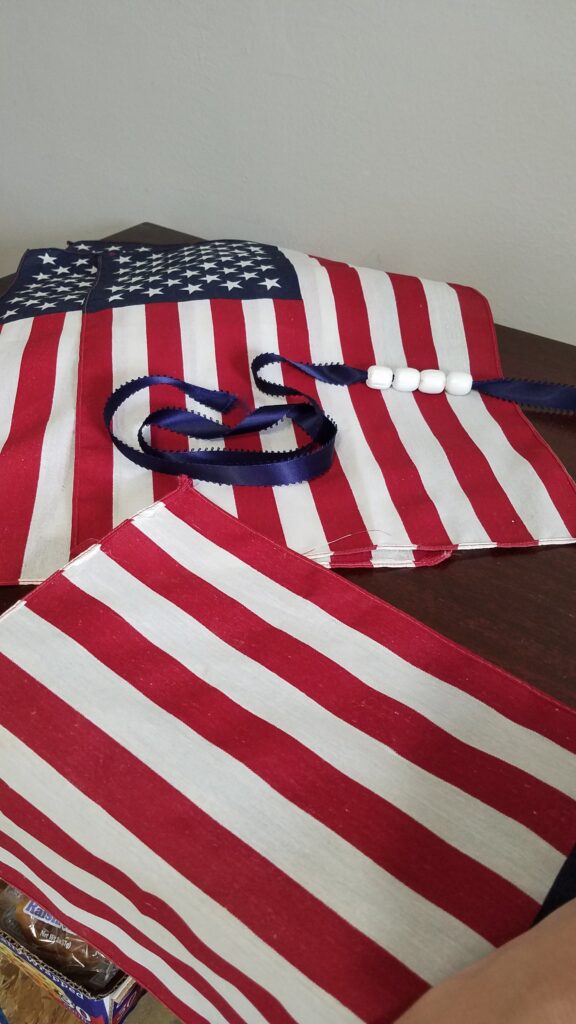 Sew one flag to the ribbon. Knot the end of the ribbon. I wanted one bead near the knot, and another bead up near the flag. Then slide one of the beads near to the flag.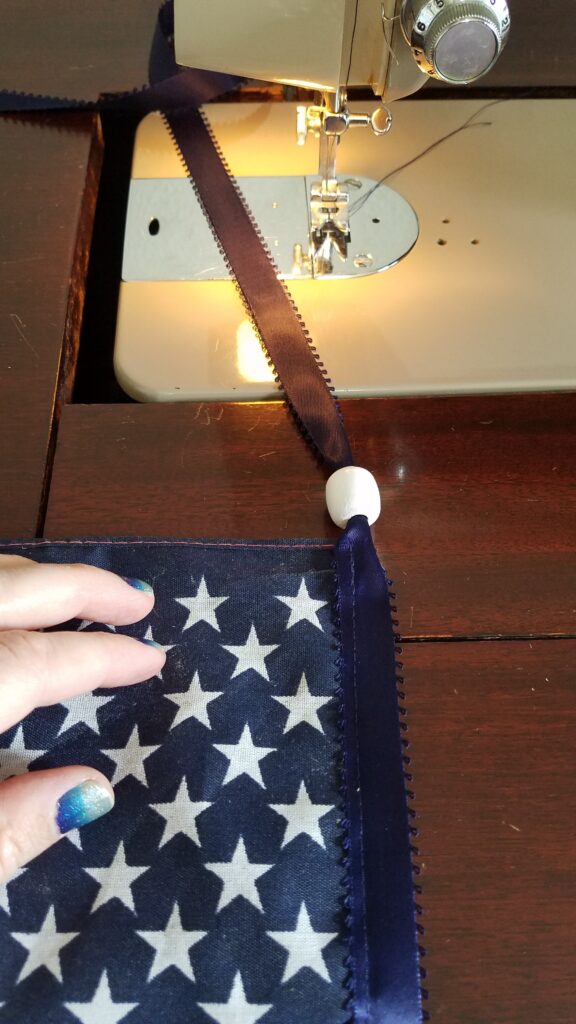 After that, sew on the next flag. Then alternate sewing a flag to the ribbon, and sliding a bead so that one bead will be between each flag. I was careful to sew my ribbon so that it did not cover any of the 50 stars that represent our 50 states.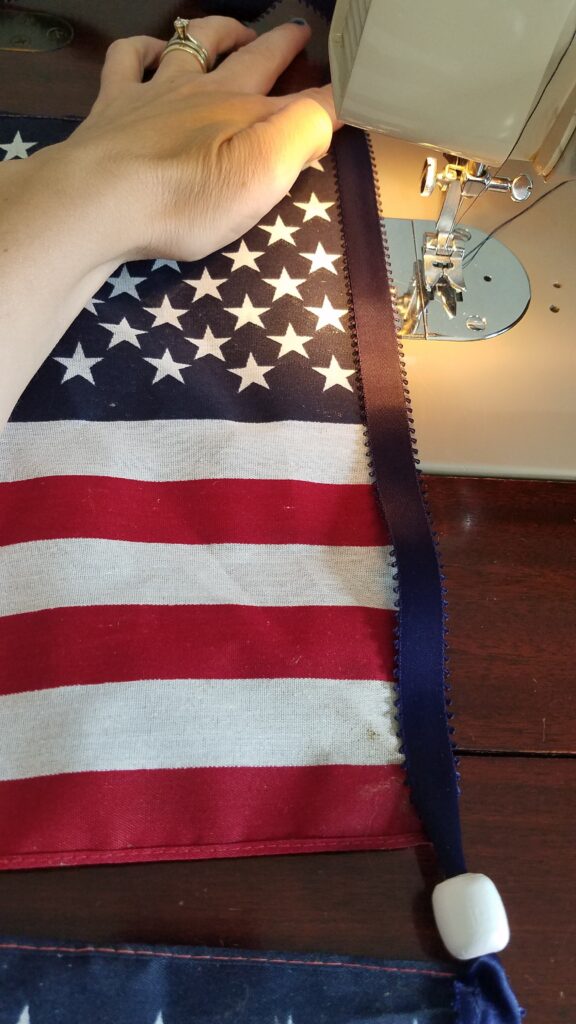 When hanging a flag vertically, it is proper to hang it so the blue field is to the left. Personally, I think that looks backwards, but I'm not the one who made the rule!
More Patriotic Ideas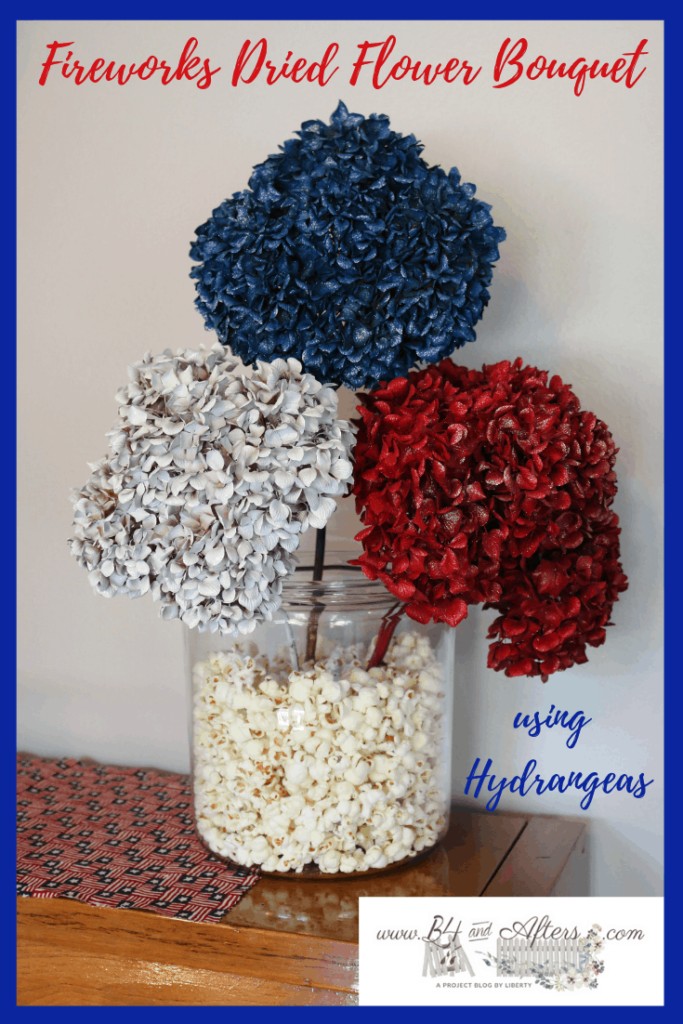 First, I hung my banner inside over my closed white curtains in my living room.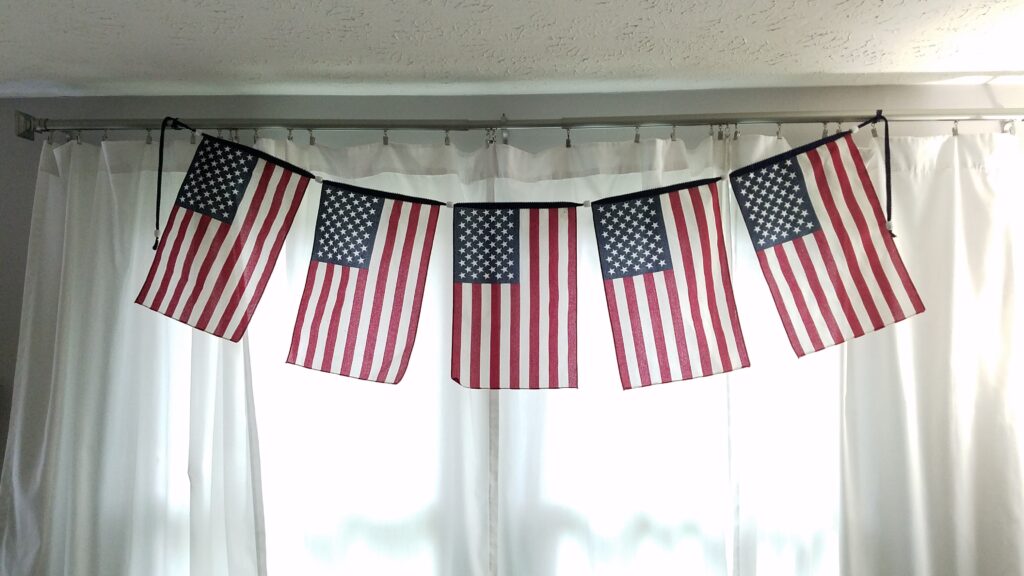 Here is a closeup of the bead between the flags. I think the beads add just the right touch to my banner.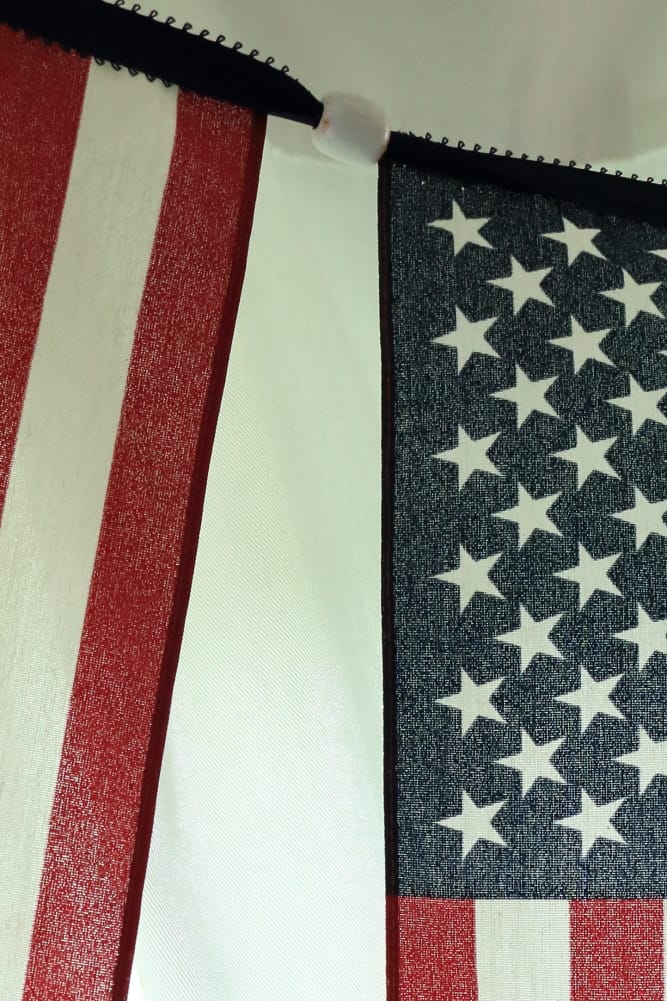 My banner was large enough and long enough for me to hang it outside. So I attached some Command hooks to my windows and waited an hour. Then I made a slip knot in the ribbon and hung it on the hooks. My windows are rather high over my flower beds, and the stairway to the door. So I used a vintage bamboo ski pole to reach and attach the ribbon to the hook!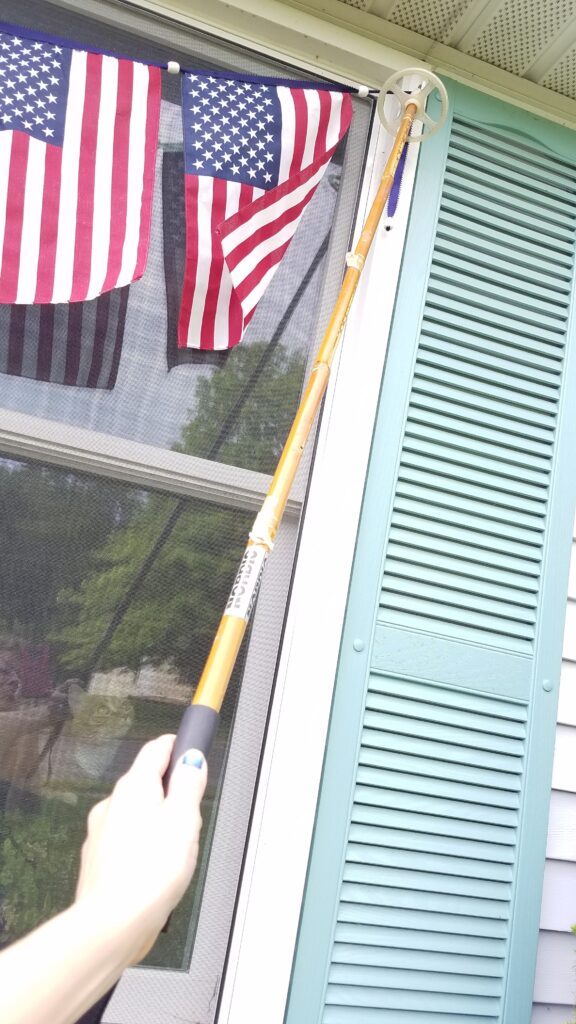 This is the flag banner outside!! It is so bright and festive!
Flag Banner, AFTER!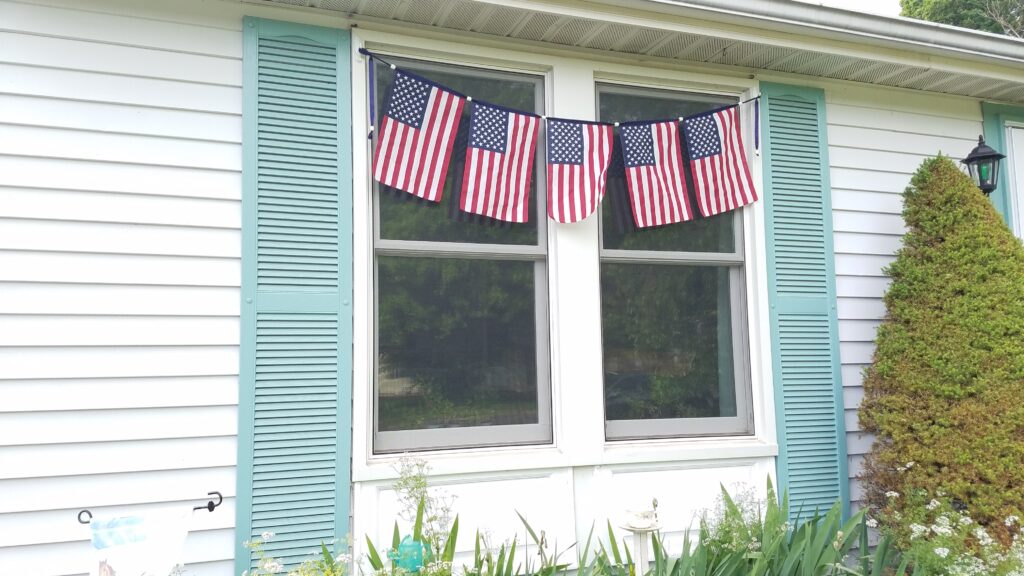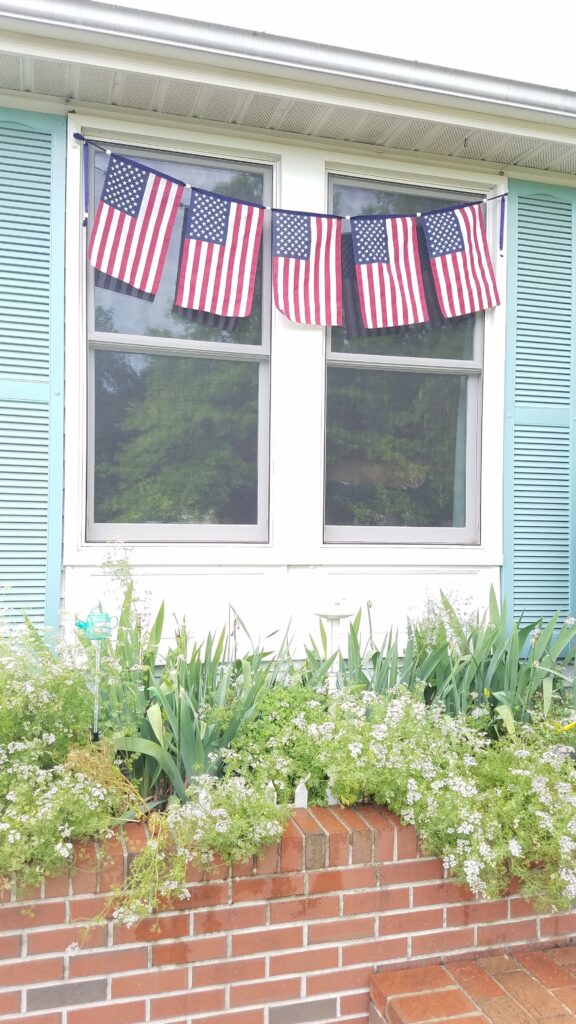 I went back inside. Upon opening my curtains, I realized that I could see the banner from inside the house, too!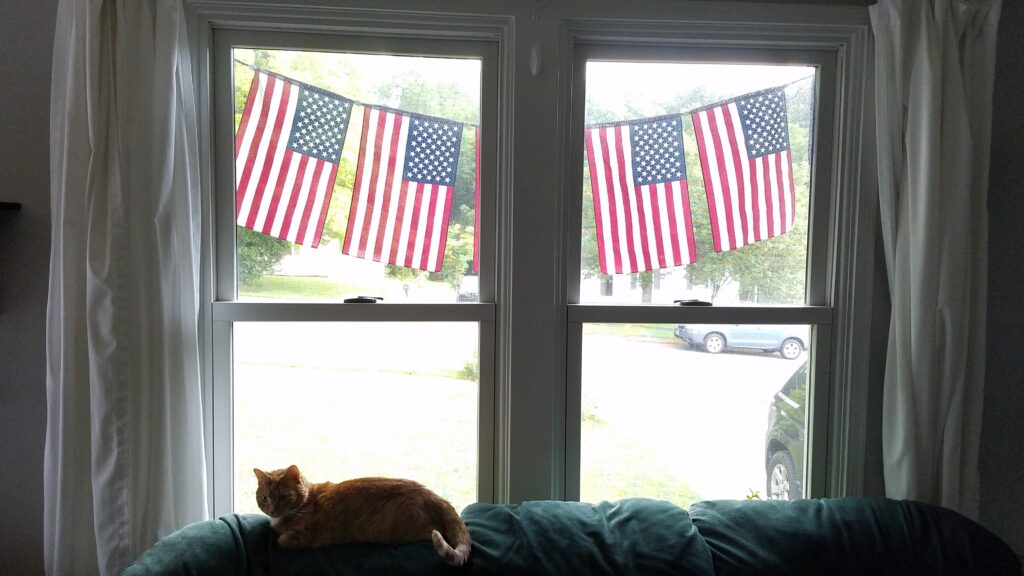 I'm so glad I finished this project in time for Independence Day. And of course, I'm glad it's done in time to share it with you. This banner was so easy to sew. You could make one with any size of flags. Of course you can make it as long or short as you want it, too. I would just recommend using an odd number of flags.
Later I hung my blue and white bead garland inside my windows, and hung a star foil wreath in the center. (The star foil wreath is actually just star foil tinsel garland that I left in a circle. )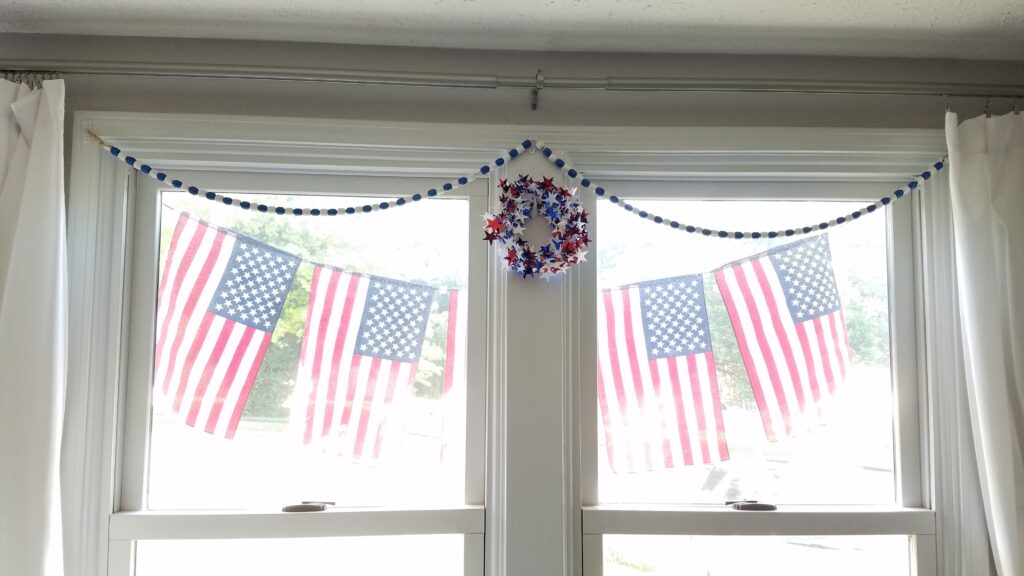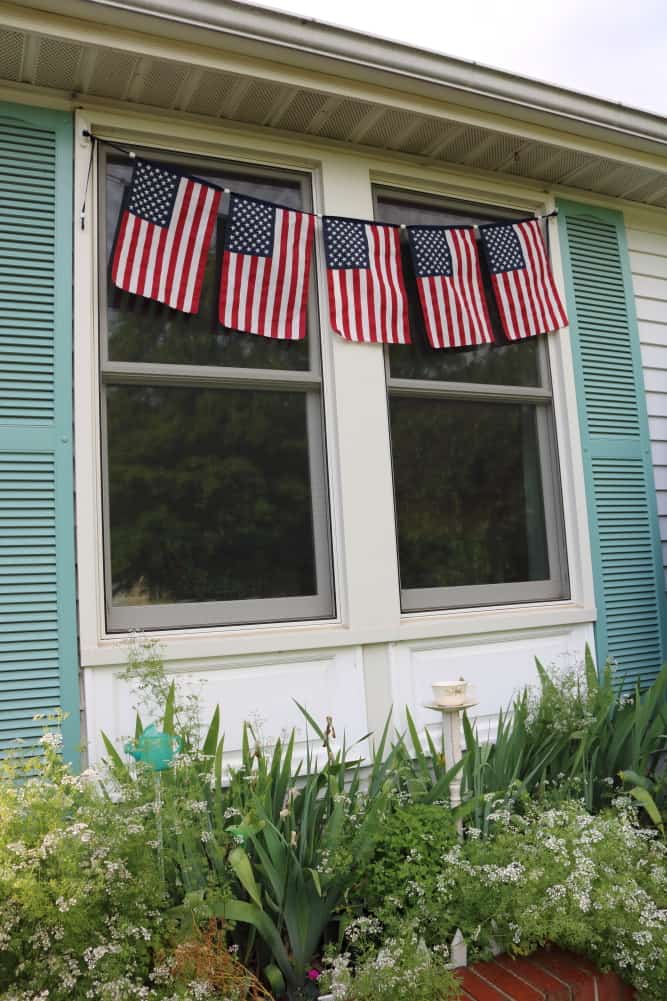 This flag banner was made by Liberty. : ) I had to say it. : ) I plan to have a few more new patriotic crafts to show you in the coming days. Enjoy!