Thoughts on Flipping a House
Well, I finally got my wish! I'm finally doing something I've wanted to do for a long time– We are flipping a house! Not for profit, but for us to live in. January 22 was one month since we got our new-to-us farmhouse, so I thought I would share with you how it's going.
Timeline and Budget
Firstly, when you hear that you need to budget more time and money than you plan on, They're Right! Hopefully, we are still okay with our timeline and budget, and here's why:
We had two main things we were focused on as we began this renovation project. We thought we might need a new heating system, and we needed to renovate the upstairs bathroom/ master bedroom area. Our new heating system plan immediately switched to a "the heating system is fine we need new windows instead" plan. I've practiced being flexible for many years, and that is coming in very handy right now! Instead of purchasing 30-40 new windows like we would want, we decided to scale back and only get 10 of the very worst ones replaced. And that is why our budget is still on track (I think)!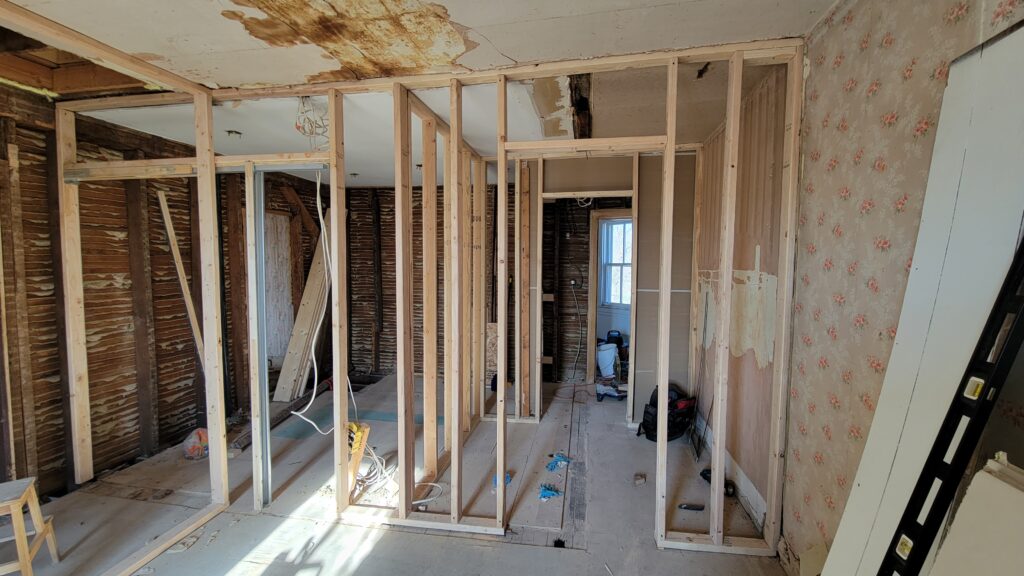 Project Manager
In past home improvement projects, I've been half jokingly called the "Project Manager." Well, nobody is kidding anymore– from the start I've been the official Project Manager of everything going on at the house. I enjoy this honor, truly. There are many things going on all at once— and in order to manage it all, it has been really helpful at the beginning of each week that I make a new list of "Next Steps".
I review what has been done during the past week, what didn't get done yet, and make a new list. Primarily, this list is for our main handyman to know what we need help doing. It also helps my husband focus on what he should do in his spare time. And it helps me know what I need to do– things like making lots of phone calls to coordinate the electrician, the plumber, the HVAC man, ordering fixtures and building materials, etc.
I'm also CPO– Chief Purchasing Officer– and whew! What a lot of shopping online and in person I've had to keep up with! It is a lot of decision making. Yesterday I found a couple ceiling lights, and today I went to a building supply store and bought 2 bathroom vanities, a medicine cabinet, 4 sheets of plywood, 4 laundry room cabinets, 4 doors, 4 doorknobs, 3 faucets, a laundry tub, 2 extra cabinet doors, a dishwasher side enclosure….
What We've Been Doing
I cannot wait to show you a finished room…. but that hasn't happened just yet! So what have we been doing?…. Well, an awful lot of demolition. More than we planned on. And then still more.
It started with the kitchen. I had thought that I was going to paint or stain the cabinets, replace the flooring, and paint the walls. By day 3 I realized that because of the cat litter, cat hair, feces, and mouse turds that were in every nook and cranny, that it would be best to completely gut the kitchen. We even threw away the appliances. I could have cleaned the nasty fridge, but thankfully the seals were shot, giving me a great reason to throw it out, too.
It was Christmas Eve when I messaged someone on Craigslist about kitchen cabinets. I didn't hear back for several days…. it turned out they were on vacation. We ended up getting those cabinets and I can't wait to show them to you…. when it's all done— or even partly done. But it's not…. Because we even had to tear down one of the kitchen walls!
Within 10 days of purchase, we had a work day with friends who helped us get trash and old stuff out of the attic (crutches, light fixtures, lots of cardboard). We threw most of it out of the attic window, then sorted it to burn pile, landfill, etc. That day we also continued the upstairs bathroom demolition of walls and large fixtures. My husband, our 2 kids, and I had already begun working on the house prior to that, and I had removed a lot of door and wall trim to save and reuse, the day before. Some of the work crew removed nails from that trim for us.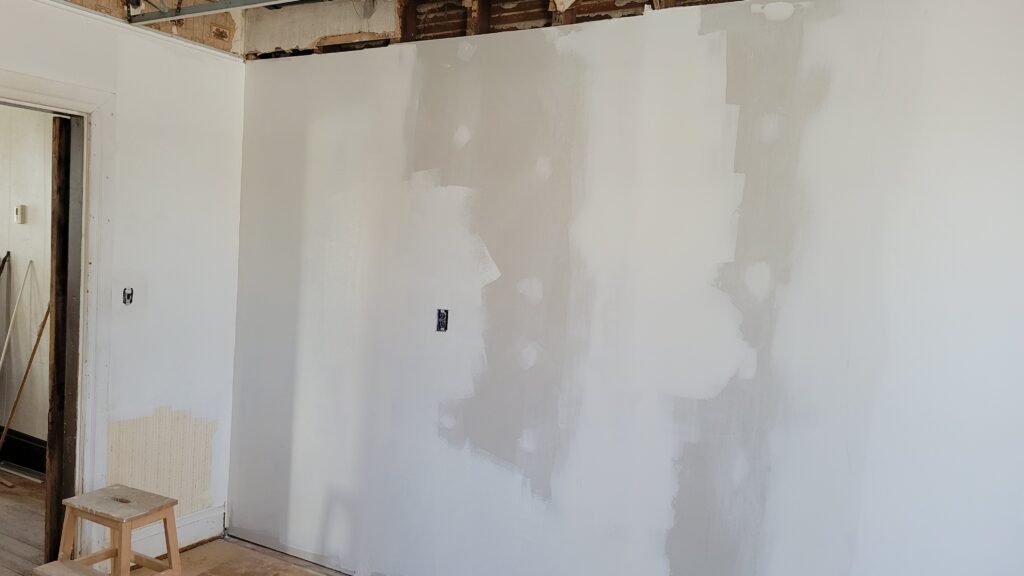 We didn't know how dusty demolition of plaster would be. Thankfully, we had ordered N95 masks for our volunteers. My husband had also gotten me a very nice respirator mask and I am so thankful for it! I use it nearly every day— Since my pleurisy several years ago, and childhood asthma, I just cannot handle extra dust.
Ceilings
The house has ugly drop ceilings mostly everywhere. We didn't know what would be behind those panels– but now we know— lots of plumbing pipes, hot water baseboard pipes, and electrical wires. Far too many to remove the drop ceilings…. So I have plans to make them prettier instead.
There are also ugly ceiling fans to go with each ugly ceiling, because there is no AC– and we don't have plans to update that anytime soon…. I'm so excited for what I've found to replace those ugly ceiling fans…. I can't wait to show you!!
And speaking of ceilings…. the ceiling in our son's 2nd story room had lots of surprises. It had lots of layers…. mouse nests, and a plaster ceiling in awful condition. After a friend helped me get the first few layers off, and I worked to get another layer off, my husband and I worked together to get the plaster ceiling off. It is good that we did, because then we could see the roof (because that is the part of the house without an attic over it) and now we can fix and seal those rodent and weather potential problems. Such a lot of work!! [The latest information says we will be replacing this room's roof— it was clearly leaking…]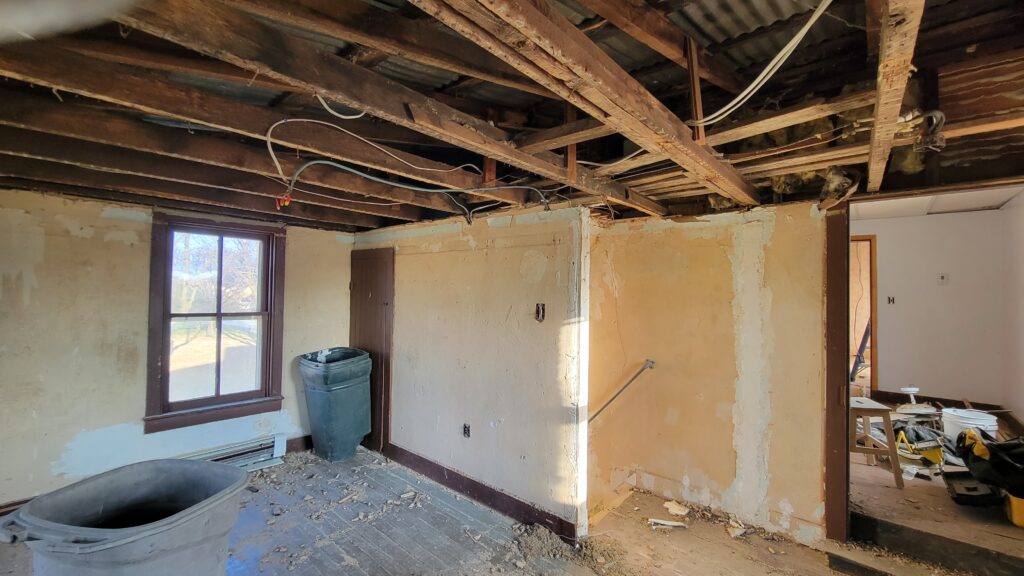 Everywhere we turn, there is more work. After 3 weeks, the novelty of owning a farmhouse and flipping it had worn off. Three weeks felt like it had been 6 weeks — maybe because we had gotten about 6 weeks worth of work done! But after all of the tearing down, there is finally some building happening.
Thankful
I'm really thankful that we are able to work on this house without living in it at the same time. It would just be impossible, with the condition that this house was in. We realize that the more we can do before we move in, the easier it will be. We are focused on getting the essential places ready for us to move in, and finish the non-essentials later. The essentials for us are: our bedrooms, the upstairs bathroom, kitchen, and laundry room.
We are so thankful that good friends have helped us more than once– whole day family workdays where we got so very much accomplished!! We are thankful that a good plumber gave us 3 days early on, at a great price (and he's coming again in a few days!). We are thankful for a great handyman/contractor at a reasonable price that just practically fell in place at the last minute. We are thankful for safety (Well, except for that time our son got poison ivy a few weeks ago….). We are thankful the house didn't burn down last Monday night…. I'll tell you that story another time!!! We know that "Except the Lord build the house, they labor in vain that build it."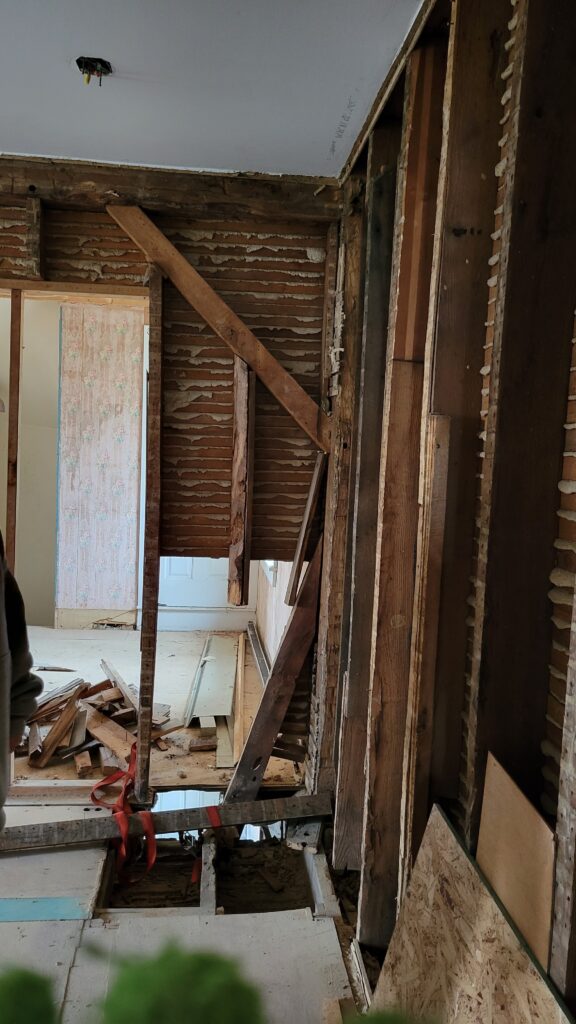 p.s. Since the house isn't livable yet, and the floors are rough, uncared for old wood floors, we have been saying that the house feels more like a barn than a house. And then the handyman found this diagonal beam in the wall, and said that this house seems to have been built more like a barn than like a house…. who knows? Maybe it was! And maybe that's why it feels like a barn! [We have been told that this house is older than 1900 — a Civil War era house. Who knows?!]