Chocolate Valentine Pine Cone Tree
*This post may contain affiliate links to websites such as Amazon. By purchasing anything from these links, I may receive a small commission at no extra cost to you. More information is available on my Disclosure page. I appreciate your support!
I have been wanting to make a wrapped Chocolate Pine Cone Tree version for awhile. It finally happened! Read on to see how I did it, and 2 ways to attach the chocolates.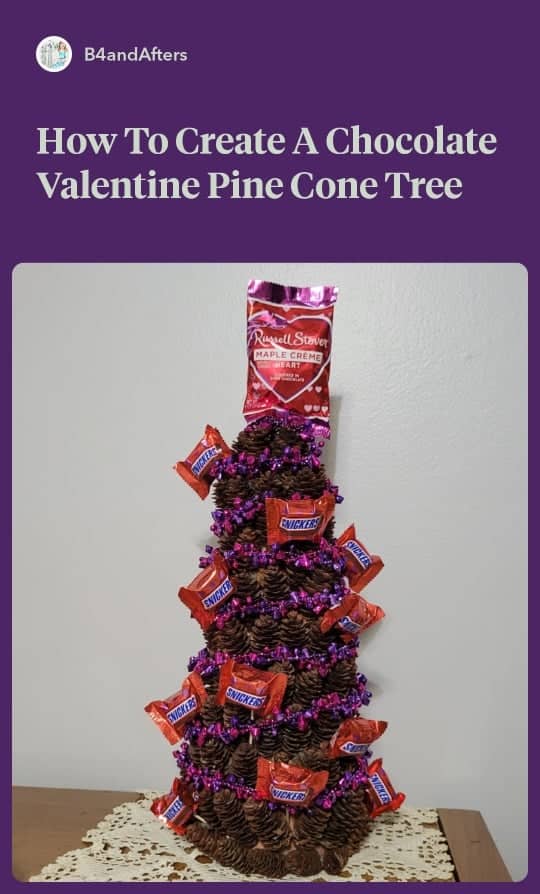 I am decorating this miniature pine cone tree many different ways.
1
For this Chocolate Valentine version I began with a bright purple and pink garland that was given to me. It's actually two strands wrapped together.
When I found this bag of miniature Snickers, I thought the wrappers matched the garland well.
I attached them to toothpicks to stick into the styrofoam cone underneath my pine cones.
2
There are two different toothpick attaching methods you could use.
3
Tape the toothpick on, or
Just jab the toothpick directly through the wrapper into the chocolate bar.
It was looking great so far!
Then, I needed a topper! So I used this large Russell Stover chocolate heart because it matches my chocolate/pink and/purple theme.
4
I used a bamboo skewer cut short, and taped it on with two pieces of tape in an X shape.
Here is the finished tree! I hope this Chocolate Valentine Tree inspired you!
So what do you think of my goal to make 100 different versions of this tree?….. Sometimes it feels like it is my ….. pet rock or something.
To see details of the other versions, click on the titles below!