Easter Themed Pine Cone Tree
I have an interesting Easter craft for you today! Perhaps you remember the Miniature Pine Cone Tree that I created awhile back? I decorated it for Christmas and then Valentine's Day. I decorated it for Easter, too, a month ago– I've just not taken time to post about it. Today is the day.
Easter Tree, Before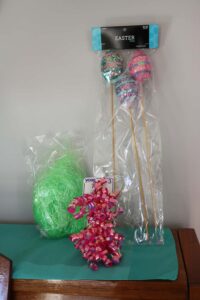 (*This post may contain affiliate links. By purchasing anything from these links, I may receive a small commission at no extra cost to you. More information is available on my Disclosure page.)
To decorate my Pine Cone Tree for Easter, I needed a fake/ faux decorated egg for the topper. I had bought several different ones last year at the Easter clearance sales. I decided to use a yellow beaded one. It was on a long stick, so I cut the stick off, leaving a couple of inches so that I could insert it into my styrofoam cone base under the pine cones.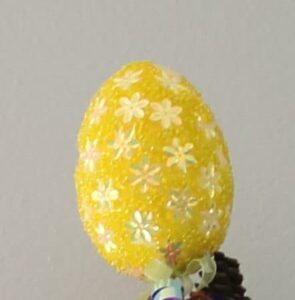 I used some greenish opal iridescent plastic grass (the kind for Easter baskets) for my "tinsel." Then I separated some curly pink and purple gift bows from the Dollar Tree for more color and interest. It was pretty simple and fun to do.
Easter Tree, AFTER!!

One of my kids made this yellow Easter craft that looks nice with the Yellow Egg Topper that I used.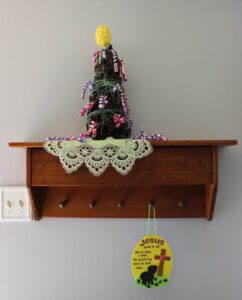 I enjoyed decorating this miniature tree for the Easter season. I hope that you like it, too. (But my favorite Easter craft this year was the Marshmallow Peeps Nest that I invented!)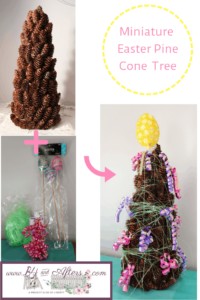 For more ideas how to decorate a Pine Cone Tree, click on the picture below!