The Best Valentine Cookie Recipe
Do you have a favorite cut out cookie recipe? I do! I've been making this cookie recipe for nearly 20 years, but this is the first time that I made it for Valentine's Day. I love how they turned out!
I hope you enjoy watching the video below.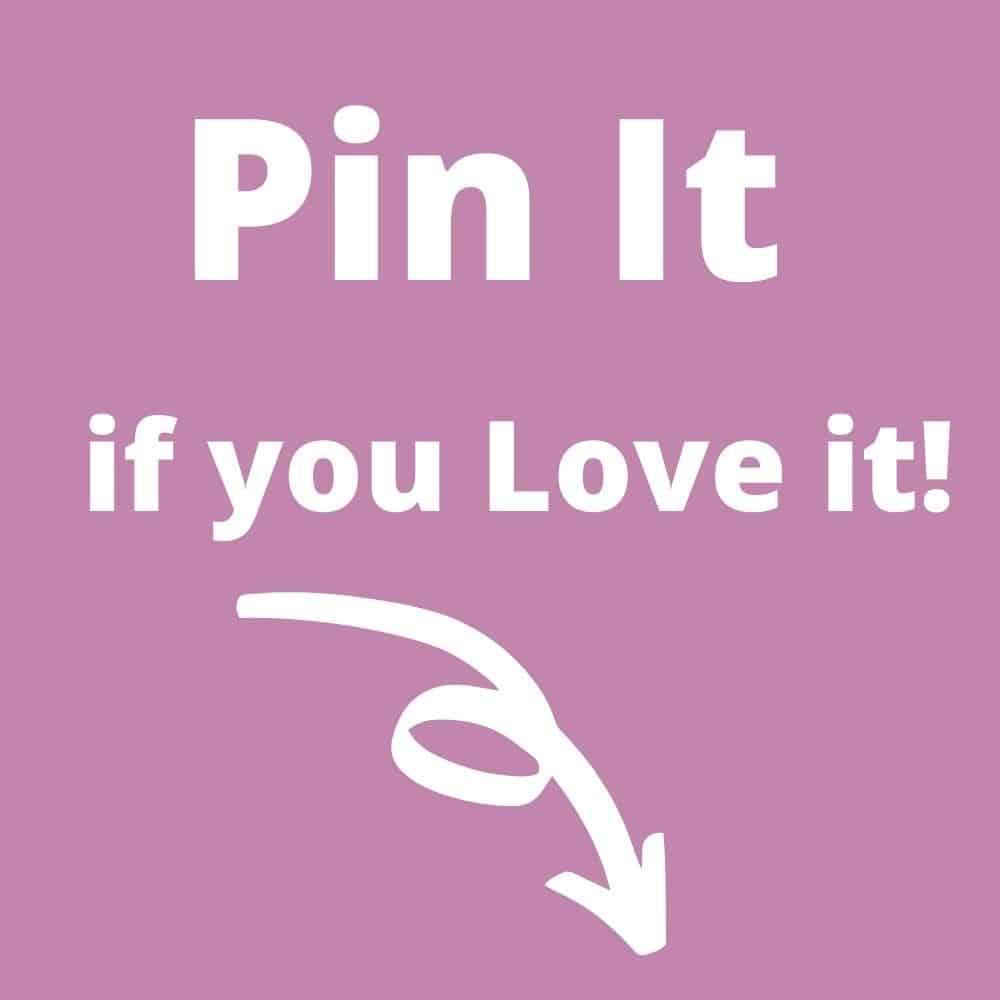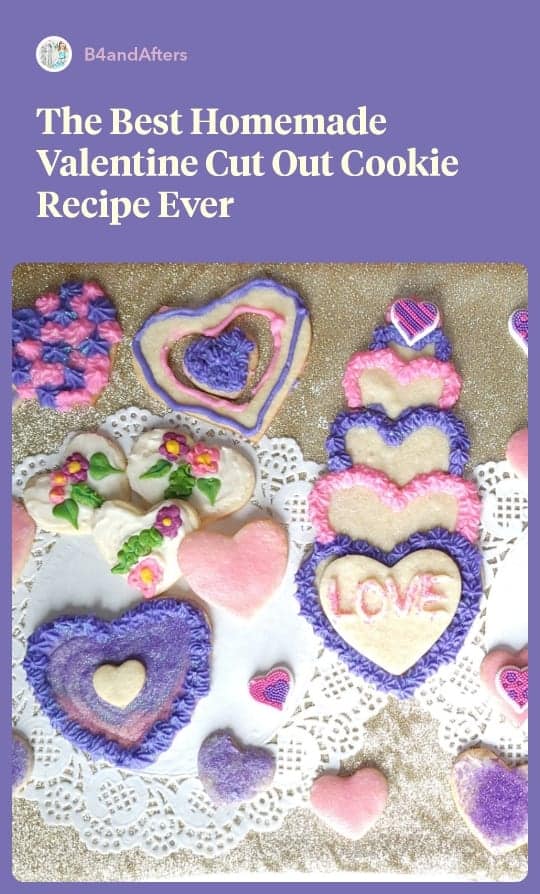 (*This post may contain affiliate links. By purchasing anything from these links, I may receive a small commission at no extra cost to you. More information is available on my
Disclosure
page.)
There are a lot of tips and tricks I share in this video so be sure to watch it!

You will need to plan ahead because this dough needs to refrigerate for several hours after you make it.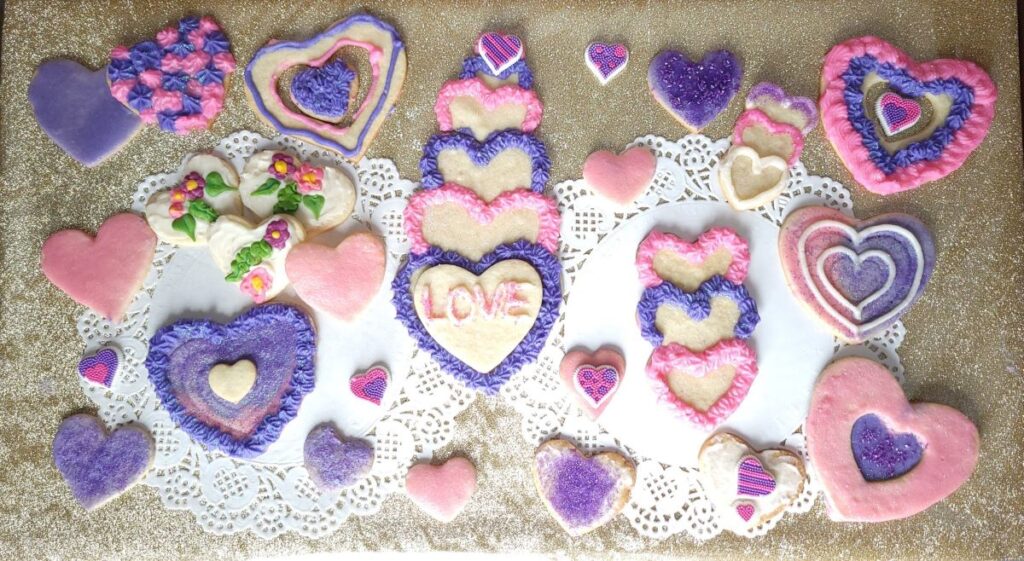 The dough will be very hard. Just use muscle and patience to roll, not stretch the dough. Use a very small amount of flour. The dough should be pretty thin, but not too thin. Maybe about as thick as a piece of craft foam. You can add colored sugar sprinkles to the dough if you want, before you bake it. I enjoyed experimenting with fancy shapes!

To make these stacked hearts, I cut off the bottom of a heart shaped cookie as shown in the video.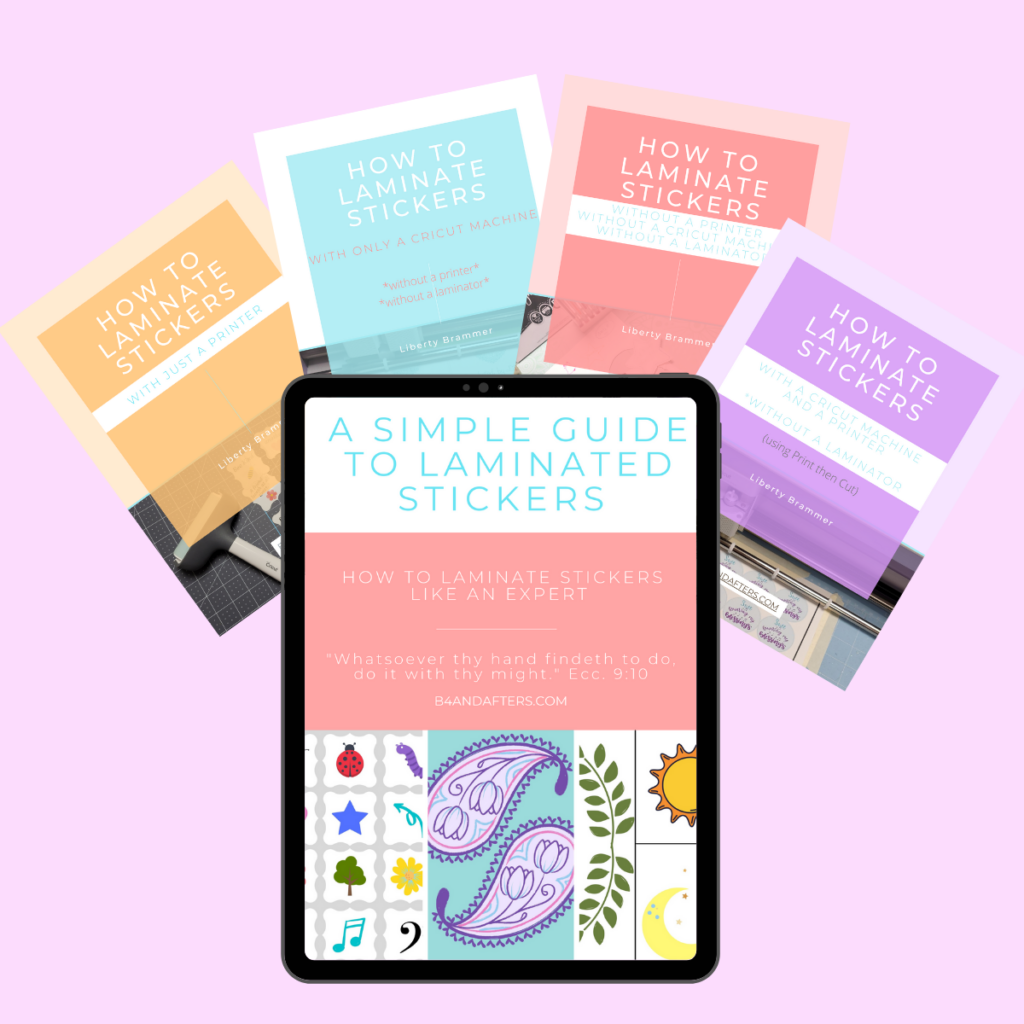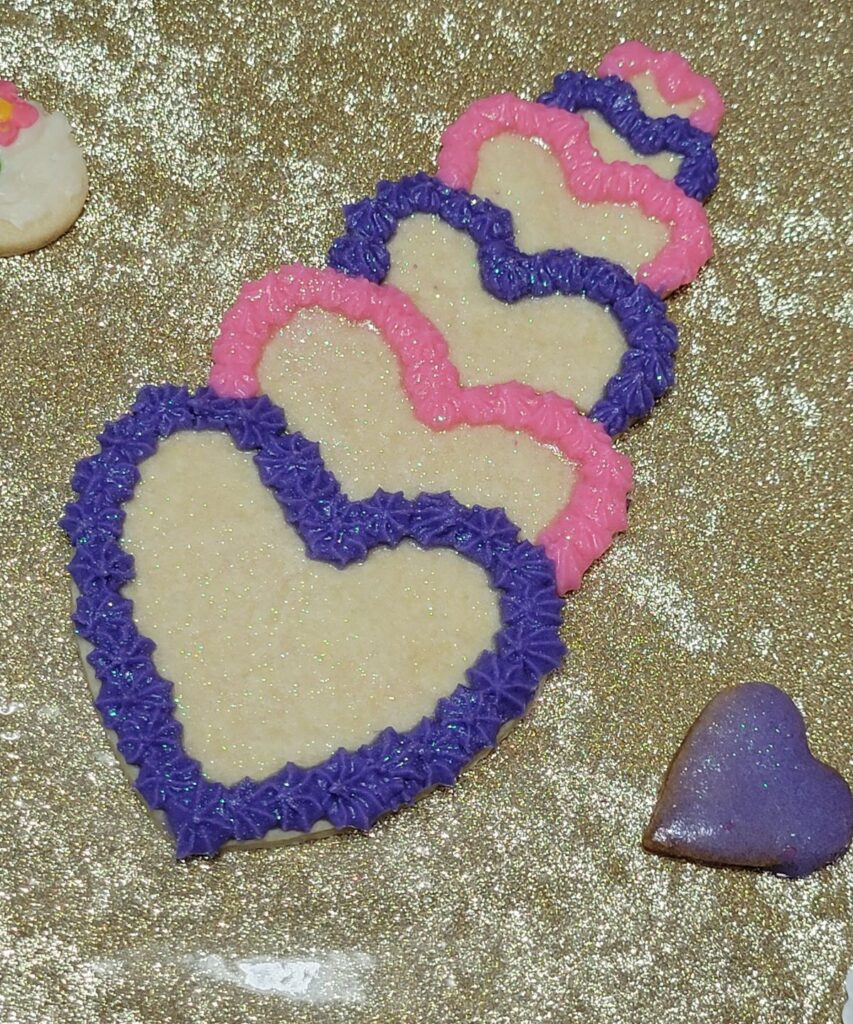 I used different sized hearts in these! Place cookies on a silicone mat. Bake for 10 minutes at 350F. Let cool, then remove and frost if desired.

Make a thin glaze to dip the cookies in.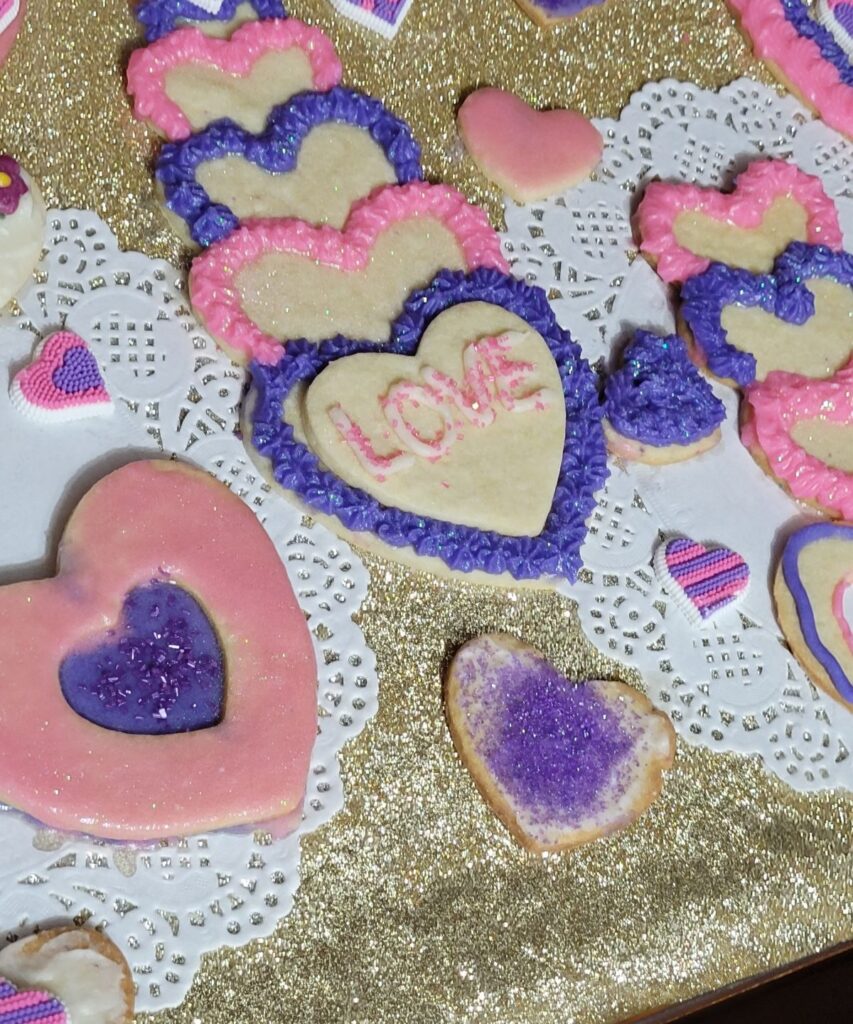 Or use frosting bags with star tips to decorate.

I didn't like how this one turned out. It looks more like an ice cream cone than a heart stack. Maybe I should have just outlined the hearts.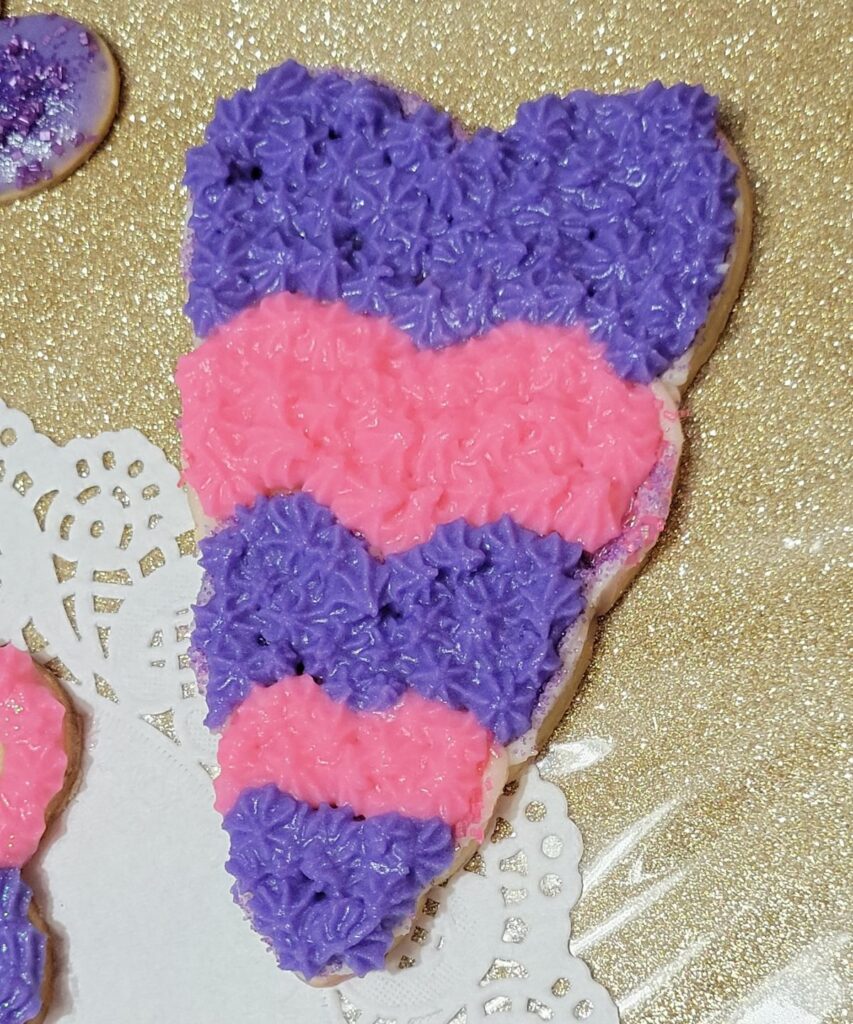 I loved how these turned out! I added edible glitter for extra sparkle.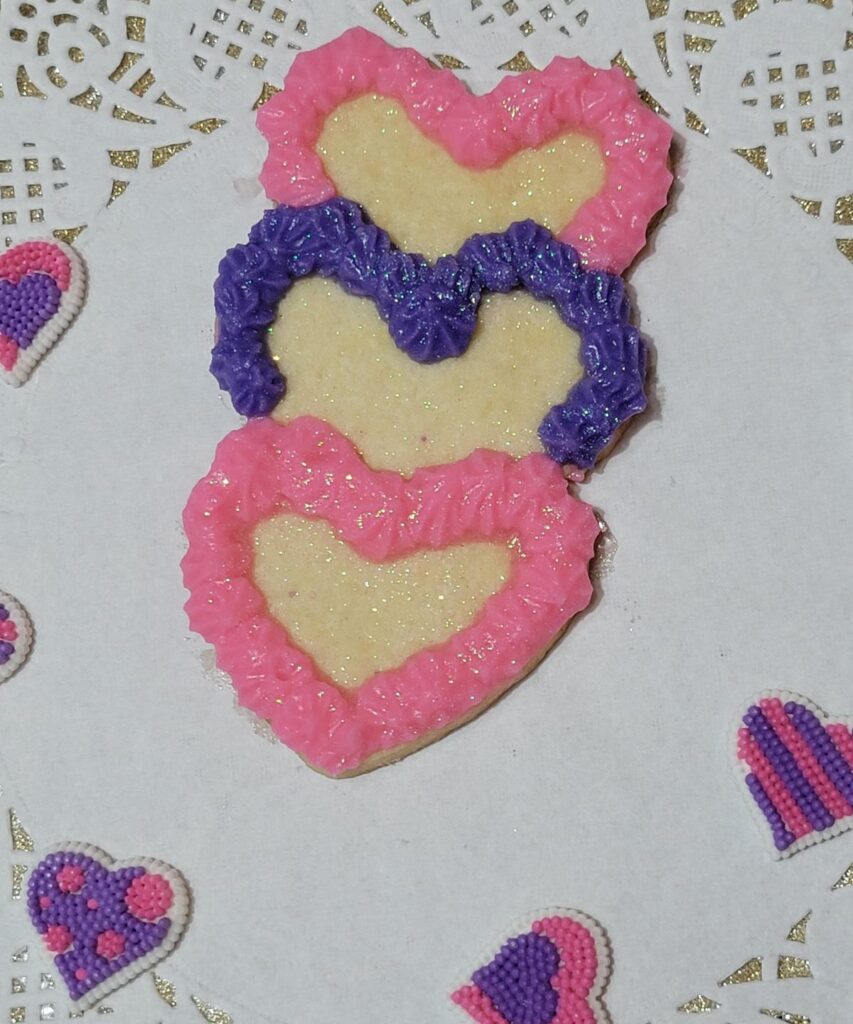 For these cookies I had made chocolate flowers and leaves ahead of time. They were actually leftover from the Pretzel Crosses that I made.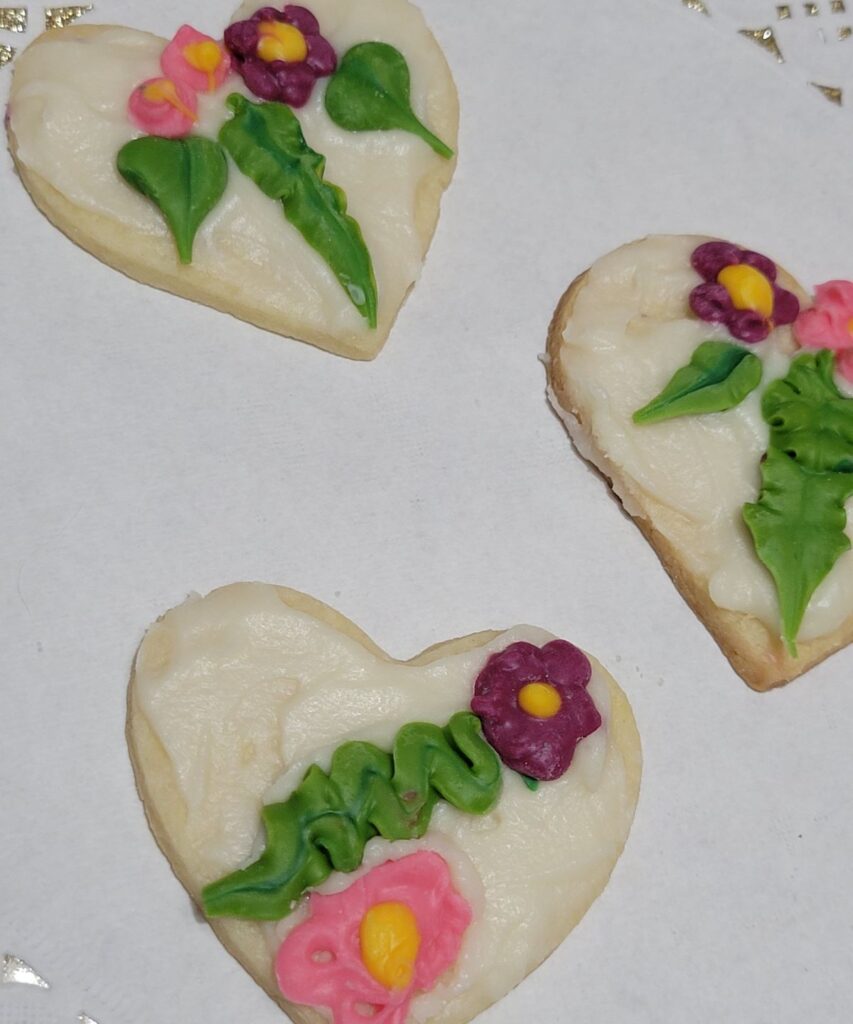 Here's a miniature heart stack with sugar sprinkles and edible glitter.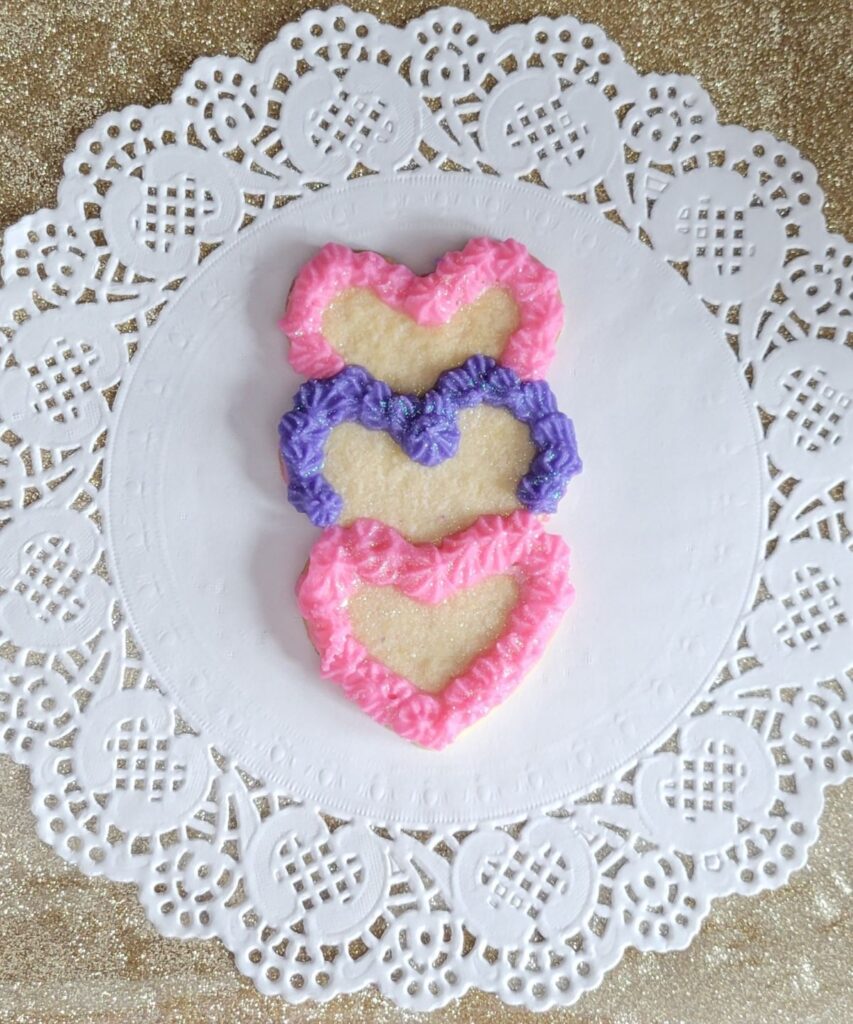 For this cookie: 1. Glaze heart in two colors. 2. Pipe frosting border. 3. Add edible glitter. 4. Add plain miniature cookie on top.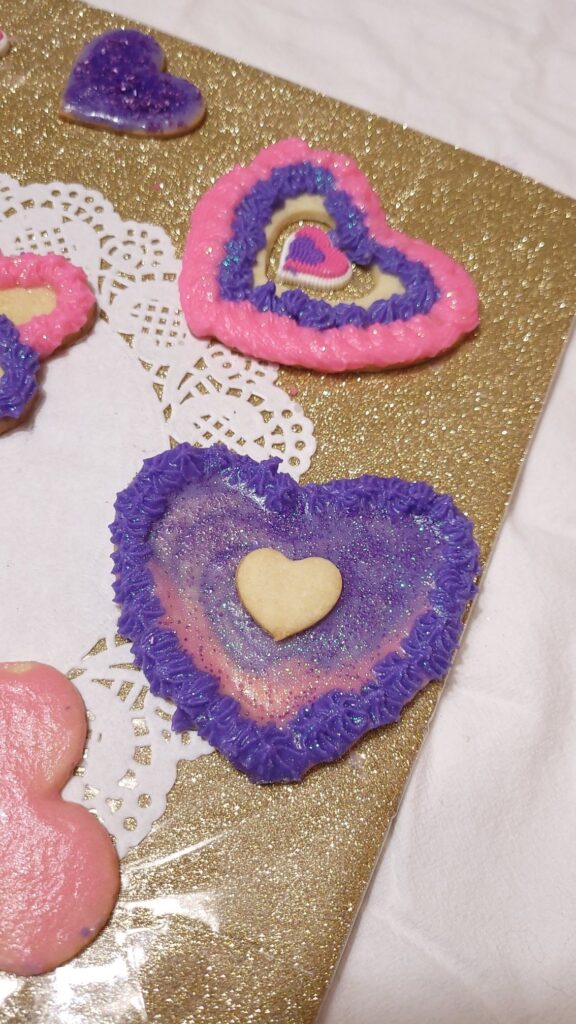 After making a Christmas Cookie version of this recipe for nearly 20 years, it was so fun to make this Valentine edition!

It's hard to choose a favorite because I like them all!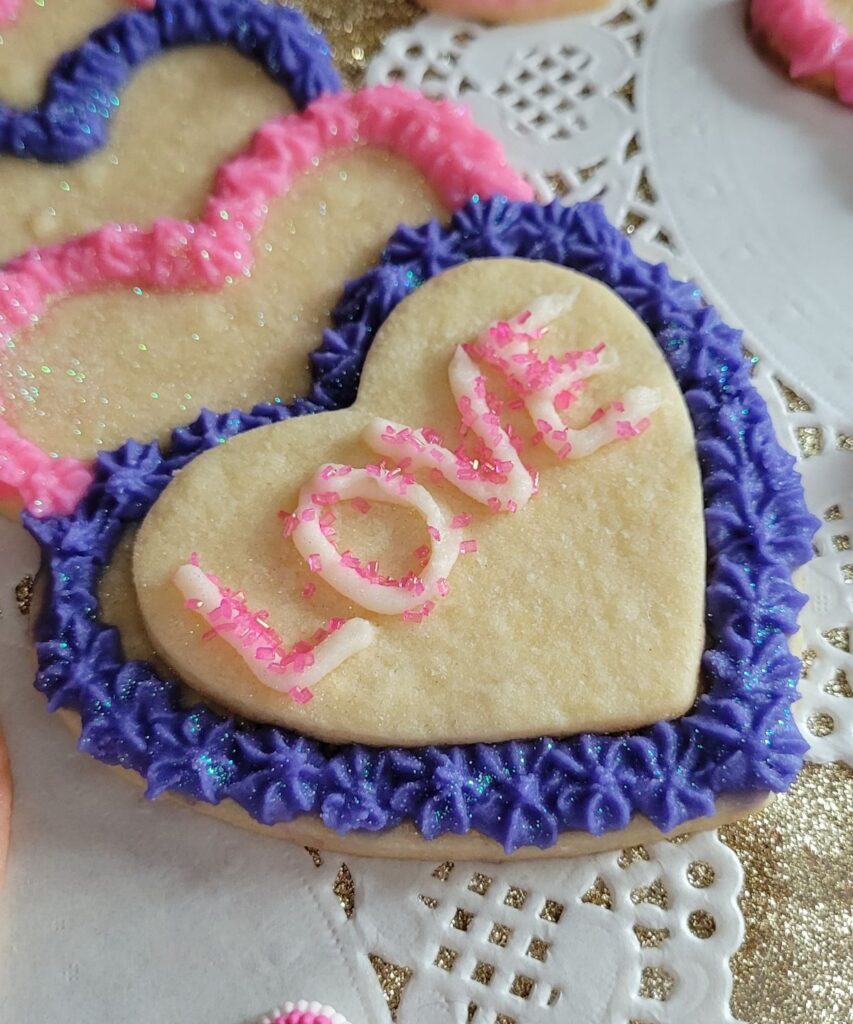 Here is one that had colored sugar sprinkles baked into it.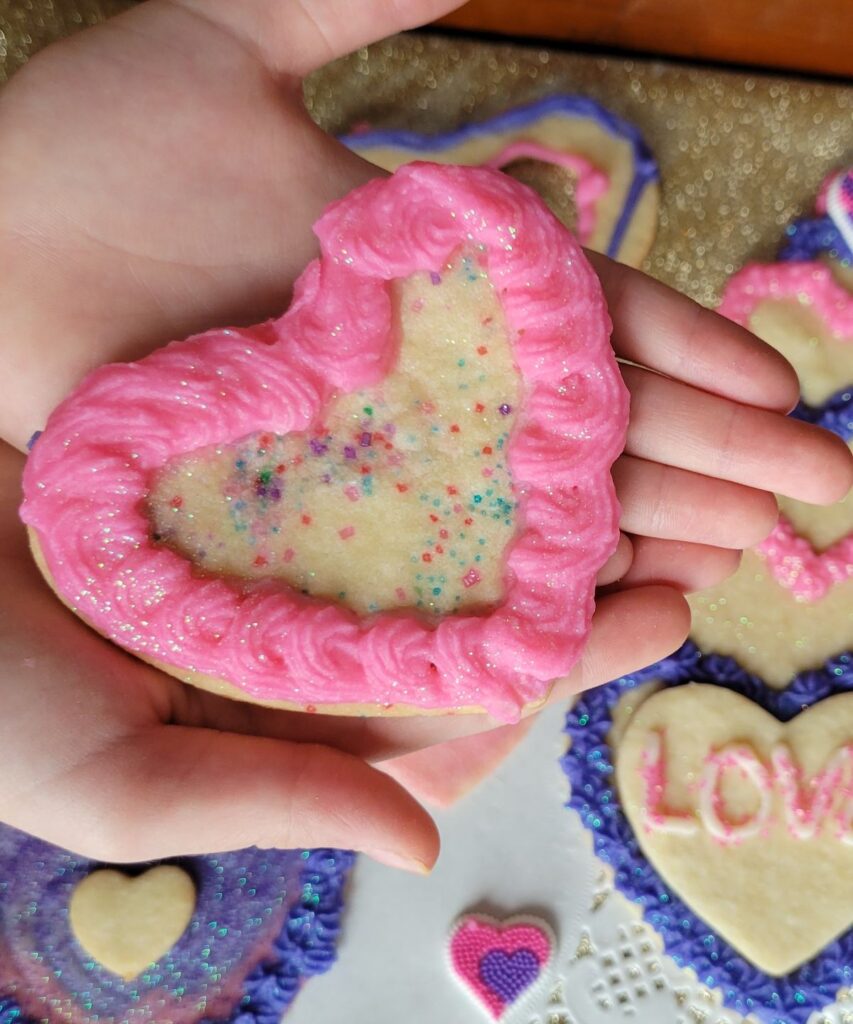 These cookies have a secret ingredient. They are delicious even without frosting!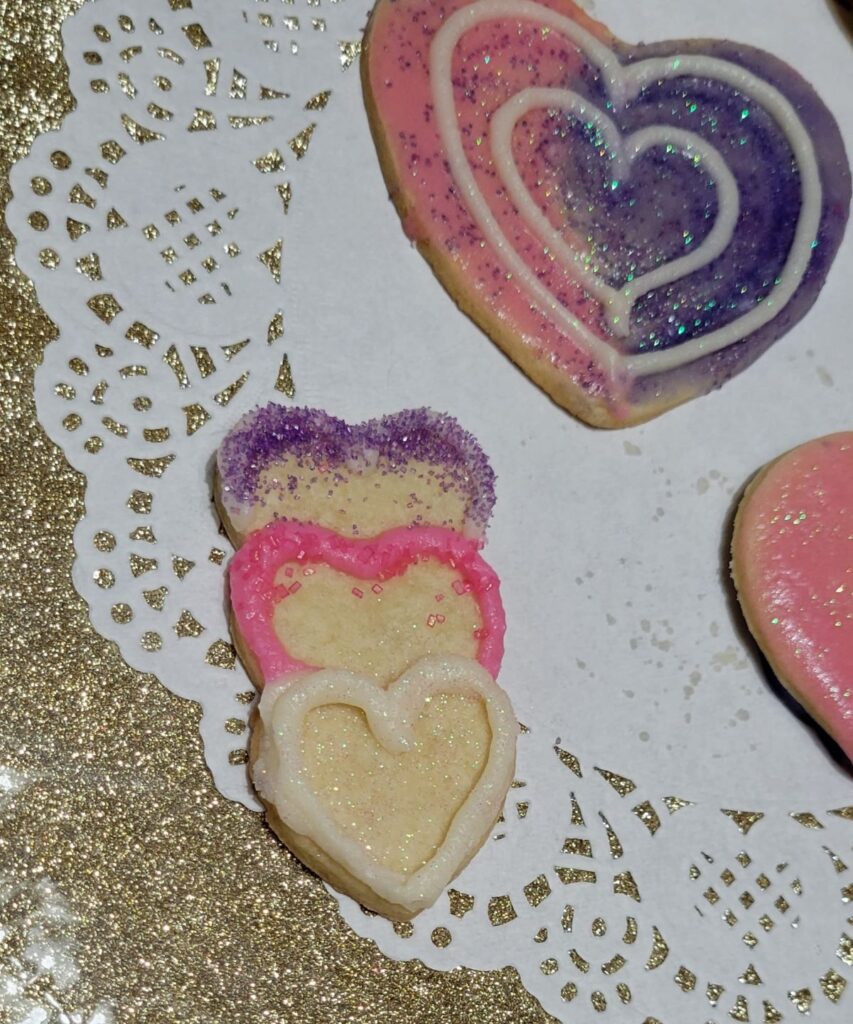 I wish I could share a bite of these with you! Let me know if you try the recipe. 🙂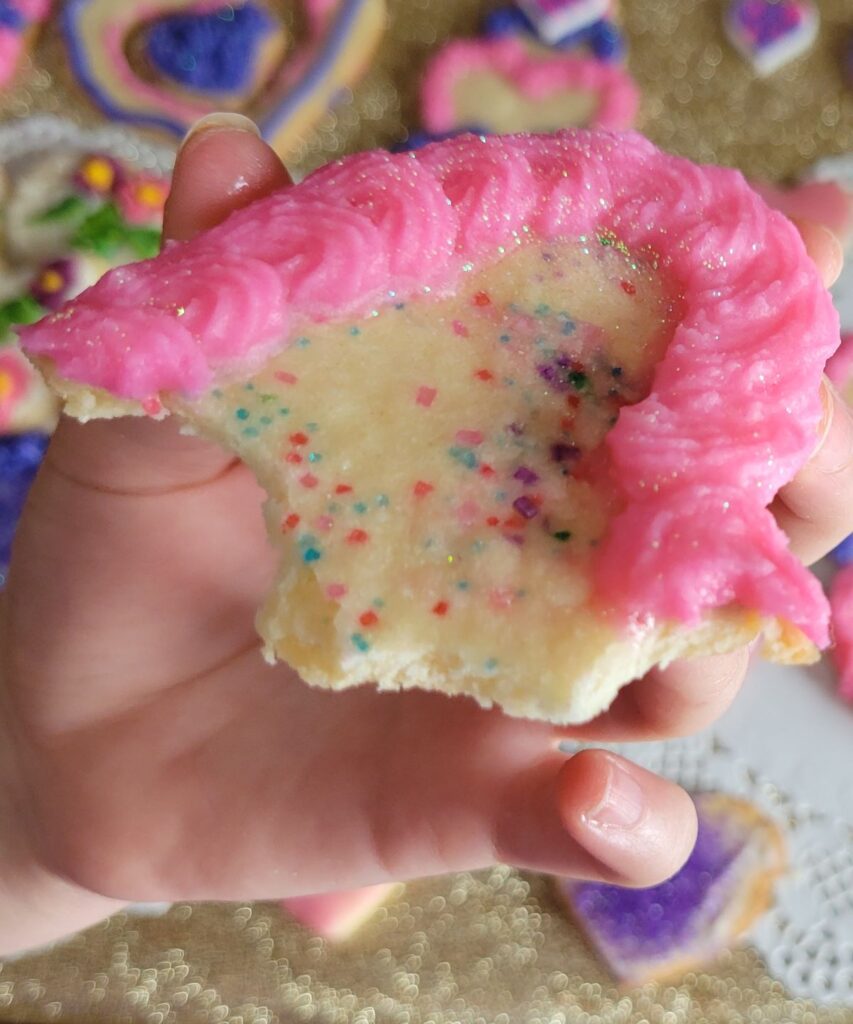 Happy Valentine's Day!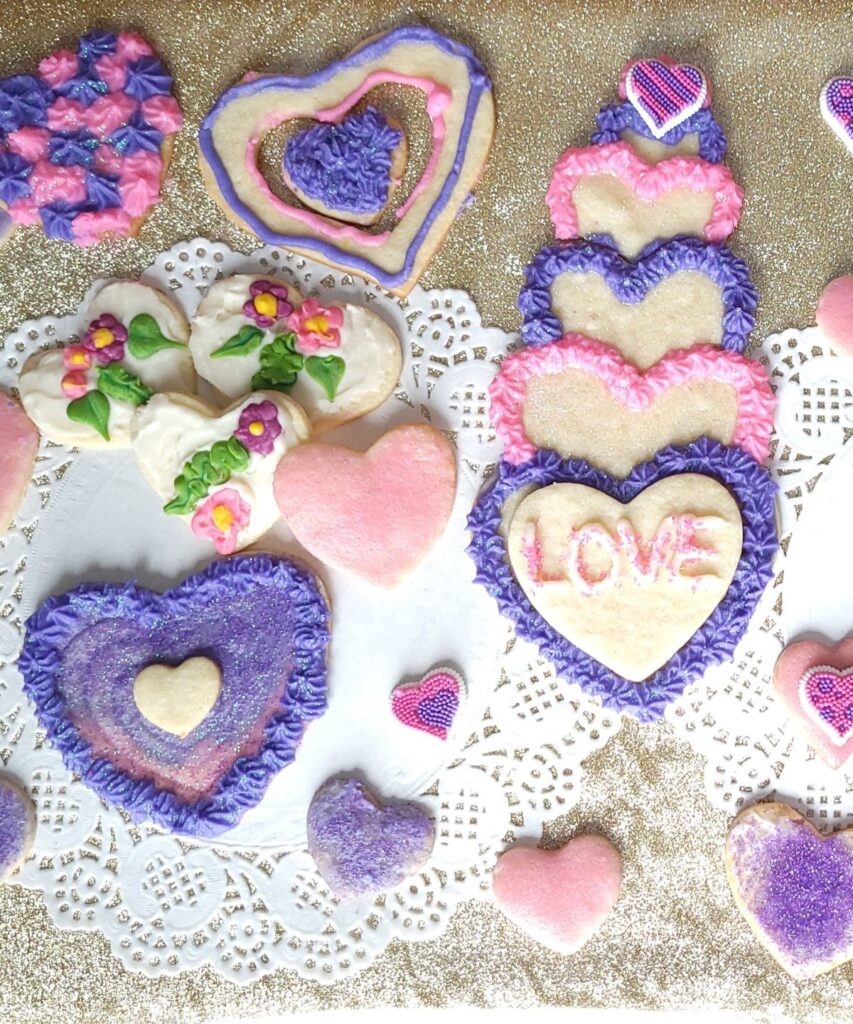 More Details on My Favorite Cut Out Cookie Recipe
These cookies are so good I have one child who actually prefers them without frosting! To get ALL the details on how to make these cookies, go to The Best Cookie Cutter Recipe.
After all these years of making cookies, I finally figured out that I could put down some brown packaging paper saved from a box, to catch all the crumbs on the table. You could also use a disposable table cloth. It makes cleanup so much easier!!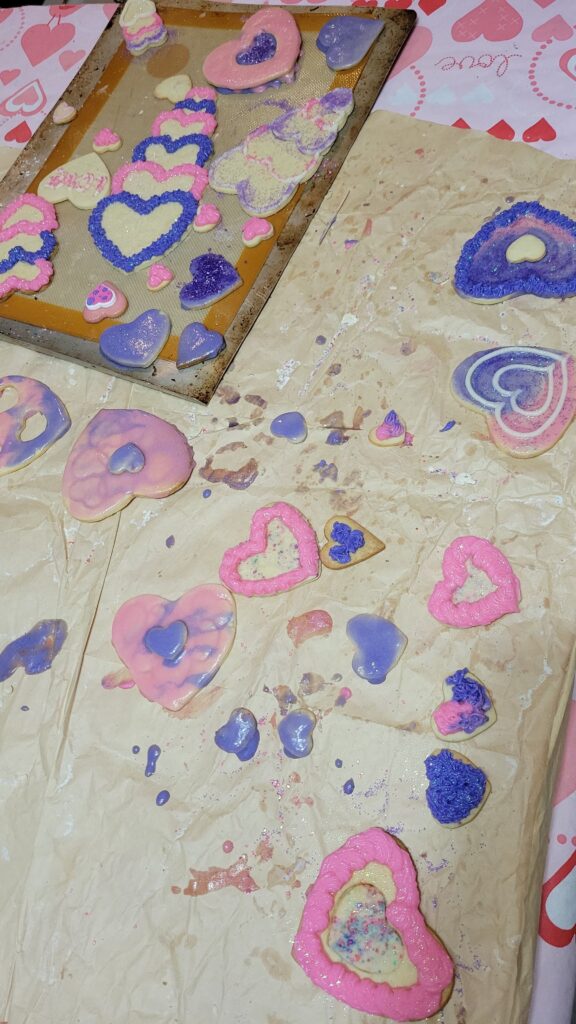 These cookies look so pretty in little treat bags for gift giving.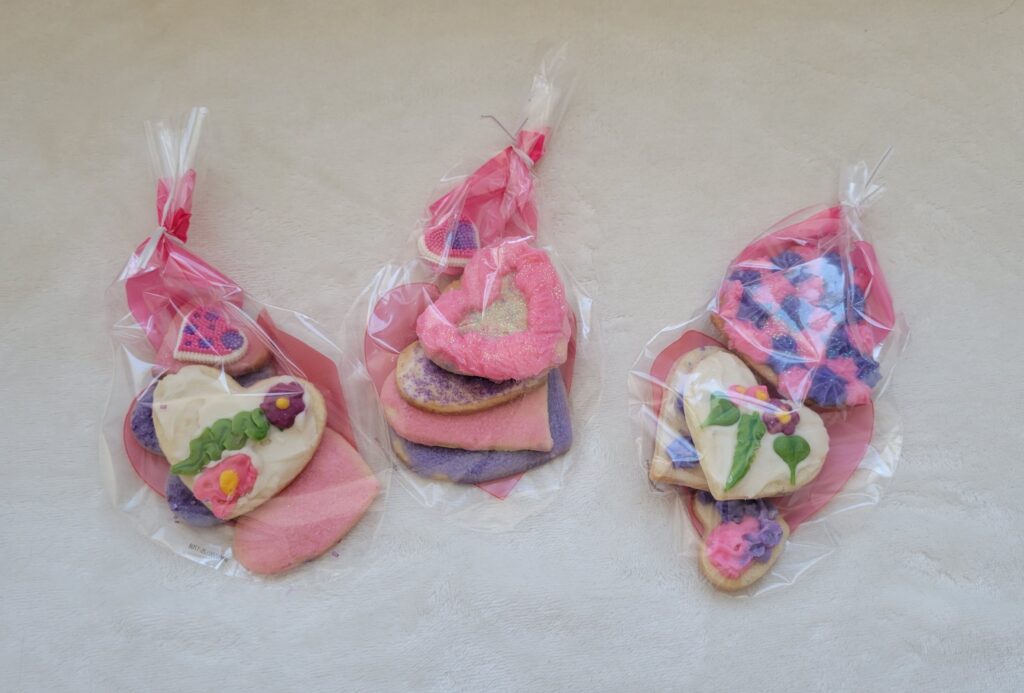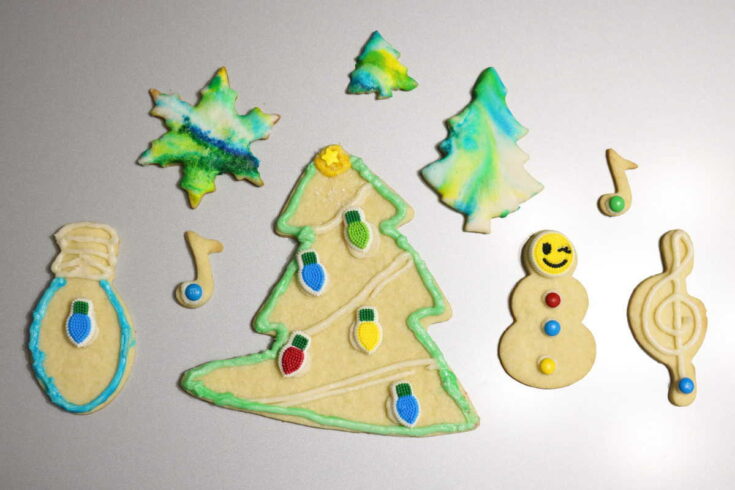 Yield:

36
The BEST Cookie Cutter Cookies
Total Time:
2 hours
50 minutes
These cut-out cookies even taste good without frosting! They use no rising ingredients, and keep their shape when baked.
Ingredients
2 sticks butter
4 oz. cream cheese
1 c. white sugar
1 egg YOLK
1 tsp. vanilla
2¼ c. flour
Instructions
Cream butter and cream cheese at room temperature with mixer until blended.

Add sugar, egg yolk, and vanilla.
Beat until blended.
Add flour a little at a time until blended. Dough will be thick and you may need to mix by hand instead of with a mixer.
Refrigerate overnight.
Roll thin, cut out with cookie cutters, and bake on a lightly greased cookie sheet for about 10 minutes at 350 degrees until just starting to brown.
Let cool before removing from cookie sheet.
Frost with frosting or glaze if desired.
Notes
This recipe doubles or triples easily.