Conversation Heart Necklace
This post contains links to affiliate websites, such as Amazon, and we receive an affiliate commission for any purchases made by you using these links. We appreciate your support!
Conversation Hearts are one of the most classic Valentine's Day candy. I had so much fun making a garland out of Conversation Hearts that I just had to craft one more thing with them! Can you ever have too many conversation heart crafts?!
I had searched all over to find these large candy hearts to make the garland for my pine cone tree. The large hearts are pictured below, along with the drill I used to put holes into them.
Conversation Heart Craft, Before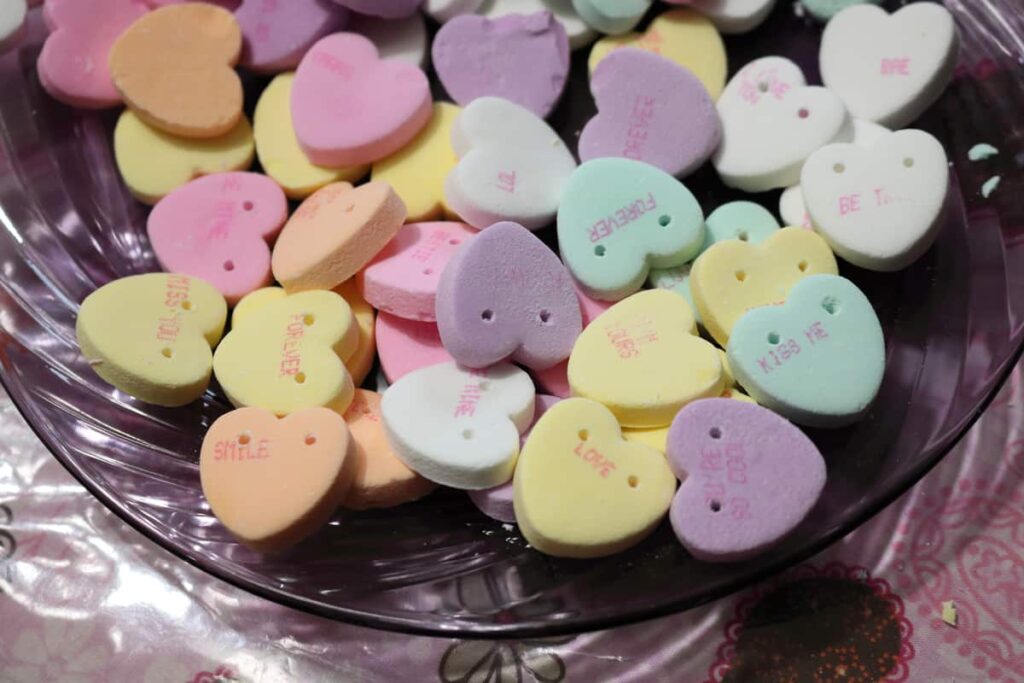 You can watch this video to see how I drilled the holes into the candy hearts.
While I was out shopping for large candy hearts, I also found some small hearts. I would call them regular size, but the box said "tiny hearts."
I'm so glad that you're here! Would you like an email reminder once a week about new ideas that I share? You may Sign Up Right Here. Now back to this tale of another Before and After project…
My husband helped me find some very small drill bits so that I could– you guessed it– drill holes into the small conversation hearts! I drilled two holes in each heart in the top half of the heart shape.
Assembly
I used nylon string and a sewing needle to sew the hearts to each other– very similar to how I made the garland using doily thread. Except for this necklace I pushed the hearts close to each other. I wanted the hearts touching each other with no gaps between them. I decided to alternate sizes, using 3 small hearts, one large heart, 3 small hearts, one large heart, and so on. The picture below shows a closeup of how I sewed the nylon string through the holes in the hearts. Thanks goes to Paula at Virginia Sweet Pea for this method– I looked at her beautiful clay heart garland to see how she "sewed" hers together with ribbon. If it is difficult for you to see how I did mine because of the clear nylon string, head over to her post where it is very easy to see how it is done.
To make the necklace, I left enough clear nylon string on each end to be able to tie it to a ribbon on each side. Then I tied the ribbons together in a bow in the back to complete the candy necklace. My daughter modeled the necklace for me to take a picture. She said that if she wore it she would want to eat it, and I replied, "Well, that's the idea!" Do you remember those edible candy necklaces on an elastic string? This is my DIY Valentine's version of an edible necklace!
AFTER!!
The necklace also looks pretty stretched out as a garland.
What do you think? Would you use this crafty creation for a necklace or for a garland? This Conversation Heart craft can be used in so many ways!