How to Upgrade Your Mirror
Here is how I embellished one of our mirrors using the Cricut to cut a design out of white Contact paper. Someone gave me a legacy Cricut Machine a few months ago. It is very limited since I can only use the preloaded designs, but I have enjoyed seeing it work. (It is an Expression.)
(*This post may contain affiliate links. By purchasing anything from these links, I may receive a small commission at no extra cost to you. More information is available on my
Disclosure
page.)
Did you know that you can install things on hollow doors? When we moved to our house six years ago, I needed a place to put my full length mirror. The only spot that it would work was on the outside of our bathroom door. I had heard about anchors for hollow doors and sure enough, that was my solution! Since I had not installed a hollow door anchor previously, I practiced on a hollow closet door that I had removed. I do recommend practicing if you can, when you haven't done something before.
So I used four hollow door anchors (find them here) to mount my mirror clasps. They've been there for six years now, without a problem!
Mirror Top, Before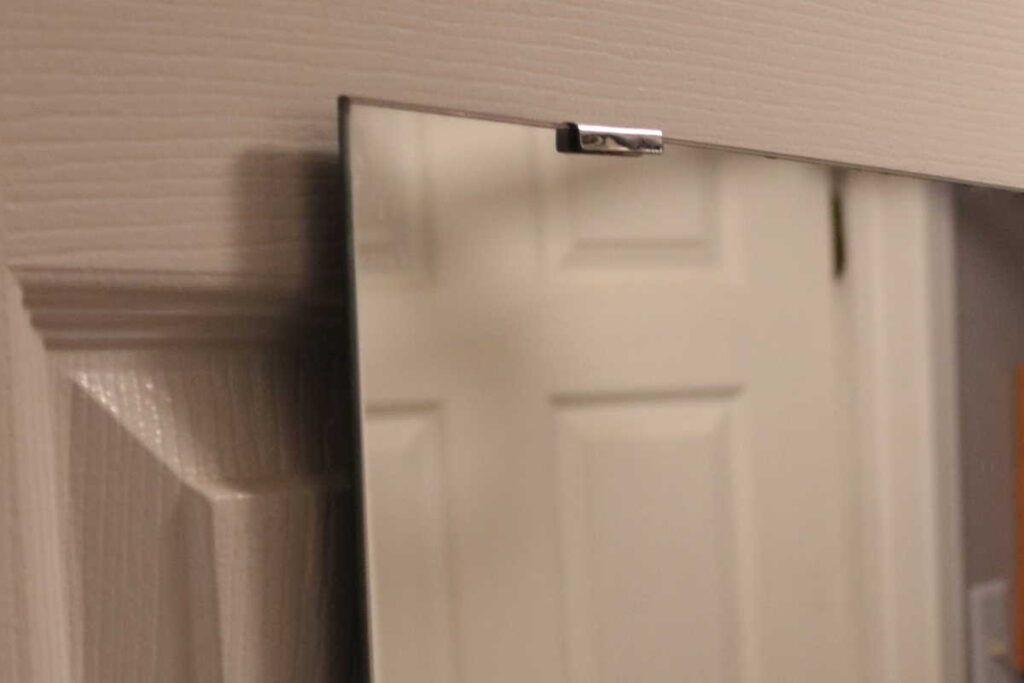 Cricut sells a high quality self-sticking vinyl that is great for all sorts of projects. It can also be expensive. I have found that Contact paper works just as well for most projects. Contact paper is removable, but it also sticks for as long as you want it to– years even.
I found a design that I liked already loaded into the Expression. I made it the size I thought would work (about 3 inches). I cut out 4 of them from white contact paper for my mirror's corners. I suppose a silver color would look great, too. Really, any color you like would work. This would be a great way to customize a mirror for anybody, whether it is for a kid's room or a guest room.
AFTER!!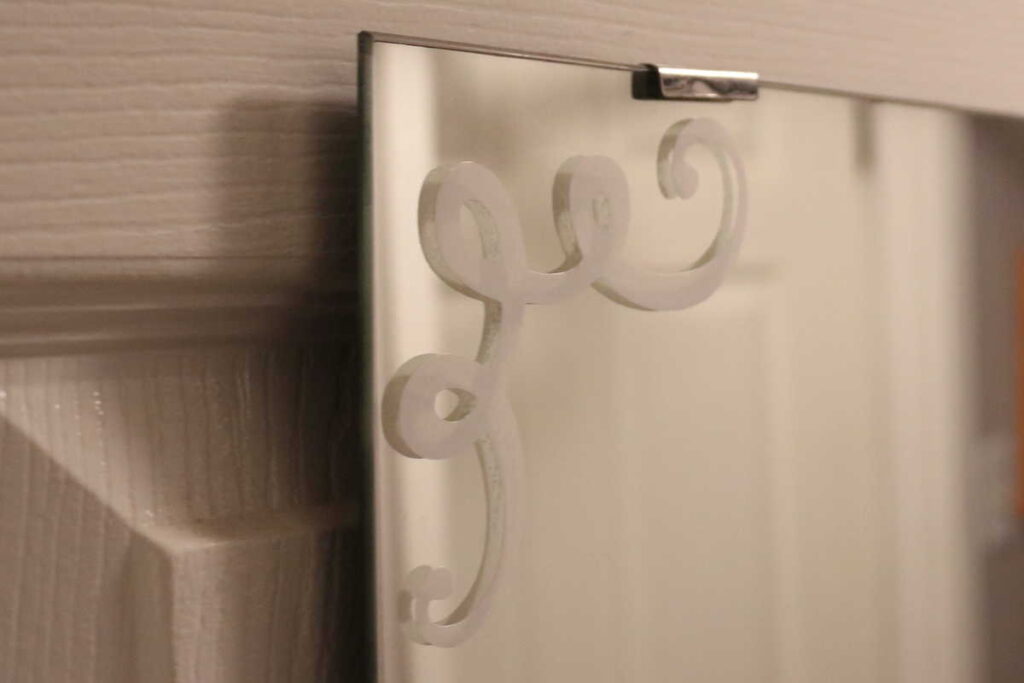 I really enjoyed being able to make this plain mirror a little more fancy. It only cost me a few pennies. A roll of white contact paper is huge! There are different qualities of contact paper. The Dollar Tree even has some which is good enough depending what you are doing with it. Of course, Amazon has a great selection. You can also find Contact Paper at Walmart and Lowe's.
Mirror Bottom, Before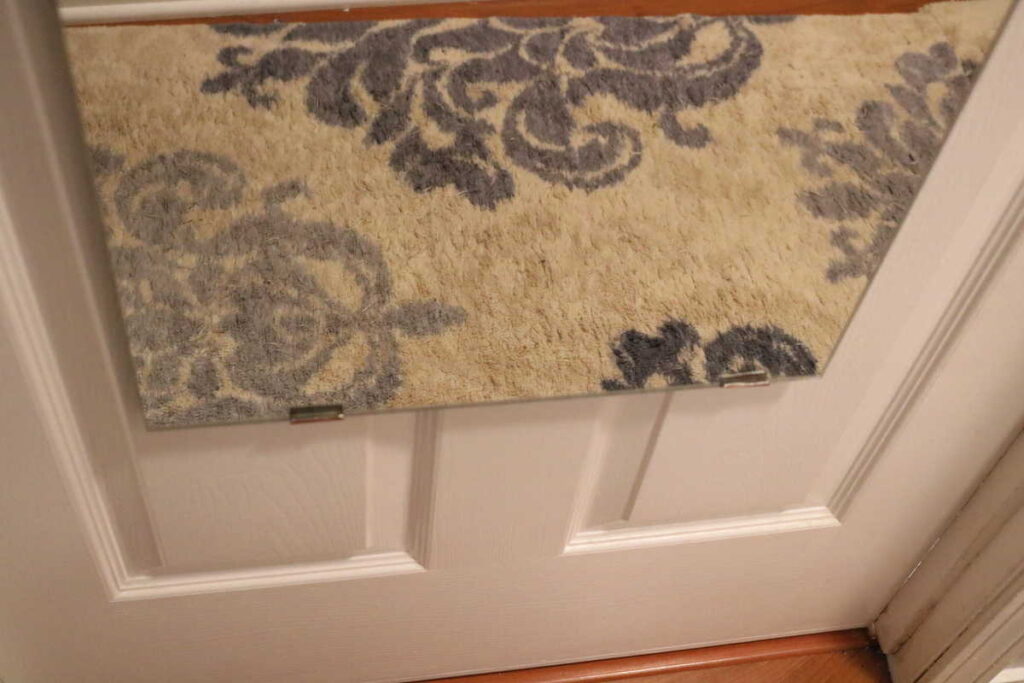 Mirror Bottom, AFTER!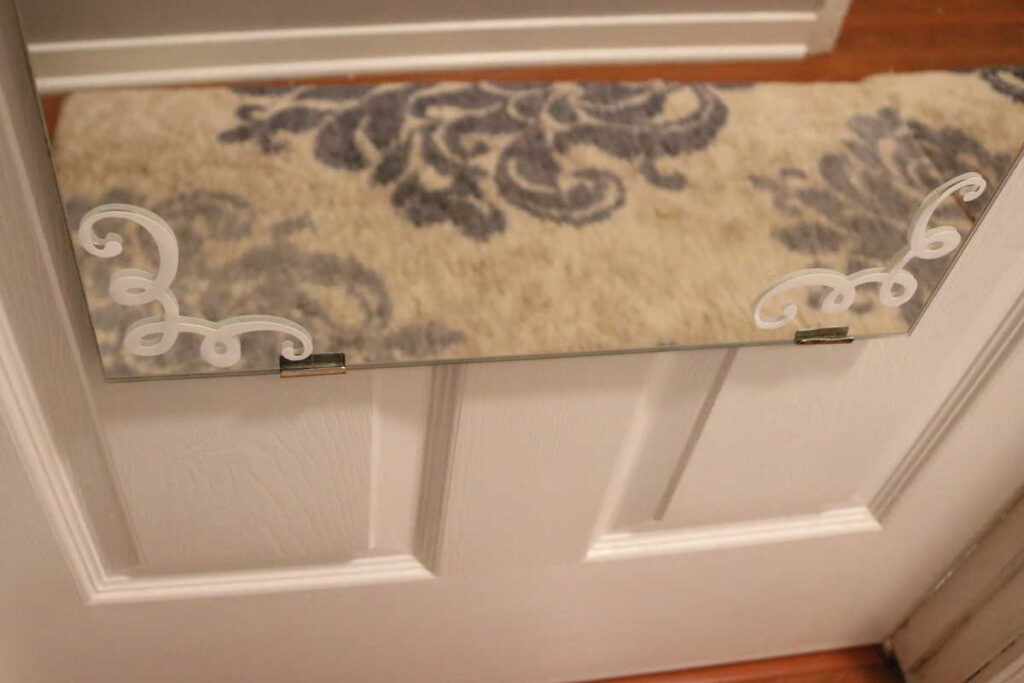 How would you customize a mirror in your house, if you could do it?
Mirror Bottom, AFTER!