Wait Until You See This Sunflower Pine Cone Wreath
*This post may contain affiliate links to websites such as Amazon. By purchasing anything from these links, I may receive a small commission at no extra cost to you. More information is available on my Disclosure page. I appreciate your support!
Today I'm going to show you how I used my plain Pine Cone Wreath as the base for a fabulous Sunflower Pine Cone Wreath! Adding the sunflowers really improved on the original design, and that is what turned this into a Felt Flower Wreath Tutorial!
Pine Cone Wreath, Before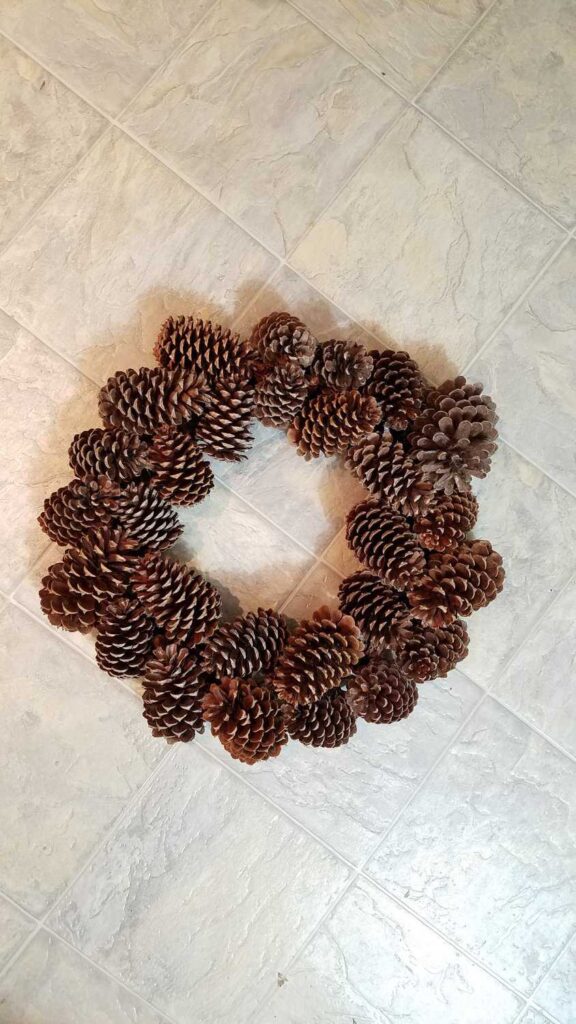 This post is part of a DIY Challenge for Fall hosted by Terrie at Decorate and More with Tip. I'm so glad to be a part of this group! There will be more Fall Inspiration at the end of this post! If you are here from Patina and Paint then Welcome!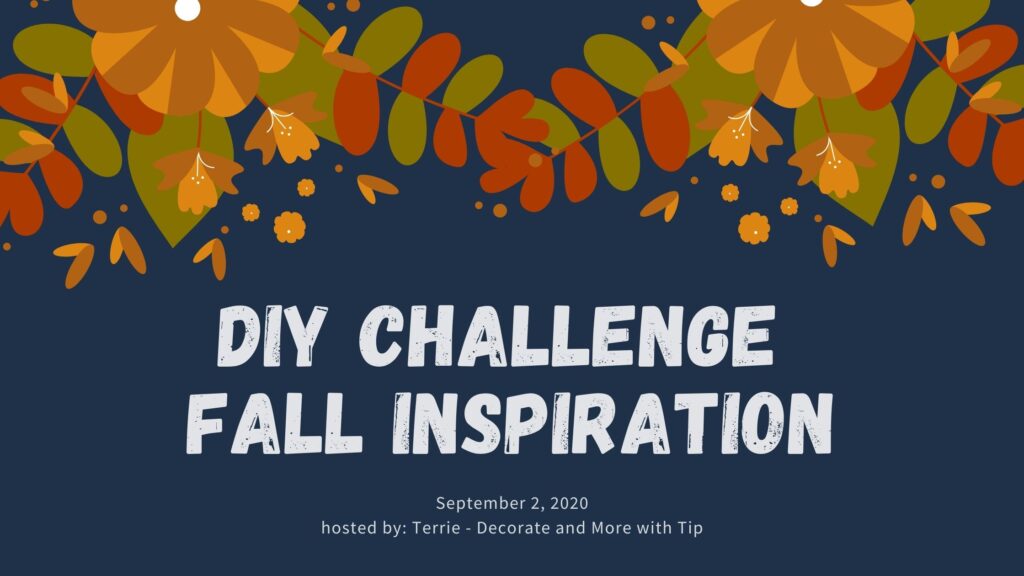 The first thing I did was add my Wood Bead Garland. I really like the pop of Blue that it gives!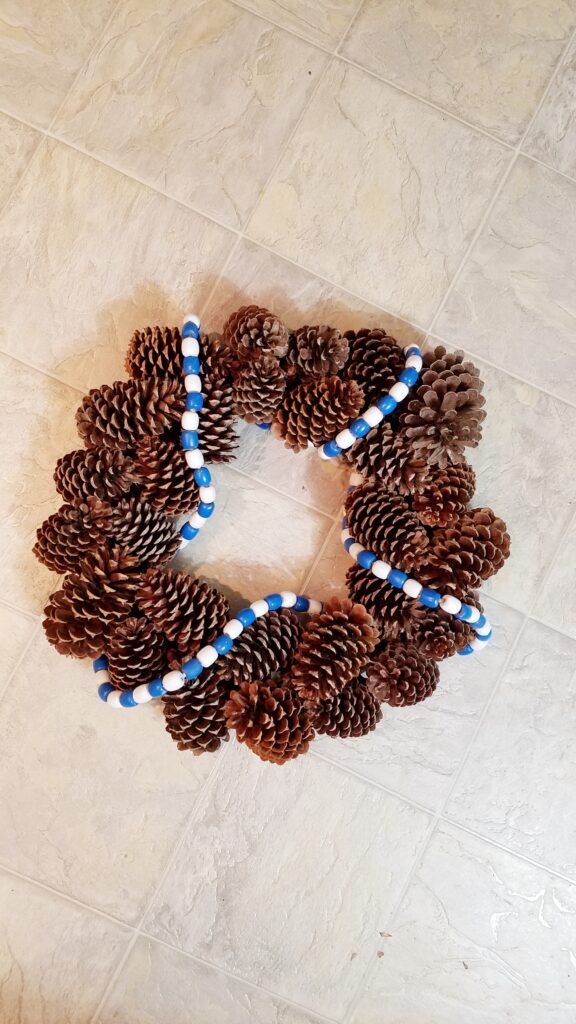 The Inspiration for my Felt Flower Wreath
The inspiration for the rest of the wreath comes from my flower beds. I was blessed this year to have new sunflower plants volunteer from last year's sunflower plants!! What fun! I love it when that happens! This variety is called "Lemon Queen."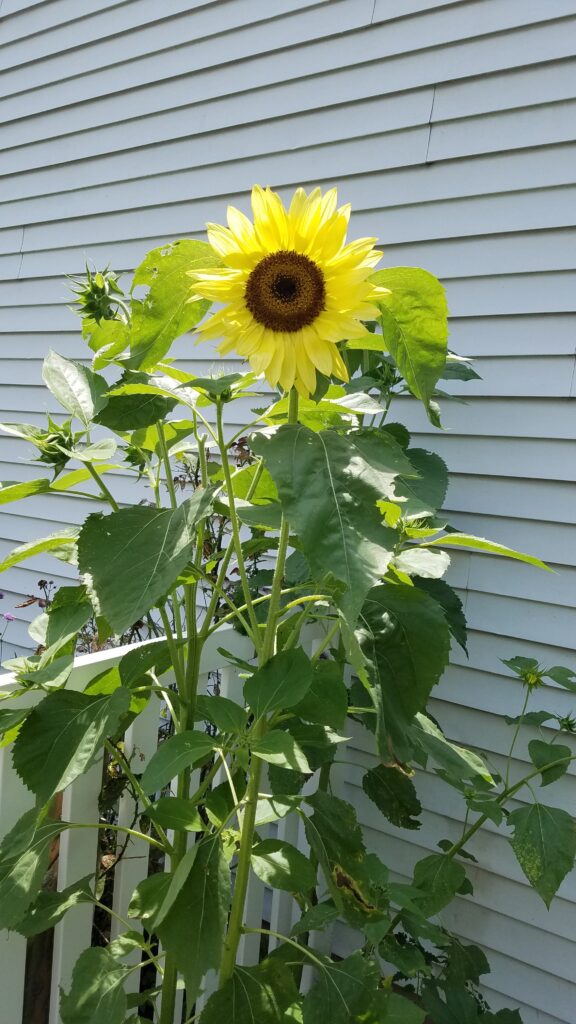 The other variety of sunflower that grew back were these gigantic sunflowers! This is a picture of me holding one from last season– the plant grew so huge and tall! I hated to cut it, but I did. I felt like a hunter holding a trophy!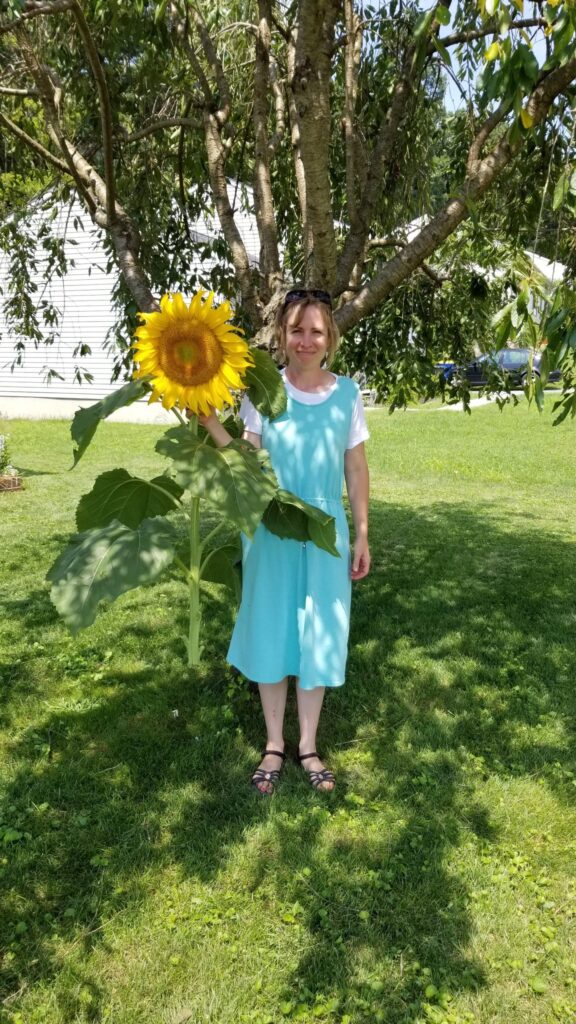 You may have seen this bouquet that I posted on Instagram– it holds both varieties of sunflowers and some black eyed susans.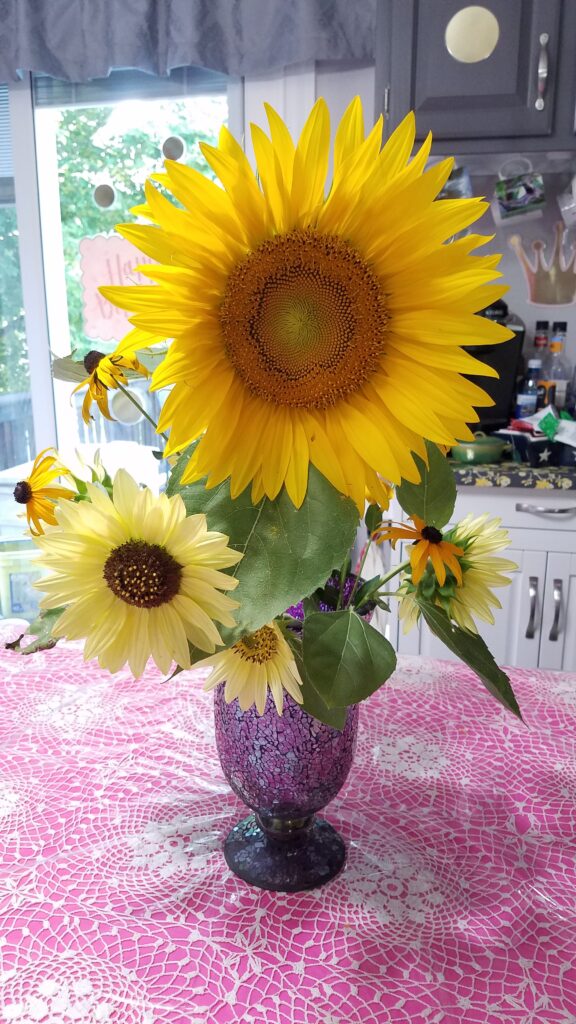 This flower was not nearly as huge as last year's (Now why didn't I think to measure that one?!) but 9 inches is still pretty big!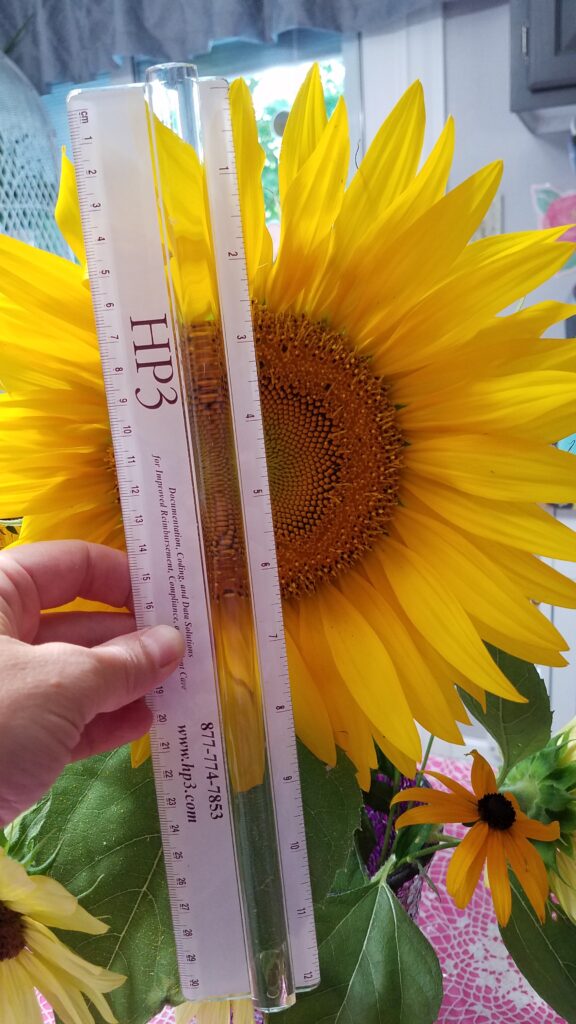 I enjoyed this sunflower bouquet so very much. I watched it, wondering if the enormous amount of pollen would make my allergies worse. Amazingly, it did not! Look at this gorgeous pollen— star shaped!
As the flower matured, it kept pushing the pollen up and out of its star shaped tubes, reminding me of how a cookie press pushes out cookies. Amazing, yes?? These pollen photos were taken two days after the first pollen photos. It also made me think of cheese straws!
So as you know by now, these gorgeous sunflowers were the inspiration for this wreath. I was tempted to try to use real sunflowers, but I knew they wouldn't last very long so…..
Felt Flower Wreath Tutorial
Next, I created some felt sunflowers. I used my Cricut machine to cut out the felt, but you could use scissors just as easily. At first I tried a rolled version (bottom left), but I didn't like that one as well.
The felt sunflower that I ended up using was simply two layers of yellow felt with a brown center. I made the top layer a tad smaller than the bottom layer, and turned it a smidge so the petals would alternate. I used Glue Dots to hold the layers together.
To attach the sunflowers to the wreath, I twisted two bread ties together.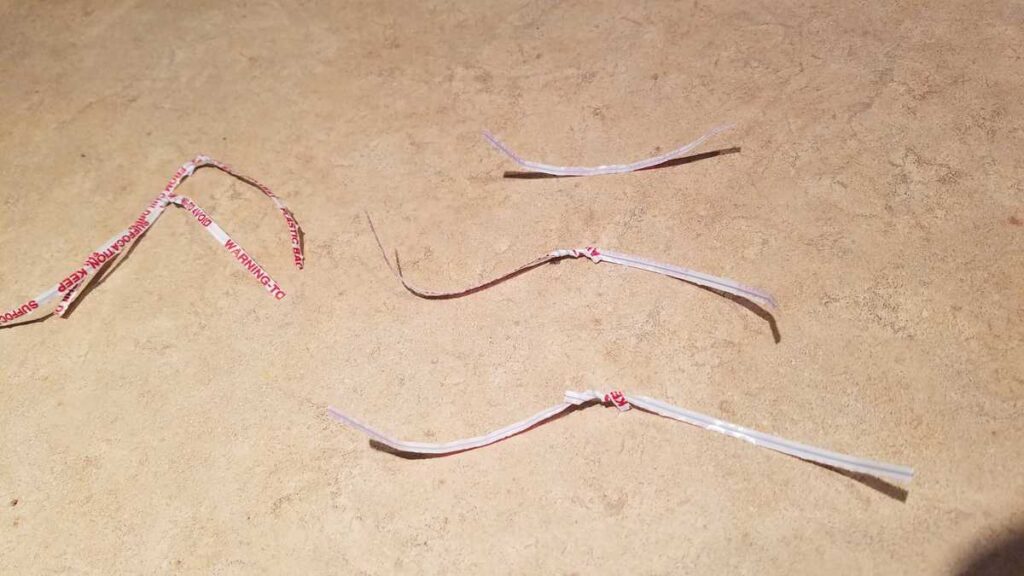 Then I hot glued the twisty ties to the back of the sunflowers.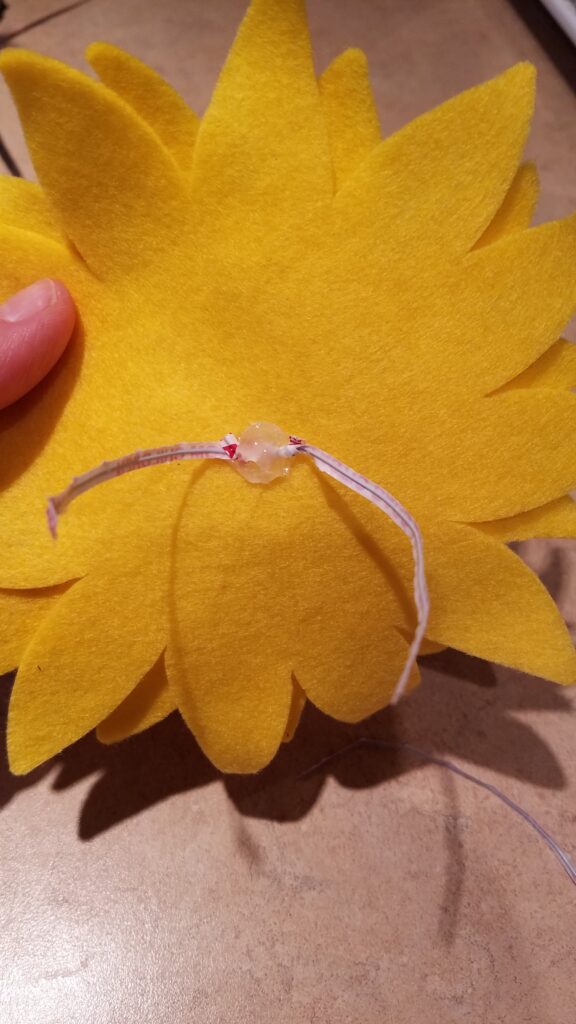 I made 3 different sizes of sunflowers for variety.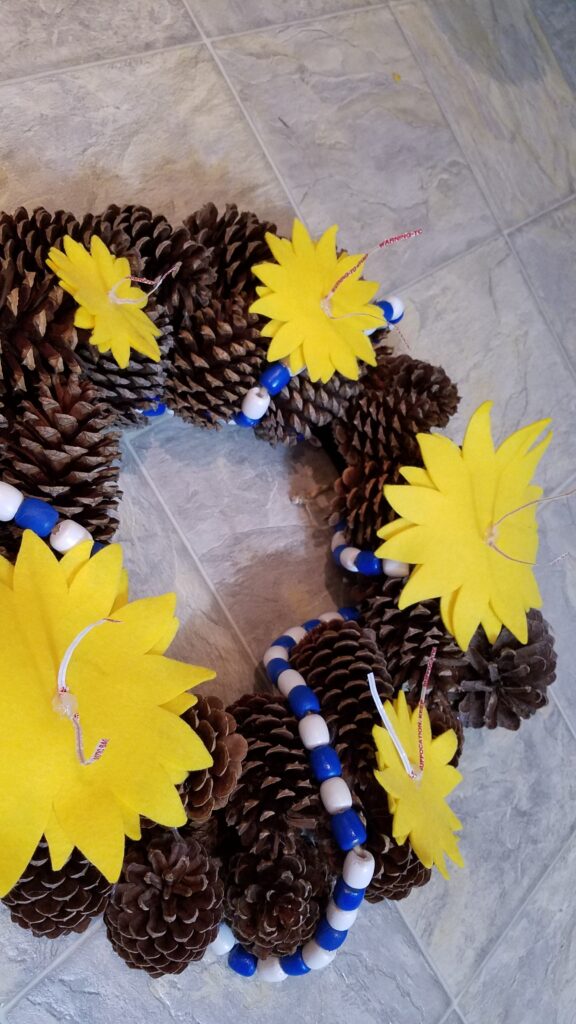 Then I poked the twisty ties into the pine cones and twisted them to secure them.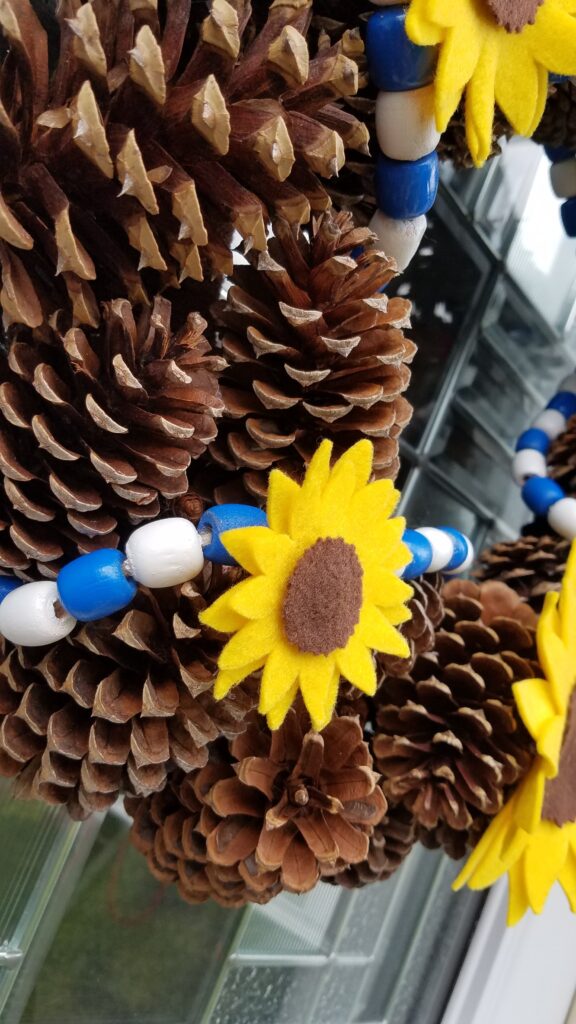 And here it is! A very cheerful end of summer wreath, that is also a bright look at the beginning of Fall.
Sunflower Pine Cone Wreath, AFTER!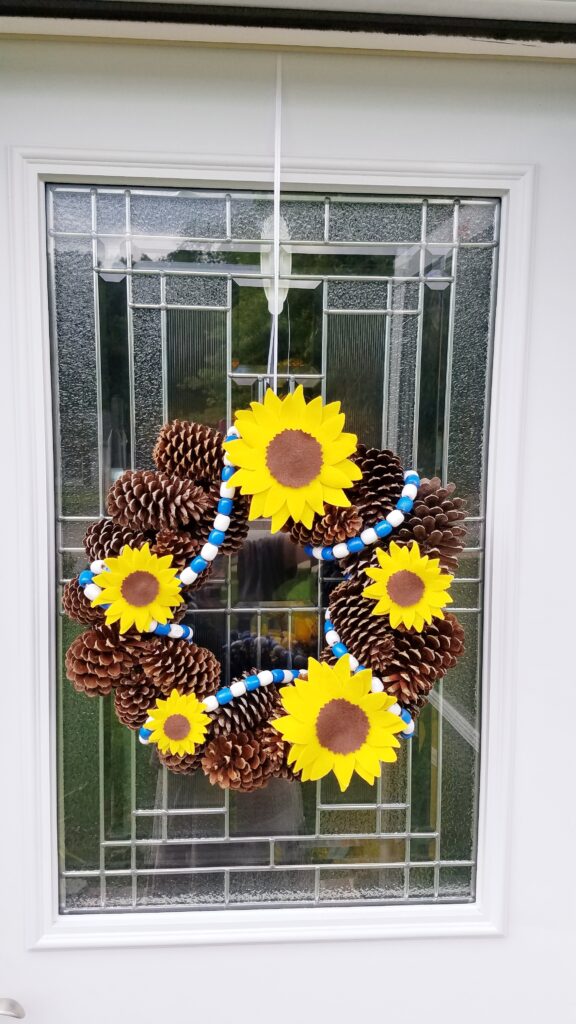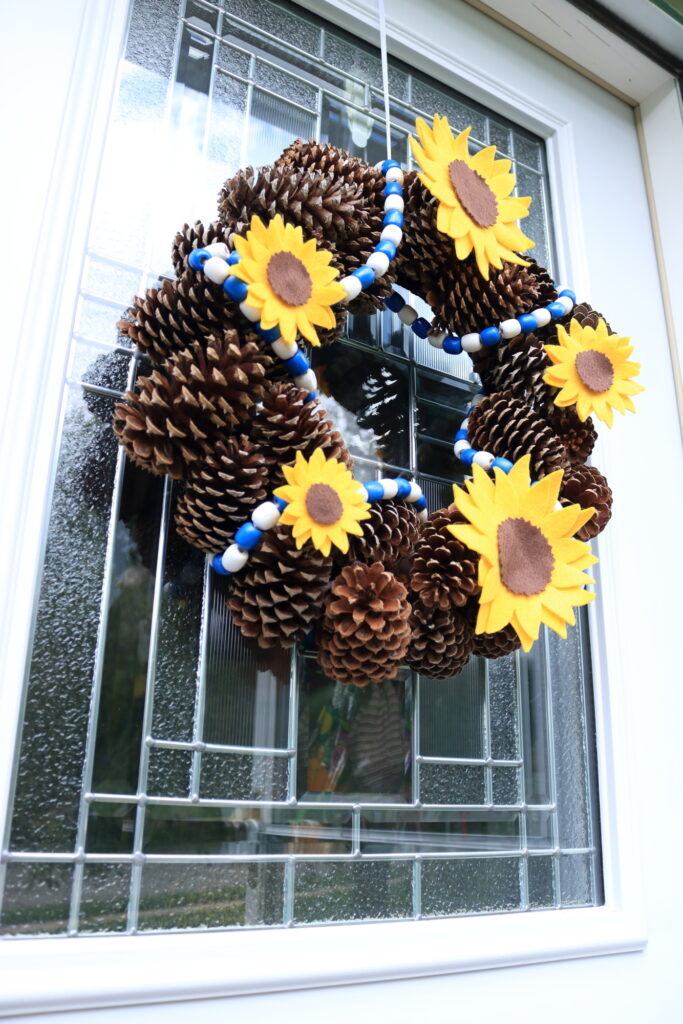 I hope that you enjoyed my easy felt flower wreath tutorial. I am actually the end of the Blog Hop this time but if you did not start at the very beginning, then Next up would be Decorate and More with Tip.
Enjoy the rest of the Fall Inspiration below!