How I Made a Very Starry Patriotic Wreath
*This post may contain affiliate links to websites such as Amazon. By purchasing anything from these links, I may receive a small commission at no extra cost to you. More information is available on my Disclosure page. I appreciate your support!
Have you ever made a patriotic wreath? The great thing about a patriotic wreath is that you can use it for Memorial Day, Flag Day, and the Fourth of July. So you can put it up May through July if you like!
See how I used glittery stars to make a red, white, and blue wreath that only cost me about a dollar! And it didn't even take long to make!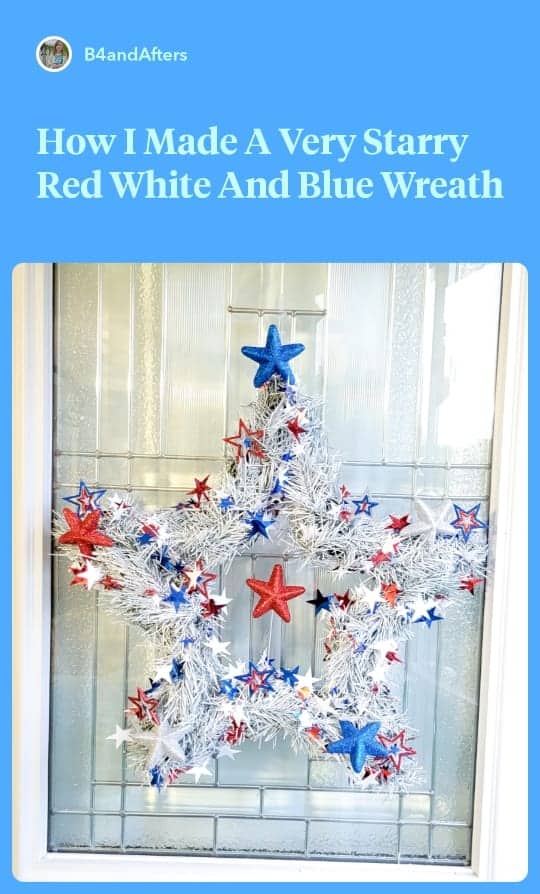 Today I'm joining some other bloggers in sharing some DIY crafts with you, hosted by Chloe at Celebrate and Decorate. You can find their projects at the end of this post. Wasn't Terrie's quick Lantern Change easy to do?! She always has great ideas.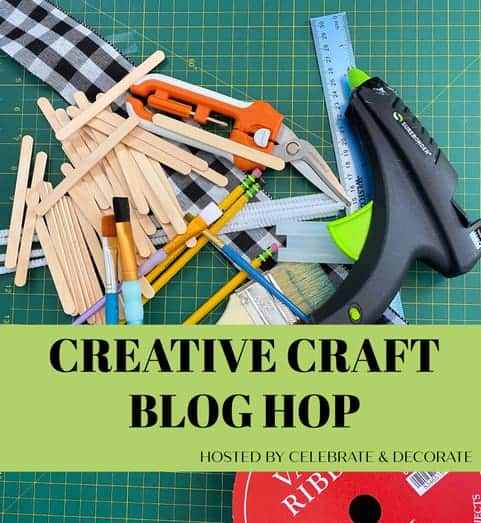 So last year I made this Star Wreath by upcycling an old Christmas tree. But the little blue flowers faded in the sun, so I decided to remake it. I hope you like this version!

How I Made this Patriotic Wreath

Start with a star shaped wreath. (This could be a star shaped wreath form that you saved when whatever else was on it faded in the sun….)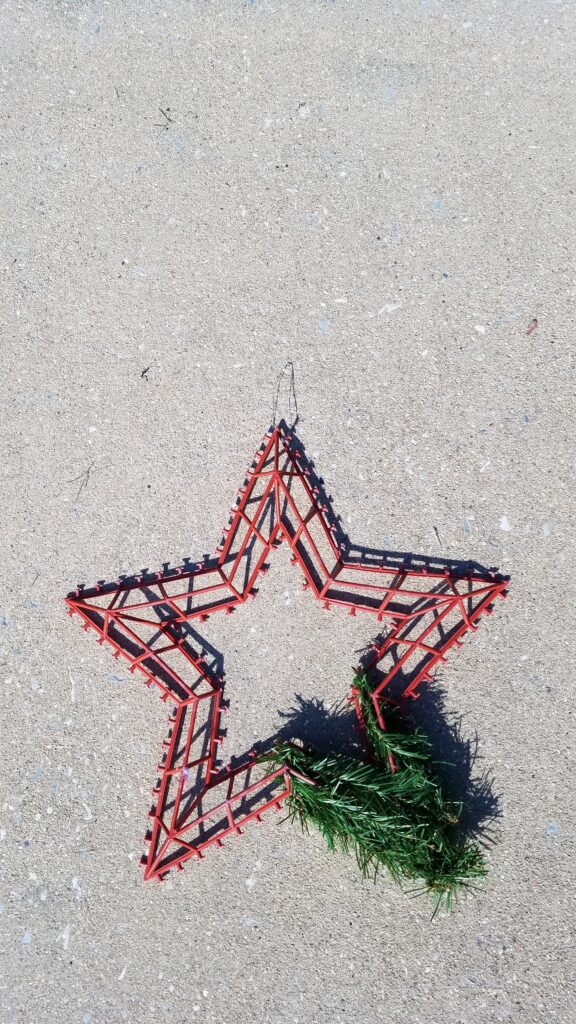 Add faux greenery that you salvaged from an old Christmas tree that your neighbor threw out because the lights didn't work. (Please tell me I'm not the only one?…..)
If you chose a good throw-away tree, the pieces will bend like a twisty-tie and you can just bend it to attach it to the star shaped wreath form. And if it's a great quality faux branch, the needles will not fall off.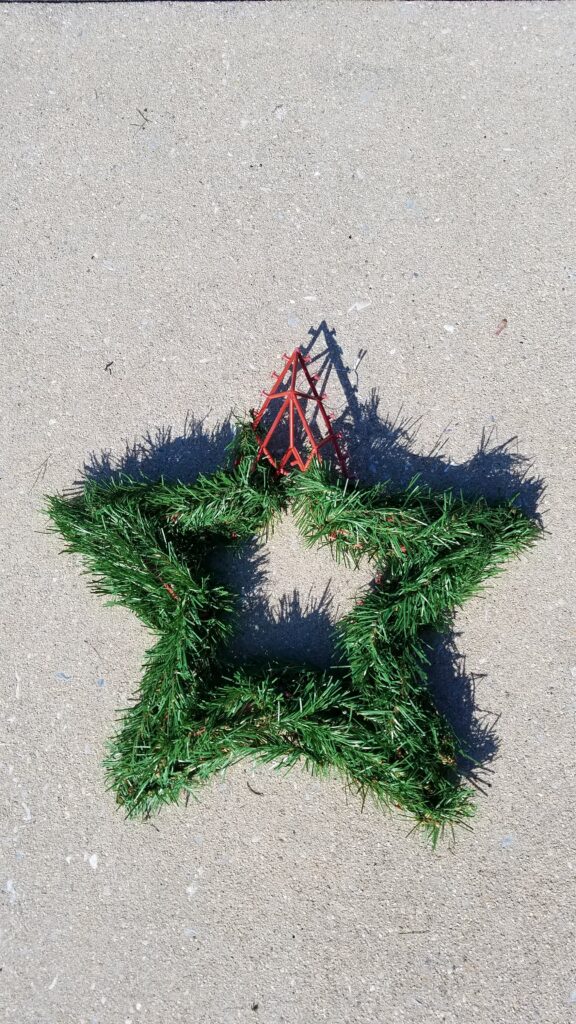 Use enough faux greenery to completely cover the star shape.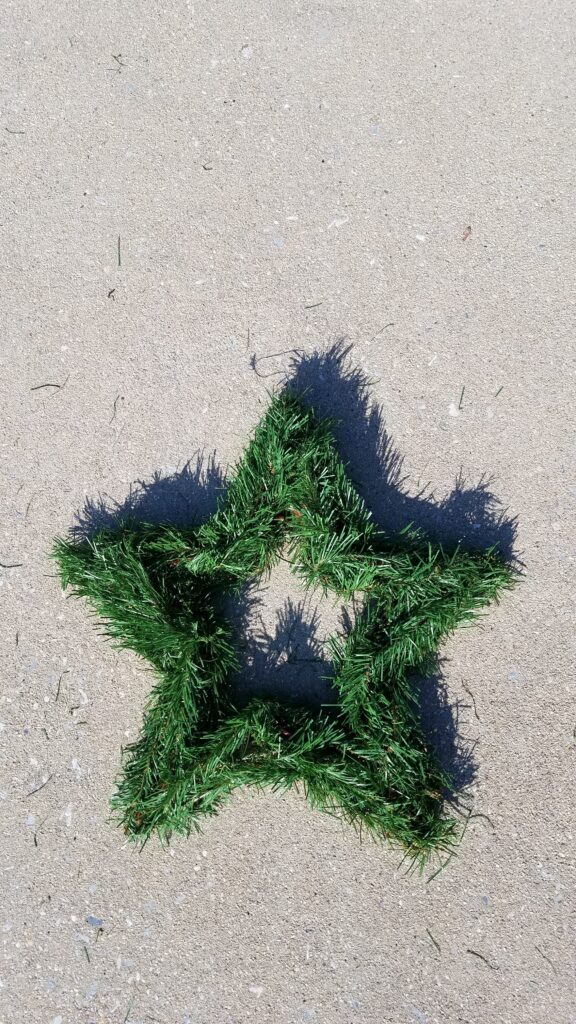 Spray paint it white.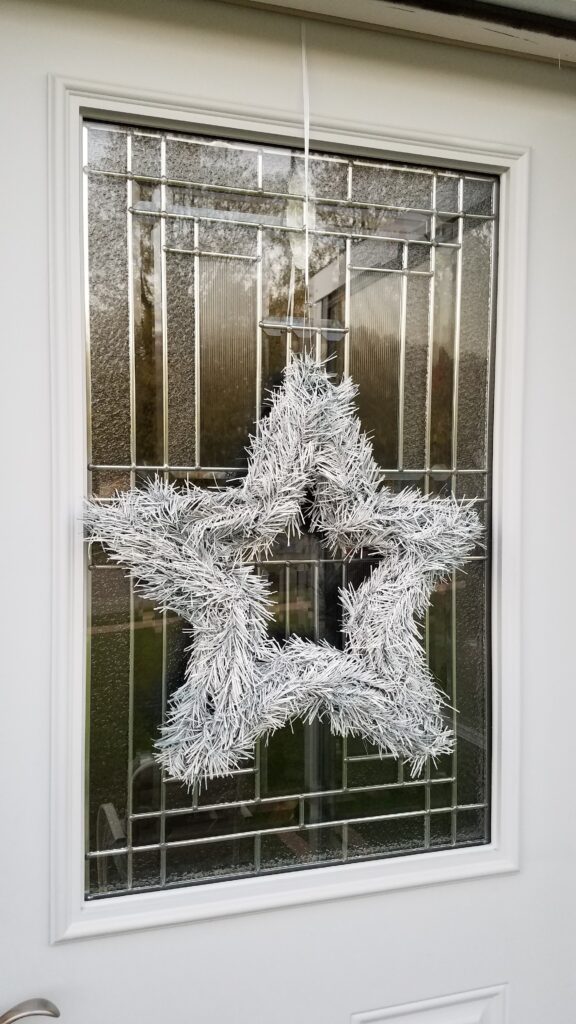 Then use red, white, and blue star garland and glitter stars.

Wrap the star garland around the wreath.

Secure it well.

Use wire cutters to snip the glitter stars and then attach them to the wreath.

The middles turn so they are 3D.

They are so fun! Some are marked Hobby Lobby and others are marked The Christmas Shop.

Lastly, add large styrofoam glitter stars.

I put one in the center.

And that is how I made this very starry wreath for Memorial Day or the Fourth of July!

Now here are the rest of the creative ideas. I hope they inspire you to make something!
I think Chloe's Faux Fruit Props, next on the list, are a pretty creative idea! (All of us love comments, so if you have a few extra minutes, stop by and encourage these crafty creators.)