How to Make a Ninjago Lego Cake
This post contains links to affiliate websites, such as Amazon, and we receive an affiliate commission for any purchases made by you using these links. We appreciate your support!
My son asked me to make a Ninjago Lego Cake for his birthday. I did my best to model my cake after his minifigure ninja!
A crafter like me, and possibly like you too, is an artist. As an artist crafter, we just can't help but be crafty with our food sometimes, right?!
I wanted to make this cake a cupcake cake to make it easy to serve. I think making it out of cupcakes was easier than if I had tried to piece together pieces for a regular cake.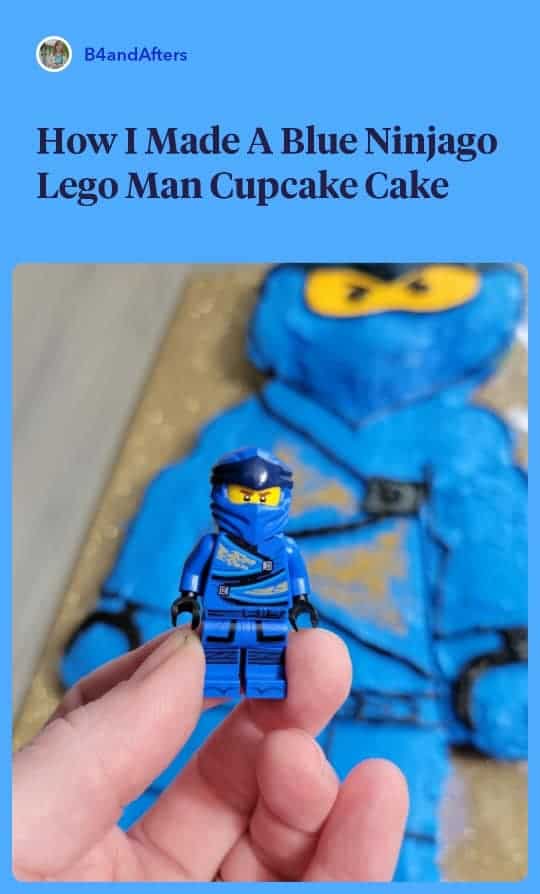 I have made Lego Cakes for my son in the past, but not a minifigure Lego cake! I tried hard to follow every detail that I could see on "Jay," the blue Lego figure that my son brought to me, to turn into a cake.
Now that I have made this one, it would be fairly easy to convert this Lego "minifig" into any of the mini figures by changing the colors and minor details.
How Do you Make a Ninjago Lego Cake?
I began to make this Lego Cupcake Cake by making 2 cake mixes. This is blue colored vanilla. I wanted them full, but not overflowing! Oops!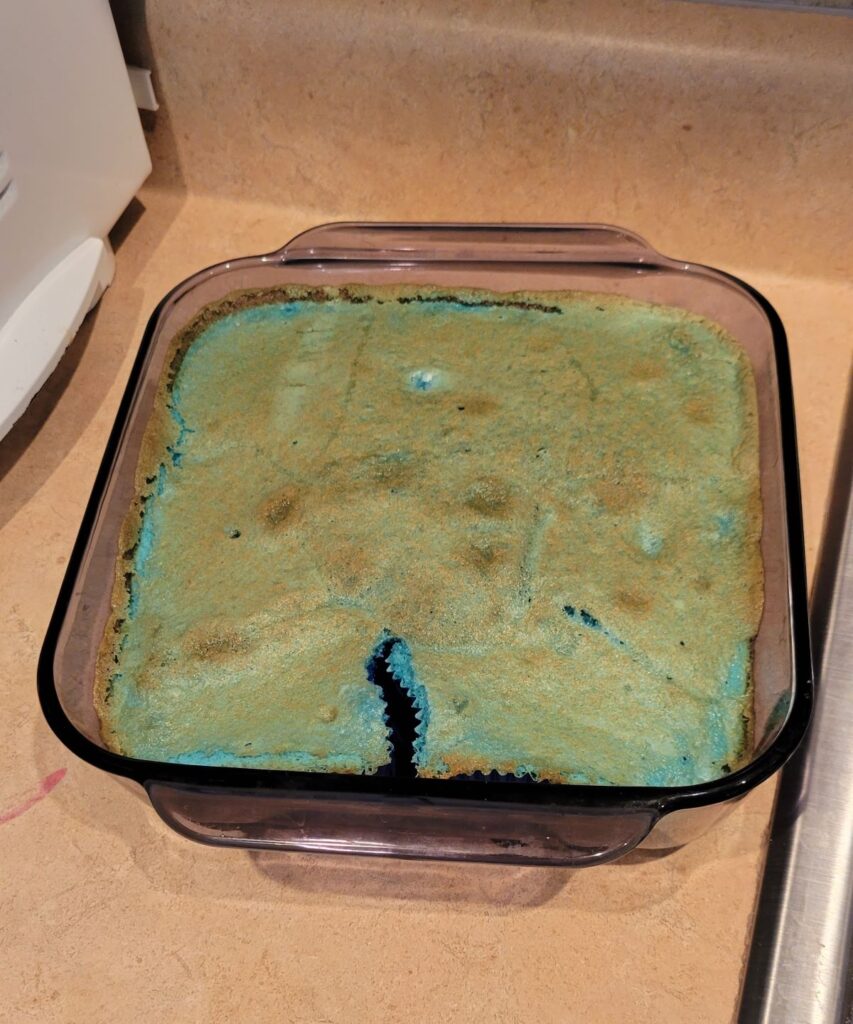 Seeking to fix my overflow mistake, the chocolate ones didn't bake tall enough. Oh well! Tip: Bake cupcakes at 325° for very soft and fluffy cupcakes!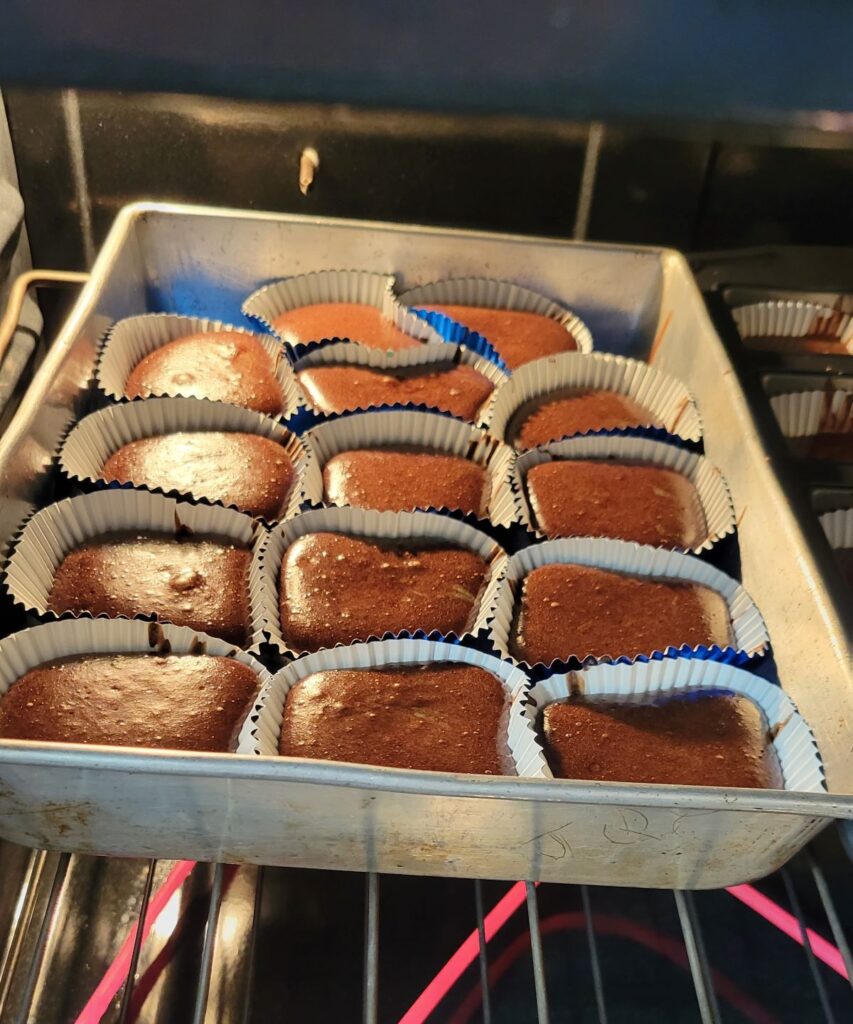 The curvy shapes would become the shoulders.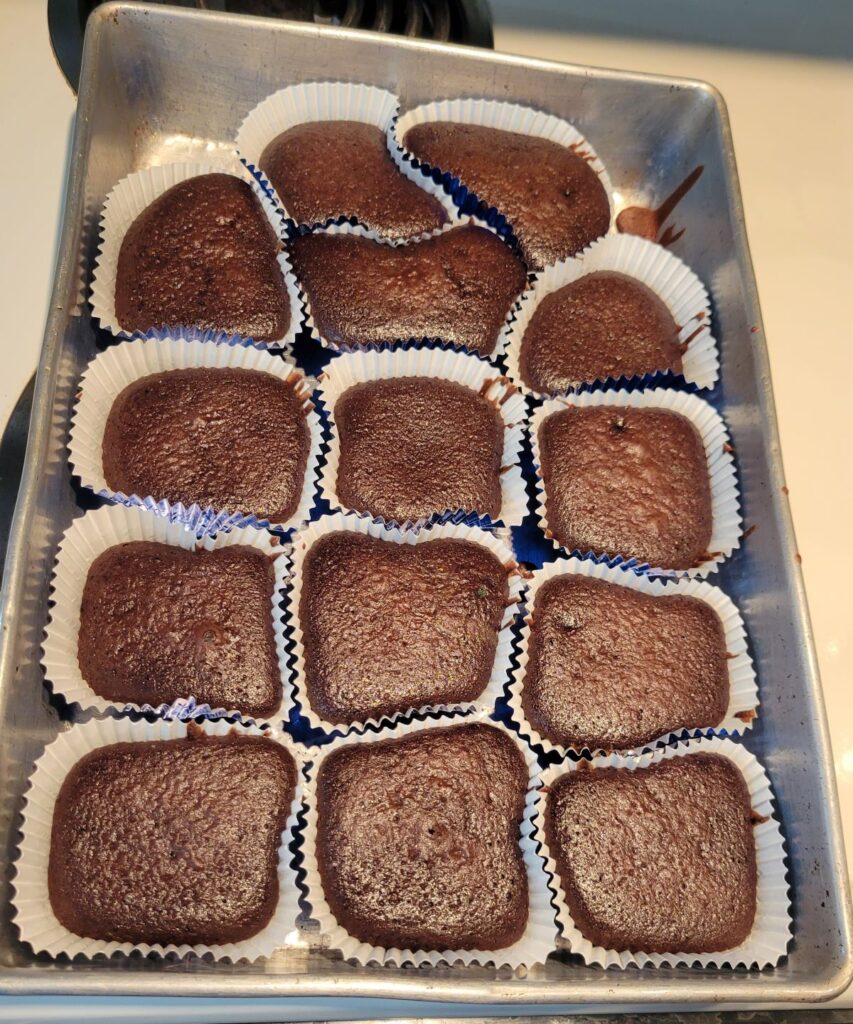 I baked some square cupcakes for the arms, and referred to the Blue Ninjago lego model named Jay as I laid out the cupcake base.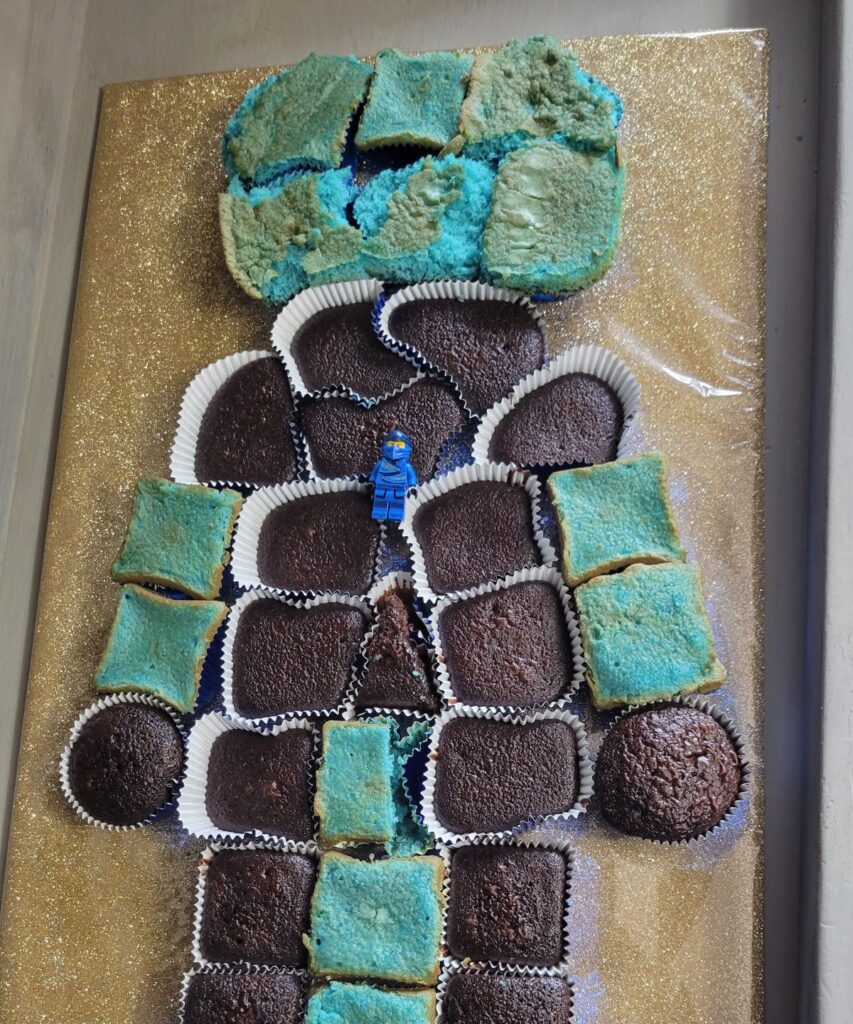 I like adding cream cheese to my homemade buttercream for extra creaminess. The large frosting tip helped greatly to easily lay down the blue background. (You can see this step in the video.) Be sure to make plenty of frosting for this step… I barely had enough!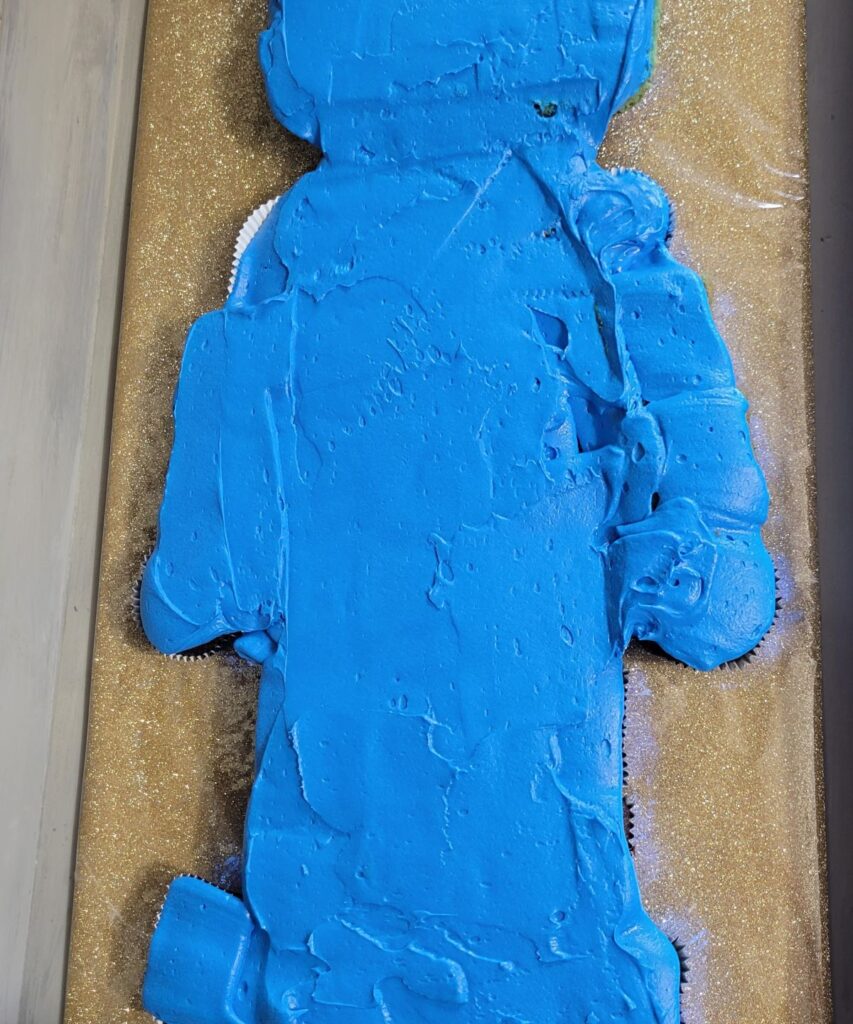 First I used a large scraper (also called dough scraper, dough cutter, dough knife, pastry cutter, bench scraper, board scraper, and bench knife). Then I used a flat spatula to smooth it all out.
Next, I used the edge of the spatula to draw lines in the frosting for a template of where to add the details like the mask around the eyes and face. I've also used a toothpick, or a bamboo skewer works, too.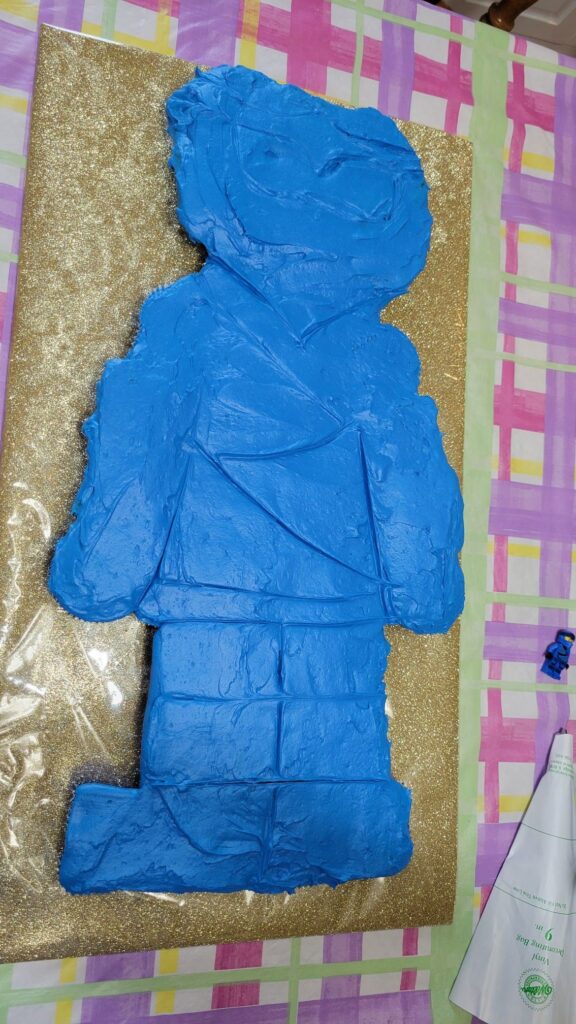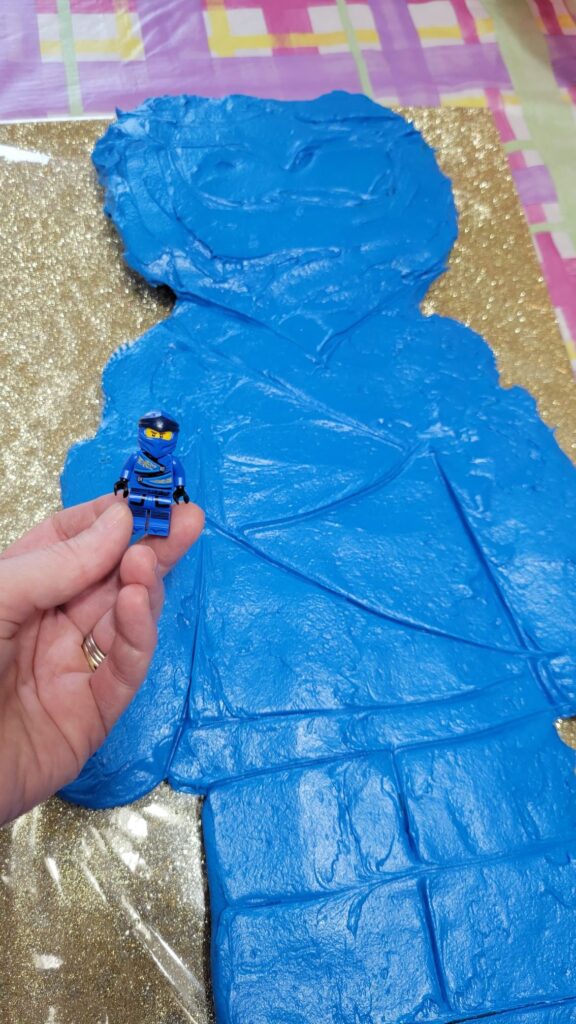 I carefully squeezed out the yellow frosting for the face, and smoothed it out with a flexible spatula.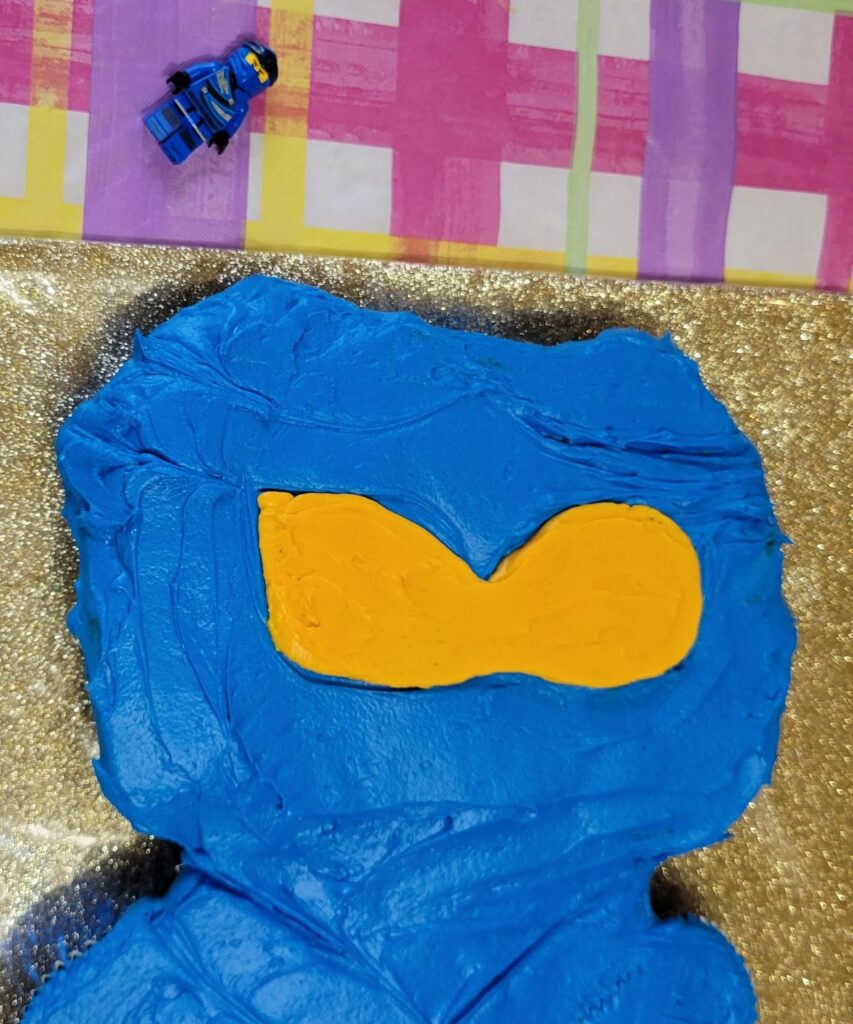 To make black frosting, we added black to the blue. I carefully "drew" the hands, eyes, and other details.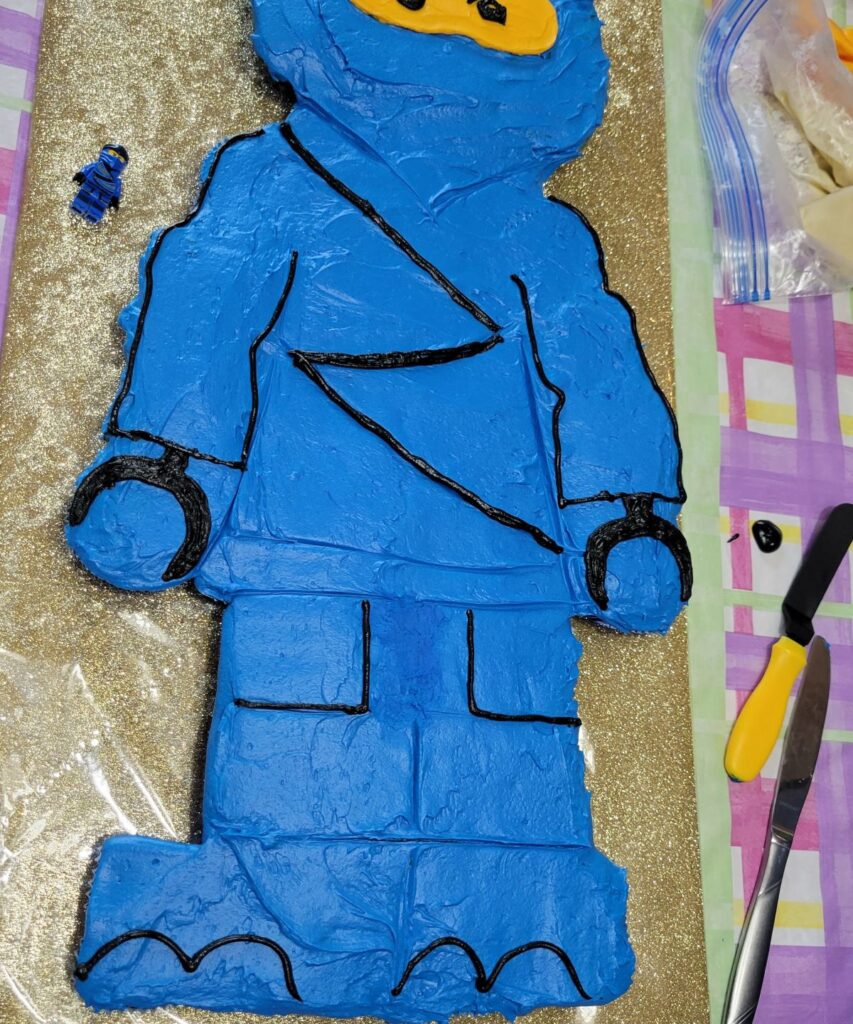 Oh, and I had bought blue foil cupcake liners to bake the cupcakes in!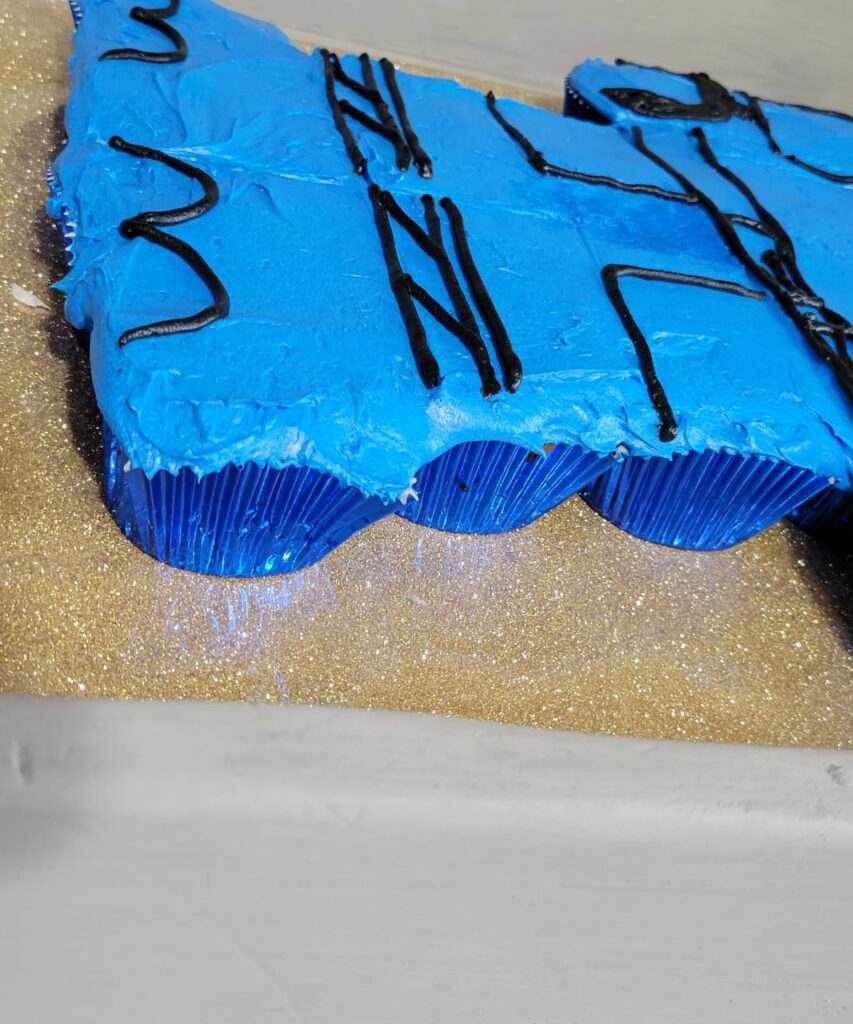 I used gold and pewter sanding sugar sprinkles. For the buckle, I cut a paper towel in the shape I wanted and sprinkled sprinkles over top.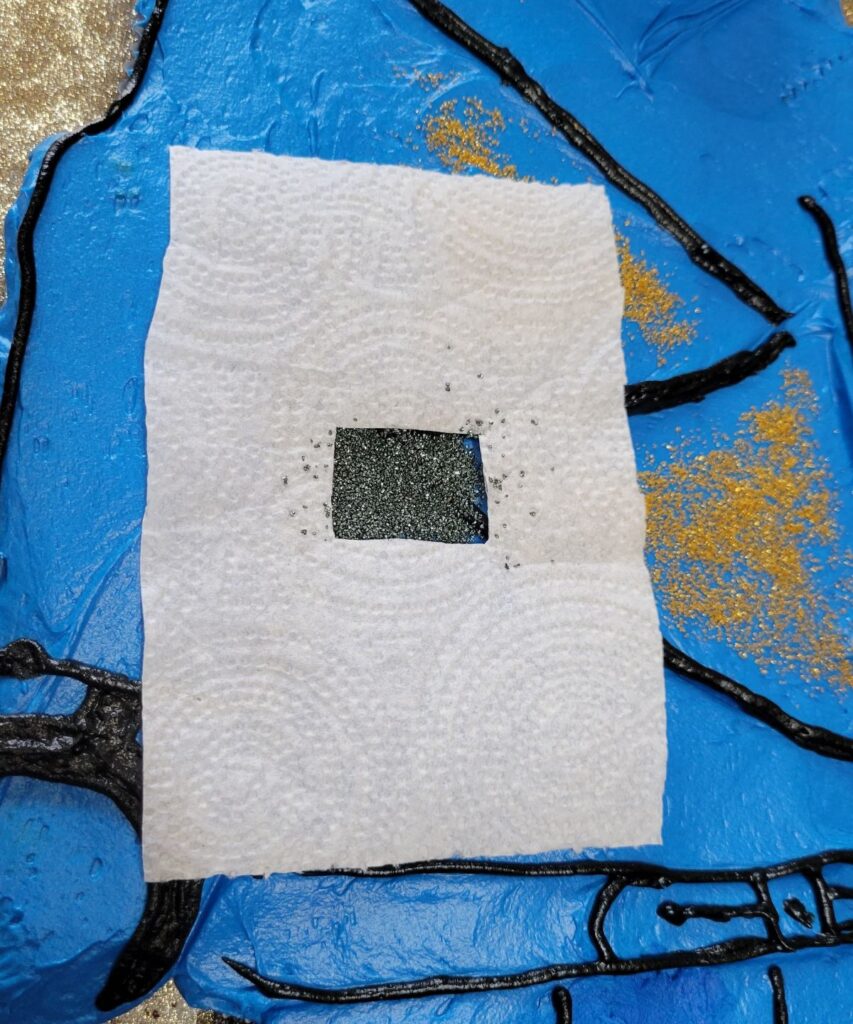 Then I finished adding the buckle detail on top of the sprinkles. I looked closely at the mini figure/ minifig the entire time to copy it accurately to the best of my abilities.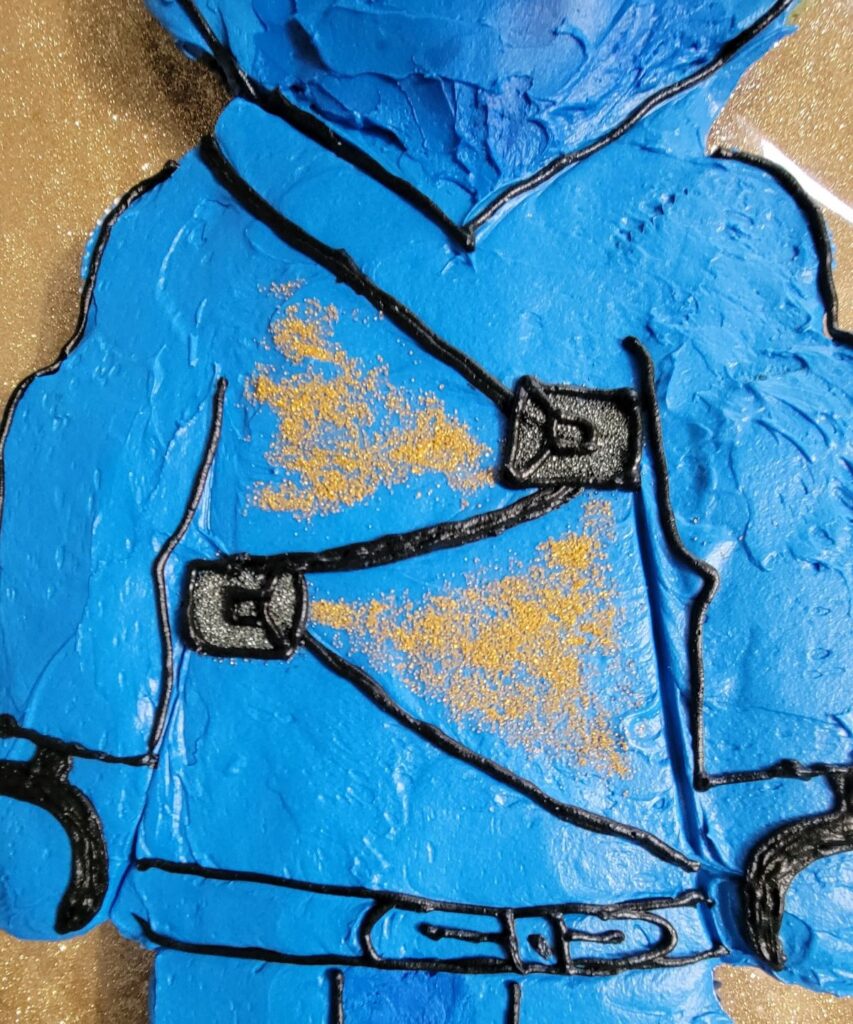 I added dark blue to some blue for the headband across the forehead. I outlined the eyes, head, and arms in black.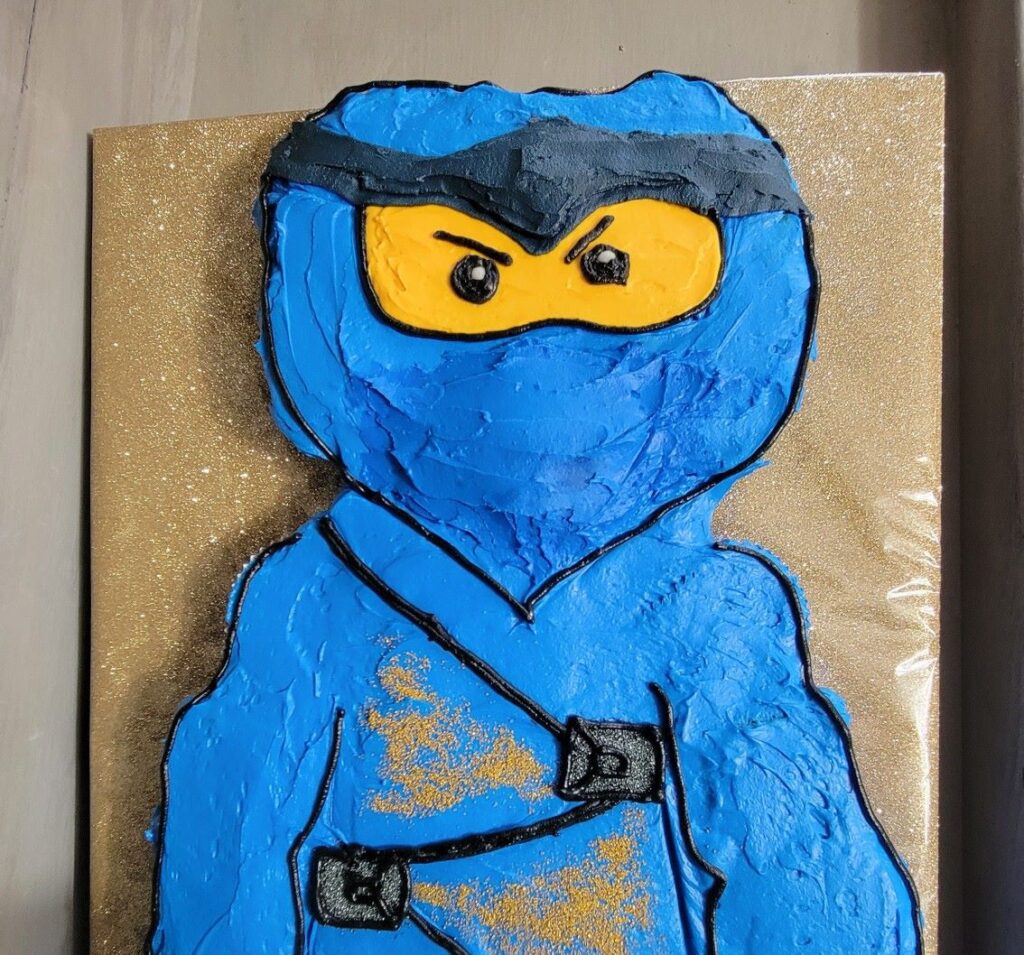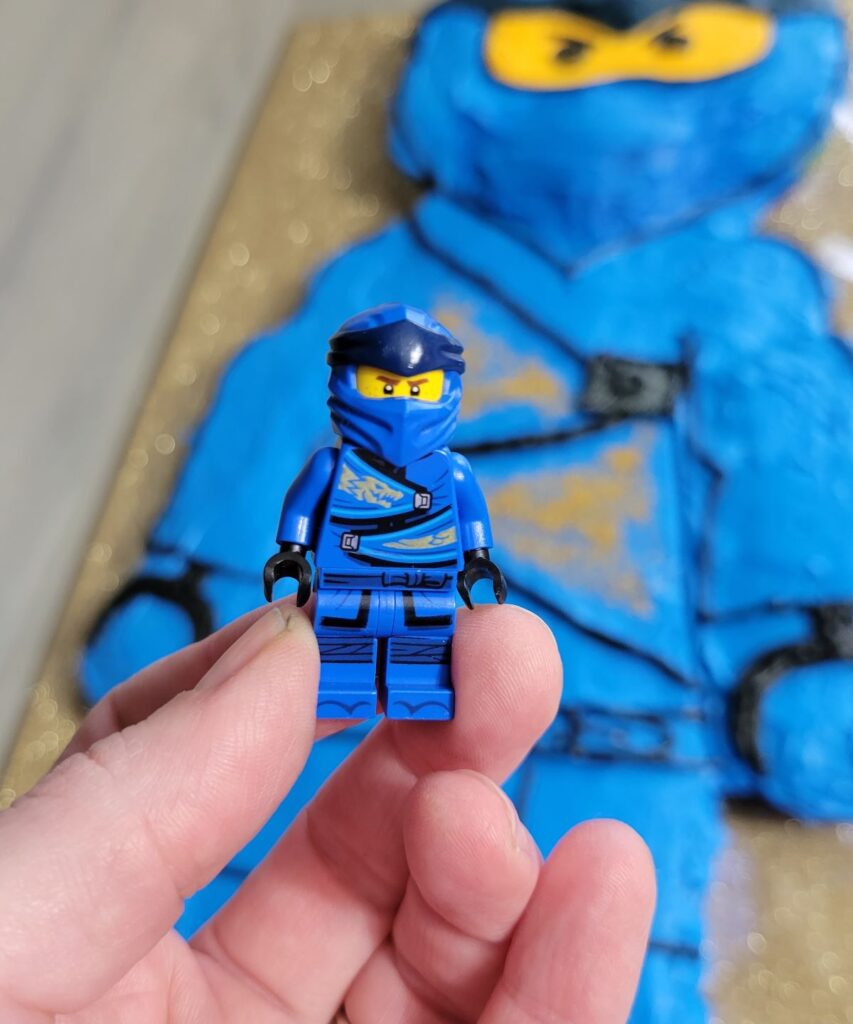 It was so satisfying to see this Lego Cupcake Cake come together. Now that I've made this one, it would be easy to make another one!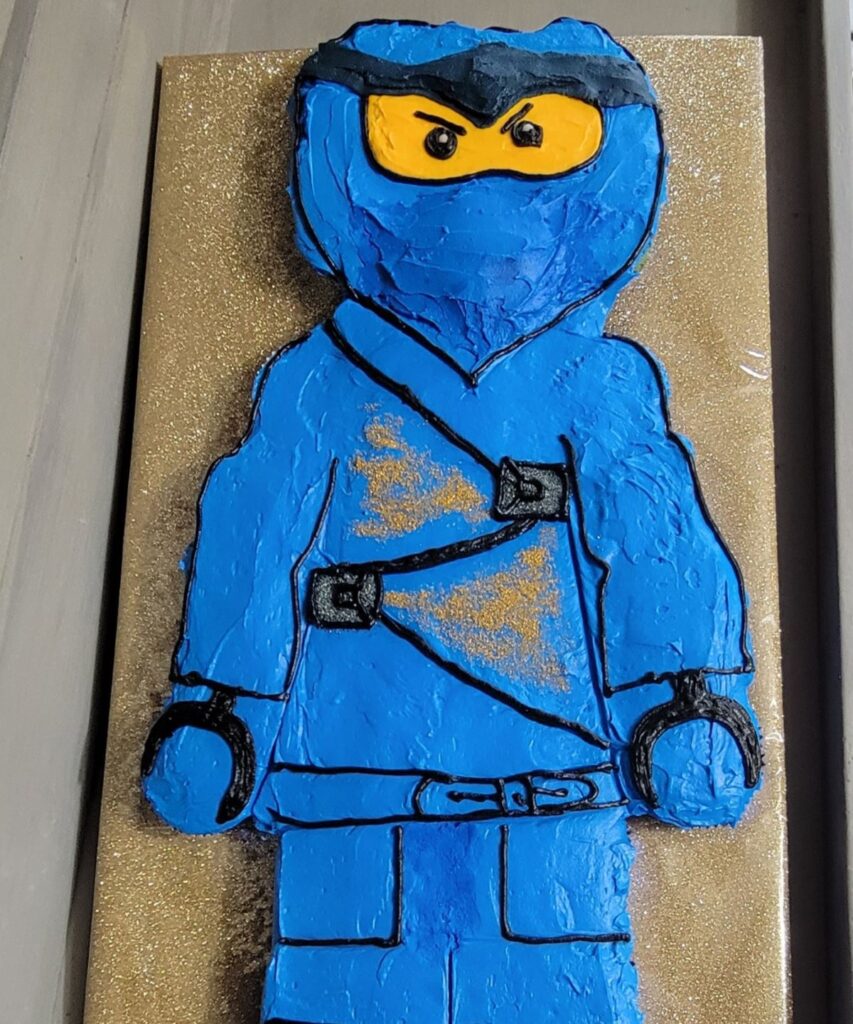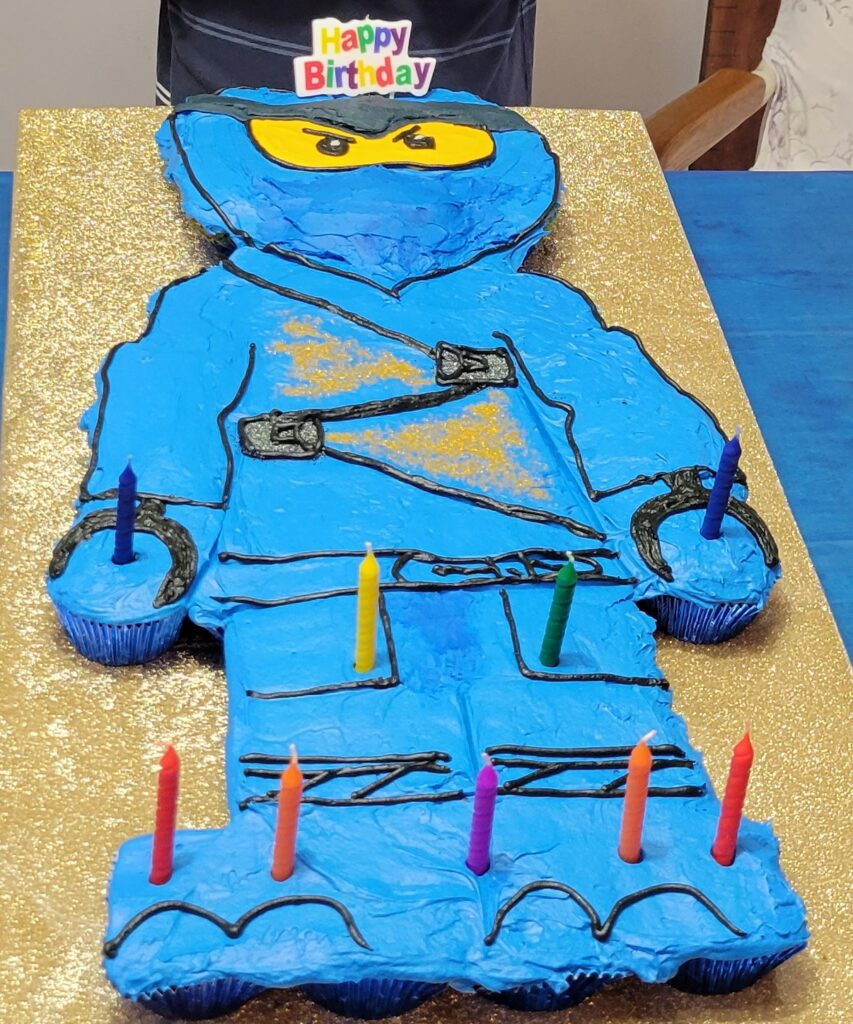 My son was pretty excited when he saw it on his birthday! He said he was speechless!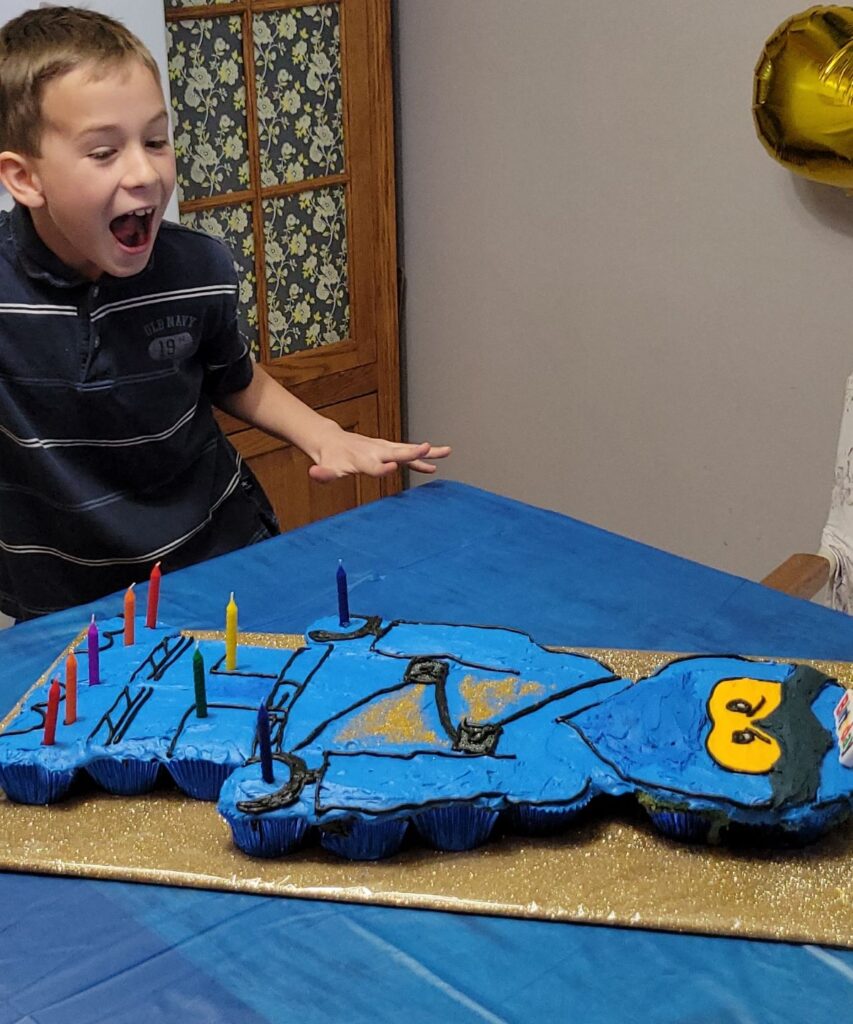 It pulled apart as planned. It was just a little tricky figuring out which were chocolate and which were vanilla.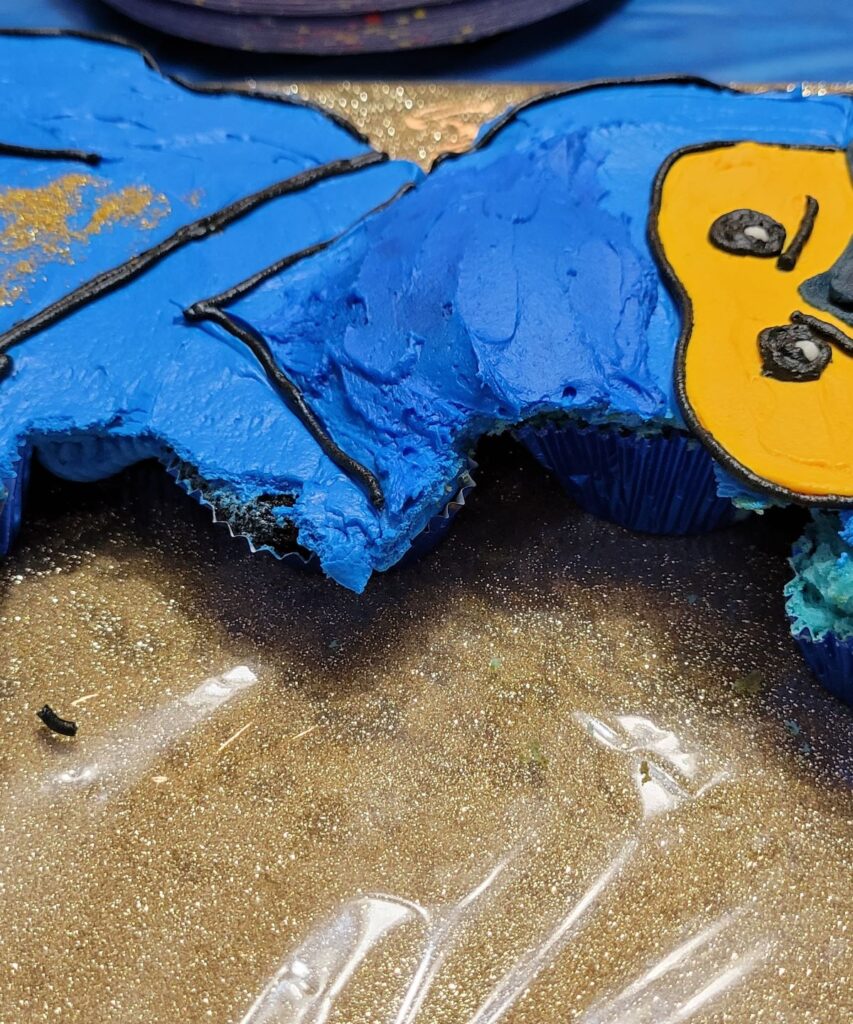 Was that easier than you thought it would be? Do you have any questions? I hope this has inspired you for the next time you make a cake for the Lego lovers in your life. Be sure to save it to Pinterest so you can find it when you need it!