Outdoor Bench Made with my Kreg Jig
Just in case you were wondering, this is the 100th post on my blog! Woo-hoo! I'm excited to show you 100 more, and that will take some time…. Do you have any ideas or suggestions for me? Feel free to send me a message through the Contact Page. I would love to get some feedback, and I would love to make this blog better for you if you have any ideas.
After we replaced our old fence, I saved the pieces to use on projects. I knew that I wanted to make a bench using my old fence posts. If you want, you can buy new posts to make a bench like in the Pinterest picture.
https://www.pinterest.com/pin/94153448437050176/
I was glad that there were directions how to copy this bench! This might have been my first project with my new Kreg jig– I'm not sure. But this bench was one of the reasons that I wanted a Kreg jig in the first place! To see my other projects made with a Kreg jig, click here.
Before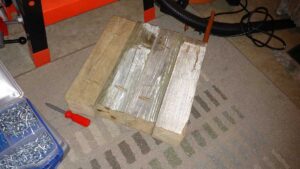 (*This post may contain affiliate links. By purchasing anything from these links, I may receive a small commission at no cost to you. More information is available on my Disclosure page.)
In the above picture you can see the pocket holes made by the Kreg jig. Those short pieces are for the leg on one side of the bench. You are supposed to use exterior wood glue in addition to the screws– but I skipped the gluing part and my bench has held together just fine.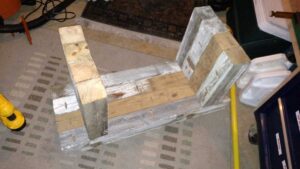 Use pocket holes and screws to hold the seat section together. Then use pocket holes and screws to hold the legs to the seat section. The bench would have been fine as it was, but I wanted to add something else!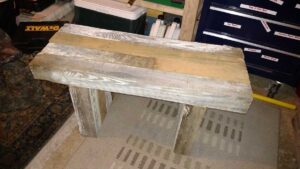 Ta-da! I added some fence pickets to the back. I added a diagonal board across the back to brace it better. The pickets are more for looks, than they are for support.
AFTER!!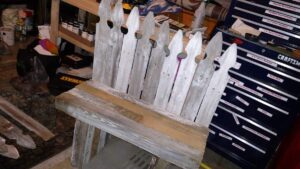 Here is where my bench ended up! It stays here year round. This is a small spot on the right side of my house that I completely developed. I will show you how I did that in another post! This bench would look great on a porch, by a lamppost, in a flower bed (like I put mine), or in a quiet spot for reflecting.
AFTER!!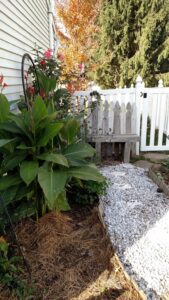 SaveSave