Easter Decor You Might Enjoy
Are you ready for Easter? It's only about 3 weeks away! I thought you might like to see some of the Easter Decorations around my house this year.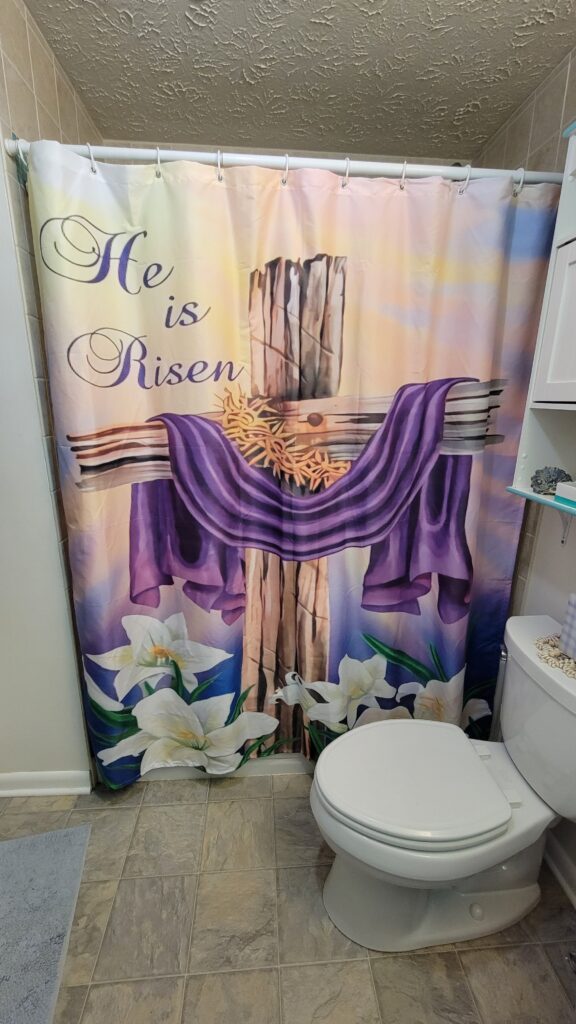 (*This post may contain affiliate links. By purchasing anything from these links, I may receive a small commission at no extra cost to you. More information is available on my
Disclosure
page.)
I enjoy our Christmas shower curtain so much that I wanted to get an Easter shower curtain. There are a lot of the Easter bunny variety, but I wanted one with a Resurrection theme. So I finally settled on the He is Risen one that you see above.
It is so colorful, and it photographs well, especially with my new phone camera and its ability to zoom OUT! Otherwise I would never have been able to get this kind of picture in our small bathroom. But in real life, the words are very pixelated. I am still happy with my purchase and hope this curtain lasts me a long time! (There is even a coordinating garden flag!)
I had a chance to go to Ross Dress for Less– one of my favorite stores– recently. And I found these Walt Whitman Easter tins with Bible verses on them! I love tins like this. I also love Bible verses so you know I had to buy them. The lids are on a hinge. I have some larger tins like these that I store Christmas ornaments in.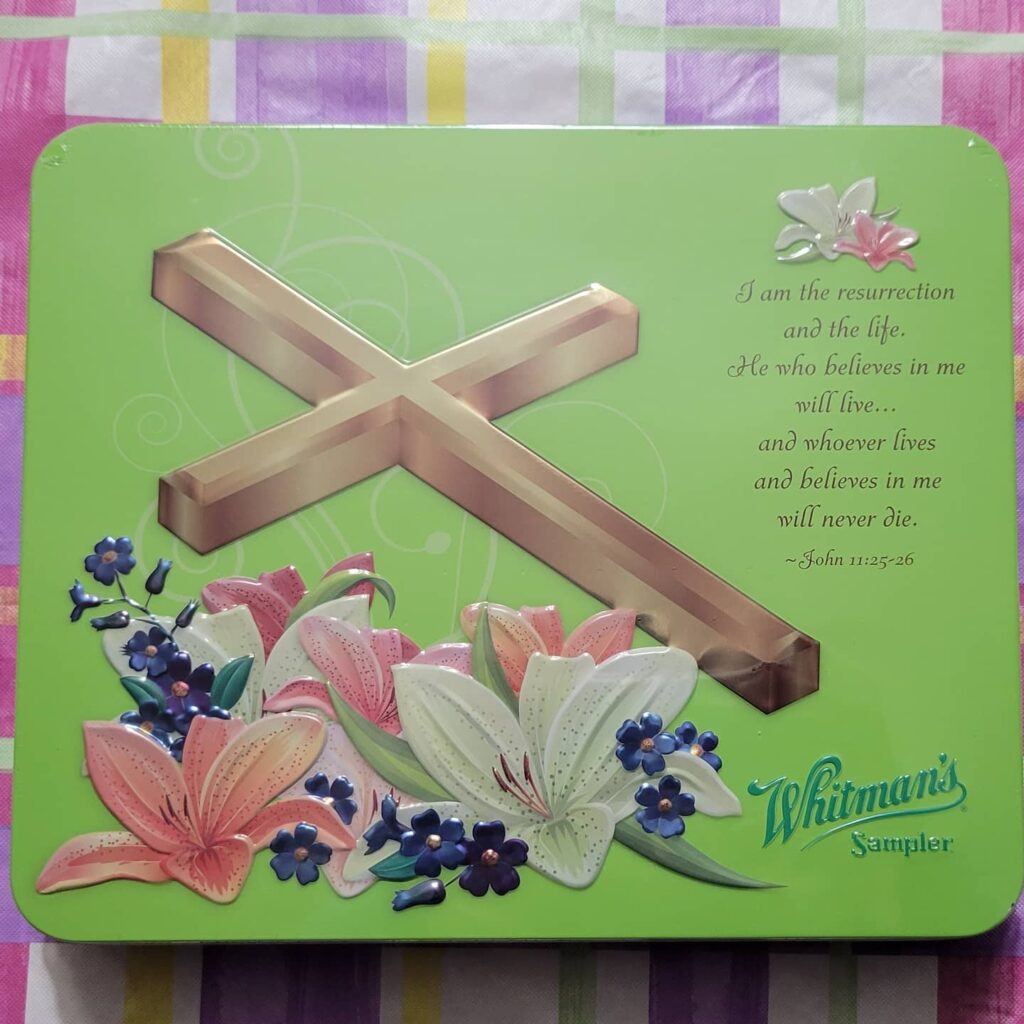 I liked both of these tins a lot, but decided to give the yellow one away to our pastor who is celebrating his 70th birthday. Do you know anyone who would love to have one of these? Walt Whitman's Chocolate Samplers are a little nostalgic for me because I remember my Grandma getting them for us when I was little. Perhaps that is why I enjoy chocolate tins like these so much! Whitman's is owned by Russell Stover, and that is where I found these tins online!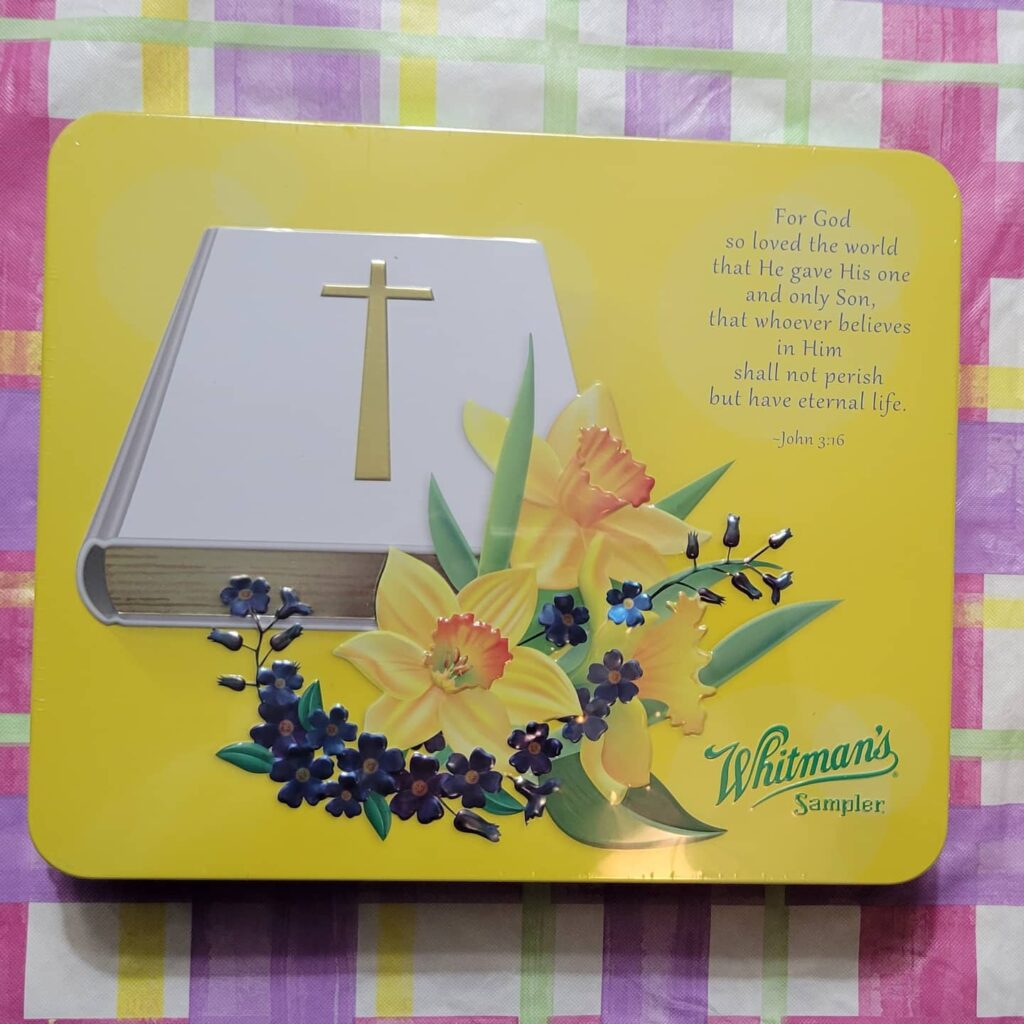 Another new thing that I found this year is this garden flag. I love that it has a clip to keep the flag from flapping in the wind. This also keeps it from flying off of the flagpole. I have 3 garden flagpoles, so I've just ordered more clips for my other flags!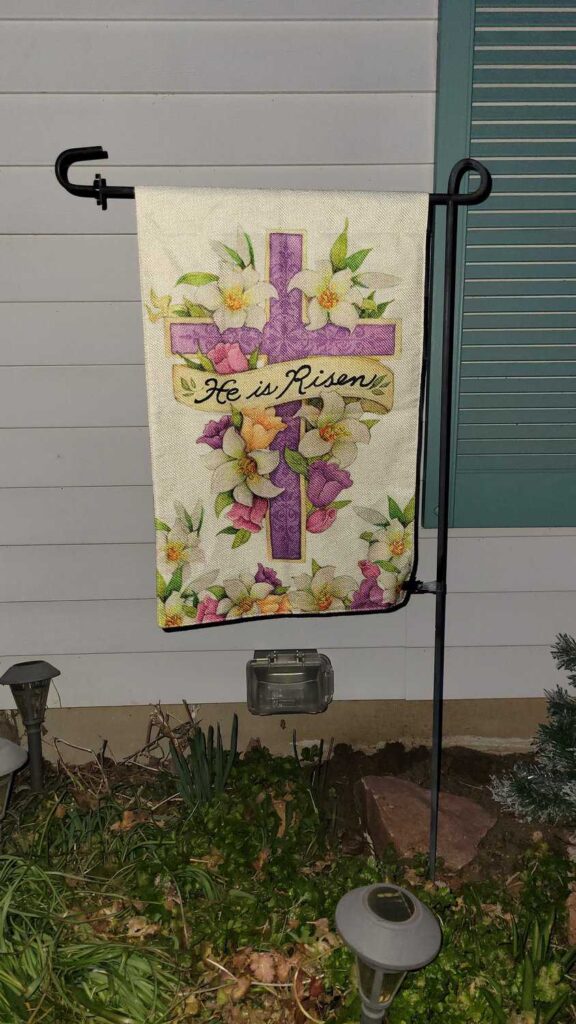 This decoration is actually not mine– this one was at a friend's house– because I gave it to her a couple of years ago! It is just from the Dollar Tree, and I like it alot. But I didn't need another Easter decoration (or so I thought! : ) ) so I gave it away.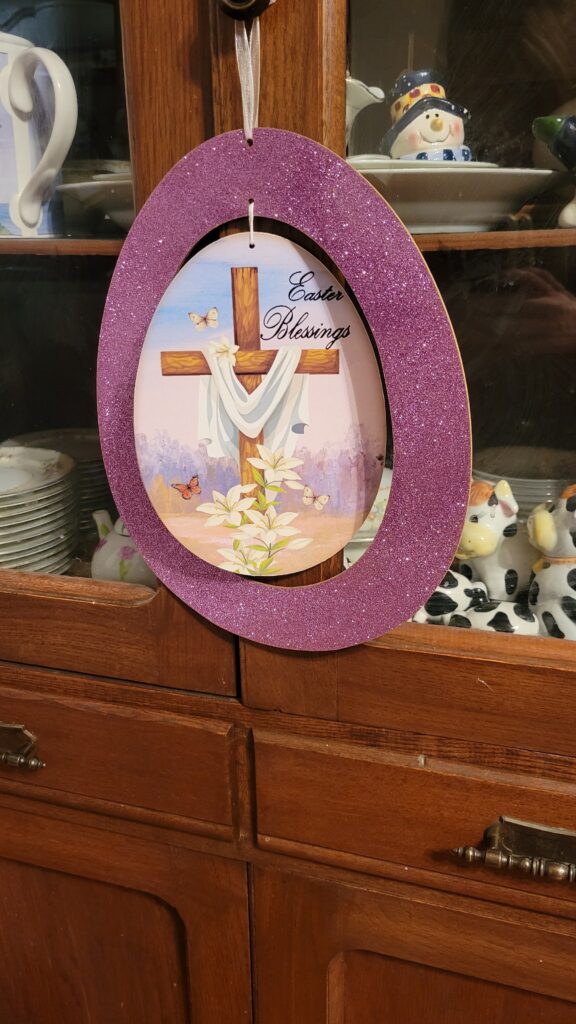 Of course, I've already shared with you my Spring Cabinet Decor.
So that's just a few things I am enjoying for Easter this year. If you are looking for more cute Easter decor, then I would suggest looking at Lakeside. They always have such cute things!