Spray Painted Flower Stems
This post contains links to affiliate websites, such as Amazon, and we receive an affiliate commission for any purchases made by you using these links. We appreciate your support!
Last fall I saved my stems from my day lilies. I had seen a post from www.thefrugalhomemaker.com about using the stems as decor. Another time I saved some, tied them in a bunch with ribbon, and set them on a shelf. They looked a little bit like something from Pier One. This time, I waited all winter so that I could spray paint them! As soon as the weather was nice enough, I laid an old sheet on the driveway and began.
Before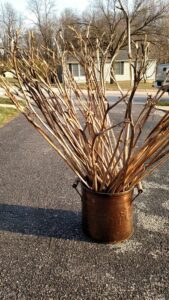 (*This post may contain affiliate links. By purchasing anything from these links, I may receive a small commission at no cost to you. More information is available on my Disclosure page.)
The spray paint I liked best was Rustoleum's Ultra Cover 2x Glossy Spray Paint.* I liked how the nozzle sprayed. The paint covered well and dried quickly. I held the stems in my hand and turned them as I sprayed them. Then I set them aside to finish drying while I sprayed the next color.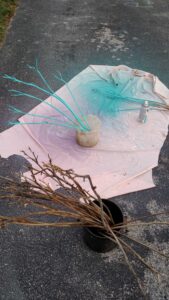 I sprayed 3 additional colors that I did not end up using in my final arrangement. I saved these blue ones for another time.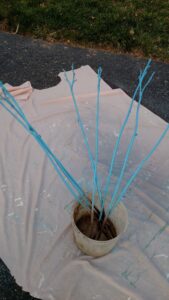 I think these are the pink ones, and I saved them for another time, also.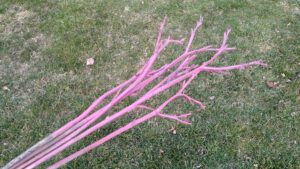 I combined dark purple (grape), light purple (lavender), and aqua (seaside); and tied them together with a pipe cleaner. They stand by themselves! Do you like them? This arrangement is perfect if you want bright colors that don't fade away, and don't need watered. You will probably spot this dried stem arrangement in future pictures around my house.
AFTER!!