Painting the Shed Trim
This post contains links to affiliate websites, such as Amazon, and we receive an affiliate commission for any purchases made by you using these links. We appreciate your support!
Now that we are moving into the spring and summer, I want to focus more on some outdoor projects. I hope seeing these transformations outside my home will inspire you to spruce up something outside your home! I enjoy working outside while the kids are playing. The fresh air feels good. As the kids get older, I plan to involve them more in my projects.
Painting my shed trim is something that I did just for fun. I wanted the trim to match my shutters. I had to stop and tape the trim, because of the angles of all of the corners. Here is the trim partly primed:
Before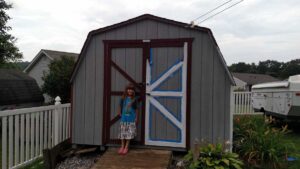 (*This post may contain affiliate links. By purchasing anything from these links, I may receive a small commission at no cost to you. More information is available on my Disclosure page.)
And here is the trim partly primed and partly painted. The primed trim had to sit for many weeks before I could get to painting it. The tape stayed on all that time! See the carpet lying on the ramp? The ramp was slippery even when it was not wet– and very slippery when wet! I had gotten this carpet for free, and waited to attached it to the ramp with a staple gun until after I had painted the trim. The carpet is berber style and gives the perfect amount of grip whether it is wet or dry.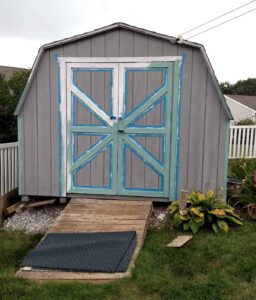 Did you see the rope attached to my shed? I put it there. It is removable. Can you guess what it is for?
Here is the finished trim, with the non-slip carpet in place! I used Benjamin Moore Mill Springs Blue. I think it is a green, but if they want to call it blue….that's okay. : )
AFTER!!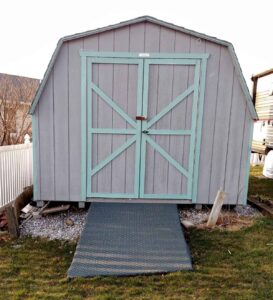 SaveSave
SaveSave
SaveSave
SaveSave