Easter Wreath Made With Dollar Tree Items
This post contains links to affiliate websites, such as Amazon, and we receive an affiliate commission for any purchases made by you using these links. We appreciate your support!
I wanted to see if I could make a nice Easter wreath with just items from the Dollar Tree. It turns out that I can! ALL BUT ONE thing came from the dollar store! I'm so excited to show it to you today.
I started with a wire wreath form. I attached various colors of pipe cleaners to the wire, and then twisted them to hold on the deco mesh. I had seen someone suggest to add the pipe cleaners in the zig zag pattern, like the purple ones below. Then you attach the deco mesh to the zig zag pipe cleaners as well as to the wire wreath form. I think it did help my mesh to stay in place better and not to slide around by using that technic, but it is not absolutely necessary.
Before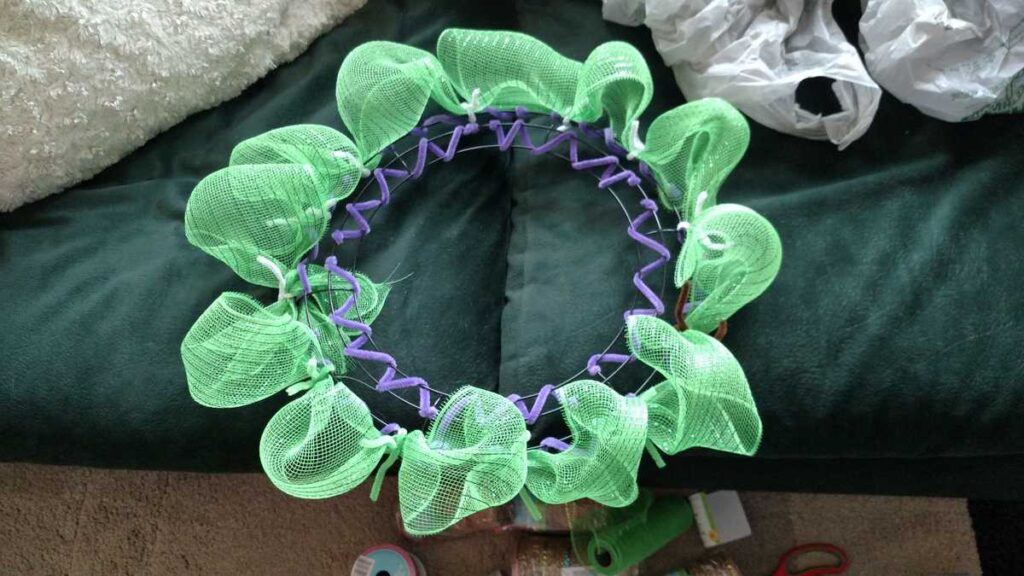 (*This post may contain affiliate links. By purchasing anything from these links, I may receive a small commission at no cost to you. More information is available on my Disclosure page.)
Did you realize that the Dollar Tree has small rolls of deco mesh in the perfect width for attaching to a wreath? They also have the wire wreath forms. If your store does not carry some of these items, check at another nearby store. Did you know that you can also order Dollar Tree items online? Just be sure that you want a large quantity of whatever it is. …And keep in mind that the dollar store does not always carry the same items year after year.
I attached the pink mesh next.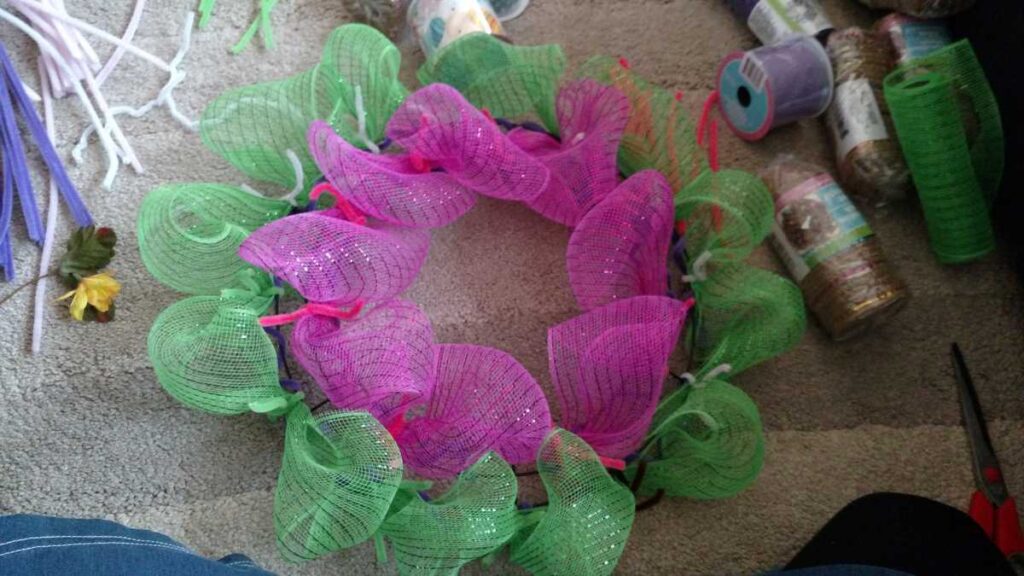 Then I attached the burlap with metallic accents mesh in between the green and the pink deco mesh.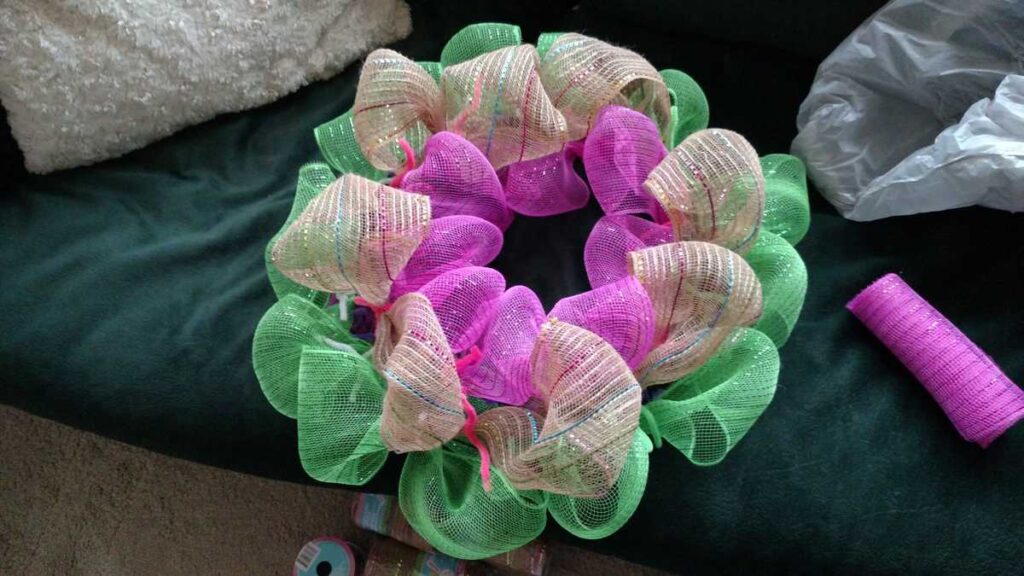 After that, I added on Easter egg ribbon, using the same pipe cleaners that held the mesh on. I liked these curly present bows, so I added some of them on for some sparkle. They came in a package of 3 for — one dollar!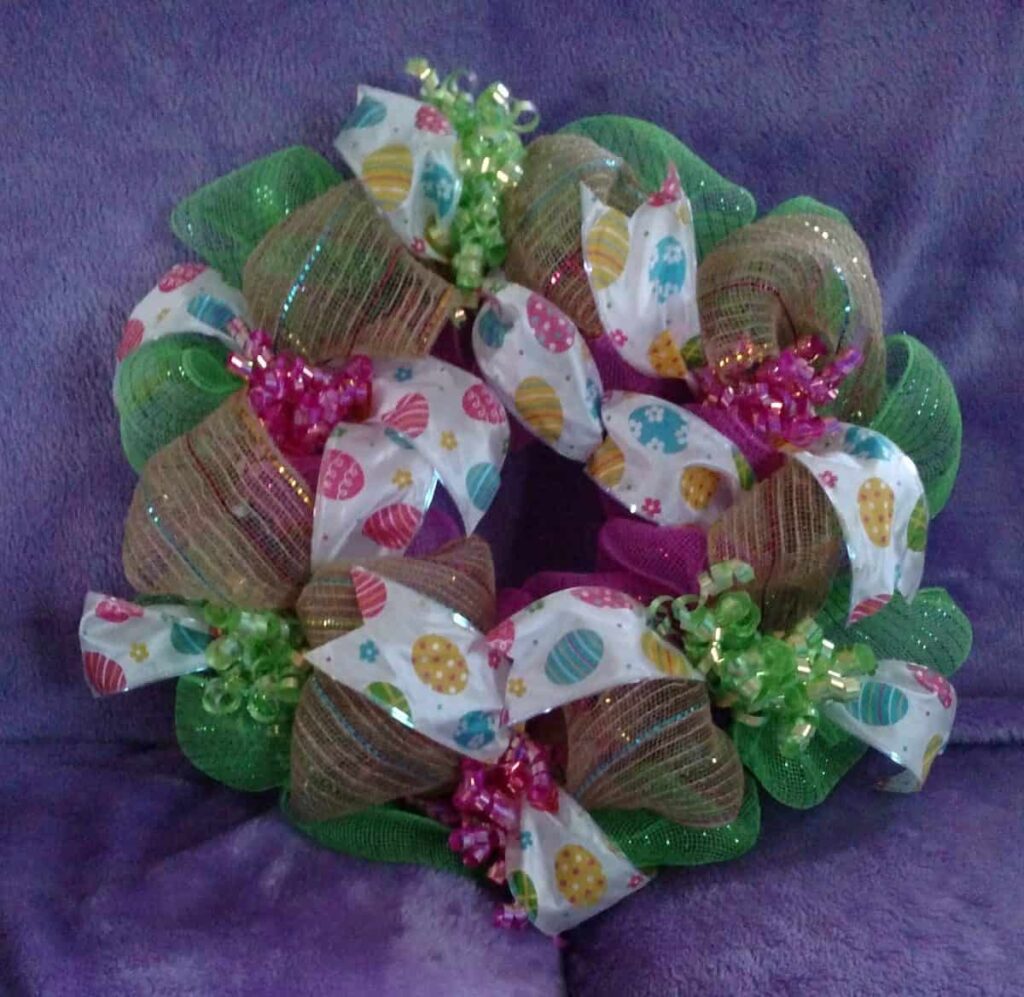 I think the wreath looks pretty nice just like this. You could stop here, having made your entire deco mesh and ribbon wreath with Dollar Tree items. However…..I had one more thing to put on my Easter wreath.
The last thing that I added is the one and only thing that I did not buy at the Dollar Tree. Someone had given me this cross. I decided that it fit well with my wreath! If you add up each thing that I bought at the dollar store, the total comes to only $7. Woo-hoo! How much do you think you would need to pay to buy a wreath that looks like this? Here is mine on my door.
AFTER!!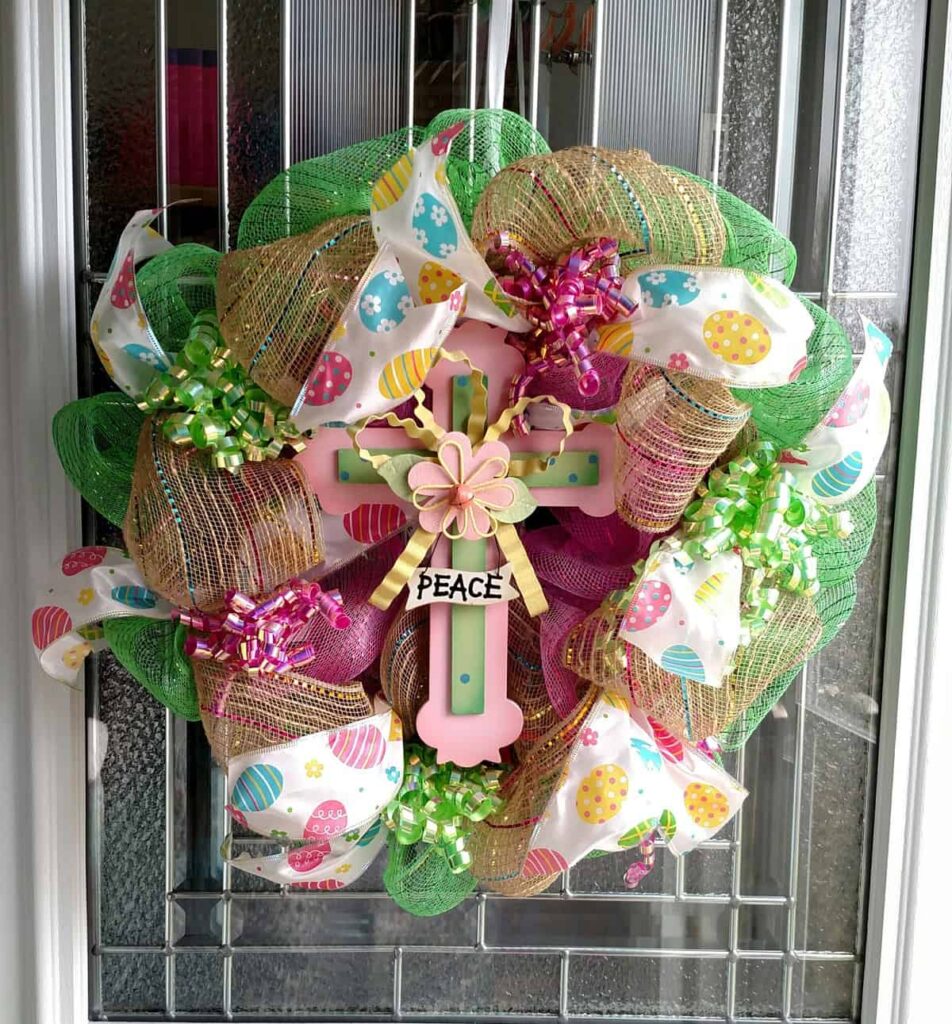 Update 3/22/18: One of my readers made her own version of this wreath. Here is hers!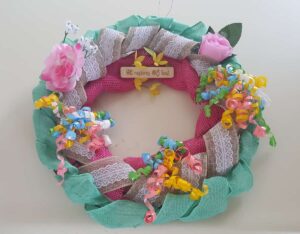 SaveSave
SaveSave
SaveSave
SaveSave