Gigantic Christmas Wreath
Today I want to show you how I made a huge, ginormous Christmas wreath. (No, it is not made from a hula hoop.)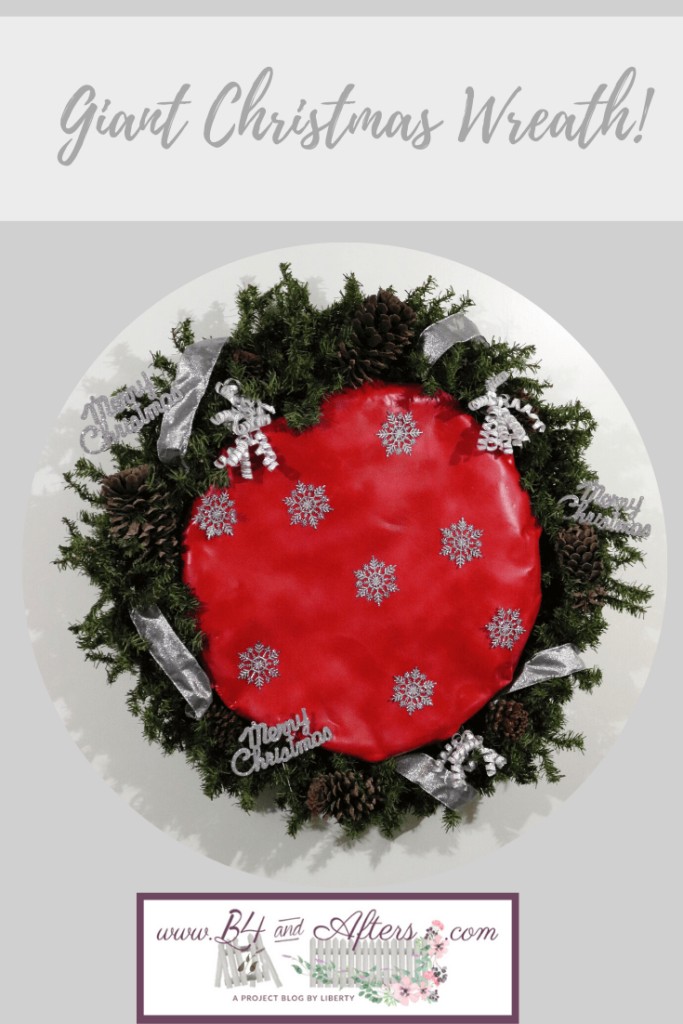 It all started when I took a walk this summer. On my walk I found a small child's swimming pool that had been put out for the trash because a dog had bitten holes into it. So I took it with me and began thinking of ways to use it. In particular I began thinking of how to turn it into a Christmas wreath.
It didn't really take much time. First, I spray painted it red.
Before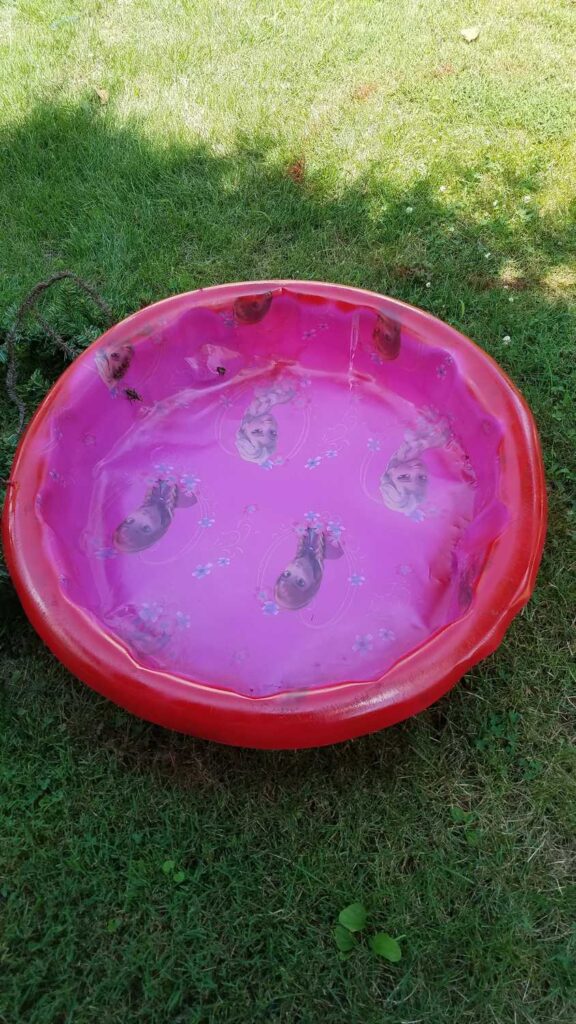 (*This post may contain affiliate links. By purchasing anything from these links, I may receive a small commission at no extra cost to you. More information is available on my
Disclosure
page.)
I had some Christmas garland given to me by a neighbor that was moving away. (Yes, I've gotten quite a few things that way….) I poked more holes into the swimming pool, poked some of the wire garland ends through, and bent it on the back so that it couldn't come back out through the holes. I did this 6 or 8 inches apart all the way around the edge of the pool.
https://www.b4andafters.com/gigantic-christmas-wreath

https://www.b4andafters.com/gigantic-christmas-wreath

https://www.b4andafters.com/gigantic-christmas-wreath
It was while I was doing this that I realized I hadn't spray-painted the edges well enough.
So I put it on the ground again and spray painted around the rim.
I also poked some holes for a long piece of garland to use for the hanger.
Here you can see the pokes on the opposite side.
I used two strands of garland to make it look thick enough. The garland was very easy to use. You could also use pieces of an old Christmas tree. People are always throwing out their old ones where I live.
What do you think of it so far? Is this your style? Would you have painted the center a different color? I think silver would look nice, too.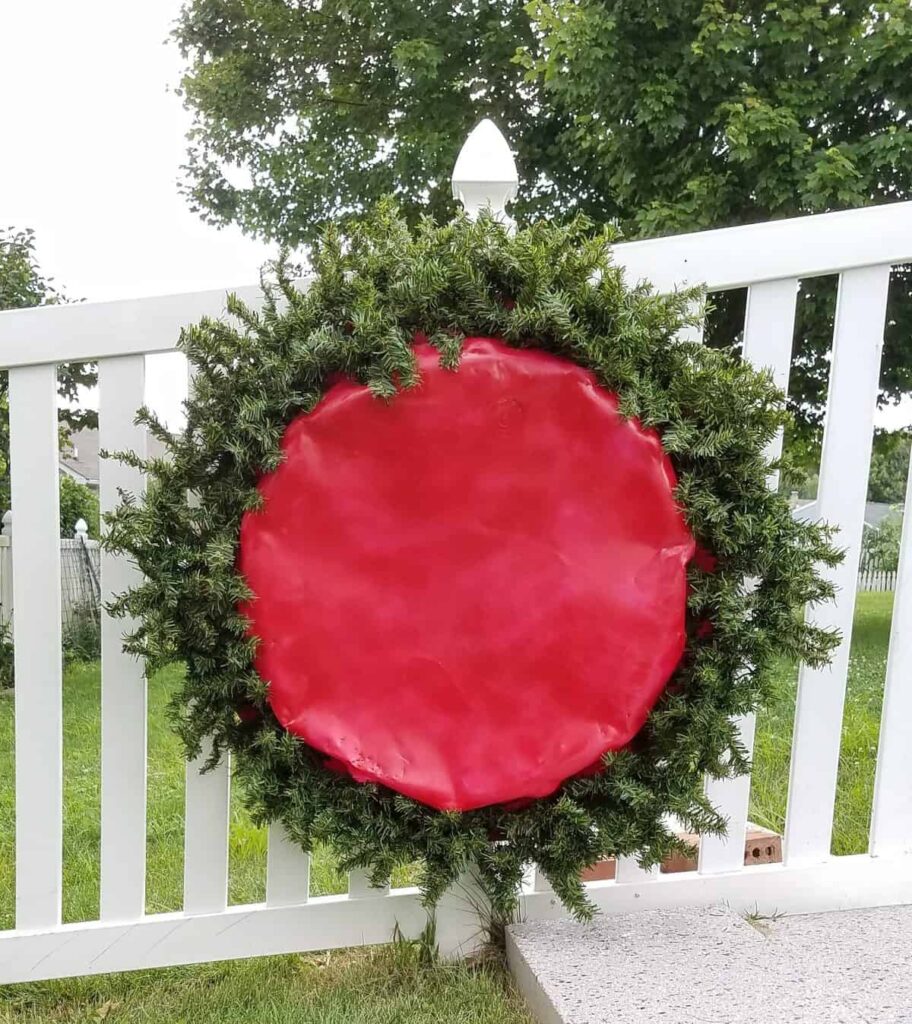 I thought the wreath looked pretty good at this point, but I knew I wanted to add some more to it. Someone mentioned they had some giant pine cones to get rid of. I could hardly wait until I could attach them to my giant wreath.
Once I had the pine cones attached, I thought the wreath needed some more pizzazz. So I added some wide wired silver ribbon, and some glittery Merry Christmas signs. I had bought the little signs where I buy a lot of things– at the half price after Christmas clearance sales at Walmart.
I also attached some curly ribbon. I think I also got that for fifty percent off at Walmart.
The last thing I did was hot glue some snowflakes on to the center of the wreath to break up the big expanse of red. Yes, I bought them for half price at Walmart.
Cost
So the swimming pool, pine cones, and garland were all free. The rest was only half price. I already had red spray paint on hand. I would guess that this wreath cost me only $5, or at the most $10. For a wreath this big, I'm sure you know that is quite the bargain!
Lightweight
And for a wreath this big, you would probably be surprised at how lightweight it is. The swimming pool is very light, and the decorations are not heavy at all. The particular shape of the pool helps the circle keep its shape.
I don't have anywhere to put a gigantic wreath like this, so I gave it to some friends of mine. Merry Christmas!!
After!!
So what do you think? Does this make you want to make a giant wreath to hang on your house? (or your fence, shed, barn, garage, etc….) Will you be looking for a kiddie swimming pool next summer? If you are local to me and really want a wreath like this, I may or may not have an extra kid pool in my stash of supplies….