🏡 Where we are After 10 Months 🏡
*This post may contain affiliate links to websites such as Amazon. By purchasing anything from these links, I may receive a small commission at no extra cost to you. More information is available on my Disclosure page. I appreciate your support!
Where are we after 10 months at Century Farms? Let me share my thoughts with you!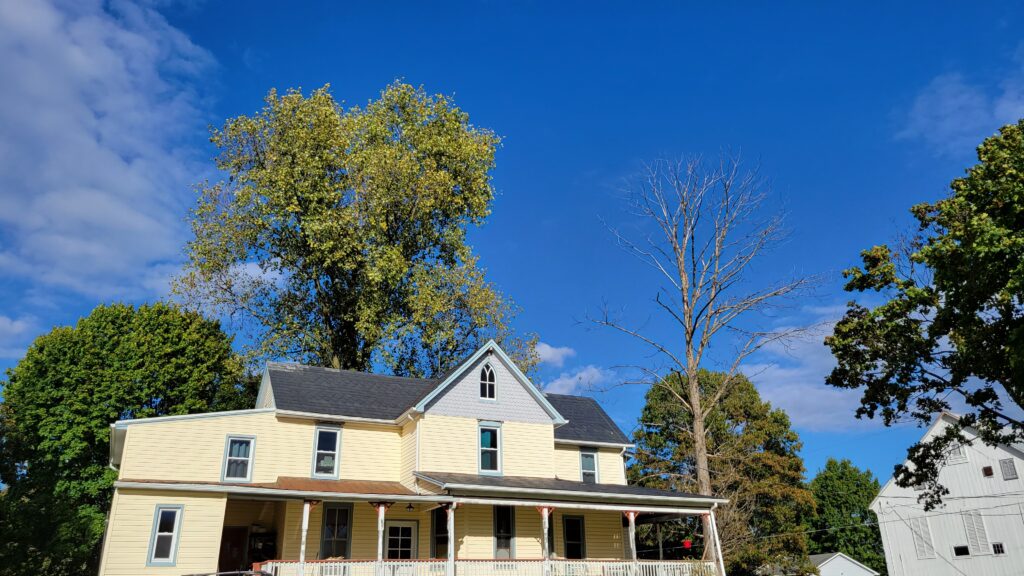 What We Expected
Well, we all know that what we expect doesn't happen alot of the time. Let me go over some things that we planned that went as we planned, and things that didn't.
We planned to sell our former home and move into the farmhouse after 3 months. That happened!
We planned that in that time we would finish some core living spaces: our 3 bedrooms, bathroom, and kitchen. None of that happened. The house was juuuuust barely livable when we moved in! And we still don't have ceilings up in 2 of those rooms, after 10 months owning, and 7 months living here.
Priorities shifted and changed the entire time as we discovered new things that needed to be fixed.
We expected to find problems we didn't know about, and to spend more money that we hoped. YES– both of those happened– of course.
We expected that renovating would sometimes be frustrating– it is.
We hoped that moving to the country would be good for our family. It has been!
We planned to do a lot of the work ourselves. We have– we've worked hard nearly every day for 10 months…. however, we've had to hire out more than we wanted to, simply because we didn't have the skill set (even with YouTube's help!).
What We Didn't Expect
We didn't expect that finishing some rooms would take so very long. I did plan to not do window and door trim right away– so I mean "finished" except for that. But other things like baseboard heating covers and ceilings have taken a whole lot longer (as in: not finished) because so many other things have literally demanded our time. It's sucking the life right out of us… well not quite– which leads me to…
I don't think we expected the stress level to be as high as it is. I mean, we did expect it to be somewhat stressful, but we've never lived in a renovation zone quite like this before.
What makes our stress level high? Running our bank account lower and lower. Saying to ourselves, "we need to stop spending so much money each month" and then….. still spending money.
Another things that has made our stress level high is that my husband has been working 60 hours a week at his day job for… 4 months maybe? and still working on the house in all his spare time. His day job demands his full mental attention, and is lightly physical. So he is tired.
I don't think my family expected to like our house as much as they do. I expected that I would like it, and I do love it. I'm the only one that grew up in an old farmhouse. But the old world charm of it had to grow on the rest of my family– and it has! I'm thrilled about that.
What I'm Looking Forward to
Well, I'm certainly looking forward to finishing some rooms completely very very soon! In fact the piano room is so very close to being allll the way done, including more than half of the trim (two windows and one doorway are finished– and there are 2 more doorways in that small room!).
Another thing I'm looking forward to is being able to get a post together that shares one room with all the ugly before pictures, and the beautiful after pictures. [I could probably do that now with my son's room…. there are just a couple more things I'd like to do before that… like put a shelf in his closet.]
I'm beginning to wonder what our realtor would say our house is worth now, with the changes we've made. No, I don't want to sell it, but I am curious about the value. I want to know if our investment has already paid for itself, or if we need more time.
You might be surprised to hear this, but I am looking forward to the day we can once again be 100% debt free, including our mortgage–just like we did at our former house.
I'm looking forward to Christmas this year! It will be my first time decorating my own full size Christmas tree! and I'm really hoping to get the dining room ceiling done in time, since that is where I'm putting it.
10 Month Video
By now, you're probably wondering if I made a 10 month video. Yes, of course I did! I hope you enjoy it– it is short, but shows that a lot did get done. I think next month I will do more of a complete walk-through of the house like I did in the early months.
Trees
I think the biggest thing done this past month was getting someone to come cut our 2 large trees down. We had had a couple people come look at doing it over the past few months. One was sooo much $$$$, and the other had no time.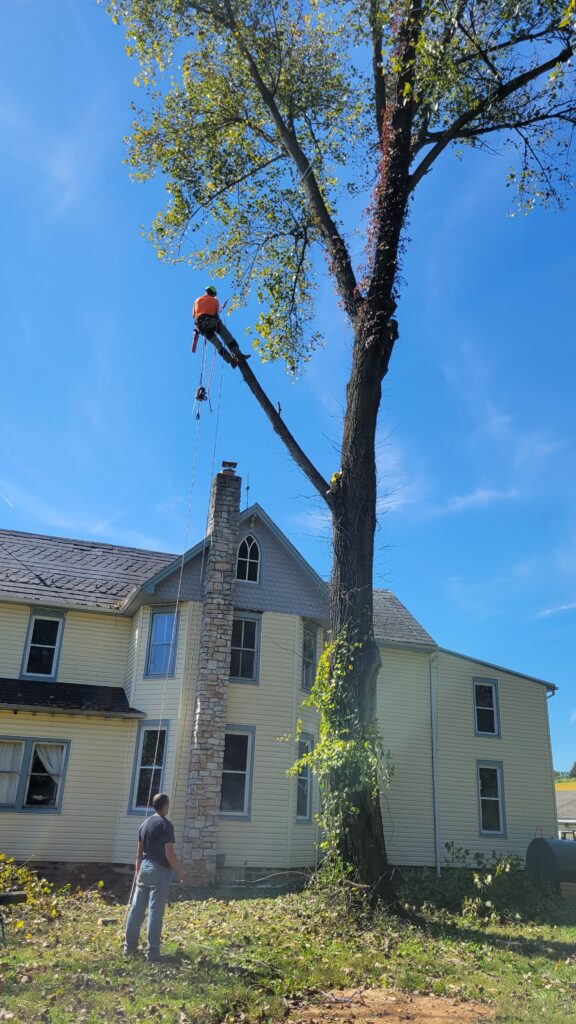 I want to show you the 2 videos I made for the tree-cutter who lives 3 hours away, to answer his questions. **For more details on the trees before they were cut, go here https://youtu.be/Du7Nc9-ctqs and here https://youtu.be/7IFWNqaNq-I. You can see our concerns and why we couldn't do the job ourselves. It was such a relief to us to have those trees safely down. People all safe, house all safe, electric wires all safe!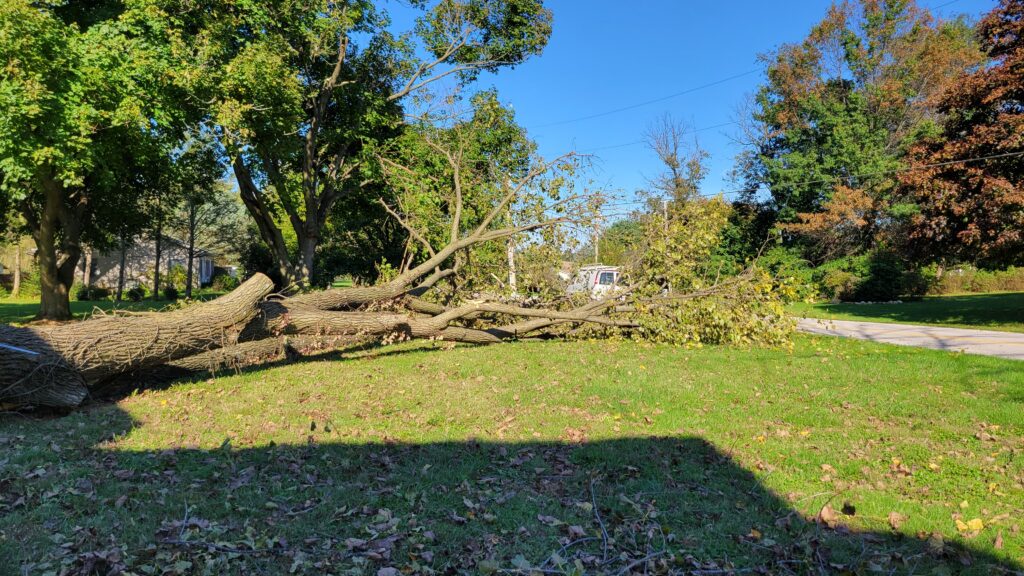 No, that wasn't poison ivy on the tree, thankfully. That would've been terrible since he needed to climb the tree.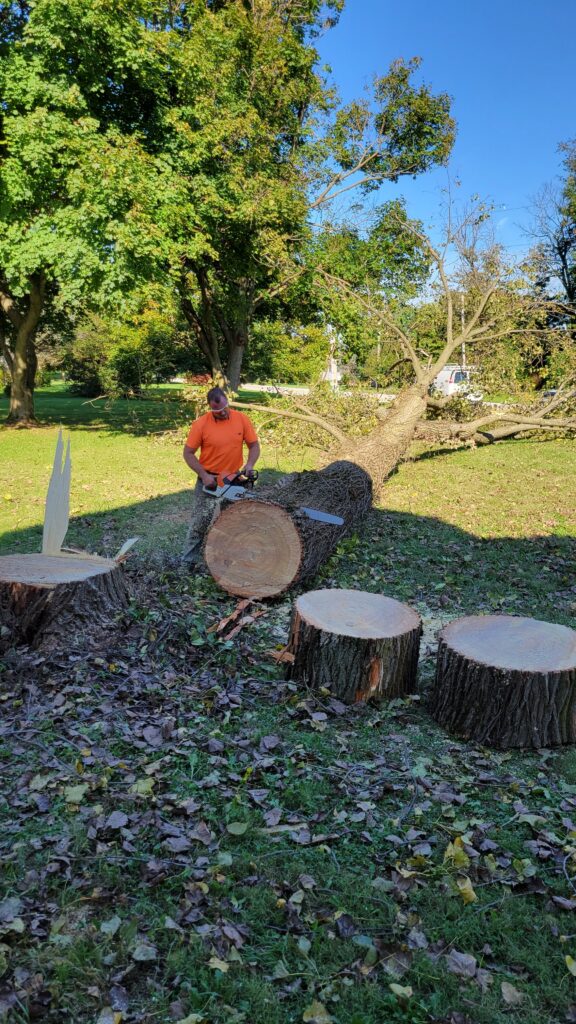 One neighbor thanked us for cutting down the dead tree. Apparently a neighboring dead tree before our time, fell across the road onto his barn! We're glad ours didn't do that! Another neighbor wanted the dead tree's wood, so that helped us in our cleanup.
The live tree was 36 inches across at its base. We have some huge fire ring stump chairs now!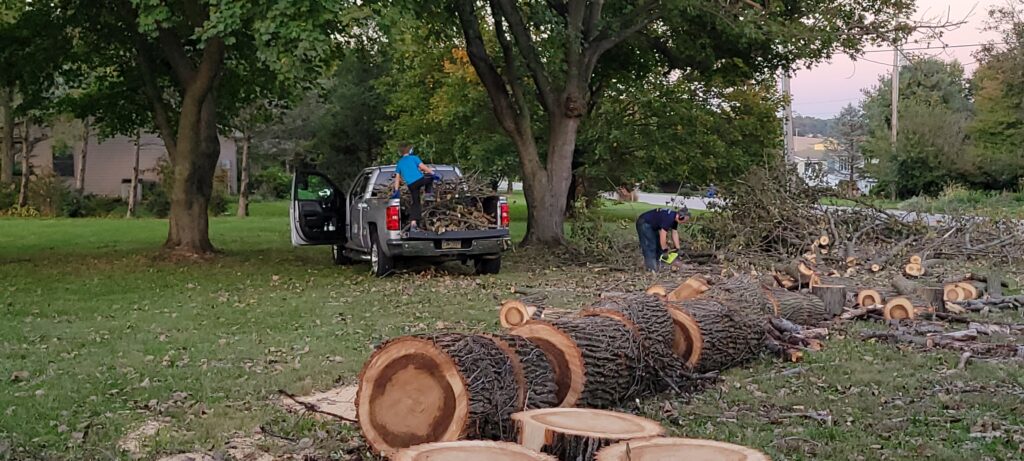 Piano Room
The other big project that I'm so happy about this month is my small piano room. The beginning of September it was my goal to get it finished by the end of the month. But my thyroid derailed that plan. Once I began to feel better again, I spent every minute I could working on it– there were so many things to get done! Look at my to-do list below! And I can guarantee you that there are some missing steps not listed.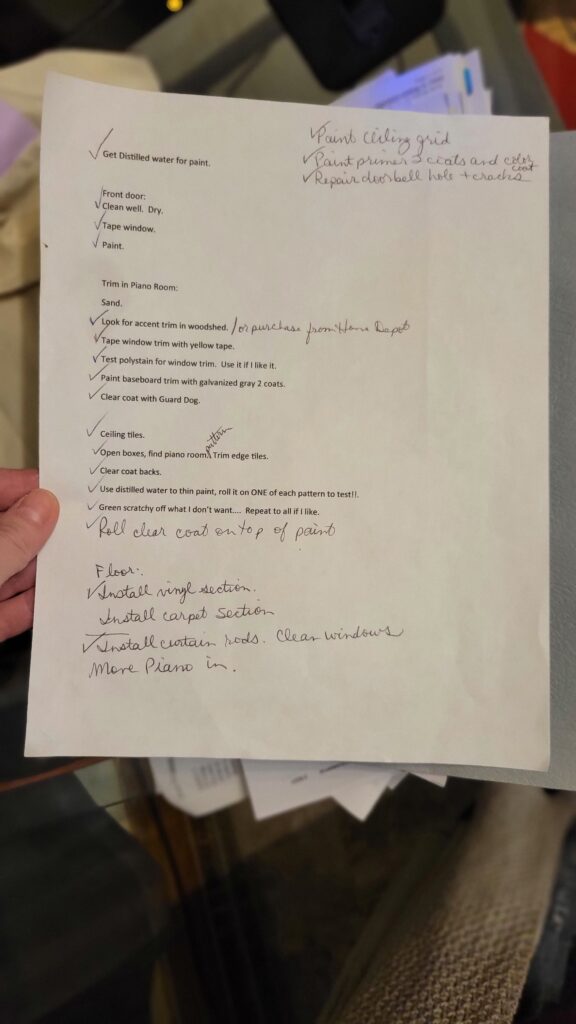 Piano Room Ceiling
Part of the delay in the piano room was the ceiling. I hadn't realized that the paint I was using would get harder and harder on the tin ceiling tiles— before I could get the paint off on the high spots.
Part of this was because of the timing of my thyroid problems— which I could do absolutely nothing about! Once my energy was back, I was so very thankful! This is the first time in my life that I've been ill like that…. I had always appreciated my health— but now I can surely sympathize completely with others who are unable to do things.
Black Dog Salvage has been so patient with me to finish this tin ceiling project. They sponsored the paint for it— and I hope they love this ceiling as much as I do. I was able to use 3 of their colors– Clean Canvas (pure white), Baby I'm Amaizing (dark yellow), and Dog Bone (a perfect khaki)– to exactly match my ivory wall color.
I used their Galvanized gray on my baseboards.
Swooze developed their Furniture Paint to adhere to anything– even tin tiles! And she has answered all of my questions. I will be making a separate post for you all about that project. But if you already know you love my drop ceiling tiles or want to try the paint– let me give you the links. Use code B420 to get 20% off the paint at: Black Dog Furniture Paint. For the tiles, go to: American Tin Ceilings.
And that's it for now. If you have any comments or questions, I'd love to hear them!