(If you are looking for a different kind of shelf that I built over my bathroom door, click here.)
I had bought four picture ledge shelves from Ikea intending to use all of them in my basement stairwell. After installing two of them, I realized that there was not room for the other two on the opposite side. Before too much time had passed, I figured out a unique way to use them…. I decided to put them over my doorway between my kitchen and living room!
Doorway Before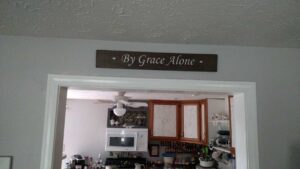 (*This post may contain affiliate links. By purchasing anything from these links, I may receive a small commission at no cost to you. More information is available on my Disclosure page.)
I took down my "By Grace Alone" sign and hung it over my basement doorway. Then I took off the top piece of molding over the doorway. Next I used a hand saw and/ or hack saw to cut the corners off of the side pieces, as shown below. In order not to saw into the wall, I sawed partway through; and then the triangle piece snapped off after I hammered a flathead screwdriver through the gap.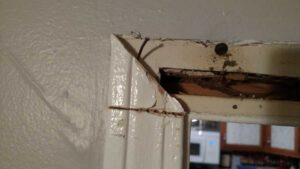 Here's what the kitchen side of my doorway looked like.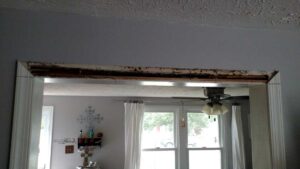 I did the same thing to the living room side of the doorway.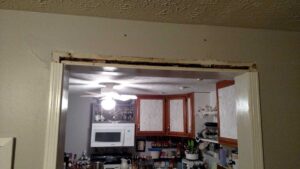 Then, all I had left to do was install the Ikea picture ledges! I liked that the side molding would help to support them.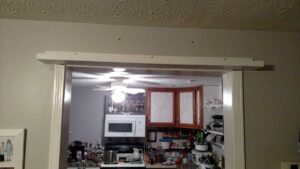 I thought the picture ledge shelves over the doorways gave my home a touch of that "craftsman" style. Do you think so?
Doorway After!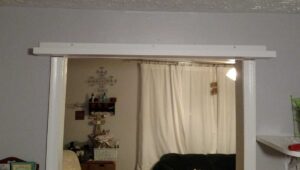 Here is the living room side of the shelf all decorated with piano themed things. I really like having an extra place to set things in my small house. Could you use a shelf like this? Would you attempt a project like this?

To see a different kind of shelf that I built over my bathroom door, click here.