Winter Hospitality – Snack Table Setting
*This post may contain affiliate links to websites such as Amazon. By purchasing anything from these links, I may receive a small commission at no extra cost to you. More information is available on my Disclosure page. I appreciate your support!
I had fun sharing with you my Fall Hospitality snacks and now I want to share with you a Winter Snack Table Setting idea. When I have people over, it helps to put food in different areas so that people don't all crowd into one space and create a traffic jam. My sewing table does double duty on these occasions.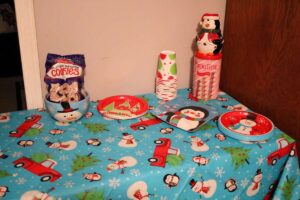 [sc name="This Post May Contain Affiliate Links"]
I love buying cute napkins and paper plates on clearance at after Christmas sales. (If you would rather shop online Amazon always has a variety of things available of course… click here for snowman paperware.) So it was by accident that I discovered that I had snowman paper plates and penguin napkins to match this bright blue vinyl tablecloth. As you probably know by now– we like color around here!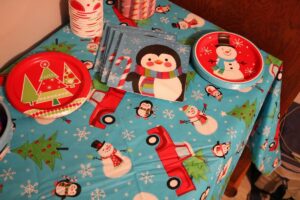 The blues are even the right shades! I got a laminator* for Christmas (it was on my list) so now my daughter and I want to laminate lots of things… ohhh, those penguin napkins would be fun to laminate– but then what would I do with it? My daughter wants to use them for coasters. We already laminated paper doilies– with my daughter using hers for a coaster at her table place setting.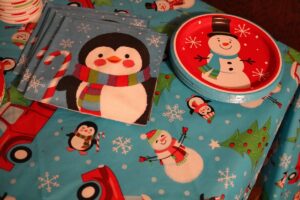 And I've had this little glass snowman snack bowl* for years– I can't remember where it came from– a gift perhaps?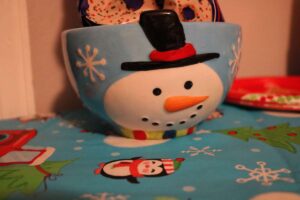 Everything looks so festive with my trash can decorated, too!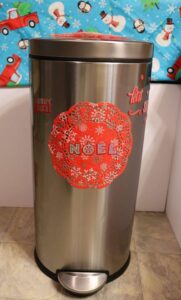 It does not take much to make an area look festive and inviting. More snacks found their way to this snack table setting before my guests arrived. Thanks for stopping by and enjoy the rest of your day!