Fall Hospitality – Maple and Pumpkin Spice
*This post may contain affiliate links to websites such as Amazon. By purchasing anything from these links, I may receive a small commission at no extra cost to you. More information is available on my Disclosure page. I appreciate your support!
It was fun realizing how many Pumpkin Spice flavored things I had in the house. So I gathered them together. If you know me, you know that I like to share food. It doesn't have to be home baked things, either. It can be store bought. In this post, I'm going to share how you can be hospitable using store bought goodies during the fall season.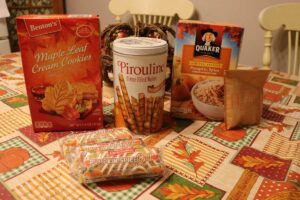 [sc name="This Post May Contain Affiliate Links"]
When I found these Maple Leaf shaped cookies at my local Aldi's, I bought five boxes. Or maybe seven. I have had these cookies before, and they use real maple syrup in the cream filled centers. When you open the box, you can smell it. It smells amazing! I knew that I wanted to have plenty to share, and plenty to dip in milk and enjoy myself– so I had to buy a bunch! If I had only bought 2 boxes, I might hoard them and not want to share them….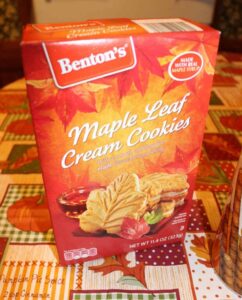 I think if you had friends over for a playdate with your kids, that they would not be disappointed if all you had to share with them was these maple cookies. They are a party all by themselves!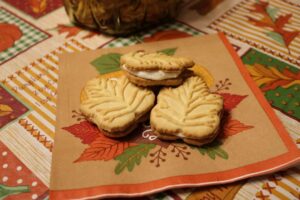 I found these Pumpkin Spice wafer rolls at the Burlington Coat Factory last week. I've had their chocolate, strawberry (tasty!) and hazelnut ones, but this was my first time seeing Pumpkin Spice flavored! They are not overpowering– they are just right! The thing I love about the Pirouline brand is that they are made in the USA. All other brands I've seen- even Pepperidge Farm- are made elsewhere.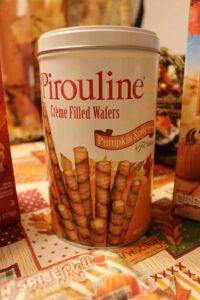 If you happen to have guests over at breakfast time, perhaps they would like some pumpkin spice oatmeal for part of or all of their breakfast. Add a little milk and some maple syrup– easy and delicious!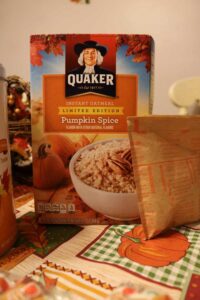 These Little Debbie Pumpkin Spice rolls are like their Swiss Rolls– only for fall. I won these at a Price is Right guessing game at a church picnic. They are extremely sweet, so one is almost too much. I recommend slicing it into little pieces to share.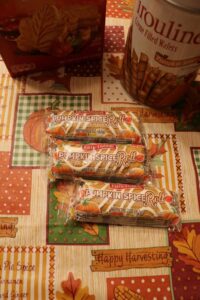 If a friend is stopping by, consider putting out some cute napkins with some treats. If you break the wafer rolls in half, and slice the pumpkin rolls, then the portions are small enough so that they can have a taste of everything. At least if I were the guest, I would want a taste of everything….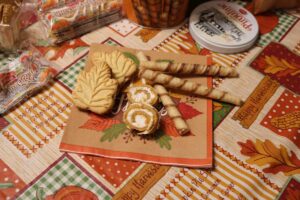 What a nice little afternoon tea this would make! Just add tea. Or…. coffee. Yes, I have Pumpkin Spice Coffee on hand. I also have "Autumn Harvest" coffee which is not pumpkin spice, and tastes like regular coffee as far as I can tell.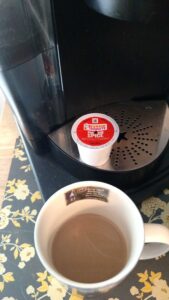 If you happen to have a little amber colored glass cookie jar to put your cookies in, then do it! Store bought cookies look nicer in a cookie jar, and they might stay fresher longer, too.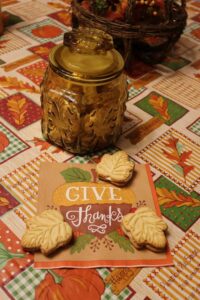 While I enjoy having home baked goodies on hand to share, sometimes that is not possible. It is perfectly okay to be hospitable with whatever you have on hand.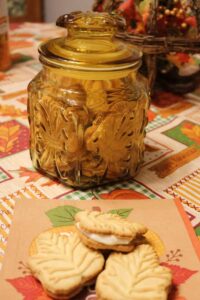 Here is another idea– if you are going to someone else's house, take along some treats like these to share. They will be glad that you did!