Non-Professional Valentine Living Room Tour
While I enjoy decorating for each season, I am not a professional at home decor by any means. But I do like Show and Tell : ). So since I can't have each of you over for snacks while you peruse my Valentine decorations, I will tell you about them here!
At the end of this post, I will share with you two photos of this main wall from previous years. You will see how I've just mixed things around a little bit. Each year I try to improve my skills– but remember that my decorating style is known as "yard sale." If you do spot a current trend, it might be by accident. : )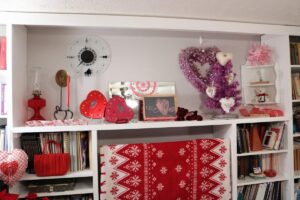 (*This post may contain affiliate links. By purchasing anything from these links, I may receive a small commission at no extra cost to you. More information is available on my Disclosure page.)
In the left bottom corner, you can just see this heart that I hand sewed and stuffed around 9 years ago. I had a friend over and she made one, too, of her own design.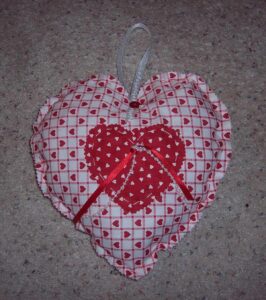 This blanket was a Christmas gift from a co-worker, so it is acting as a TV cover.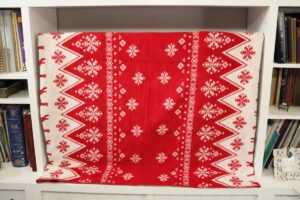 I have a clear base and a red base for this kerosene lamp that belonged to my husband's grandmother.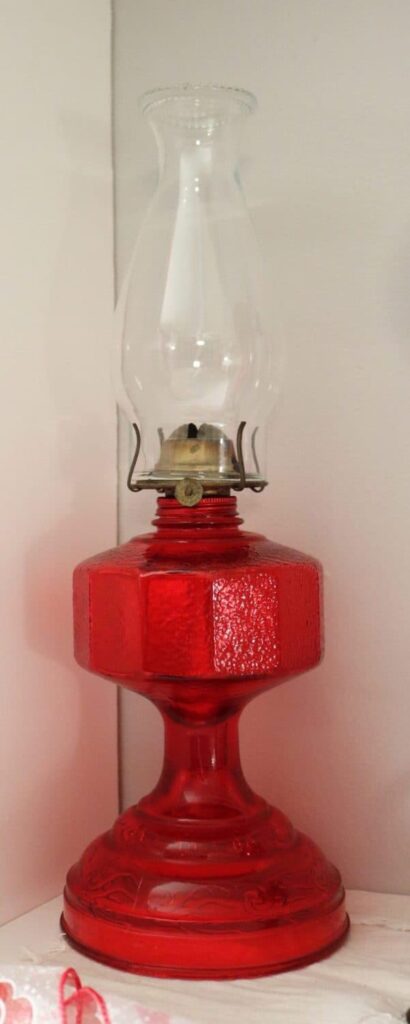 This candle holder was made by my grandfather who was a blacksmith. It was given to me for my high school graduation, if I remember correctly. (That was a looonng time ago.)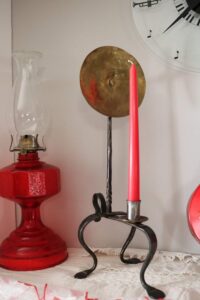 This heart and music ribbon is leftover from a Valentine Wreath that I made.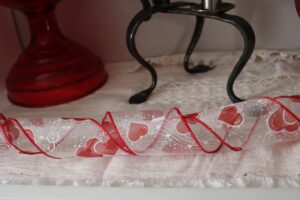 I like storing things in tins. These tins hold Valentine cards and mementos.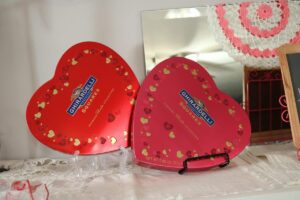 This chalkboard was free at a yard sale. My daughter drew the picture for me. I made the pink and white heart doily in the background. Paula of Virginia Sweet Pea won it in a Giveaway Offer that was here on B4 and Afters.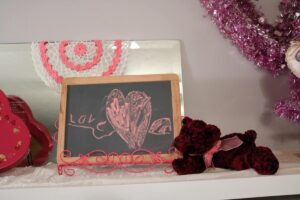 This pink tree was a thrift store find, gifted to my daughter at Christmas. The heart ornaments were gifts to me during college.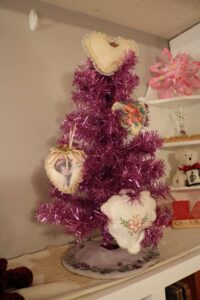 The Scrabble tiles below were part of my many ideas for my most recent LOVE Valentine Wreath. I didn't use them for the wreath, and used them here instead. Do you see that the Y is 10 points? If you are a Scrabble player, you know that the Y only has 4 points. Do you know why this Y has 10? I do….
You can find directions for the Pink Paper Star in the top corner, here.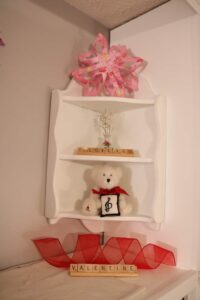 To the left of the main wall is my couch.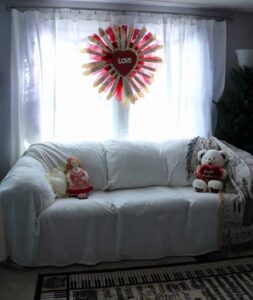 Isn't this doll sweet? I got her at an auction for $1. I wish I could find doll pillow fabric like this to make dolls for my daughter. But it is probably around 35 years old. The heart-shaped pillow was a gift from a friend.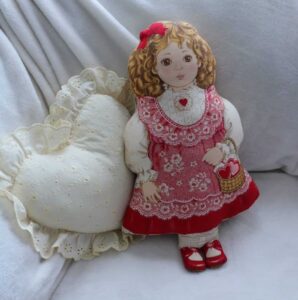 See her cute little shoes?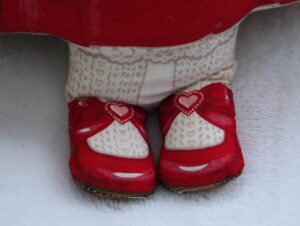 The back of her has many cute details, also. She is such a pretty doll pillow, and yet she was fairly easy to make. Just cut out the front and back pieces of fabric, sew, and stuff.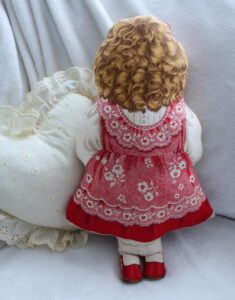 The reason I purchased the Valentine doll is…… I had her twin! Yes!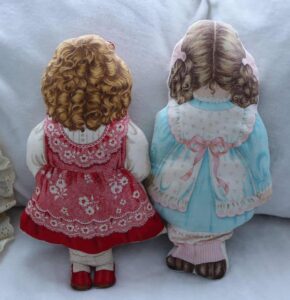 Patty is the name of the doll pillow in the blue dress. I have had her since my mother's friend made her for me when I was a child. Patty was/is well loved. She is not stuffed as full as the other doll pillow, and being well-loved has made her softer.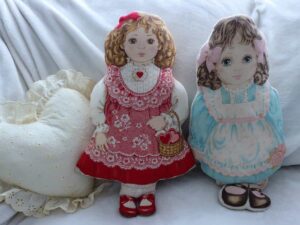 Here is the bear from the other side of the couch.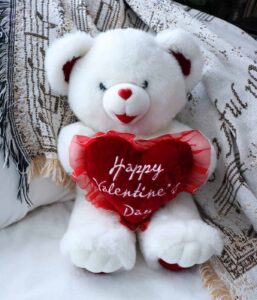 To the left of the couch on the same wall is this Vignette. You can see more Details Here.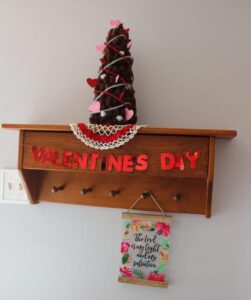 As promised, here is a picture of the main wall from a couple of years ago.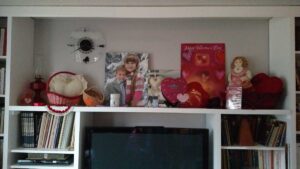 And here is another picture of the same wall before we had our Built Ins put in, dated at least 3 or 4 years ago.
Before Built Ins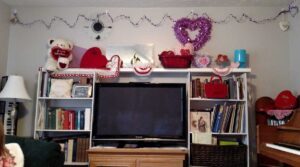 I hope that you have enjoyed this tour of my non-professional living room! I had fun showing it to you.
After Built Ins