Dollar Store Die Cut Pink Butterfly Banner
Today I want to share with you a cute banner for Spring. Banners (also called bunting) have been around for awhile. If you haven't tried one yet–let me tell you that this is an easy way to see if you like them.
I found these cute die cut banner shaped papers at the Dollar Tree. They came in a package of 12 for…. $1! I was pleasantly surprised when I opened them to find that they were not made of thin paper, but of sturdy cardstock. See the butterfly in the middle of all of the flowers?!
Before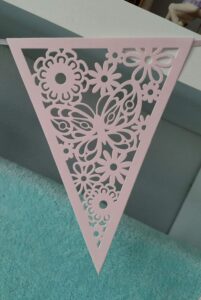 (*This post may contain affiliate links. By purchasing anything from these links, I may receive a small commission at no cost to you. More information is available on my Disclosure page.)
All I had to do was attach the back of the papers to a thin pink ribbon that I already had on hand. I didn't have any double sided tape, so I did it the old-fashioned way and rolled regular tape over on to itself.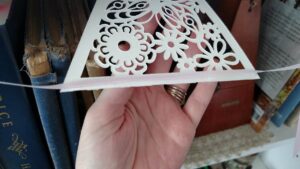 It was one of the fastest projects that I have ever done! I thought if it falls apart, then I will use a hot glue gun. But it is holding up just fine. Here it is.
AFTER!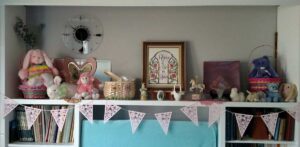 The aqua blanket is covering our television. I like covering the TV with various fabrics or blankets– it is easier than wiping off children's fingerprints every time that I want it to look nice. Since I've done it that way for so long– I actually prefer the TV covered than left plain black. Some day I will post a collection of my various covers…. For now, let me show you some close-ups of some of my Easter decorations.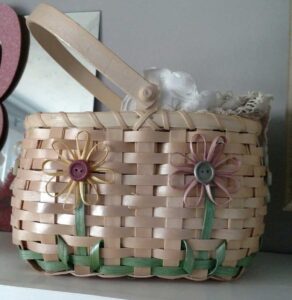 Isn't this basket cute, with flowers all around the sides of it? I found it at a thrift store for $3. I keep my extra doilies and dresser scarves in it. Dresser scarf! I suppose it has been a long time since you heard that phrase?! At least I haven't heard it in awhile.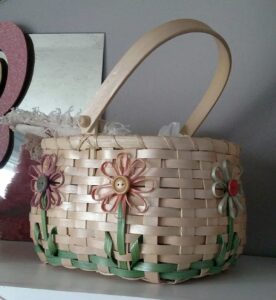 This sparkly purple charger was given to me by a friend….. from a thrift store : ). The pink swirly bud vase was a childhood gift that I treasure. I made the pink doily underneath a long time ago.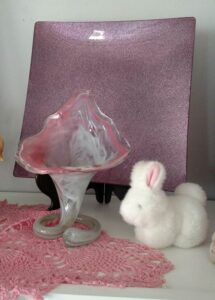 Here is a little milk glass basket that was given to me.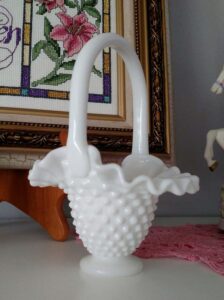 And now for my favorite Easter decoration– this lovely cross-stitched yard sale find, that was already in its frame! Sooo much time it would have taken, to make this! It has gorgeous metallic thread in it.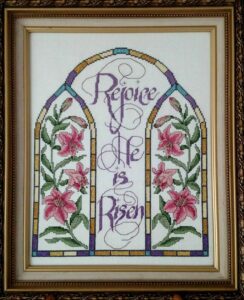 I hope you have enjoyed seeing my Easter decorations that I have collected over the years. Do you use banners to decorate in your home, or for birthday celebrations?
If you enjoy my posts, please consider signing up with your email so that you will get a notice in your email inbox every time that I post something new. Also, please consider sharing a post on Facebook or wherever else you like. Thank you!
SaveSave
SaveSave
SaveSave