Piano Recital Party Ideas
*This post may contain affiliate links to websites such as Amazon. By purchasing anything from these links, I may receive a small commission at no extra cost to you. More information is available on my Disclosure page. I appreciate your support!
*This is a Sponsored Post
In this post I am going to share some of my best piano recital party ideas. I have been teaching piano lessons for 23 years, and for nearly 20 years I have hosted an annual Christmas piano recital for my students. At the height of my piano teaching career, before marriage and kids, I had around 35 students.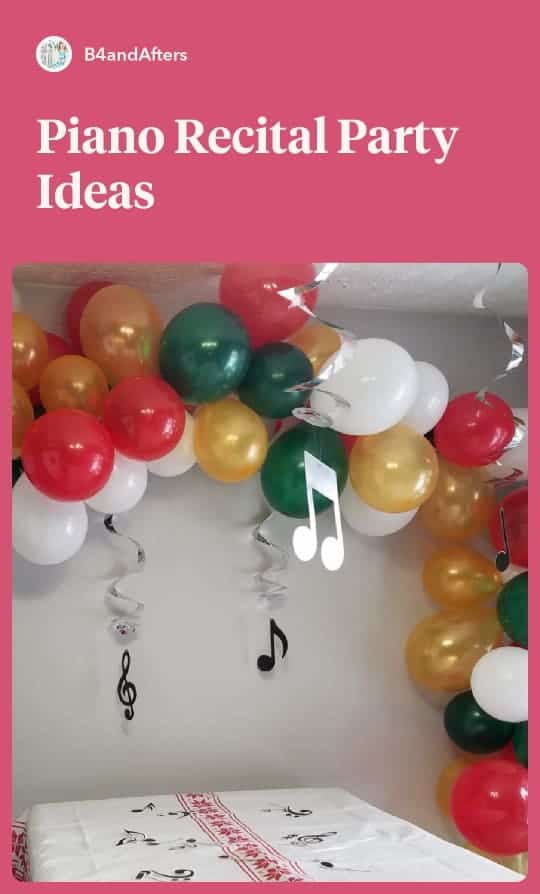 Our annual Christmas recital is a big event for my students. When I was first starting out, I heard about another local piano teacher and her wonderful reputation. I wanted to know what her secret was, and someone told me it was the cookies at her piano recitals. So I attended one of her recitals hoping to get a glimpse of those cookies— and would you believe it! She had decided it was too much work and there was a cake instead!
And that is probably one of the reasons that I make cookies for my piano recitals that my students look forward to each year.
Now my own children are my students. But I don't do weekly lessons with them like I would other students. Instead I tie their practice time into their allowance, i.e., I pay them to practice! And when they are ready to learn something new, I am there to help them. So far that method seems to be working out okay.
I've given recitals at various churches and retirement homes over the years. Of course, this year we could not go to our local retirement home, so I hosted a small piano recital party at my house instead.
When The Perfect Party Place said they would send me decorations for our Christmas recital, I knew it would help make this year's piano recital extra special. At the end of this post, I will give you a coupon code for 10% off of their party supplies in case you want to host your own small party at home!
Christmas Piano Recital Tips
Besides special cookies like I already mentioned, have a Sign up sheet so that each student can bring a finger food like popcorn, brownies, or fudge. Remember to have someone bring drinks, paper plates and napkins, and even some coordinating disposable plastic tablecloths.
Plan to have each student do at least one solo, and one duet. I loved coordinating piano duets between teacher and student, and between students and students. Every now and then there was a piano trio or even a double duet– with 2 people each on 2 pianos! To minimize all the moving back and forth to the piano bench, I would organize it so that Student A would do their piano solo. Then Student B would join Student A for their duet. Then Student A would leave the bench so that Student B could do their piano solo. Things moved very smoothly that way.
Print Programs, if possible. People like to know the names of the songs they hear, and they like to see the names of the students, too.
Vary the skill levels. Some piano teachers like to order their students so that the beginners play at the beginning of the recital, and the more advanced ones play at the end. Sometimes the teacher will play a grand solo at the end. I like to mix up the levels more. I noticed that people in the audience can get bored listening to several long advanced piano pieces at the end of a long recital. So I would rather put some of the longer more advanced pieces/students near the beginning and in the middle, to mix things up a bit. It also helps older students who may not be as advanced, to not be embarrassed by being made to go in the beginning with younger beginners. And for this reason, I have never played the grand finale. I prefer to go first. Then none of my students have to be nervous about going first, and I can get my piece finished and enjoy the rest of the recital!
Take a picture of each student at the piano. It makes them feel special, and is a special memory.
Now to show you the decorations and refreshments!
1
Plain wall before adding the balloon garland from ThePerfectPartyPlace.com.
2
This is a clear plastic non-sticky tape with holes in it for the garland.
3
Stick the knotted balloons into the holes.
4
I used a piece of clear nylon string to pull the middle of the garland up to the ceiling, so it wouldn't droop. I stuffed extra balloons on top.
5
These music note swirly decorations were such a fun touch!
6
I also had extra music notes for the table.
7
Add food and cookies for refreshments after the Christmas piano recital!
8
I used a tree shaped dish from the Dollar Tree for the carrots.
9
Here are some piano key shaped cookies!
10
One of the happy students.
11
Another happy piano student.
12
The great thing about the garland is that it can be reused over and over, with new different color balloons for other occasions!
Now that you have seen the fabulous decorations from The Perfect Party Place, here are a few duets and a solo for your enjoyment. One of the reasons I love hosting Christmas recitals is that I know the songs will be familiar to the audience.
I hope you have enjoyed seeing my Christmas piano recital party ideas! Are you looking for more party ideas? Here they are!
Okay, here is the coupon code that I promised for decorations from The Perfect Party Place! Go to The Perfect Party Place and use the Code: LIBERTY to take 10% off your next purchase until January 31, 2021.