Snickers Peanut Butter Cheesecake Brownies
This is a delicious variation of my original Three Layer Peanut Butter Cheesecake Brownies.
This coming Thursday I will be sharing a beautiful and easy Cake version so stay tuned!!
Snickers Peanut Butter Cheesecake Brownies BEFORE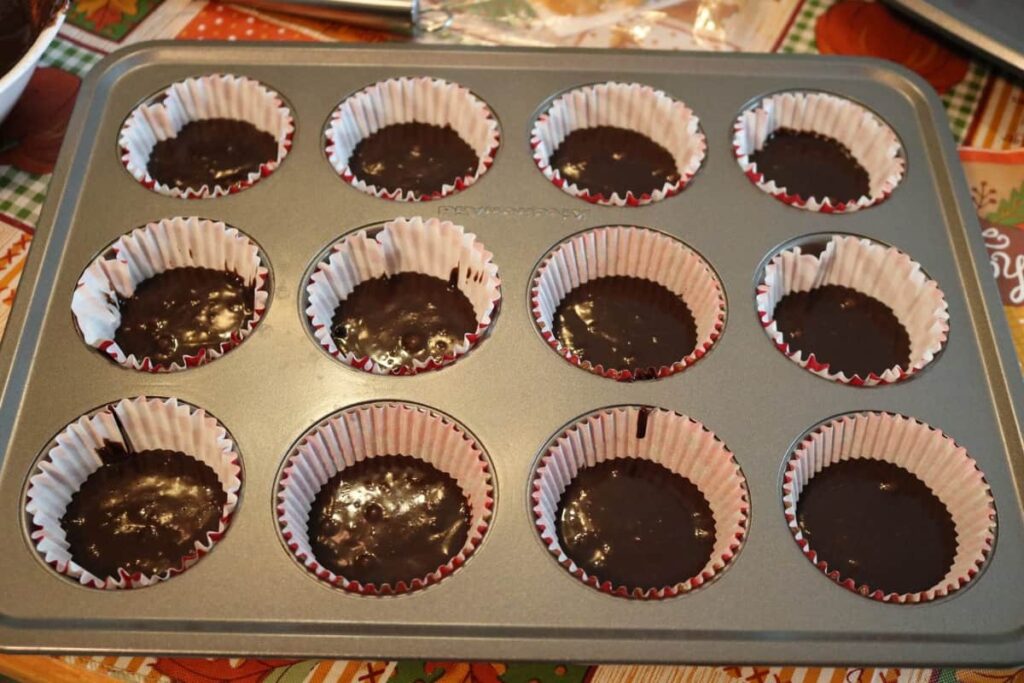 (*This post may contain affiliate links. By purchasing anything from these links, I may receive a small commission at no extra cost to you. More information is available on my Disclosure page.)
First, I mixed the brownies according to the package directions. I filled the cupcakes liners about one third full and baked them. I made round ones and square ones. I like using a trigger scoop to fill the paper liners. Round cupcake liners work just fine in square pans– they still turn out square.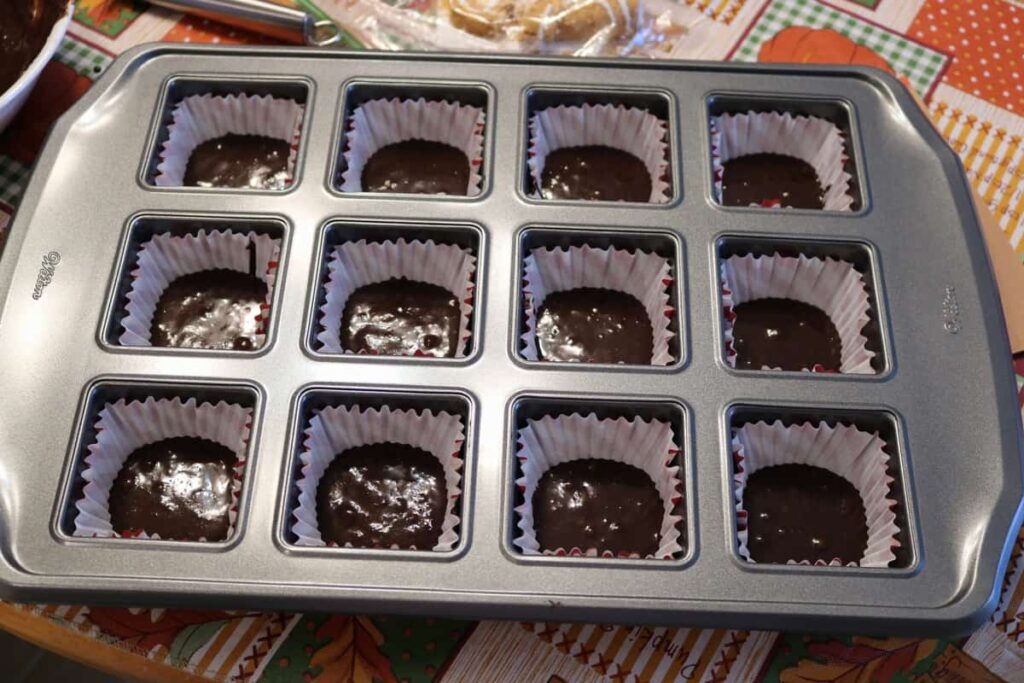 For the second layer, I mixed cream cheese and powdered sugar.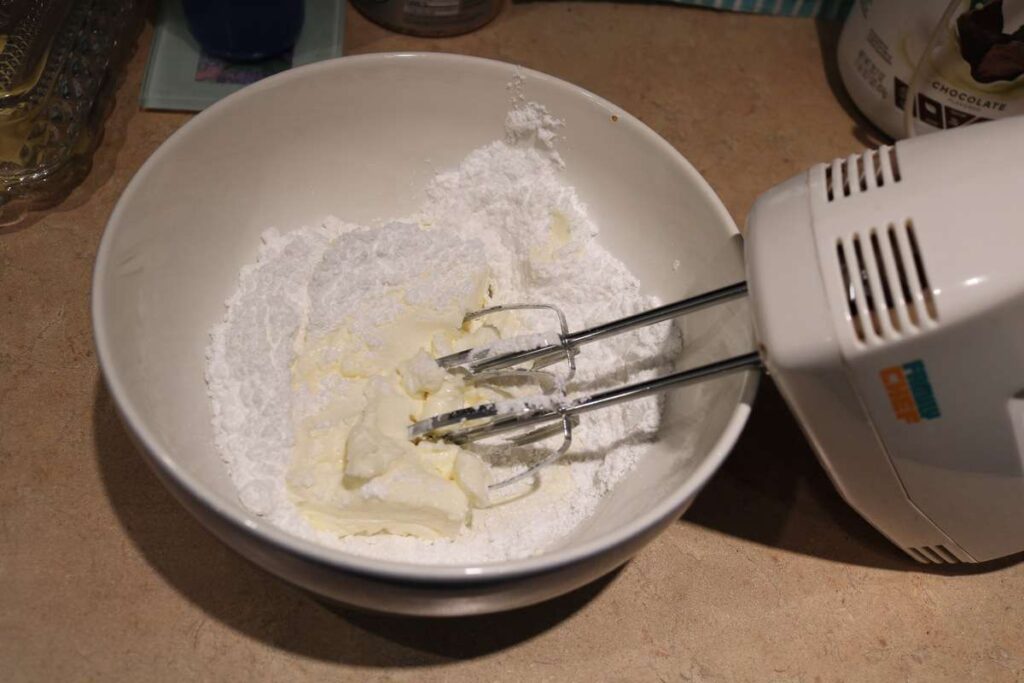 Mix it until it is nice and creamy. There are no eggs, and no further baking is necessary.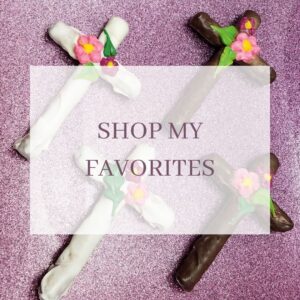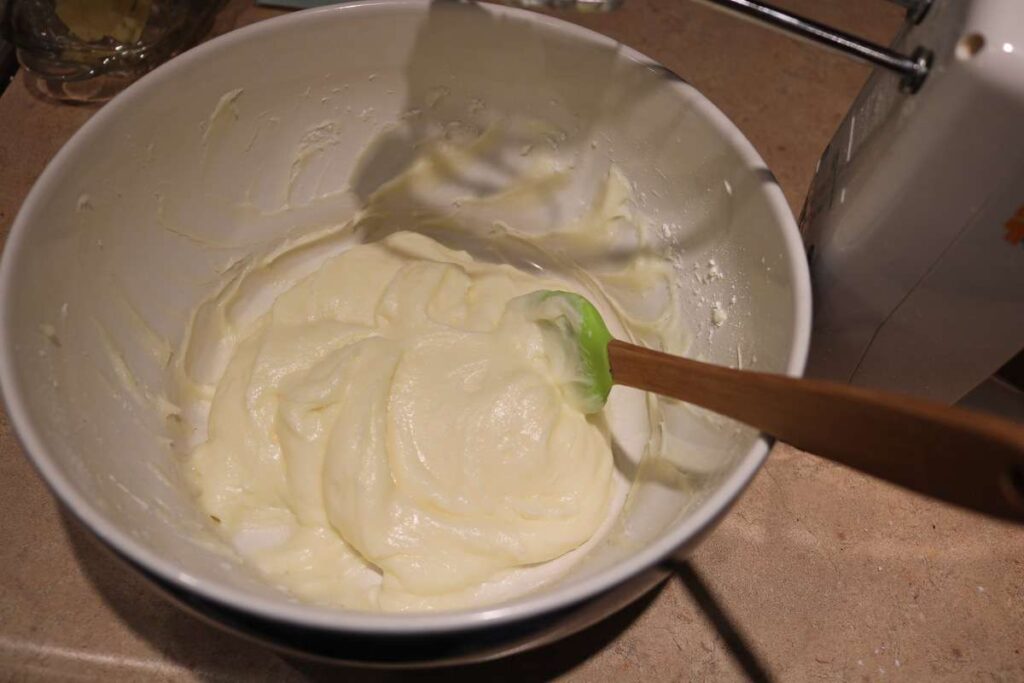 Blend in the peanut butter and heavy whipping cream. You can use almond butter in place of the peanut butter if you prefer. You can see my favorite Peanut Butter on this page.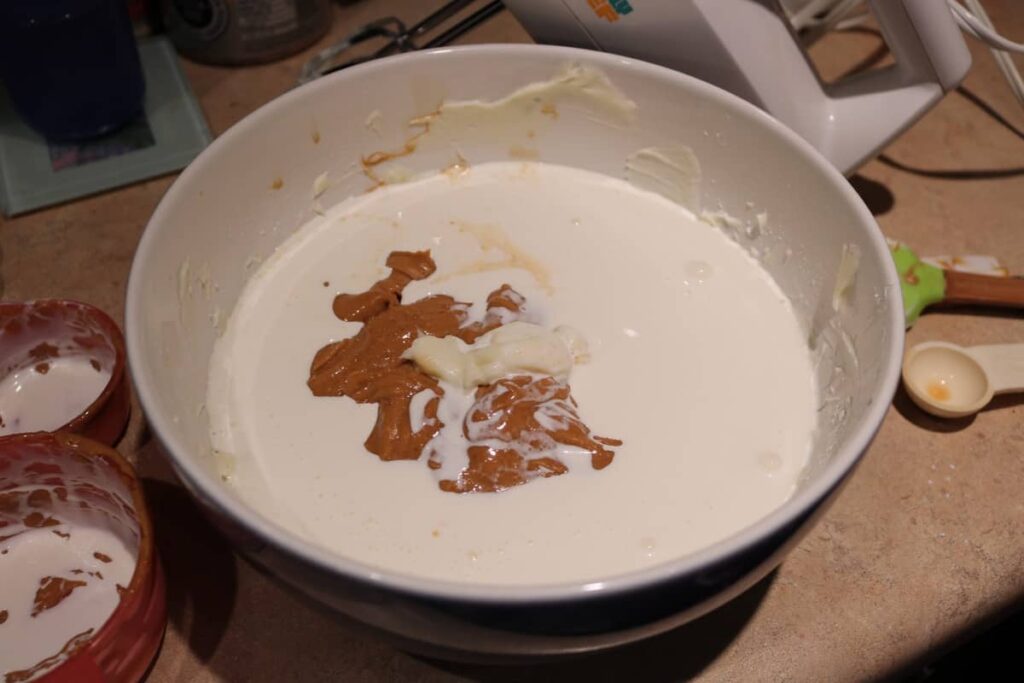 The mixture will be thick, like peanut butter pie.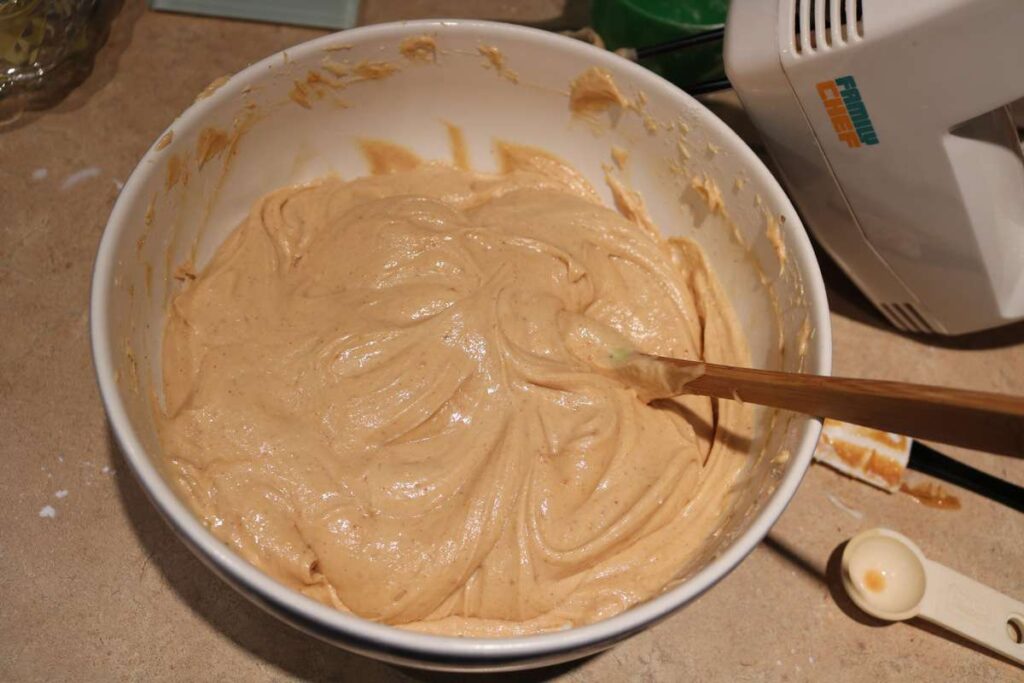 Again, I used a trigger scoop to put the peanut butter cheesecake mixture on top. Trigger scoops really keep everything a lot neater.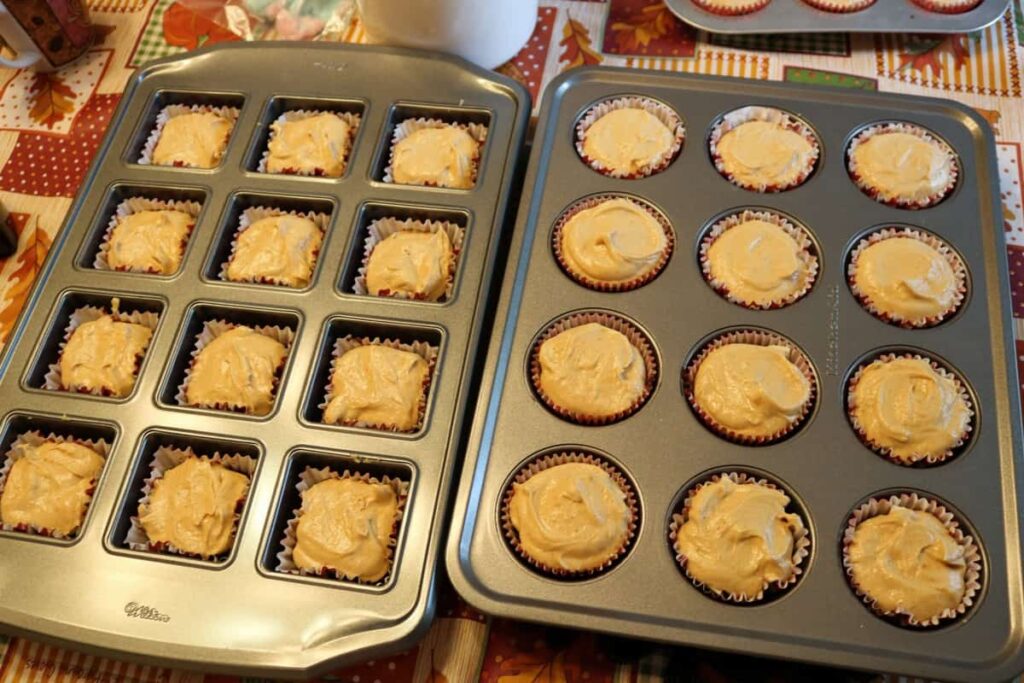 If you accidentally make your brownie layer too thick, just cut an upside down cone shape out of the top to put the cheesecake filling in. Then you can also put extra filling in the cups first, and add the extra cones on top, like you can see on the left in the picture below.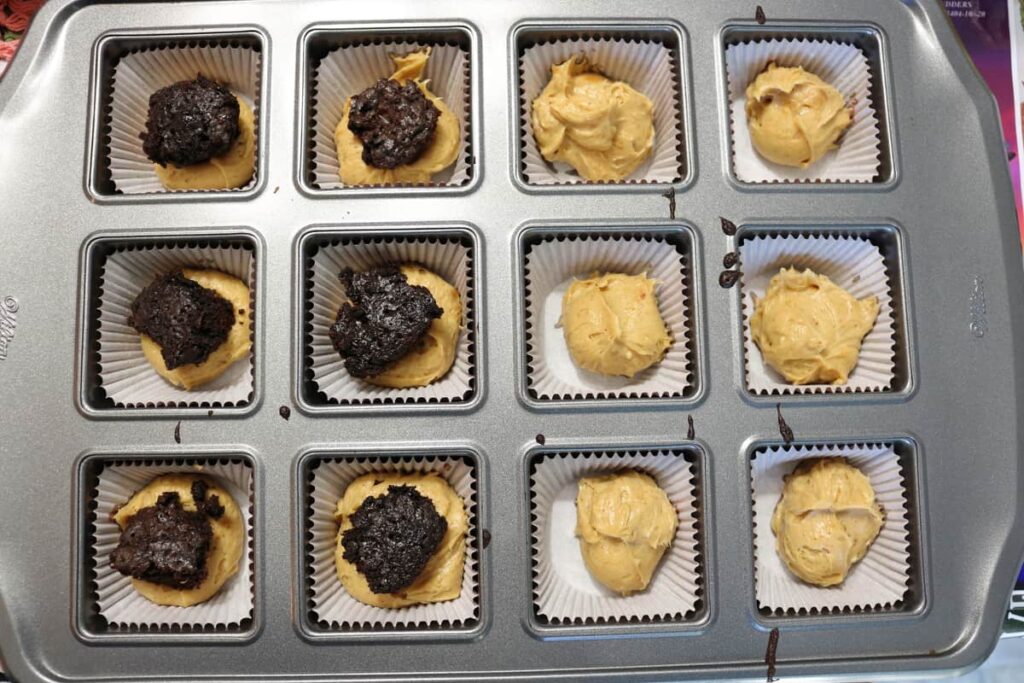 Next, I melted the semi-sweet chocolate chips for the chocolate ganache layer.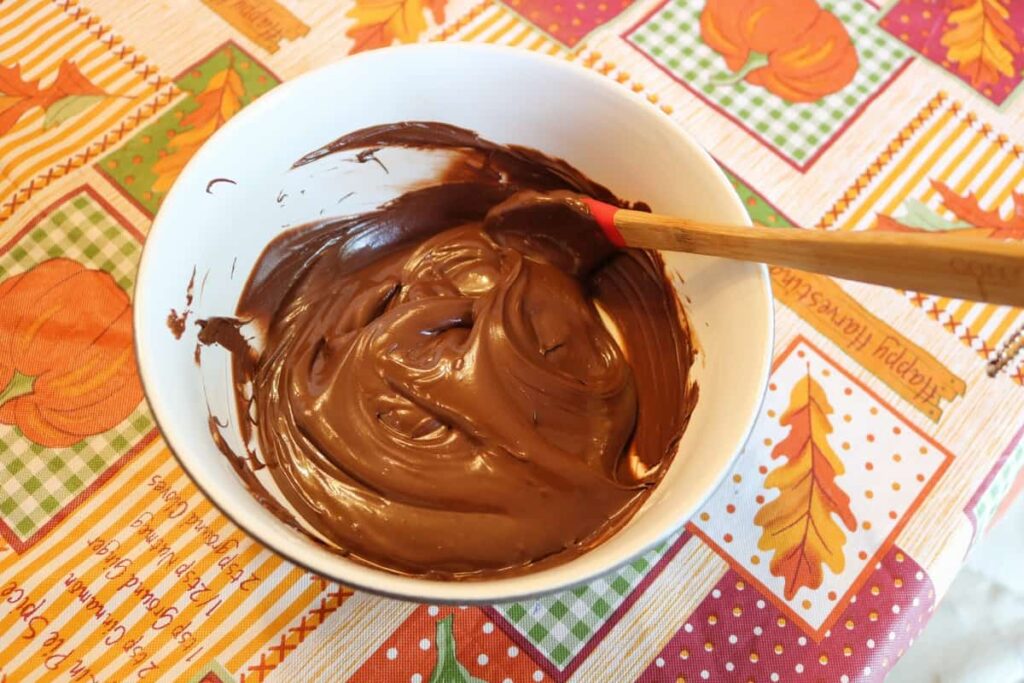 Add heaving whipping cream and stir it in.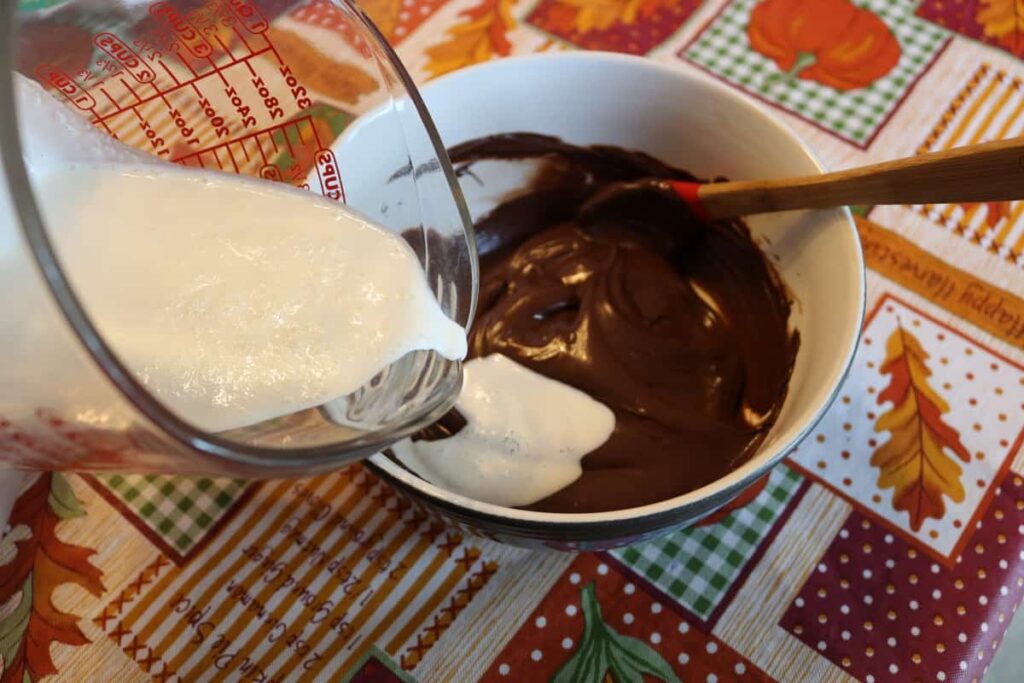 Even though there are three layers plus toppings, it did not seem very labor intensive. One of the reasons this recipe is so easy is because there are no eggs in the cheesecake layer– so it is a no-bake version! It was very satisfying to see it all come together. I used Maple and Almond Butter Snickers on top of these brownies. You can use regular Snickers or whatever kind you have on hand.
AFTER!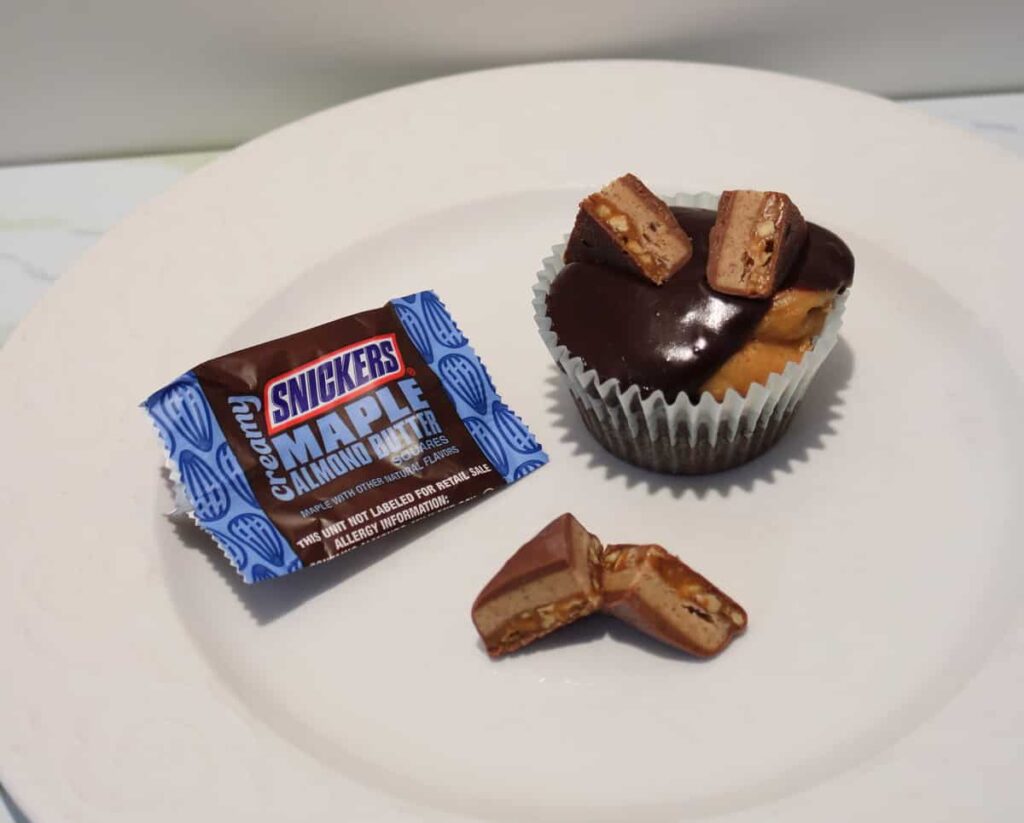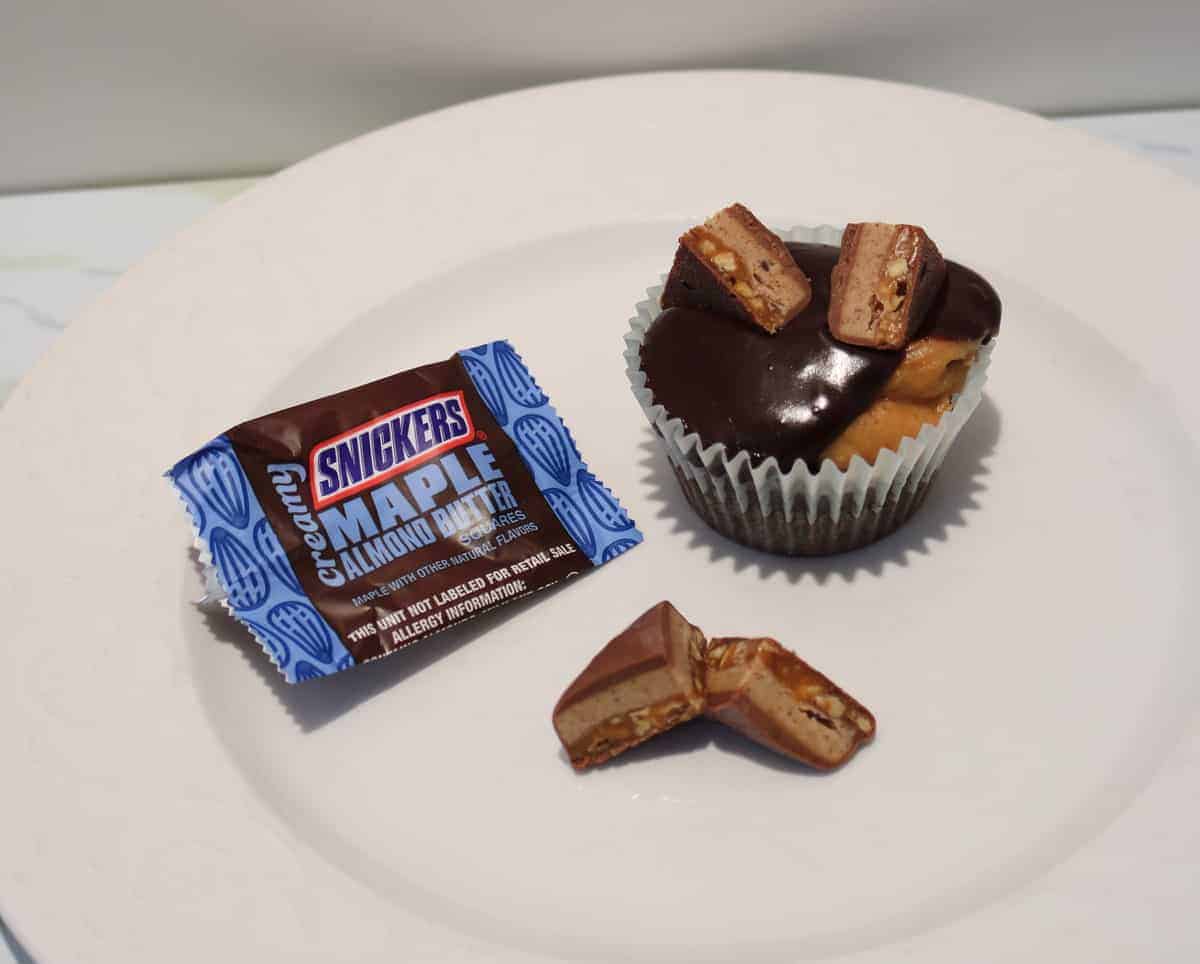 I loved the Maple flavor and combined with the brownies these were sooo delicious!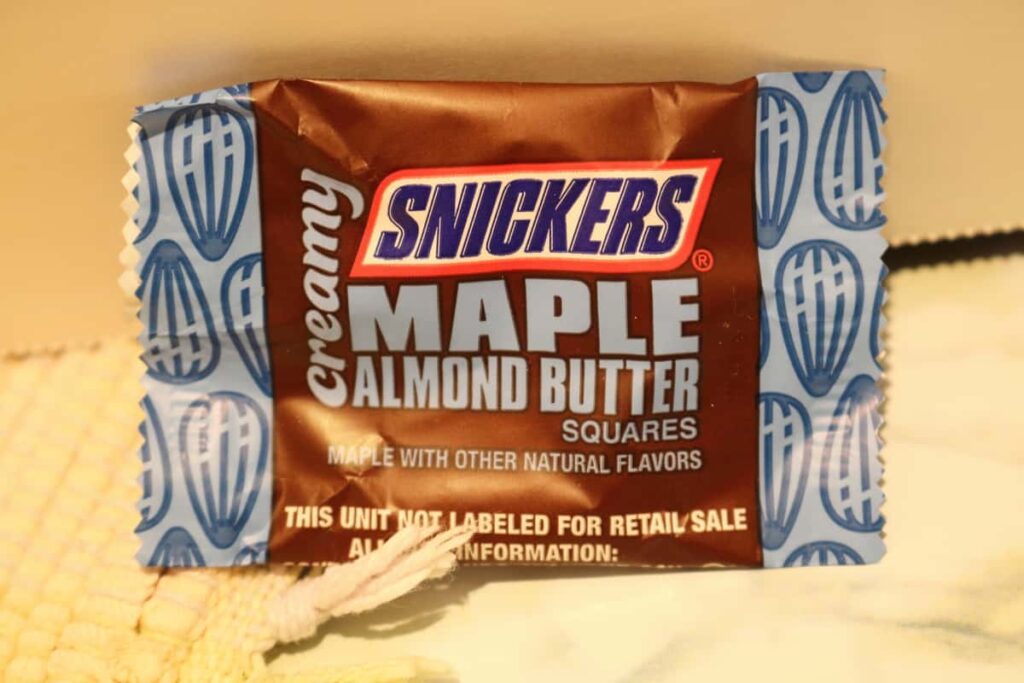 I would love to hear if you try making these!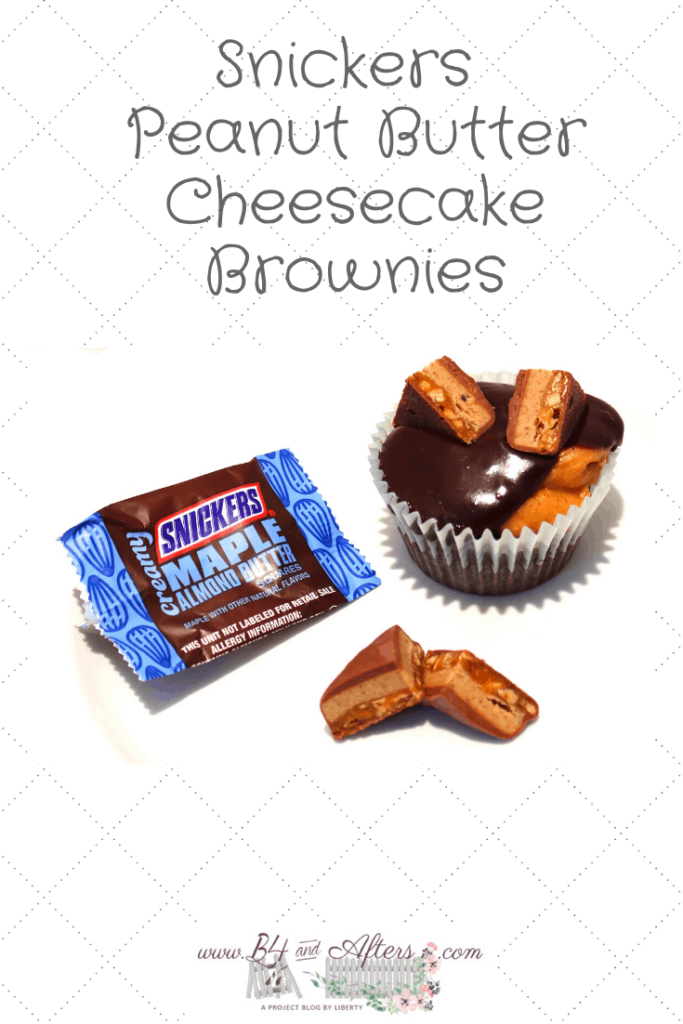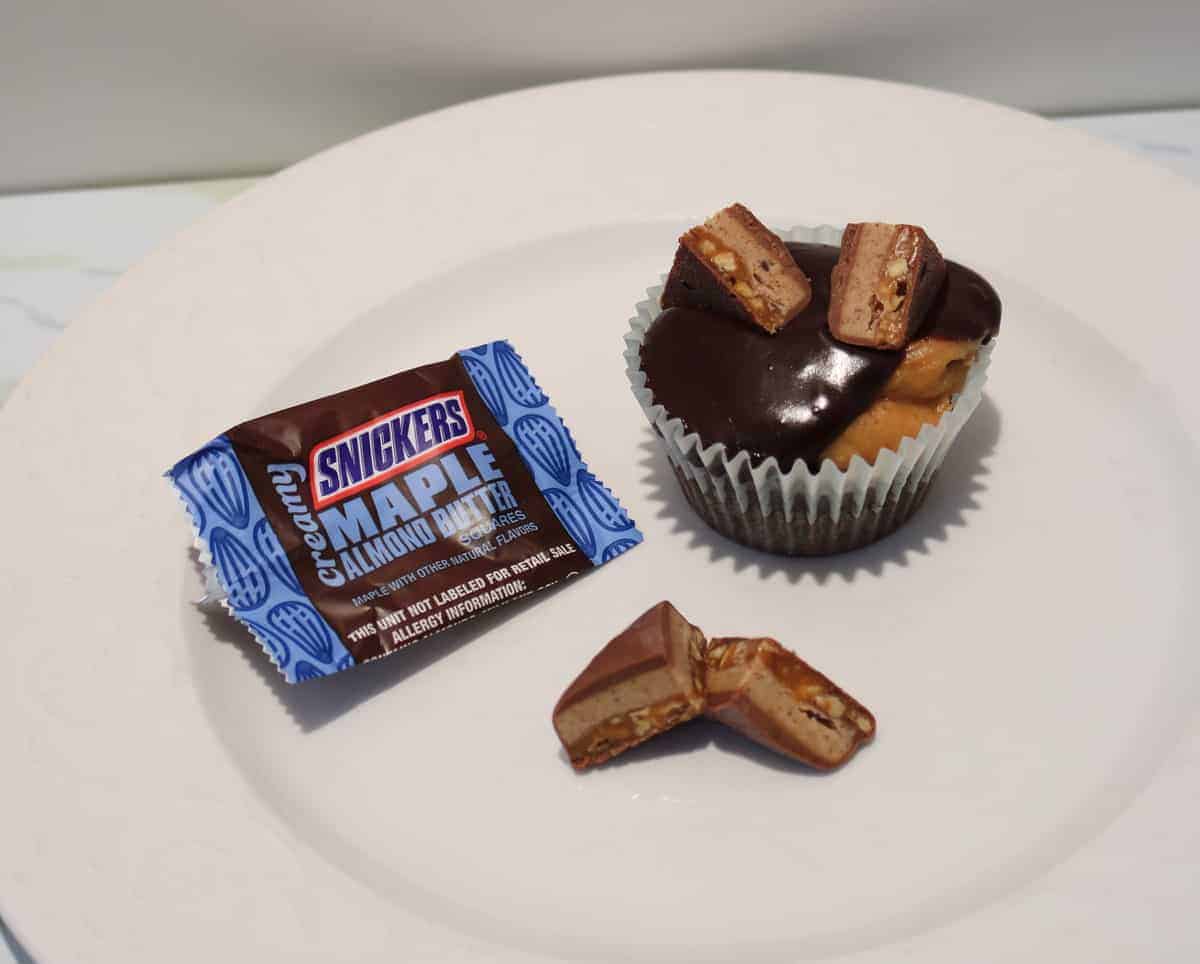 Yield:

24
Snickers Peanut Butter Cheesecake Brownies
Additional Time:
1 hour
30 minutes
Total Time:
2 hours
10 minutes
These Snickers Peanut Butter Cheesecake Brownies can be made with any flavor Snickers. I used Maple Almond Butter this time. The combination of chocolate and peanut butter is just irresistible!!
Ingredients
1 Box Brownie Mix (plus ingredients needed to make it-- usually eggs, oil, and water)
8 oz. cream cheese
1 cup powdered sugar
1 1/3 cup peanut butter
1 tsp vanilla
1 1/3 cup heavy whipping cream
12 oz. semisweet chocolate chips
2/3 cup plus 1 TBSP room temperature heavy whipping cream
1/2 tsp. oil
Instructions
Mix Brownie Mix according to package directions. Fill 24 cupcake liners 1/3 full. Bake until done and let cool.
For Second Layer, mix softened cream cheese and powdered sugar with a mixer.
Add peanut butter, vanilla, and whipping cream and blend with the mixer.
Add to brownie cupcakes with a trigger scoop.
For Third Layer, melt chocolate chips in the microwave using the "melt chocolate" setting.
Stir in oil and whipping cream.
Spoon Chocolate Ganache on top of peanut butter layer.
Add chopped Snickers on top.
Refrigerate and eat!