Peanut Butter Cheesecake Brownie Cake
I don't know if you know how many different ways there are to make a Peanut Butter Cheesecake Brownie Cake….. so far I have made them in cupcake style, and with a Snickers Maple twist. This year, I made yet a different version for my husband's birthday. I hope you like it!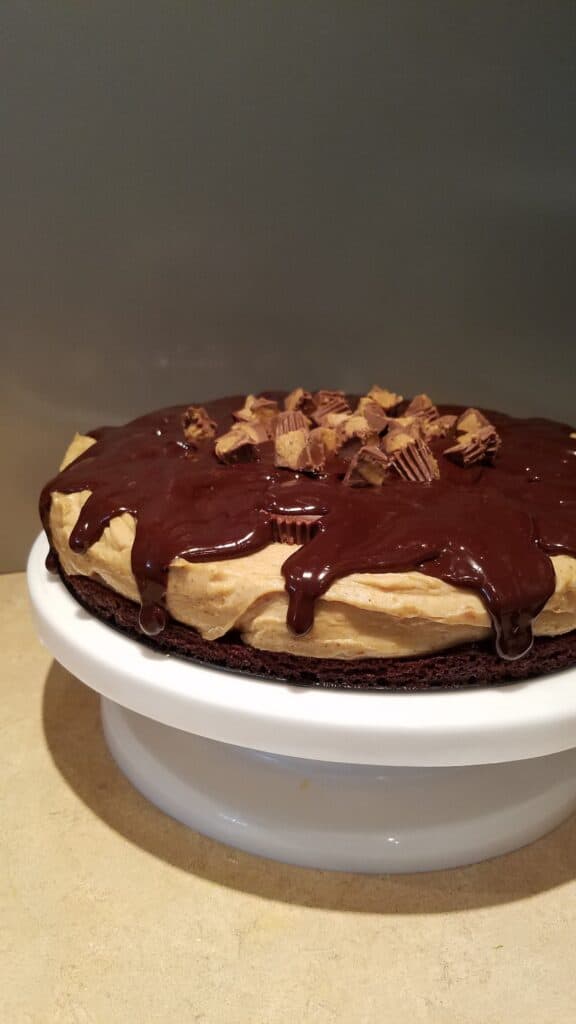 (*This post may contain affiliate links. By purchasing anything from these links, I may receive a small commission at no extra cost to you. More information is available on my
Disclosure
page.)
1
Cook a brownie mix in a springform pan.
2
Then add peanut butter cheesecake layer on top.
3
Add peanut butter cups if you like.
4
Lastly, add chocolate ganache layer.
5
Top with chopped peanut butter cups.
6
Tip: store it in an upside down bowl.
7
Make a thin or thick layer of brownie, or of cheesecake. It will be delicious!
8
I guarantee that it won't last long! Enjoy!
Peanut Butter Brownie Cake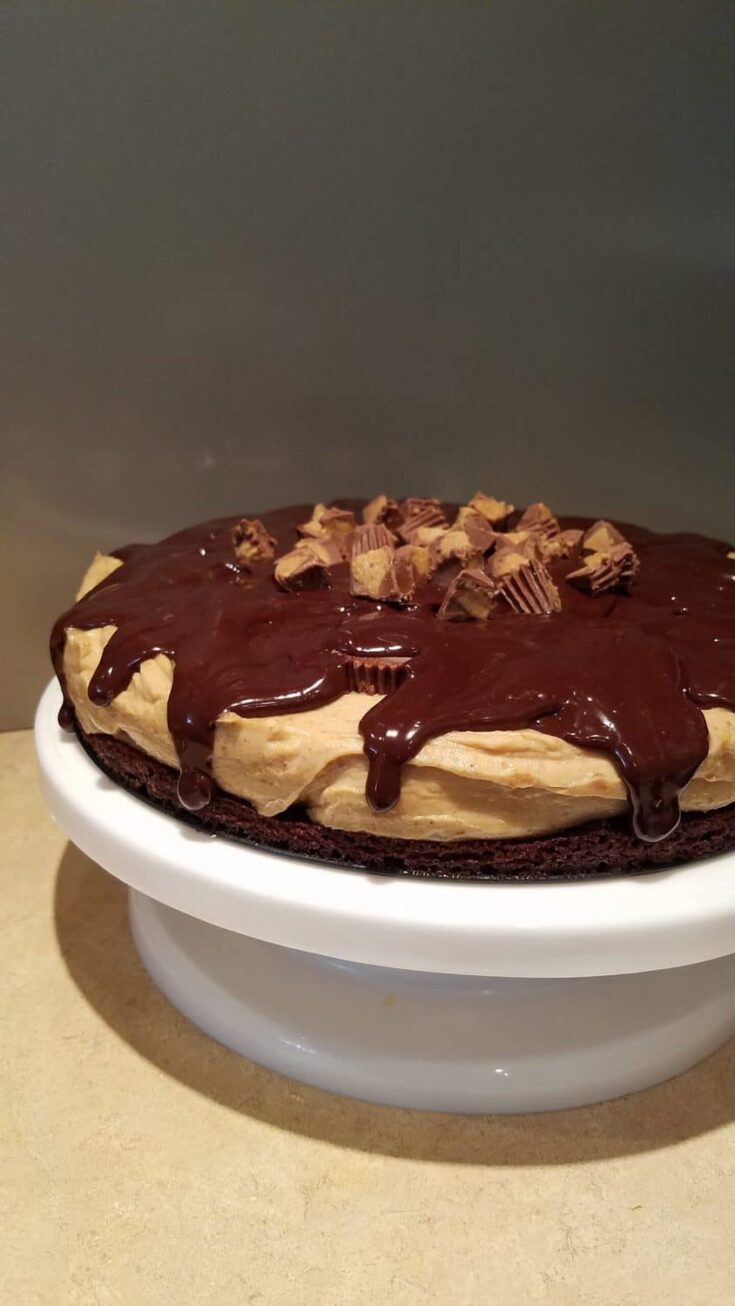 Yield:

12
Peanut Butter Cheesecake Brownie Cake
Additional Time:
30 minutes
Total Time:
1 hour
20 minutes
This 3 Layer Peanut Butter Cheesecake Brownie Cake is so delicious! The combination of chocolate and peanut butter is just irresistible!! Vary how much peanut butter or chocolate is in each layer according to your own taste.
Ingredients
1 Box Brownie Mix (plus ingredients needed to make it-- usually eggs, oil, and water)
8 oz. cream cheese
1 cup powdered sugar
1 1/3 cup peanut butter
1 tsp vanilla
1 1/3 cup heavy whipping cream
12 oz. semisweet chocolate chips
2/3 cup plus 1 TBSP room temperature heavy whipping cream
1/2 tsp. oil
Instructions
Mix Brownie Mix according to package directions. Fill springform pan 1/3 full. Bake until done and let cool.
For Second Layer, mix softened cream cheese and powdered sugar with a mixer.
Add peanut butter, vanilla, and whipping cream and blend with the mixer.
Add to brownie layer only after it has cooled.
For Third Layer, melt chocolate chips in the microwave using the "melt chocolate" setting.
Stir in oil and whipping cream.
Spoon Chocolate Ganache on top of peanut butter layer.
Add peanut butter chips or chopped peanut butter cups on top.
Refrigerate and eat!
Notes
If desired, add additional chopped or whole (or both!) peanut butter cups in between any of the 3 layers! See pictures above.