Free Winter Drink Printables
I created a set of Coffee Printables for the Fall. I also created matching Checklists.
Now here are the Winter Weather Drink Printables! The great thing about these printables is that they do not take up much printer ink. They also make a quick and easy gift– think hostess gift, small Christmas gift exchange, etc. I love a quick, easy gift that is also inexpensive, yet thoughtful. Can a gift be all four of those? Yes, I think so– do you?
After Pumpkin Spice Latte weather comes Hot Cocoa Weather. Perhaps I should include one that says "Hot Chocolate" as well as "Hot Cocoa"? If you want one that says "Hot Chocolate" instead, let me know in the comments and I will be glad to make it for you.
Winter Drink Printable #1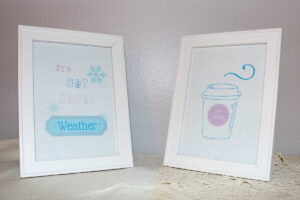 (*This post may contain affiliate links. By purchasing anything from these links, I may receive a small commission at no extra cost to you. More information is available on my Disclosure page.)
Then comes the season for Peppermint Chocolate Chip Shakes! This shake is one of my all time favorite drinks! I get it with whip cream on top (but not the cherry). If you're not sure where you can find a shake like this… let me know in the comments and I will tell you. : )
Winter Printable #2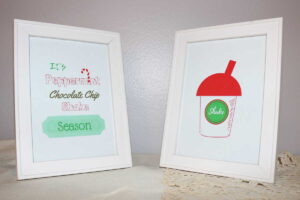 Here are all of the printables at a glance.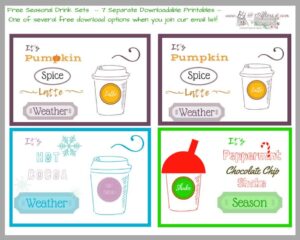 And here are the coordinating checklists that print two at a time on 8×11 paper.
All of these printables are free when you sign up to receive new posts in your email inbox.
I hope that you enjoy them as much as I do!