The Easiest Ever Patriotic Cinnamon Roll Star
If you ever need a special desert for the Fourth of July in a hurry, then this Patriotic Cinnamon Roll Star may be just what you need! It would also work for a Hanukkah celebration.
I will show you exactly how to make this star step by step, using video clips as necessary. Keep reading….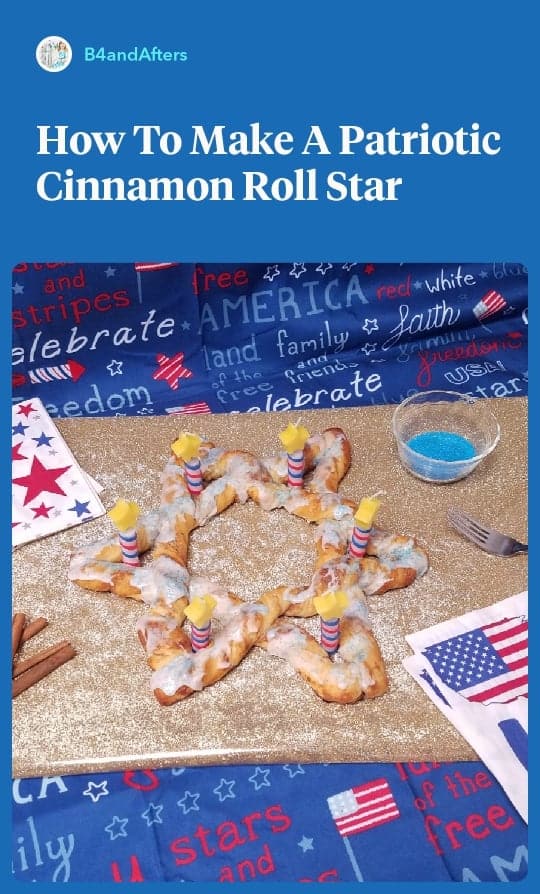 (*This post may contain affiliate links. By purchasing anything from these links, I may receive a small commission at no extra cost to you. More information is available on my Disclosure page.)
Have you ever seen cinnamon rolls made in gorgeous shapes? Like this pretty one from Pinterest?
What you'll need
Patriotic Cinnamon Roll Star
Buy
Steps
1
There are 4 cans of cinnamon rolls in this box. I only needed 1 of them.
2
Preheat the oven according to the directions.
3
Grease a cookie sheet, using butter or crisco/ vegetable shortening.
5
Press at the seam with your thumbs or a spoon so it will pop open.
6
Take the rolls out of the can, then separate the rolls.
7
Then open the roll, straighten it, and twist it.
8
Lay three twists in the shape of a triangle, pinching the ends together.
9
Lay another inverted triangle on top of the first triangle for a six pointed star. (I had 2 cinnamon rolls leftover.)
10
Bake, being careful not to burn it like I kinda did…..
11
Add the frosting glaze that came in the can, after the star has cooled a bit.
12
Add blue sugar sprinkles if you wish.
13
Lay on a large serving tray and serve for a Patriotic breakfast or brunch. This would also work for Hanukkah or other celebrations like birthdays.
14
If you have Patriotic candles, use them to celebrate America's birthday!
15
Red, white, and blue napkins and tablecloth will add to the celebrative atmosphere!
16
If you liked this one, you might like my Christmas version!
I really enjoy using Pillsbury products. One of my favorites are their Cherry Turnovers. Unfortunately, I can't find them in my local stores!