Easy Spinach and Artichoke Dip
This easy Spinach and Artichoke Dip is the best tasting spinach dip that I have ever tried. It is one of my favorite appetizers to serve to a crowd. It cooks in a crockpot, and can be served from the crockpot still warm.
Before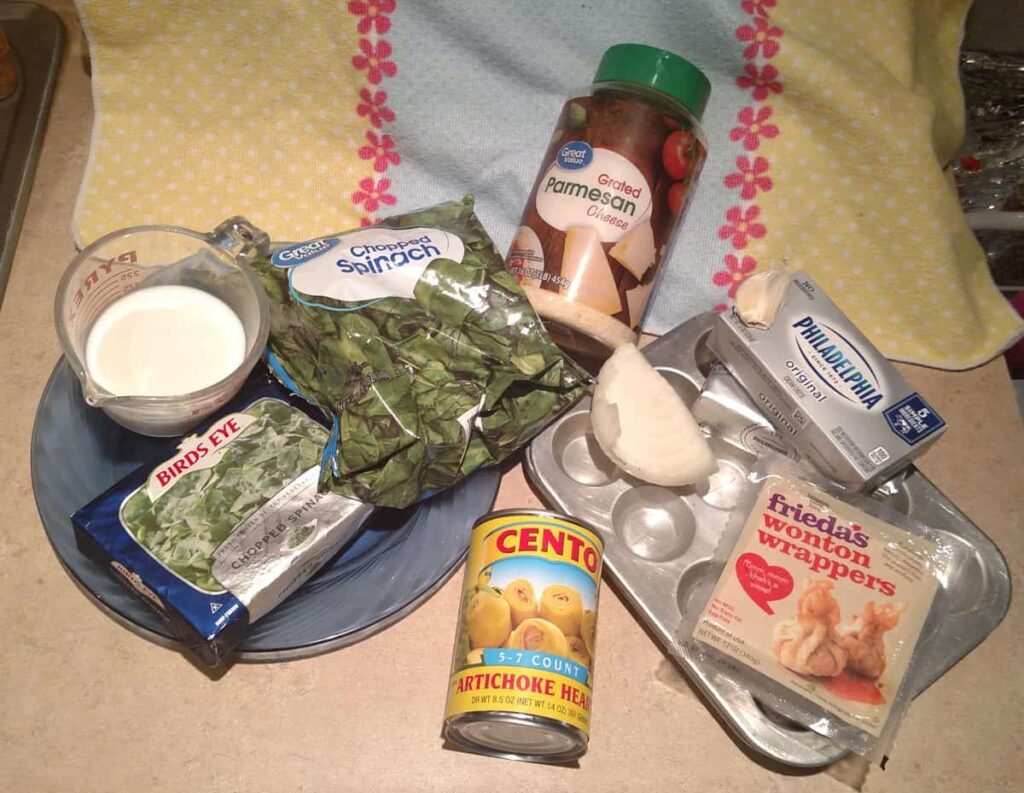 (*This post may contain affiliate links. By purchasing anything from these links, I may receive a small commission at no cost to you. More information is available on my Disclosure page.)
Usually when I serve this dip, I let people serve themselves right out of the crockpot. I'll have crackers, tortilla chips, or small slices of toasted bread from the grocery's bakery along the side. But this was my first time serving my spinach and artichoke dip to this crowd of people, so I decided to put it into baked wonton wrappers so that it would be easy to take and sample. (The baking of the wonton wrappers was a lot of extra work, so I recommend the first way to serve it if that is suitable to your occasion.)
The directions say to brush butter onto both sides before baking the wrappers. The butter did make them taste better, but you can leave the butter off if you wish. They will just be a lighter color when baked, than the ones with butter on them. I baked them in my mini muffin tins.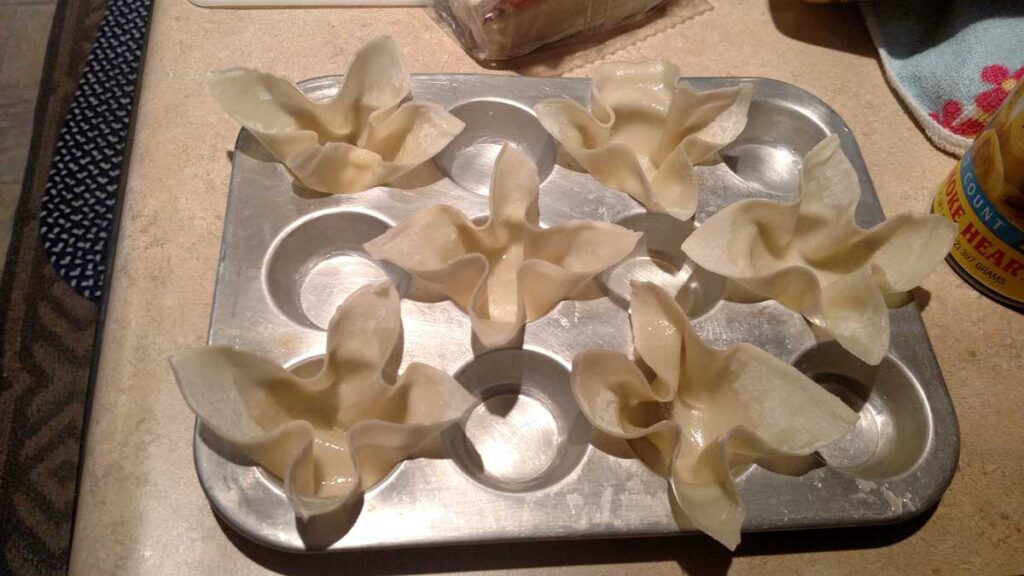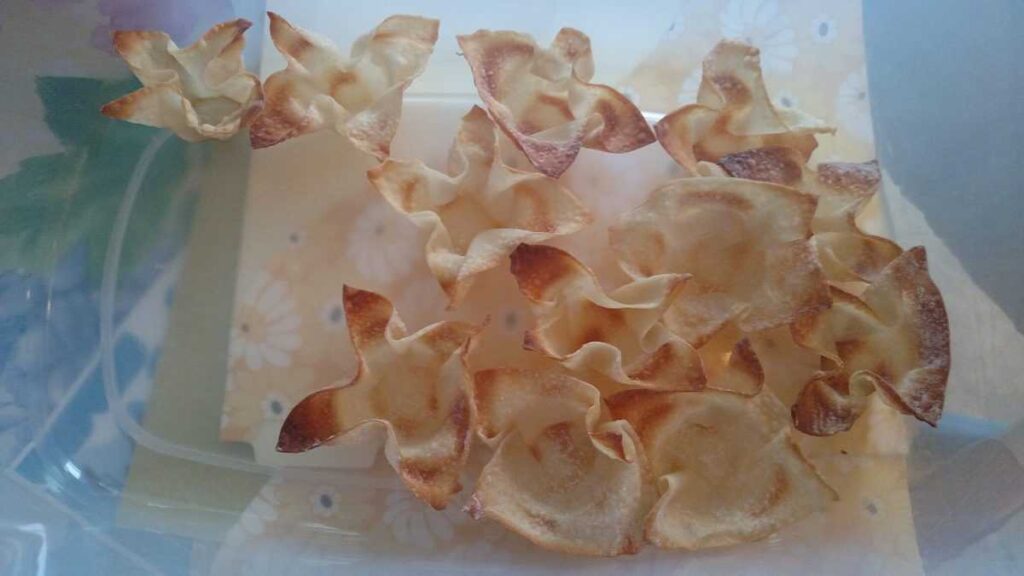 To make the dip, follow these instructions or the ones in the printable recipe below. Rinse and drain a can of artichoke hearts. I just drain and rinse them right in the can by adding water to the can, draining it, and adding water again and draining it again. The artichokes can be whole or quartered. Either way you will need to chop them. I slice them lengthwise, and then cut them across into smaller pieces.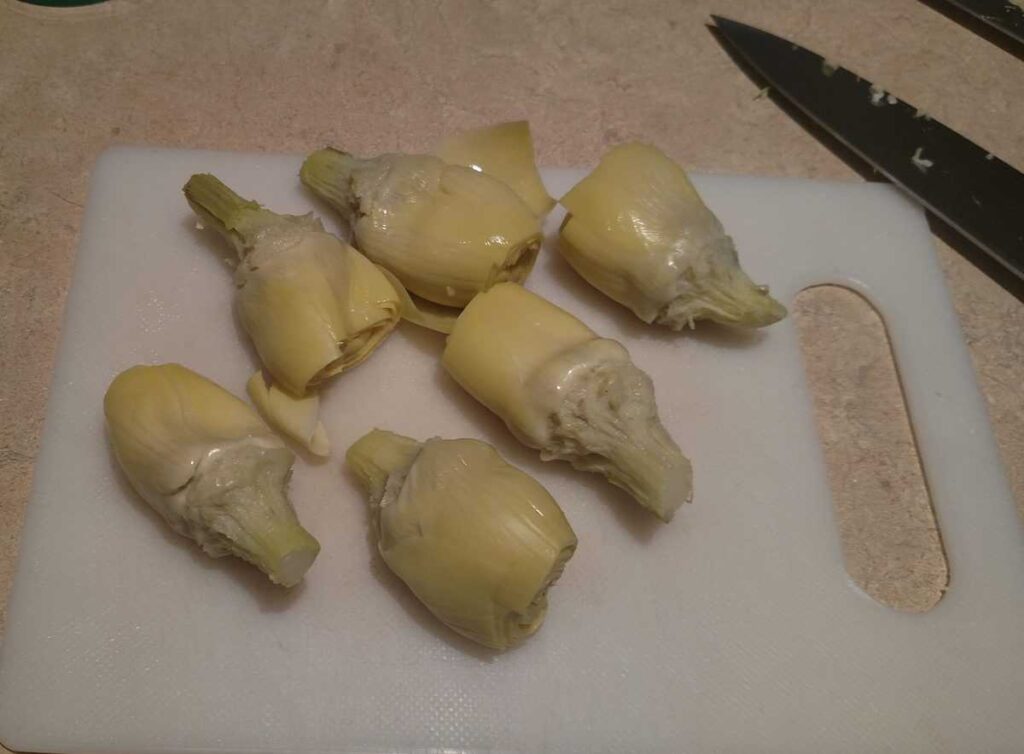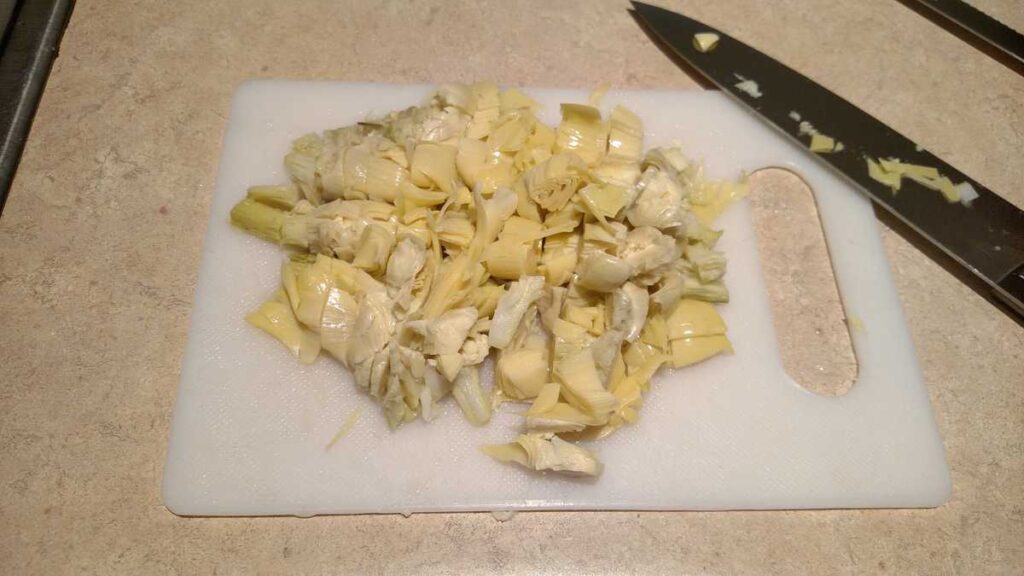 In any order, add all of the ingredients to a medium sized crock pot. You can use either boxed or bagged spinach. Any excess water (there's not usually much) should be drained from the spinach before you add it to the pot. You can half the spinach if you prefer a creamier dip. I like it with the extra spinach in it.
Add the parmesan cheese, minced onion and garlic (use onion and garlic powder if you prefer), and cream cheese. Add milk or half and half. I've done it both ways.
This recipe does not call for any added salt. But the last time I ate it, I thought perhaps it could use a little extra salt.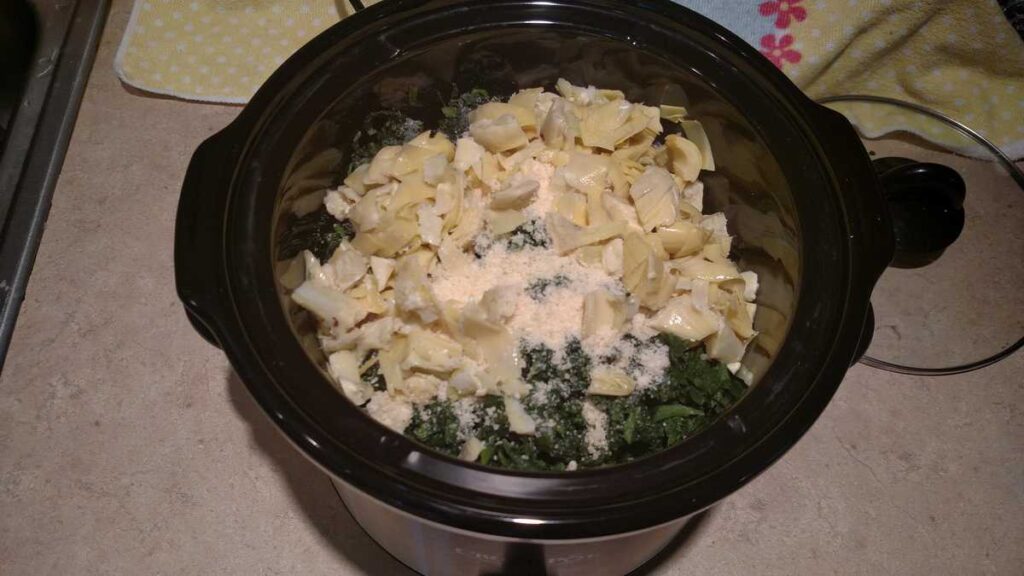 I used a little cookie scoop to spoon the dip into the baked wonton wrappers just before serving. You can also melt some monterey jack on top just before serving.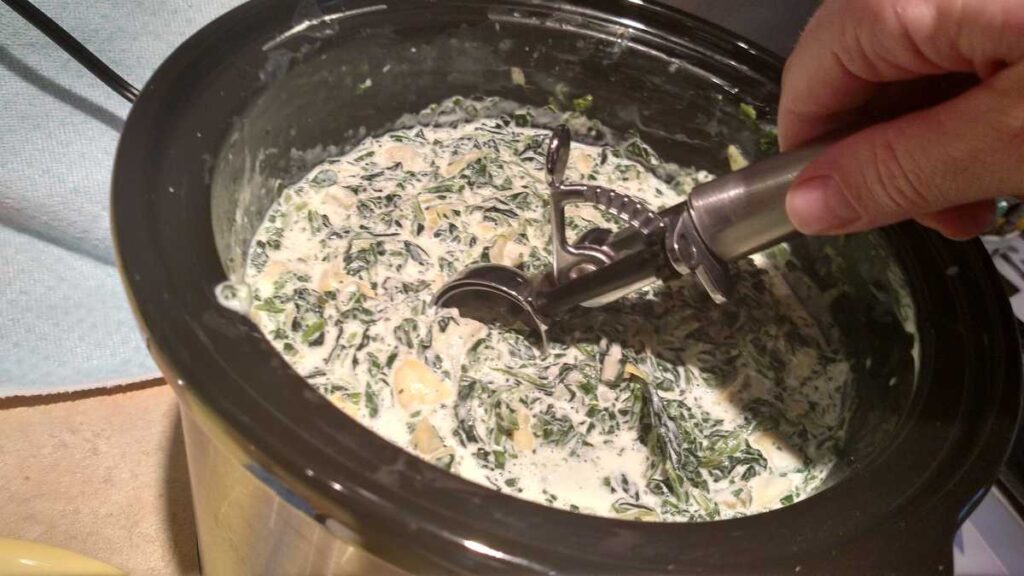 After!!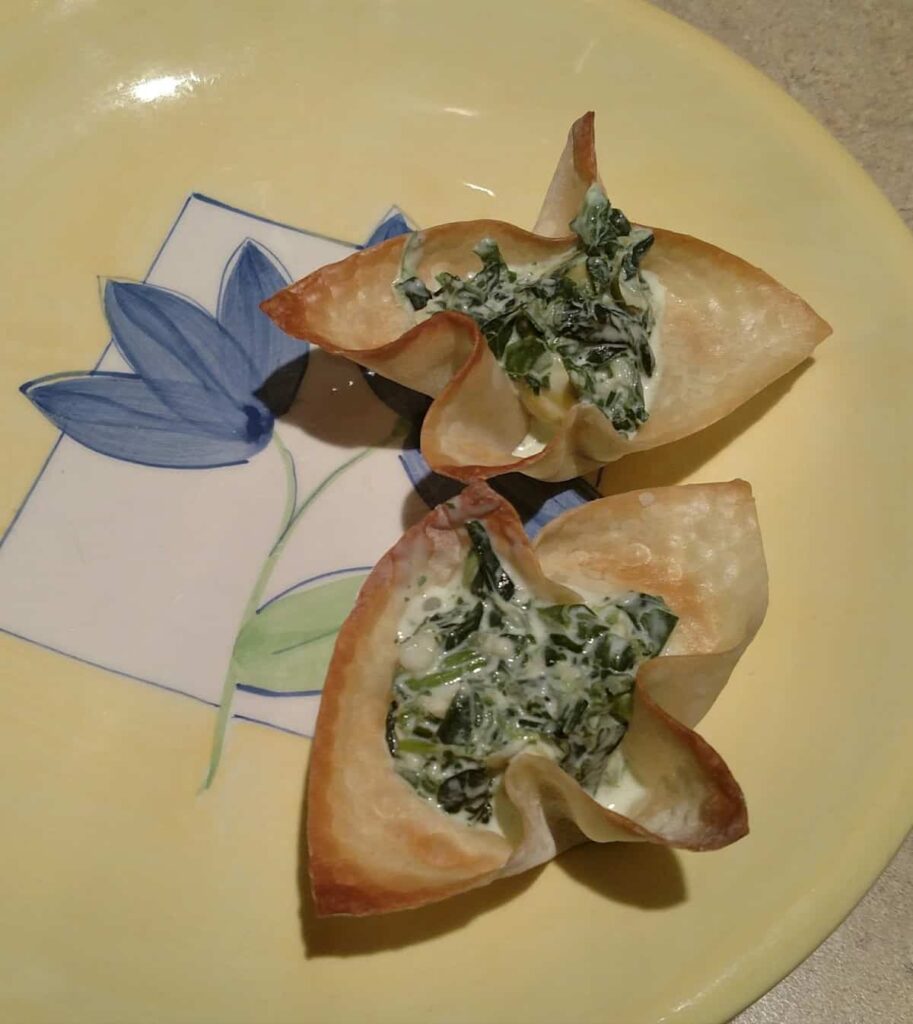 If you like warm dips, perhaps you would like to try this one, also!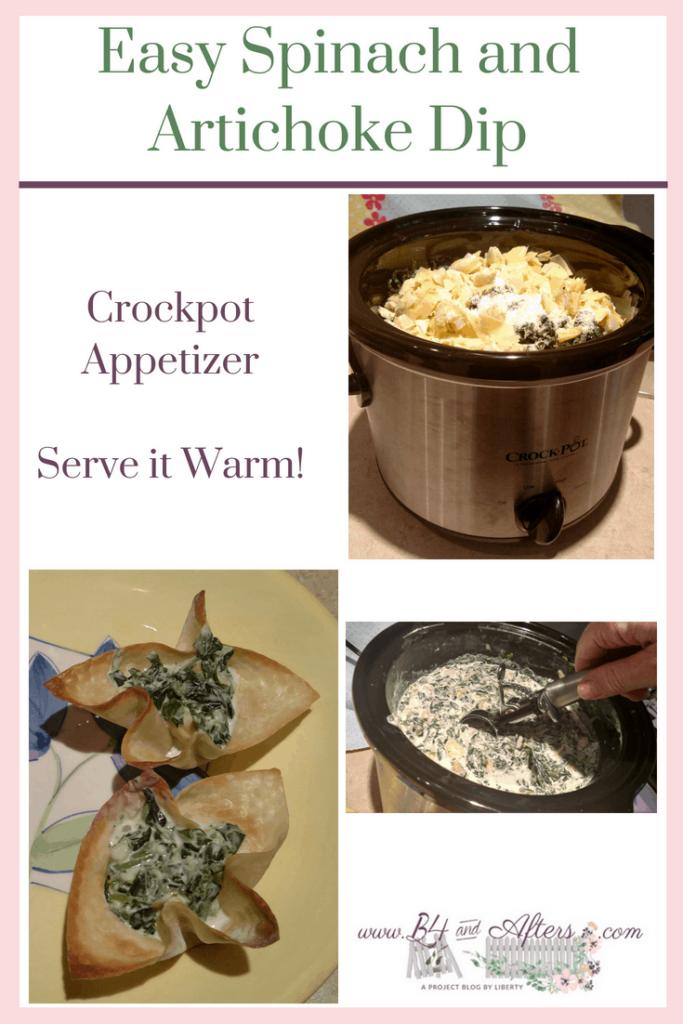 SaveSave
SaveSave
SaveSave
SaveSave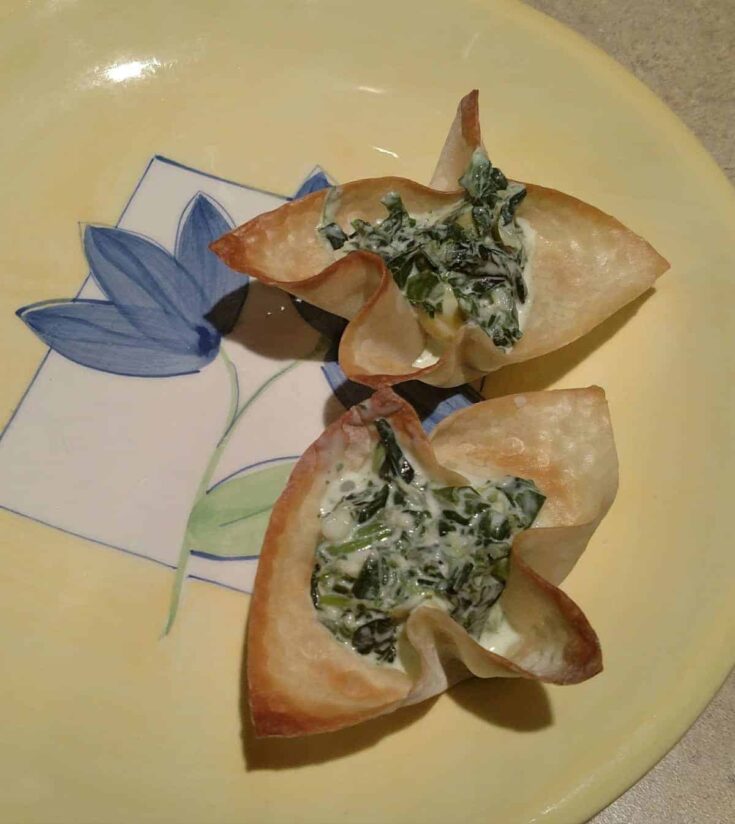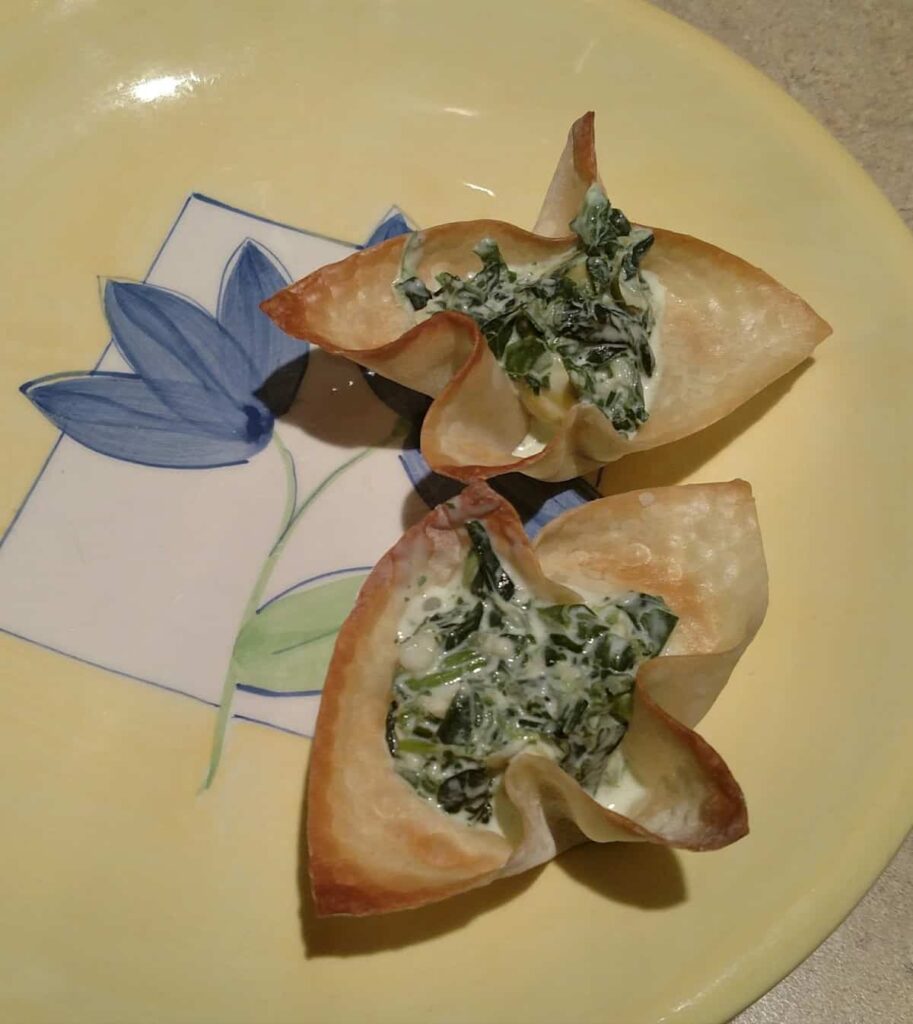 Yield:

20 servings
Easy Spinach and Artichoke Dip
Total Time:
3 hours
20 minutes
This easy spinach and artichoke dip cooks in the crockpot. It is one of my favorite ways to eat spinach! It is good served on crackers or french bread toast.
Ingredients
Two 8 oz. cream cheese bricks
¾ c. milk or half and half
1 TBS finely chopped onion (or ¼ tsp onion powder)
1 clove minced garlic (or ½ tsp garlic powder)
½ c. grated parmesan cheese
Two 10 oz bag or box frozen cut, thawed, and drained spinach
One 13 oz. can quartered (or whole) artichoke hearts, rinsed, drained, and chopped
2/3 c. Monterey Jack cheese (optional)
Toast, crackers, tortilla chips, or baked wonton wrappers for serving
Instructions
Put all ingredients into a medium size crock pot.

Cover, cook on high for 1½ to 2 hours, stirring every now and then.

Sprinkle with ⅔ c. shredded Monterey Jack cheese if desired, just before serving.

Toast small slices of bread from your grocery's bakery, or use crackers, tortilla chips, or baked wonton wrappers for serving.