Button Pine Cone Tree
*This post may contain affiliate links to websites such as Amazon. By purchasing anything from these links, I may receive a small commission at no extra cost to you. More information is available on my Disclosure page. I appreciate your support!
Have you heard? I am on a quest to make 100 different versions of my miniature pine cone tree!
Before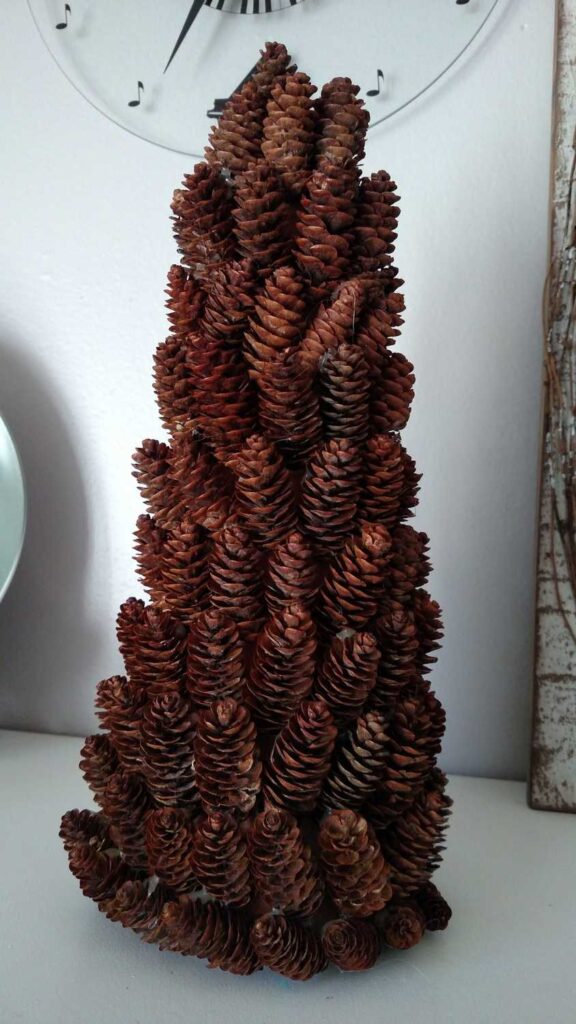 This project is part of this month's Creative Craft Blog Hop hosted by Celebrate and Decorate. If you are here from Create with Cynthia then Welcome!
This is version number 16 of the miniature pine cone tree. I know, I have a long way to go to get to 100. But there are so many other projects that I have to keep doing, too! Surely you understand!
I used clear nylon string to string these buttons together from my button collection. I put the string through both holes of the button, going up from the back first, and then down back through again.
If it's hard to see how I did it, go to my Conversation heart garland for a better look.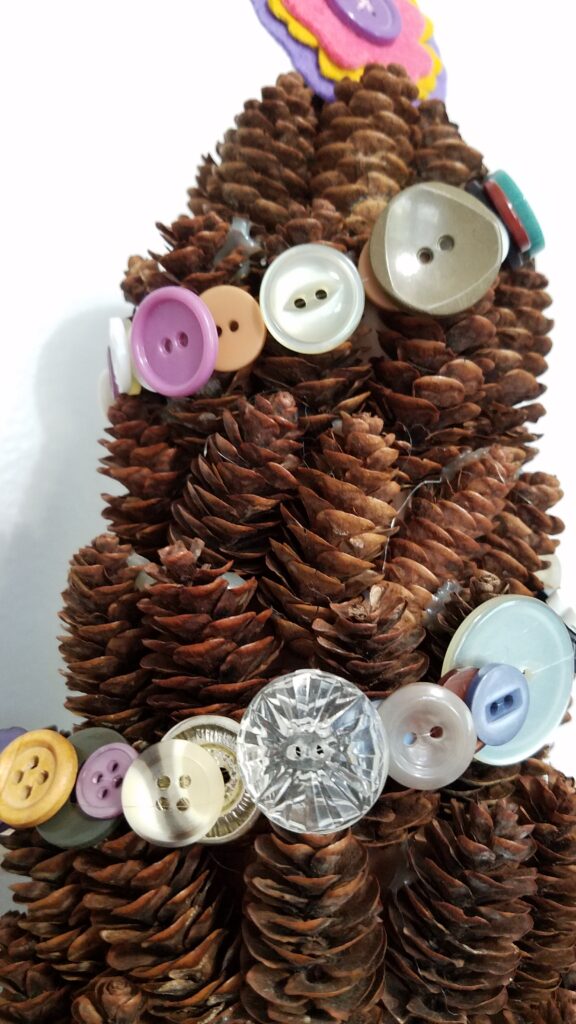 Tree Topper
The topper for my Button tree is made with three pieces of different colored felt…. but I didn't make it! It was a gift from my cousin's wife. She sewed the button on to all three pieces of felt at the same time, making this a cute and easy topper to duplicate if you wish!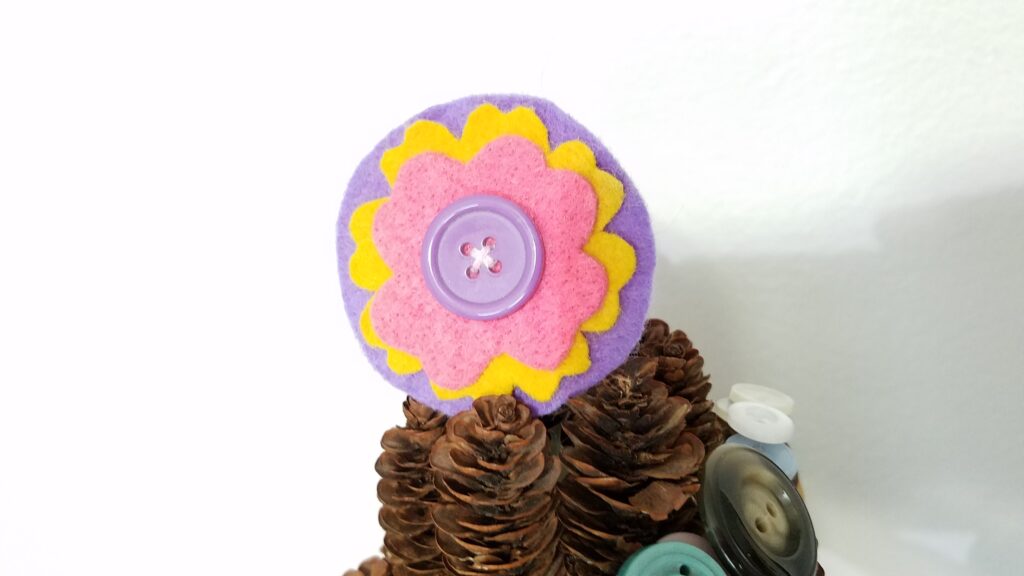 Let's talk buttons. I used buttons from my life long button collection, so I didn't need to purchase anything for this craft! Do you have a button collection? The way I began my collection is this: When a piece of clothing was worn out, we never threw it away. We cut it up to use for rags. The rags were used when working on greasy things, like car parts. Rough buttons are not something you want on a rag, so we cut the buttons off…. and saved them! Talk about recycling….. we were doing it before there were programs for it!
Now you know how to start a button collection. You can also keep an eye out for buttons at yard sales or thrift stores. Once you have a good sized collection, there are all sorts of things you can create with buttons. There are some ideas on my Button Pinterest board, below.
AFTER!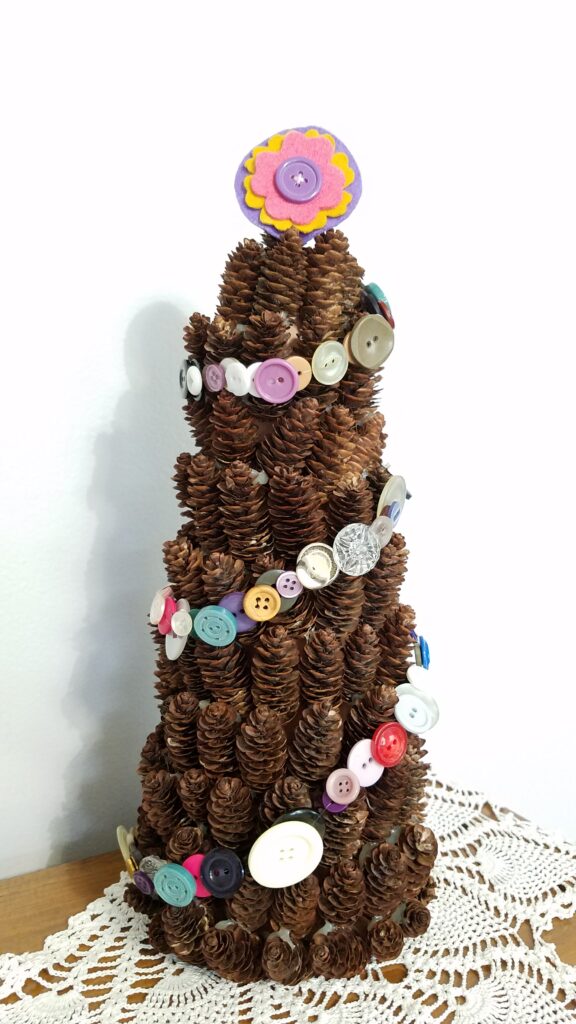 While I do have more ideas how to decorate this little tree, I am certainly open to suggestions. I would love to hear your ideas! (I think I need to decorate one in honor of the current national coin shortage….)
The rest of my friends' crafty ideas can be found at the end of this post. If you are visiting everyone in order, then My Thrift Store Addiction is up next.
You can see all of the other Pine Cone Tree versions in the collage below.
Below are everyone else's crafty ideas!
Celebrate And Decorate | Design Morsels | Calypso in the Country
Zucchini Sisters | My Hubbard Home | Birdz of a Feather
Decorate & More with Tip | Our Crafty Mom | The Painted Apron
Home Is Where The Boat Is | Purple Hues And Me | Sustain My Craft Habit
Chas' Crazy Creations | Bluesky At Home | Create With Cynthia
B4 and Afters | My Thrift Store Addiction