The Best Ever Peppermint Pecan Coconut Oatmeal Cookies
This post contains links to affiliate websites, such as Amazon, and we receive an affiliate commission for any purchases made by you using these links. We appreciate your support!
I have been making these peppermint pecan coconut oatmeal cookies for quite a few years now. But I am the only one that used to enjoy them at my house, so I didn't make them very often. Recently, I decided to make them to share with some other folks, and my family rediscovered them and now they like them, too!
Be sure to check out the video below!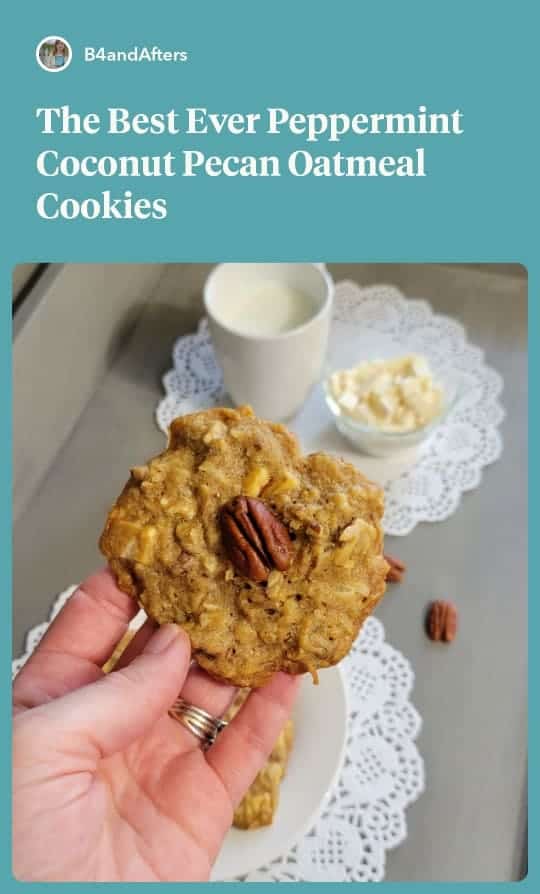 If you enjoy each of these four flavors, you will like them all in one cookie! But if you don't enjoy one of them, like the peppermint or pecans, then of course you would not want to try these.
Last year I discovered that I am the only one of my 5 siblings that enjoys coconut. I think these cookies make a great gift idea for teachers or at Christmas time.
These are my all time favorite cookies. The combination of four flavors is perfect! The recipe was on a bag of Andes Peppermint Crunch baking chips.
Cookies, Before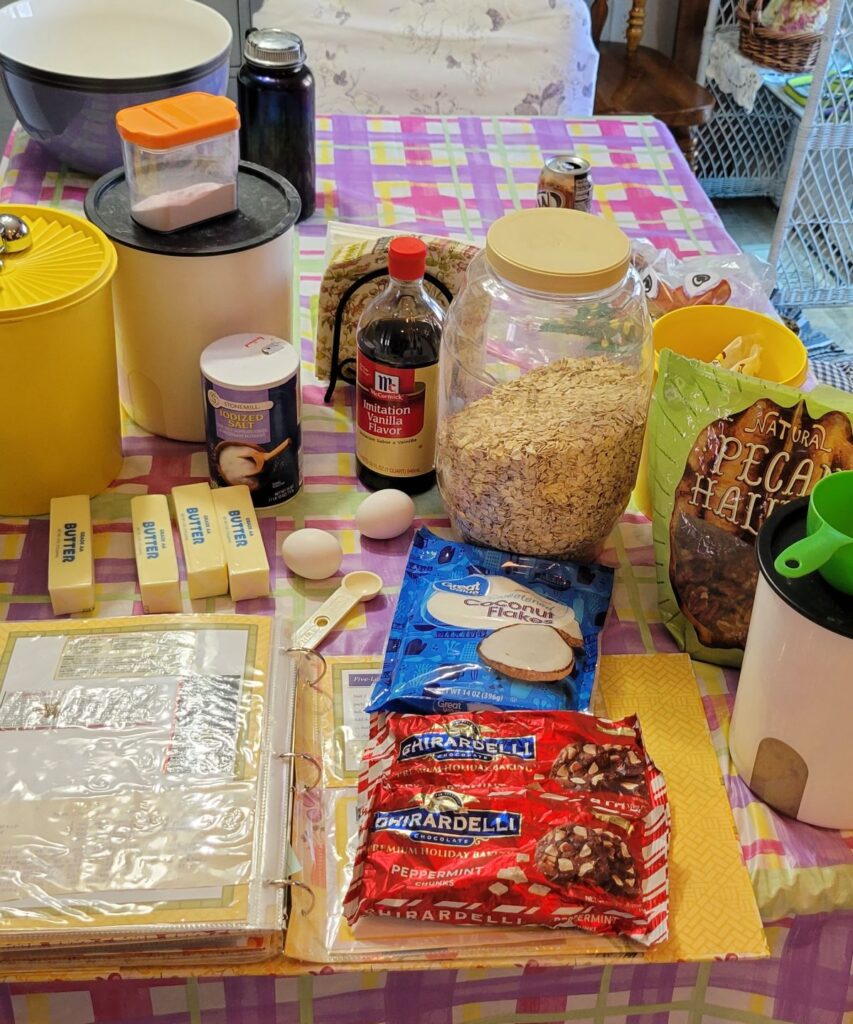 But when I could no longer find those in my local store, I looked for substitutes, like the Ghiradelli baking chips shown. You can also chop Hershey peppermint kisses. Add a splash or two of peppermint flavoring if you like a stronger taste of peppermint.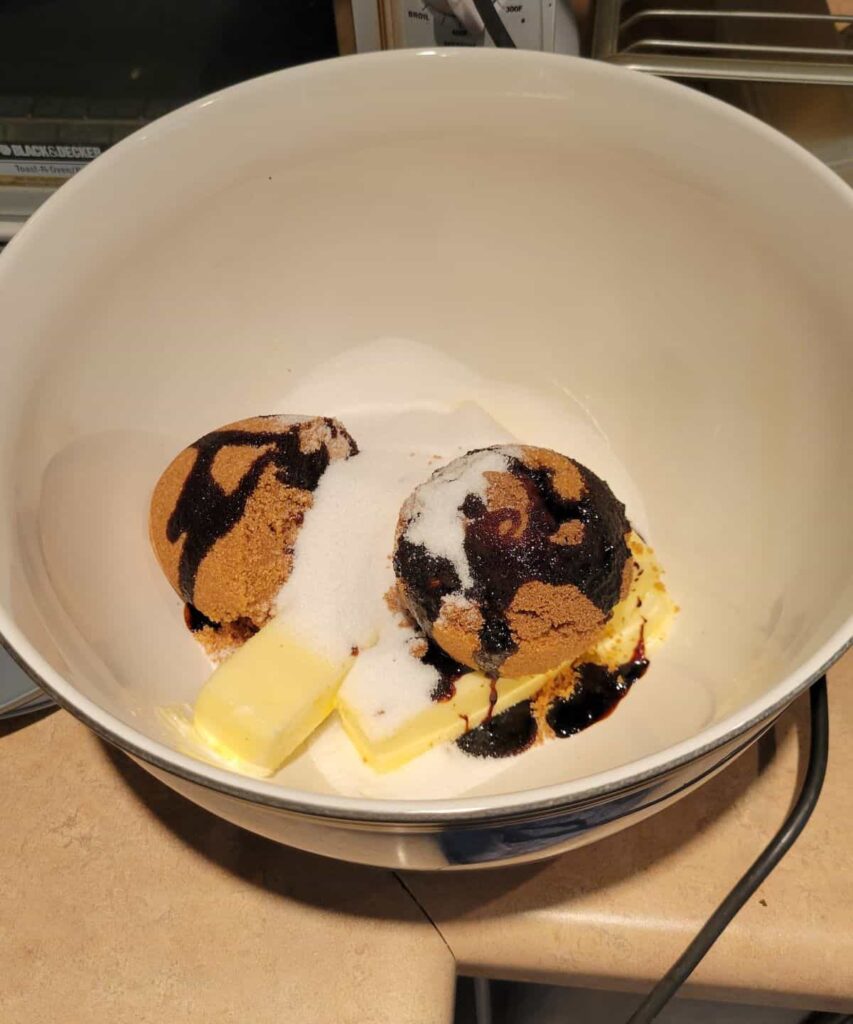 I made a double batch because I wanted to share some with friends at church.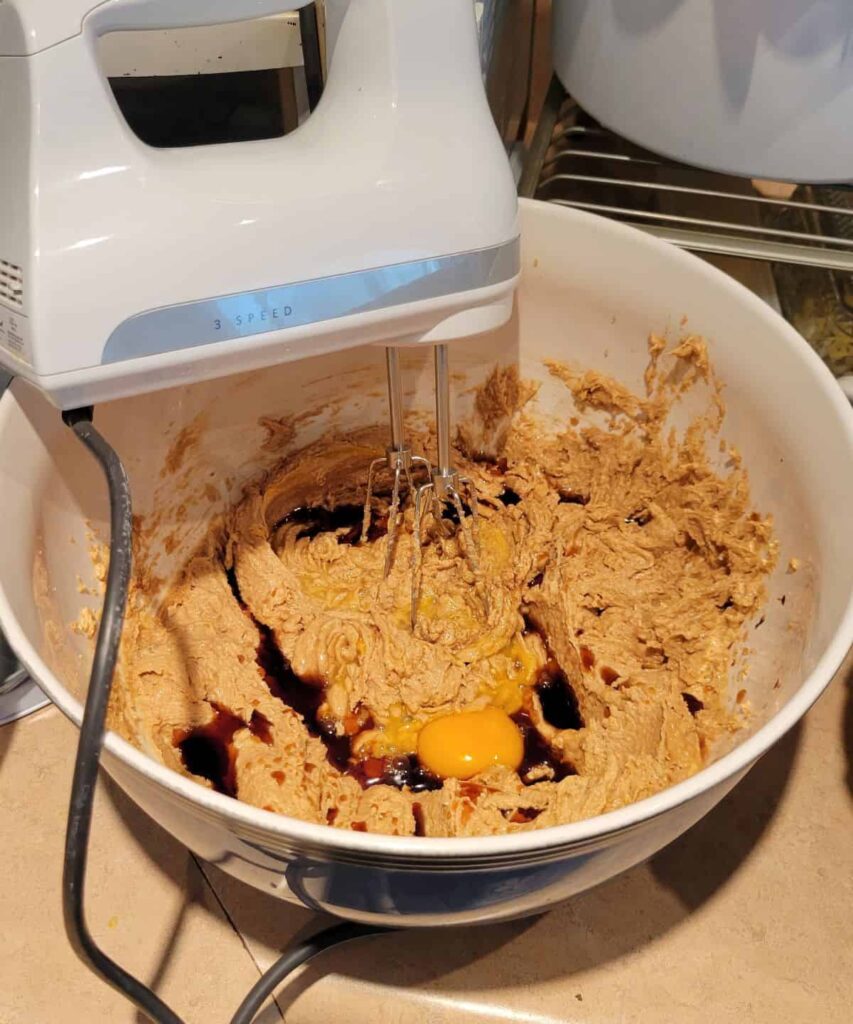 The dough doesn't need to refrigerate, but don't let it get too warm either, unless you don't mind flat cookies.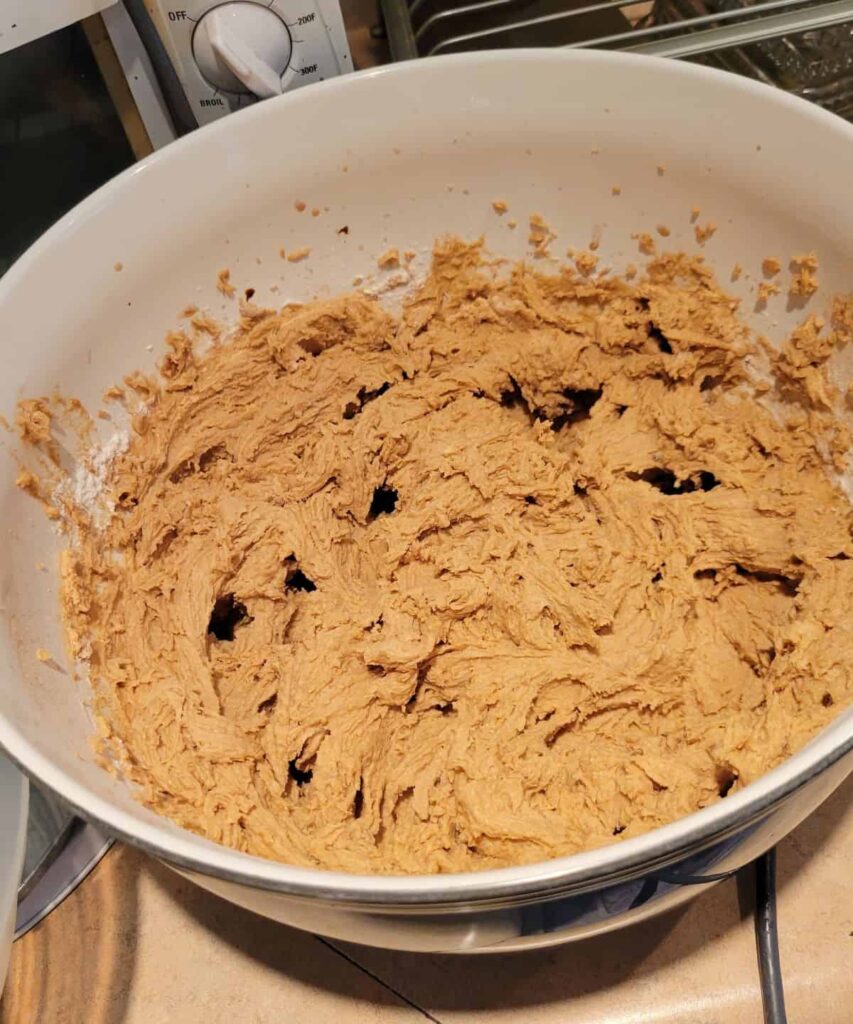 Add the dry ingredients and stir them in before adding the coconut, oats, and peppermint chunks at the end and then stir in those.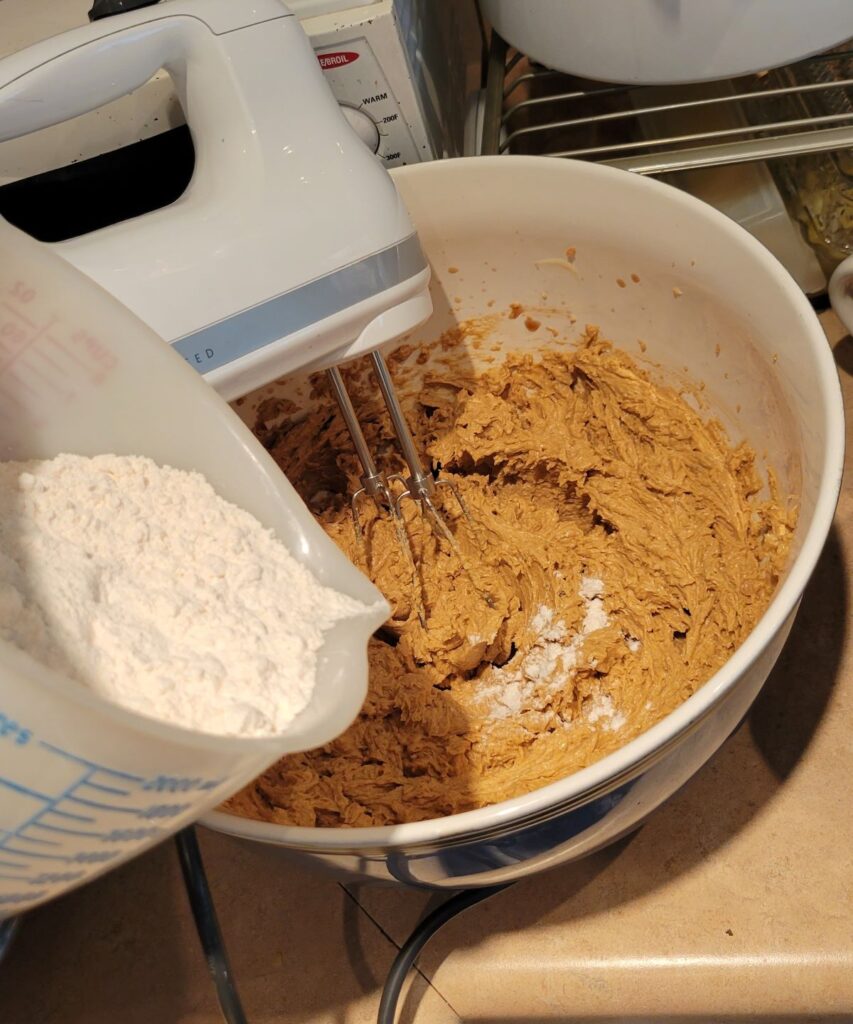 Oh! And remember the pecans that you chopped, too!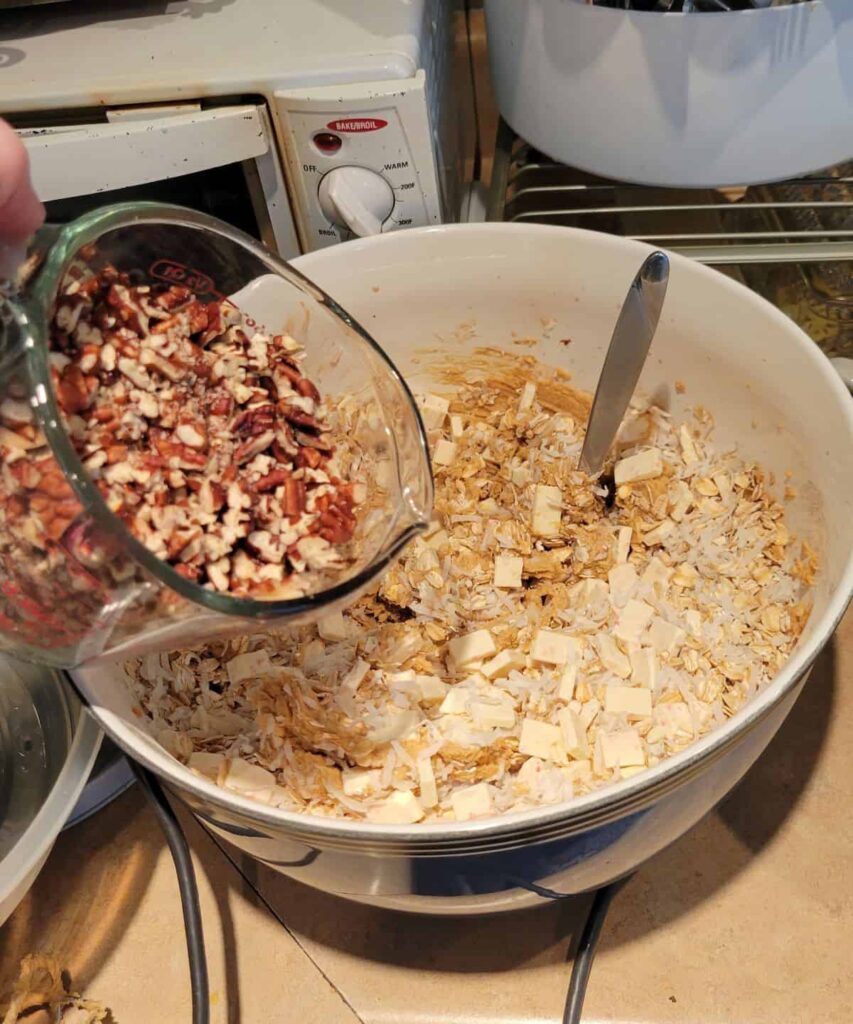 The dough should be nice and thick.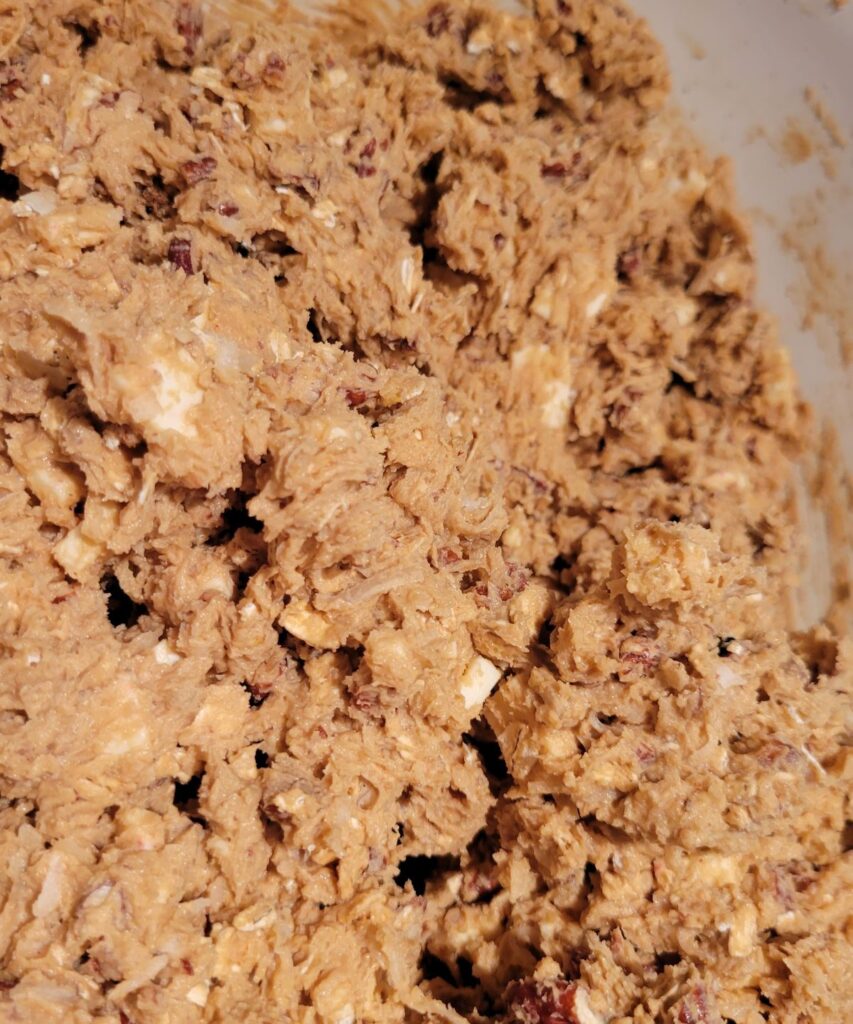 Use a cookie scoop and a silicone baking mat. Overload the scoop for larger cookies (and to cut down on baking time!)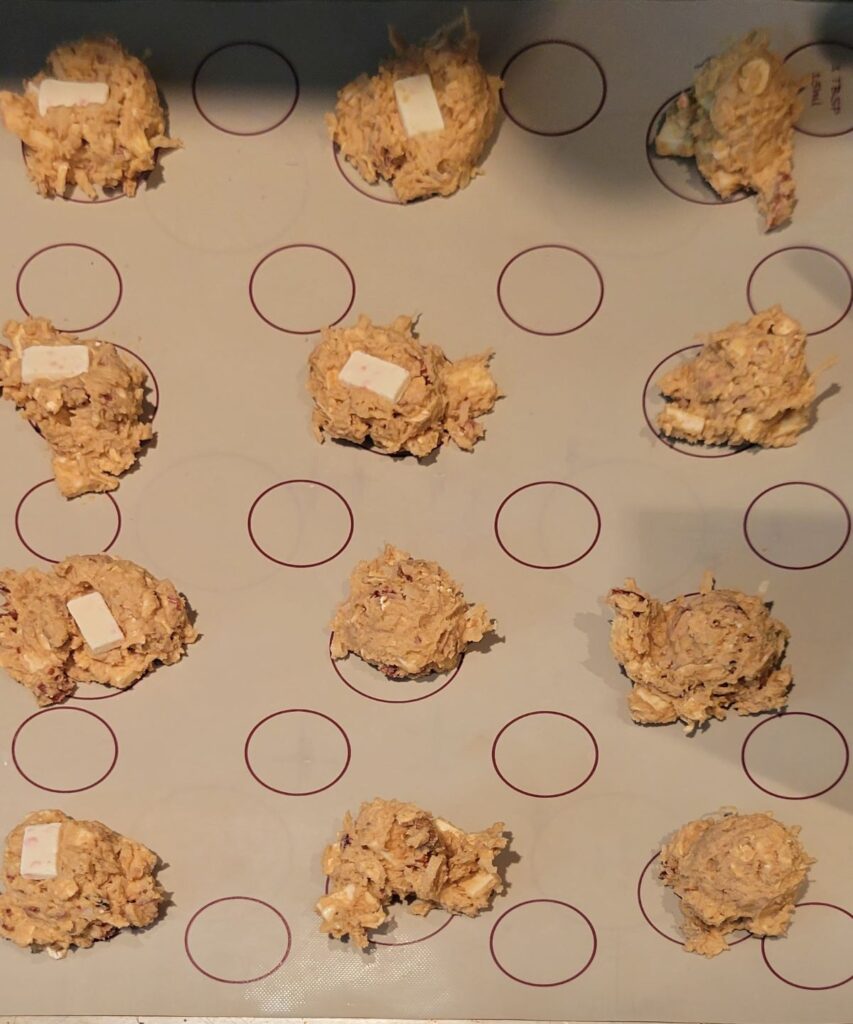 Press the dough flat with either extra peppermint chunks or whole pecans. Bake at 300° F.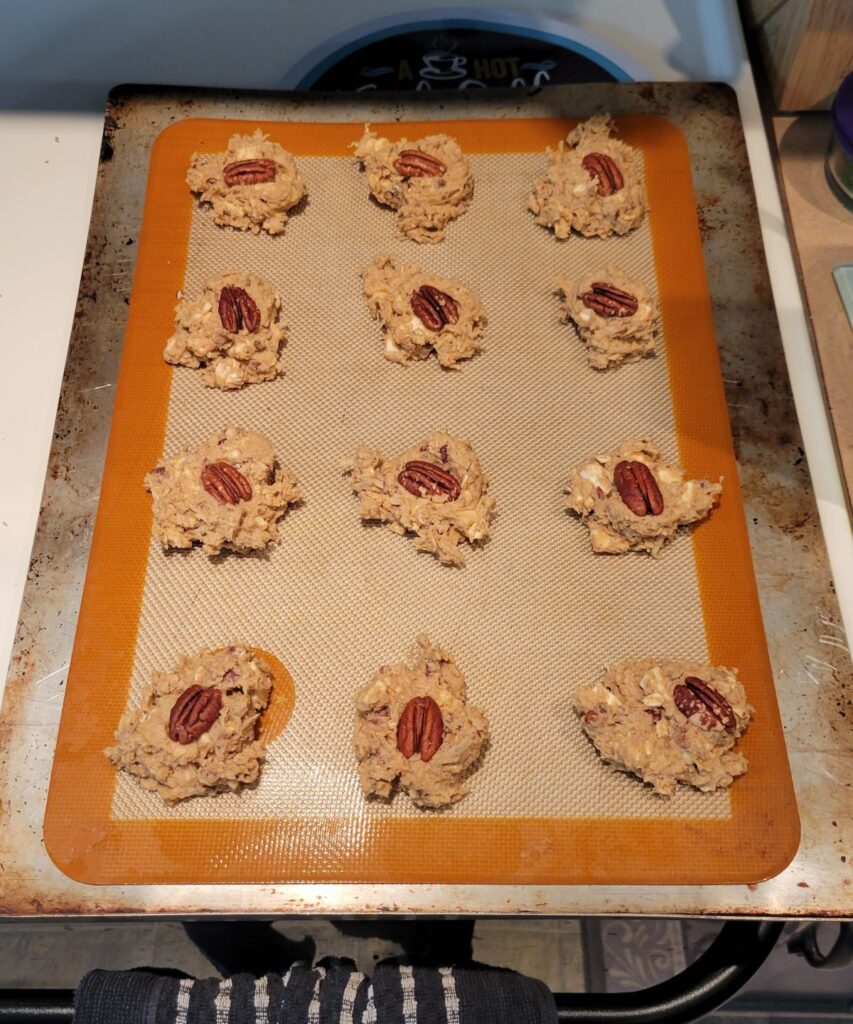 Move your top rack up, so you can move the bottom rack up also, and bake two cookie sheets at a time.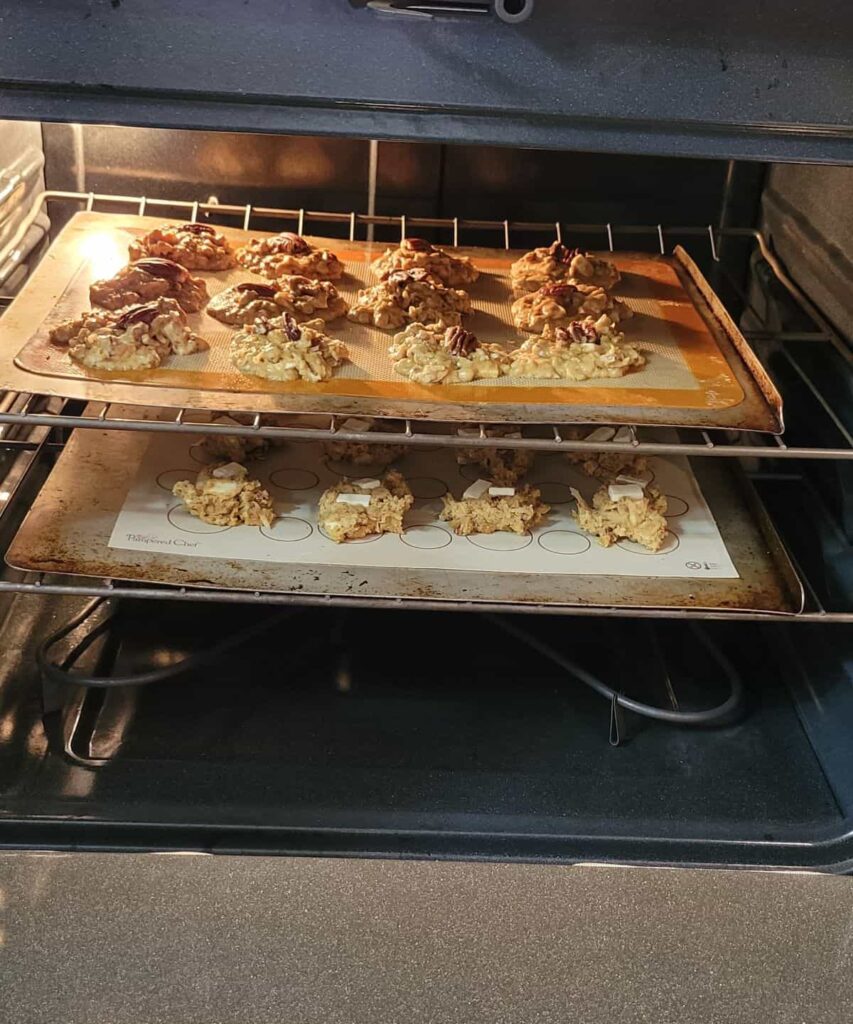 The cookies need to cool 5 or more minutes before removing them or they will crumble. They stay soft which is so nice!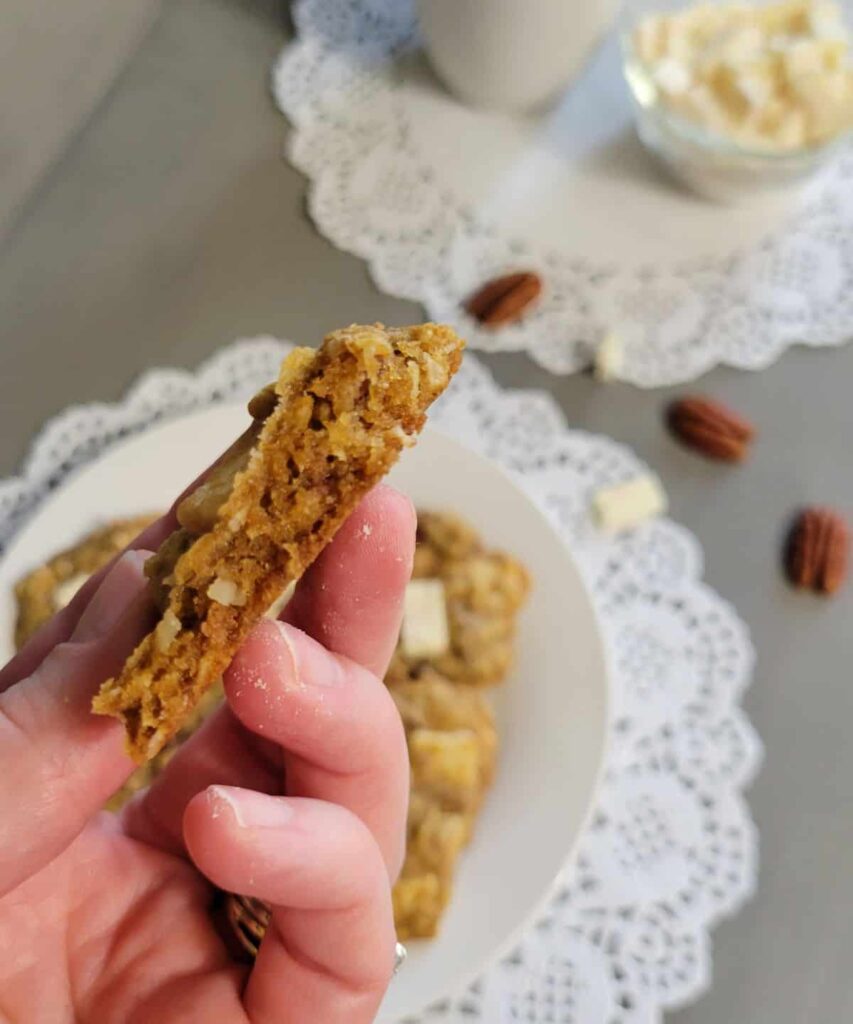 Tip: You can add a TBLSP of molasses to a cup of regular brown sugar to make dark brown sugar. Or just buy dark brown sugar.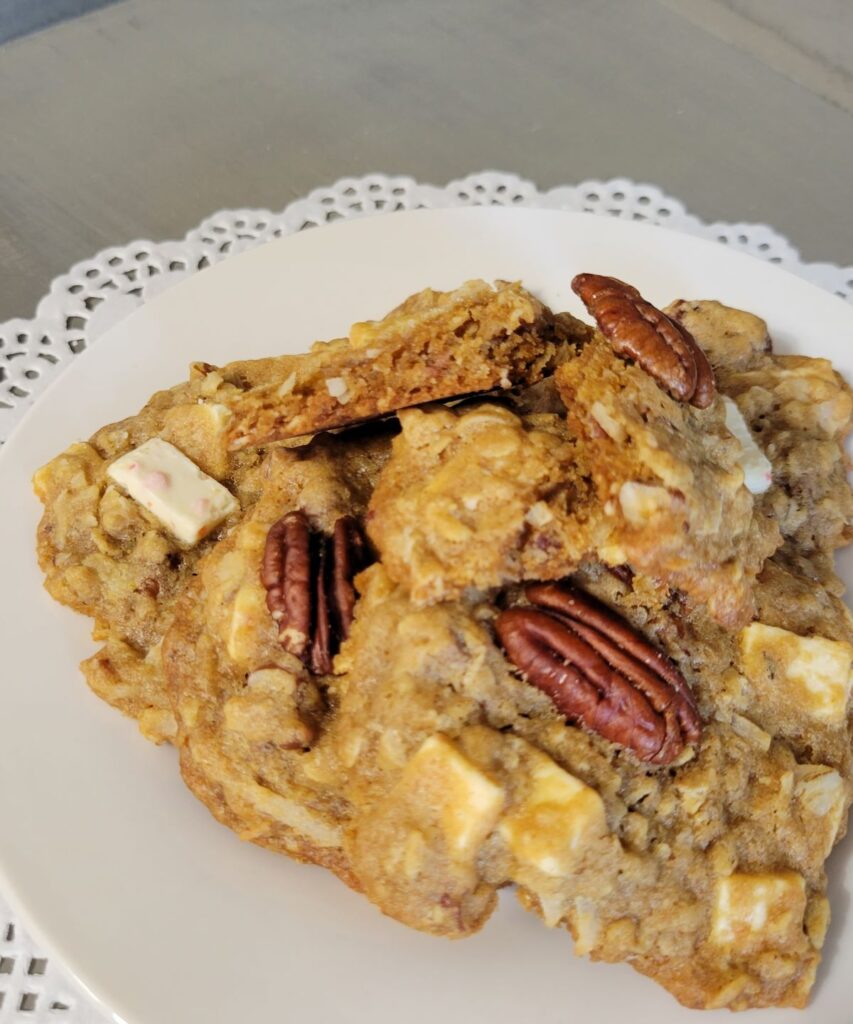 I think the coconut helps these cookies stay moist and soft.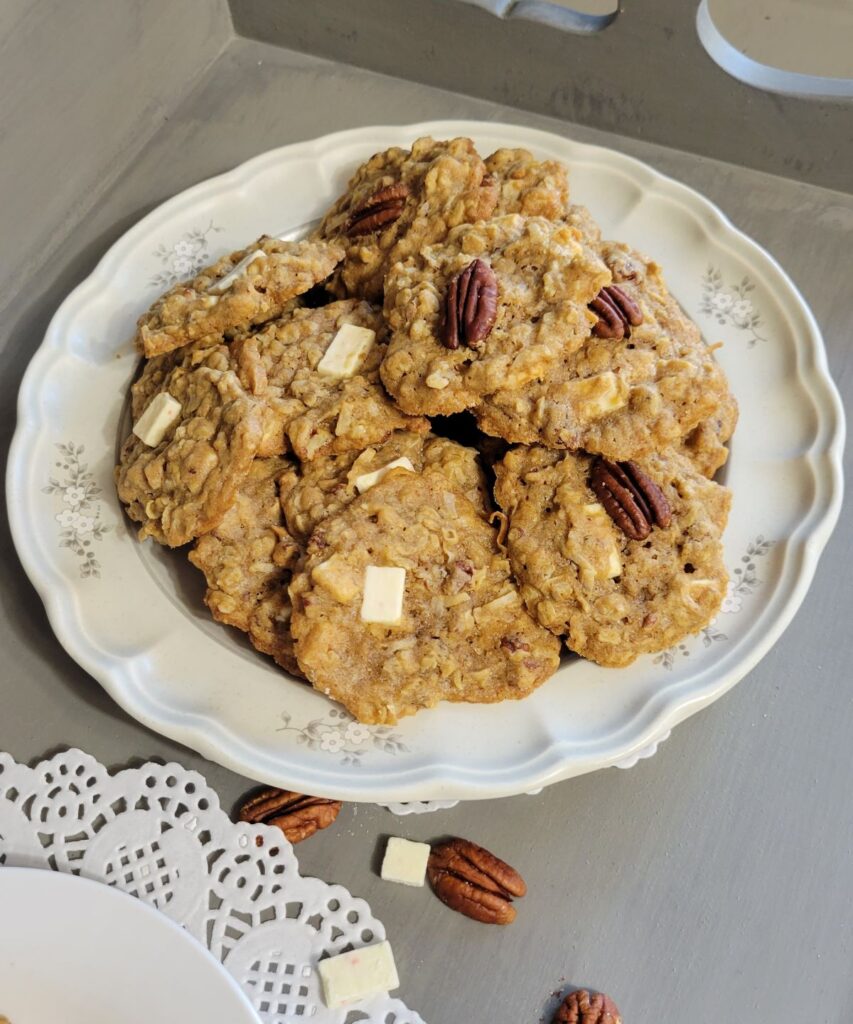 A double batch made 75 good sized cookies! 🙂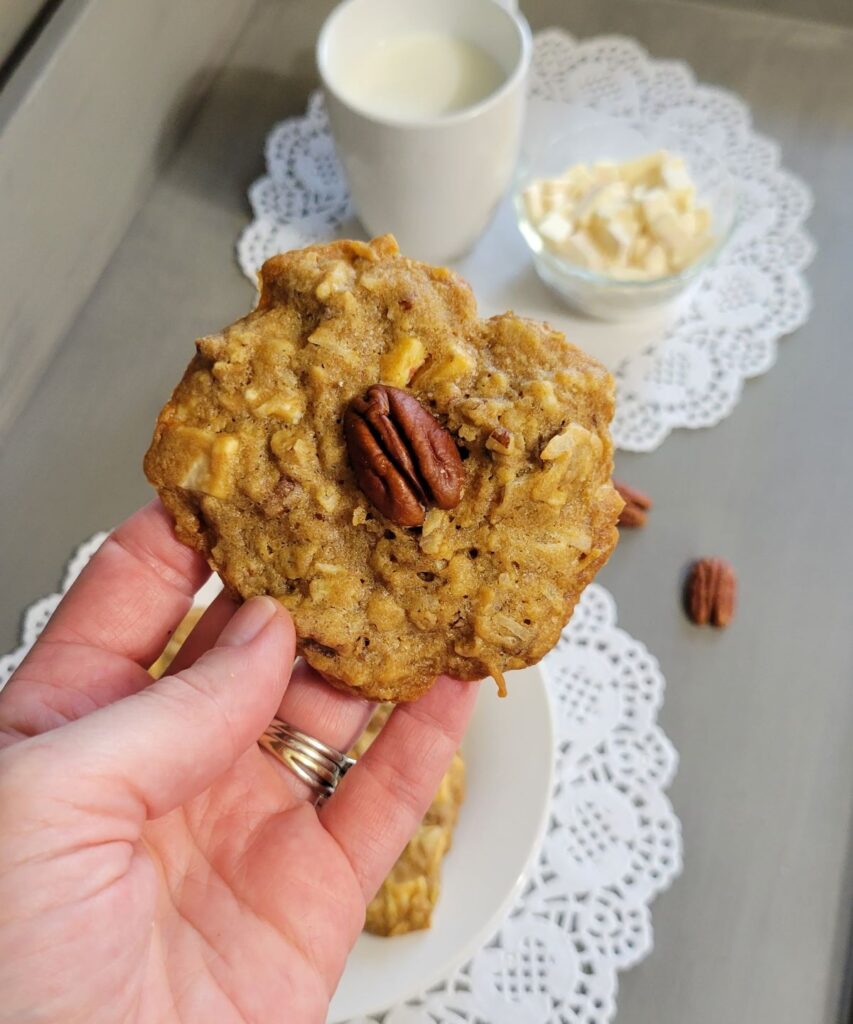 So, when I shared these cookies with a group– I asked a friend if she had tried one yet. Yes! She said, "I had four." And YES, they really are THAT good!!! : )
I enjoy mine best with milk. Actually, I like all of my cookies with milk!
So I want to know: How often do you make your favorite cookies? Once a year? 3 times a year?
I have a couple of other cookie recipes are really good, in case you want to try them, too!
You might also enjoy another of my favorite cookie recipes…. The Best Homemade Valentine Cut Out Cookies Ever!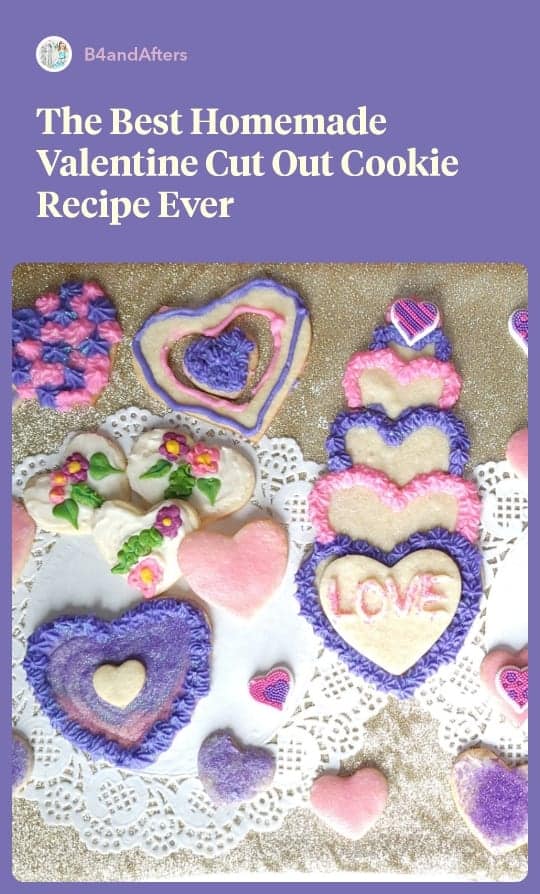 The Best Ever Peppermint Coconut Pecan Oatmeal Cookies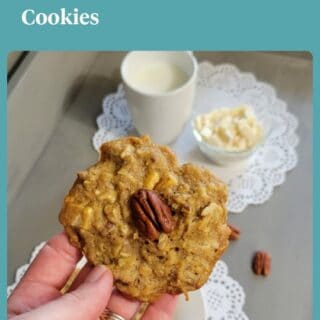 The recipe for these cookies used to be on the back of Andes Peppermint Crunch Baking Chips, which can be really hard to find these days. This is one of my absolute favorite cookie recipes! The four flavors of peppermint, coconut, pecans, and oatmeal blend together very well!
Ingredients
2

sticks unsalted butter

1

c.

packed dark brown sugar

1/3

c.

white sugar

1

large egg

2

tsp.

vanilla

1/2

tsp.

baking soda

1/2

tsp.

salt

1 3/4

c.

flour

1

c.

old fashioned rolled oats

1

c.

shredded coconut

1 1/2

c.

chopped pecans

1 1/2

c.

peppermint pieces

like chopped Hershey kisses, Andes Peppermint Crunch baking chips, or Ghirardelli peppermint baking chips.
Instructions
Preheat oven to 300 degrees.

Cream butter and sugars at room temperature with mixer until fluffy, about 3 minutes.

Beat in egg and vanilla.

Add baking soda, salt, then flour, mixing completely.

Stir in oats, coconut, pecans, and peppermint chips.

Make small or large balls depending on which size cookies you want.

Press lightly on greased cookie sheet or silicone baking mat. Press more peppermint chips on top, or use Pecans, or both.

Bake for 12-20 minutes depending on the size of the cookies.

Don't overbake.
Notes
This recipe doubles easily. The coconut adds such a nice texture.