This Star Pine Cone Tree is the 26th Pine Cone Tree version that I have decorated– all of the same original pine cone tree! I have this crazy goal to make 100 versions of this tree…. but as you can tell, it is going to take me awhile since I like to do other crafty things, too…. The rest of the versions are at the end of this post, in case you haven't seen them yet.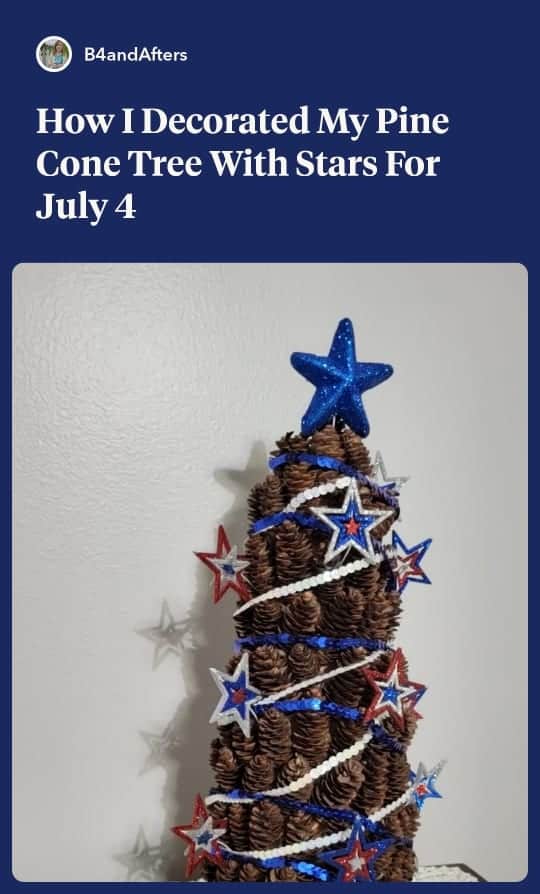 (*This post may contain affiliate links. By purchasing anything from these links, I may receive a small commission at no extra cost to you. More information is available on my
Disclosure
page.)
Let me know in the comments if you have any ideas for how I should decorate this tree next!
Step by Step Instructions
1. I started by creating my own pine cone tree. Now I am trying to decorate it 100 different ways!!
2. Someone gave me this sequin strip trim in blue and white.
3. I bought these glittery stars for 25 cents at a yard sale.
4. I began by wrapping the white sequin strip around the tree like a garland.
5. Then I wrapped the blue sequin strip in the opposite direction.
6. I snipped the stars off so the wires attached to them were 2-3 inches long. Then I poked them into the styrofoam.
7. The inner stars turn for a great 3D effect.
8. I used a foam glitter star for the topper.
9. Doesn't my Pine Cone Tree look so patriotic?!
10. So Starry, just like my Very Starry Red, White, and Blue Wreath!
Which Pine Cone Tree is your Favorite?