I want to share with you an idea for Baby Shower Favors today. Here at B4 and Afters I love to reuse and repurpose things. This was not my original idea. But like most things I do, I added some twists and turns to make it my own.
One of the first pins I ever pinned was this one:
I love taking ideas like these and making them my own way. Here is what I did!
Supplies
clean baby food jars (I used the 4 oz size)
spray paint
label
ribbon (optional)
butterfly punch and cardstock (optional)
I'm so glad that you're here! Would you like an email reminder once a week about new ideas that I share? You may Sign Up Right Here. Now back to this tale of another Before and After project…
You can make these treat jars as plain or fancy as you like. The first time I made them, I only painted the lids. I don't even think I put a label or anything else on them.
I think little baby food jars are so cute. I hated to even recycle them. So when I realized my last baby was my last chance to stock up on baby food jars, I saved a bunch of them! Now you can purchase small glass jars in a variety of styles on Amazon, but what is the fun in that?! : ) Perhaps you know someone with a baby who will save some jars for you.
I really enjoyed making these shower favor jars for a baby girl's shower. Since gray and pink were the colors, I printed gray and white labels and used gray cardstock for the butterflies. You can use a glue stick to adhere the butterfly to the lid. Fold the wings up for a 3D effect. You can use double-sided tape to adhere the label to the jar.
(*This post may contain affiliate links. By purchasing anything from these links, I may receive a small commission at no extra cost to you. More information is available on my
Disclosure
page.)
The last time I made these jar favors, I used green and yellow. I also took more pictures of the process! But I ran into a problem with my yellow spray paint.
Baby Food Jars, Before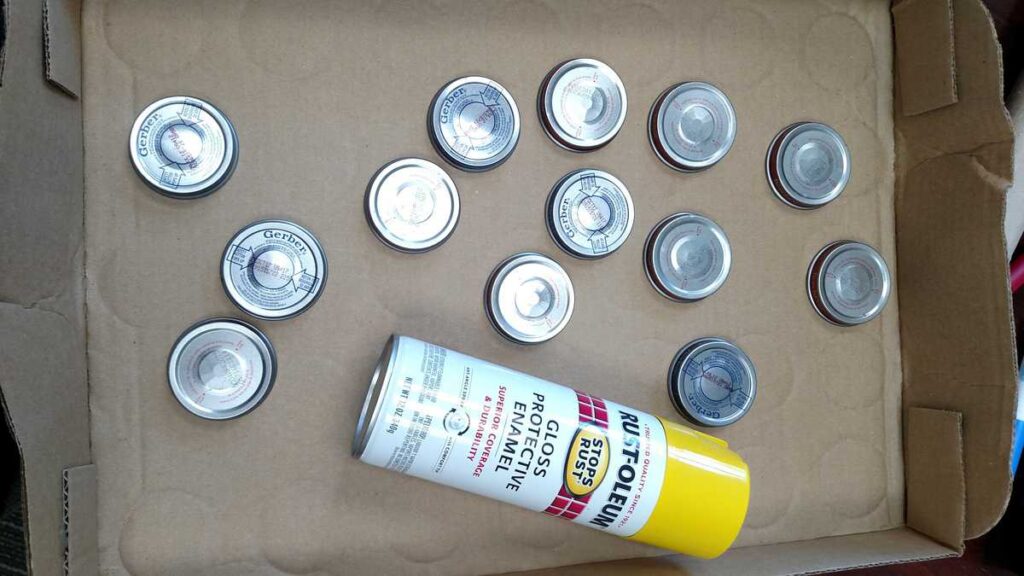 Here's a tip: Don't ask someone else to pick up your spray paint for you. They just might go to the Dollar General where they just may pick out a tacky yellow spray paint… tacky because it takes 2 hours to dry, and is not your normal spray paint… the clue was in the label where it said "enamel." Just say "thank you" and try to use it anyway…. Or maybe you yourself have had a spray paint problem and didn't know why? This could be why.
See the crackles in the paint? That is not supposed to happen!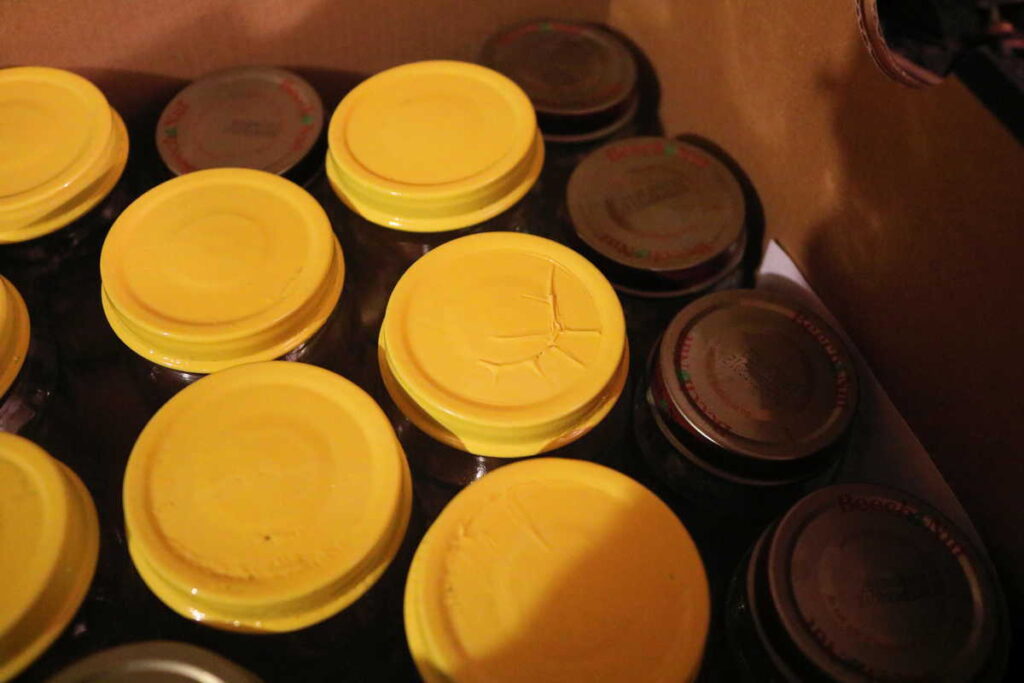 Anyway, once I realized there was a problem, I decided to work with it instead of against it. Adding gold glitter to the top did a great job of camouflaging the awful spray paint job!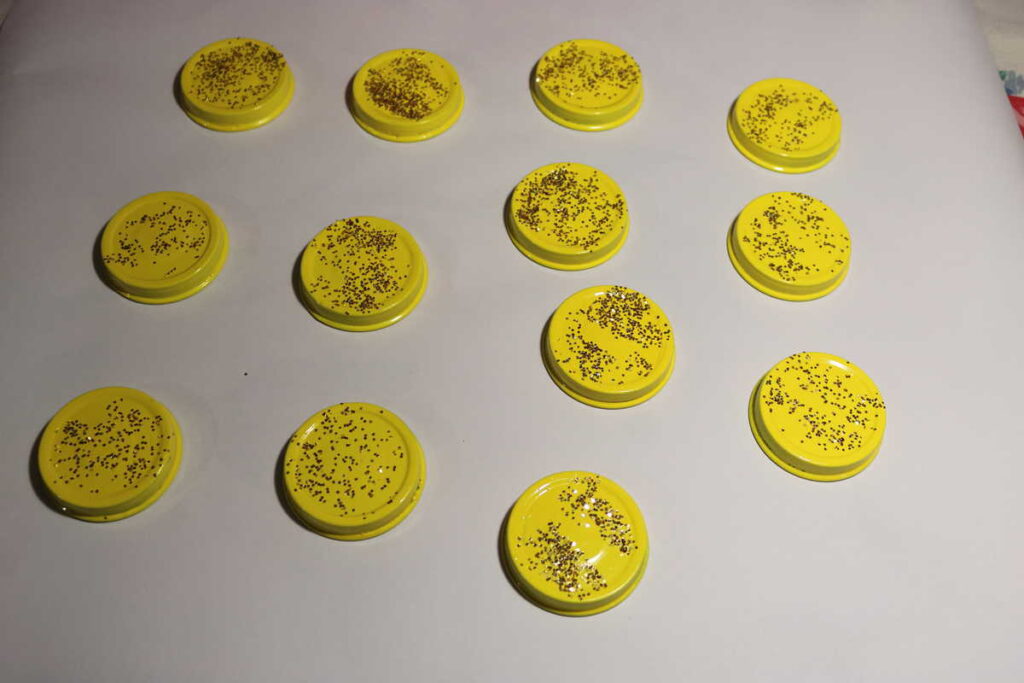 I made an assortment of green butterflies made with the butterfly punch. I used some salvaged metallic green stretchy elastic cord from a mint hot cocoa tin along with some ribbon.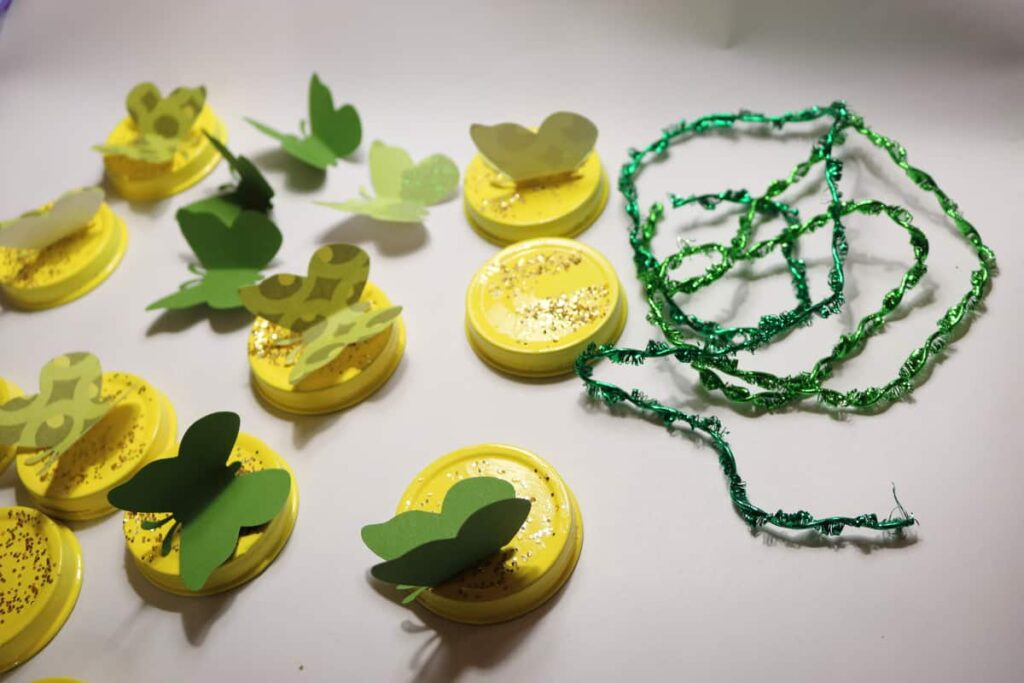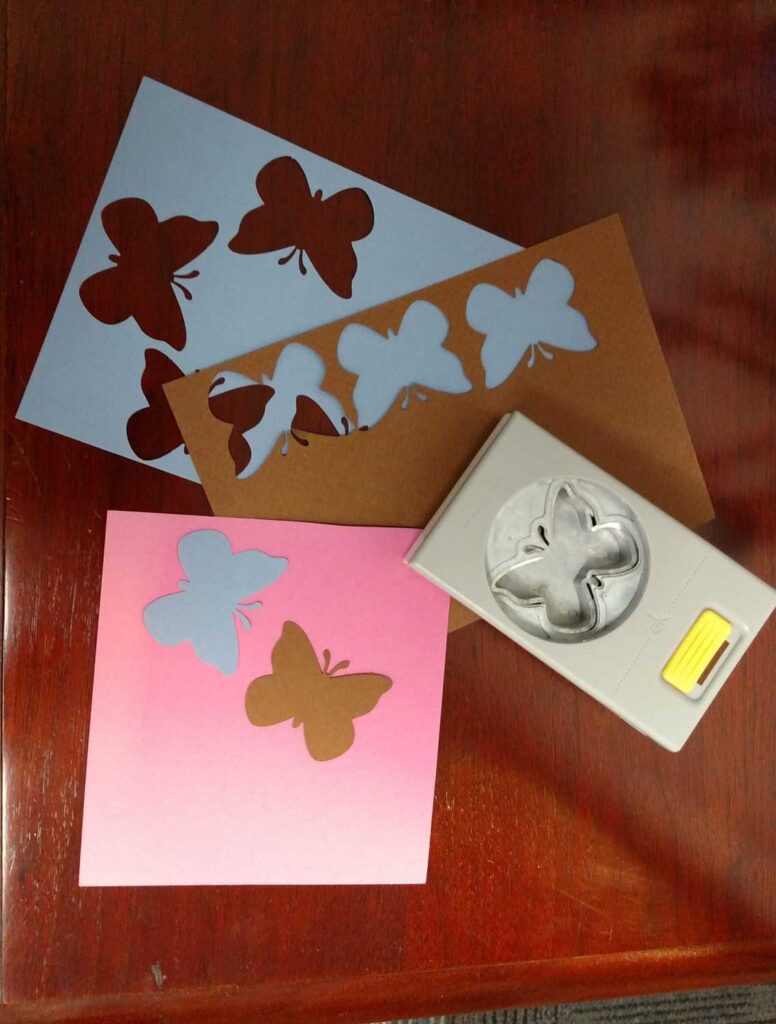 For the treats I used green M+Ms and gold and green miniature Reese's Cups.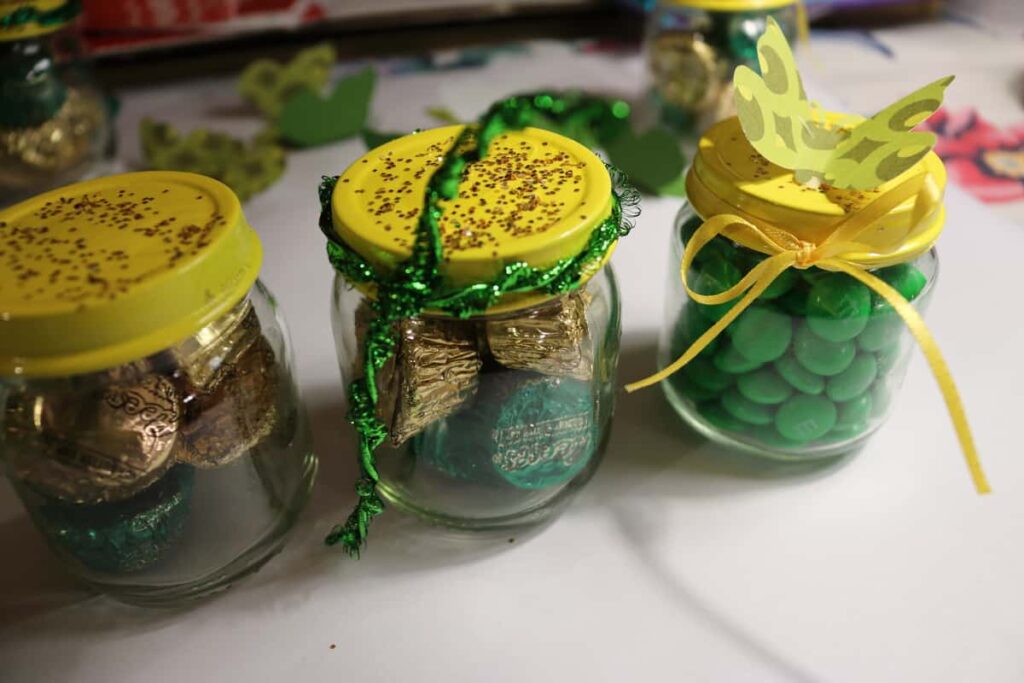 Yellow and green ribbons were also used. It is wonderful to have a craft stash and not have to purchase extra supplies. Once people know that you like to craft, they will sometimes give you craft supplies that they are getting rid of when they organize. I have been the glad recipient on multiple occasions!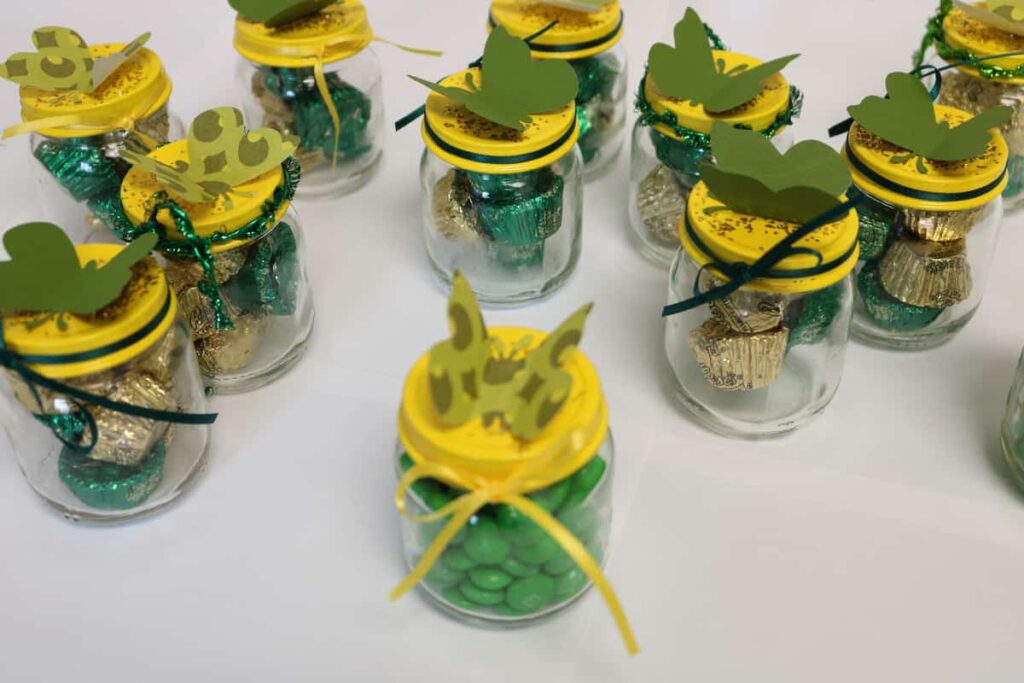 These yellow and green favors went with a jungle themed baby shower.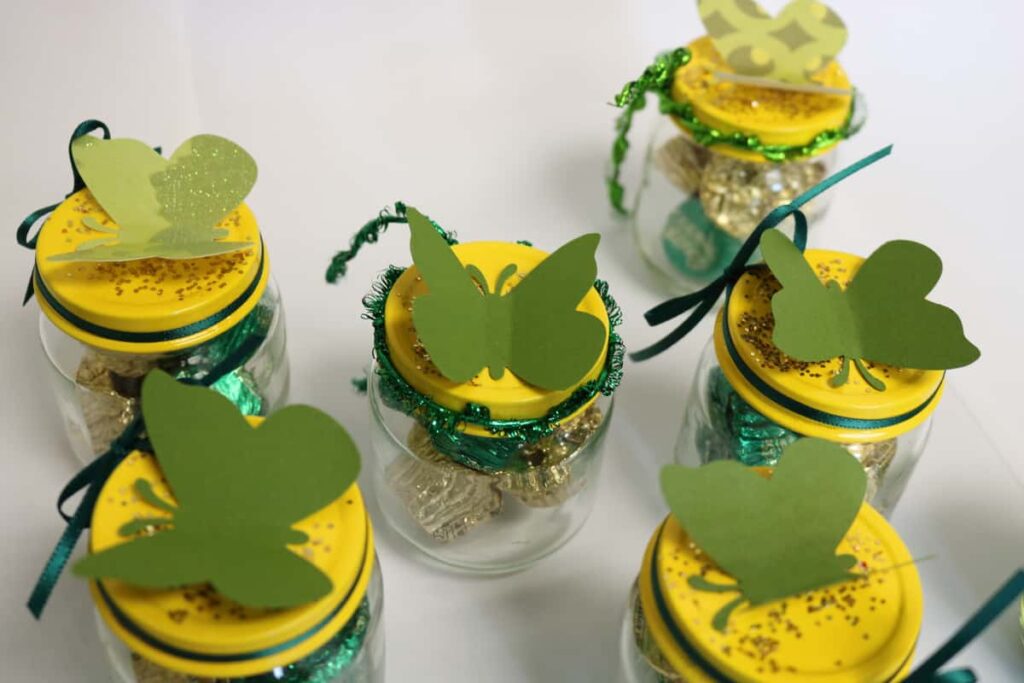 The jars were gorgeous just like this, but I decided to add the labels, too. Actually, the green and yellow makes me think of the Irish pot of gold at the end of the rainbow! Wouldn't these make a great miniature pot of gold?!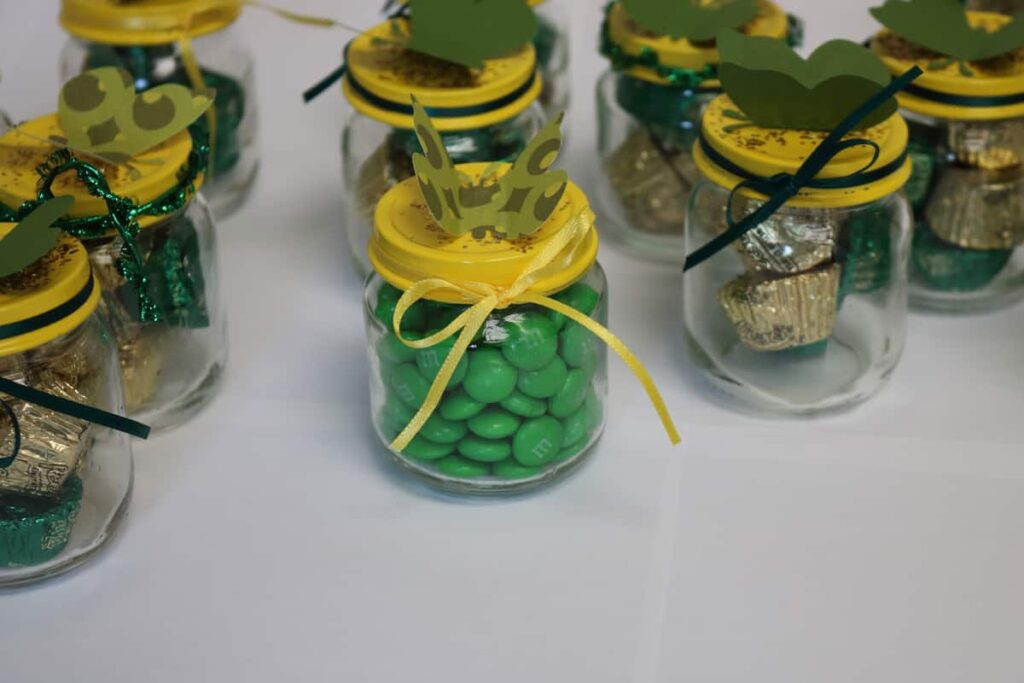 On Canva, a free image design website, I created these baby blocks.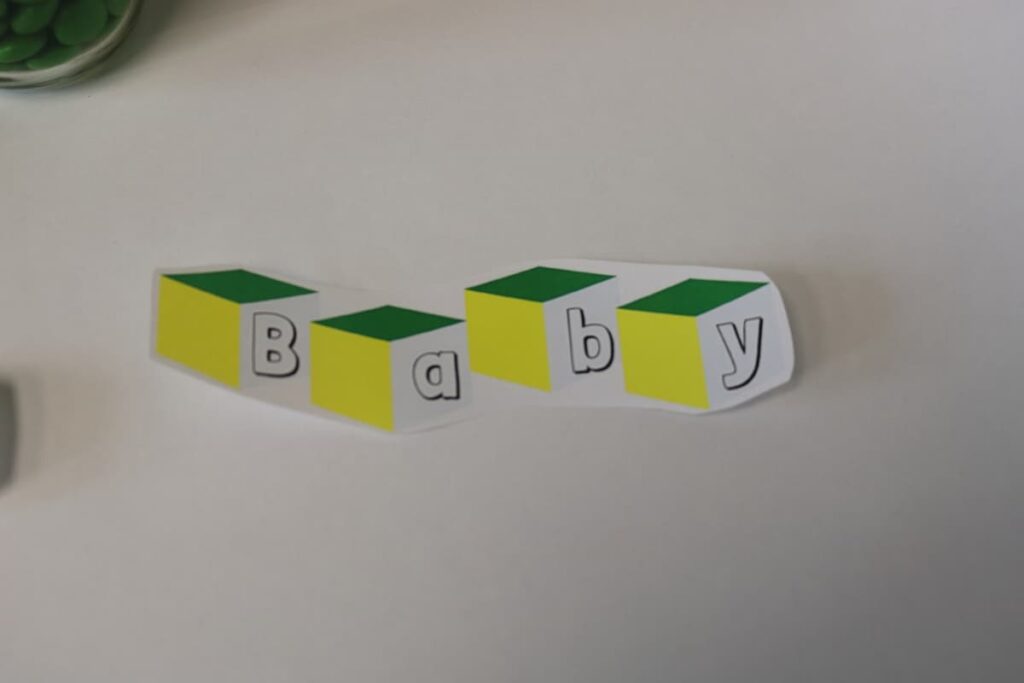 Baby food jars are sticky when you remove the food labels. If you don't want to go to the trouble of using Goo Gone to get all of the stickiness off, then using labels is the way to cover up the stickiness instead. Yes, that is why I didn't leave my jars without labels! And yes, I suppose that could be a good reason to go ahead and buy jars from Amazon– no sticky residue from the labels.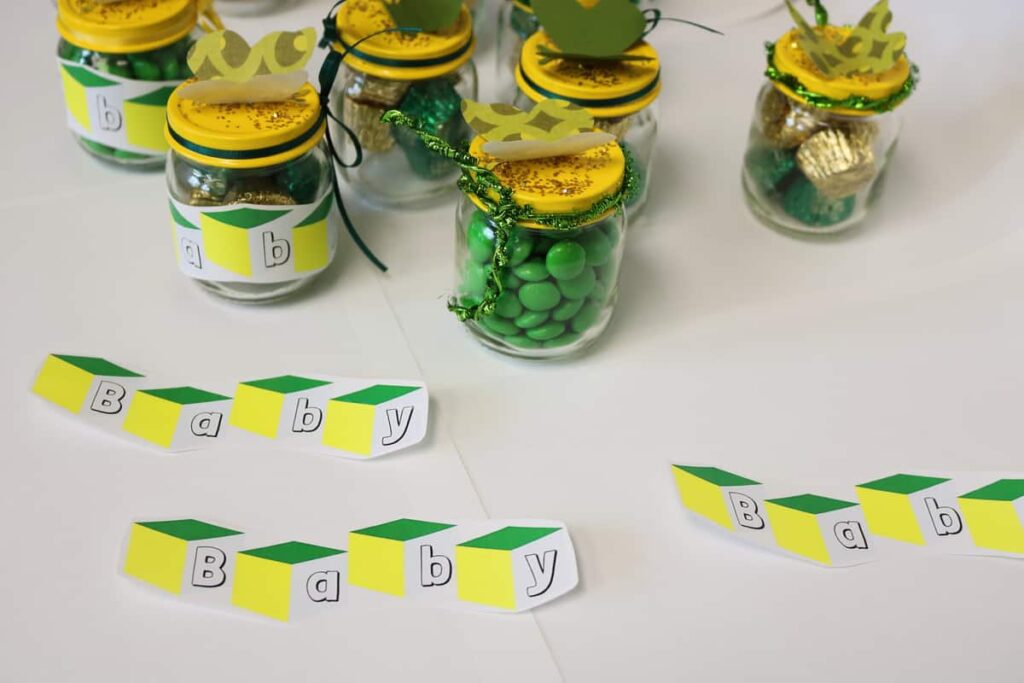 Use double sided tape or a glue stick to adhere the labels to the jars. That's it!
With a little bit of money and some time, these are beautiful frugal baby shower favors!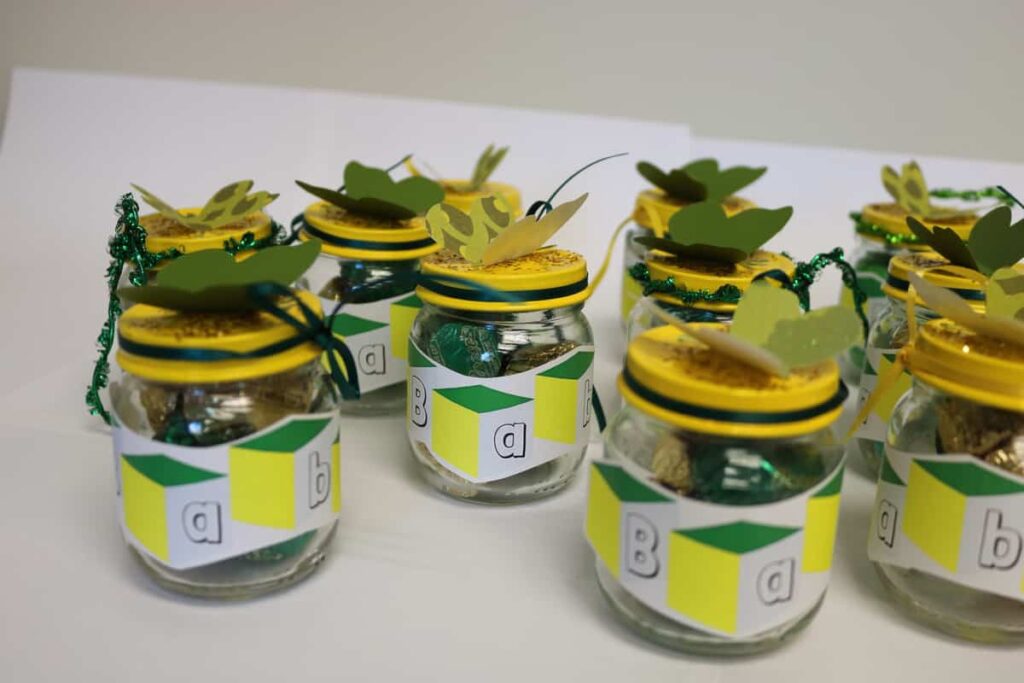 Baby Food Jars, AFTER!