Painting the Living Room Gray
Introduction
When we bought our house it was painted with dark, saturated wall colors. At our condo I had lived with beige/ tan walls that appeared peach in certain sunlight/ sunsets. This time I wanted gray. Here is the living room area in its dark olive "before" color.
Before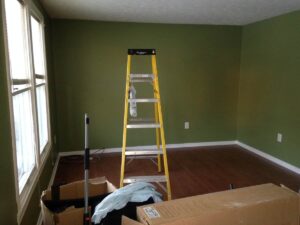 (*This post may contain affiliate links. By purchasing anything from these links, I may receive a small commission at no cost to you. More information is available on my Disclosure page.)
This is the view as you come in the front door, looking toward the kitchen.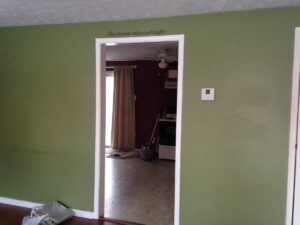 And here is looking back at the front door. Oh, the front door! I did not like it one bit. I wanted a window in it, so painting it wasn't going to help that!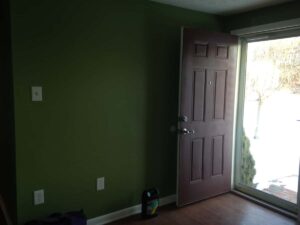 Here is the basement stairwell, directly across from the front door. If it had been painted at all– it was the same dull white color as builder's drywall.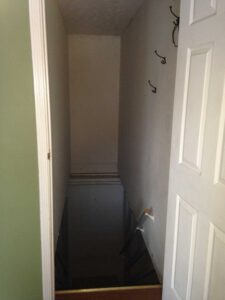 Here is a look back at the windows. The gray paint is still wet. It is night time. It looked good. But….later on in the daylight I would notice the lavender tint in the gray. Ooohhh! I had tried hard to get the right shade of gray– but I had been too hasty wanting to get the walls painted before we moved our stuff in…. We painted our whole living room, kitchen, and later the hallway with this color.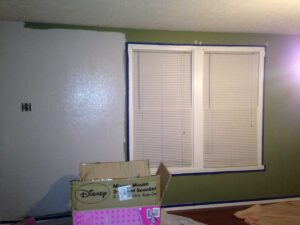 I don't love it, and I won't tell you what color it is! But I don't hate it enough to go through all the work of repainting everything again. The gray walls seem to photograph well enough. But if you ever decide to paint your walls gray–be very sure it is the shade of gray that you want. I am happier with my lavender tinted gray, than I was with the peach tinted beige. It is very hard to get the right shade sometimes. Sunlight as it changes throughout the day, and throughout the seasons, can affect what color your wall looks. Different light bulbs will affect how your paint looks.
Here is an "after" picture–see how the light casts a tint onto the gray?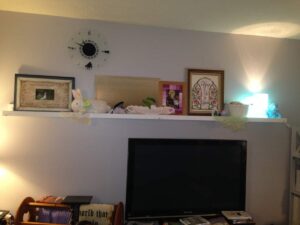 This picture was taken in sunlight: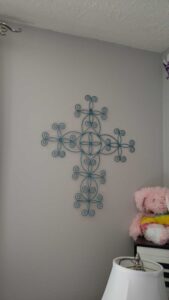 And here is another picture taken in daylight of the gray wall. This one was taken just before we were getting our built-in bookshelves installed. Stay tuned!
After!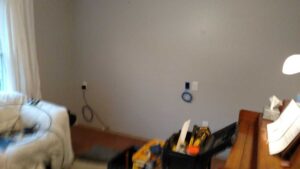 SaveSave
SaveSave
SaveSave
SaveSave
SaveSave
SaveSave