Apple Grande
This post contains links to affiliate websites, such as Amazon, and we receive an affiliate commission for any purchases made by you using these links. We appreciate your support!
I've been wanting to make an Apple Grande for a long time. I used to make them over 25 years ago at the Mexican fast food chain that I worked for– Taco John's. But before I could attempt to recreate this unique apple dessert (not unlike an apple pie) to share with you, I needed to find Red Hot candies. After searching a few stores, I finally found them at the Dollar General (not to be confused with the Dollar Tree).
Before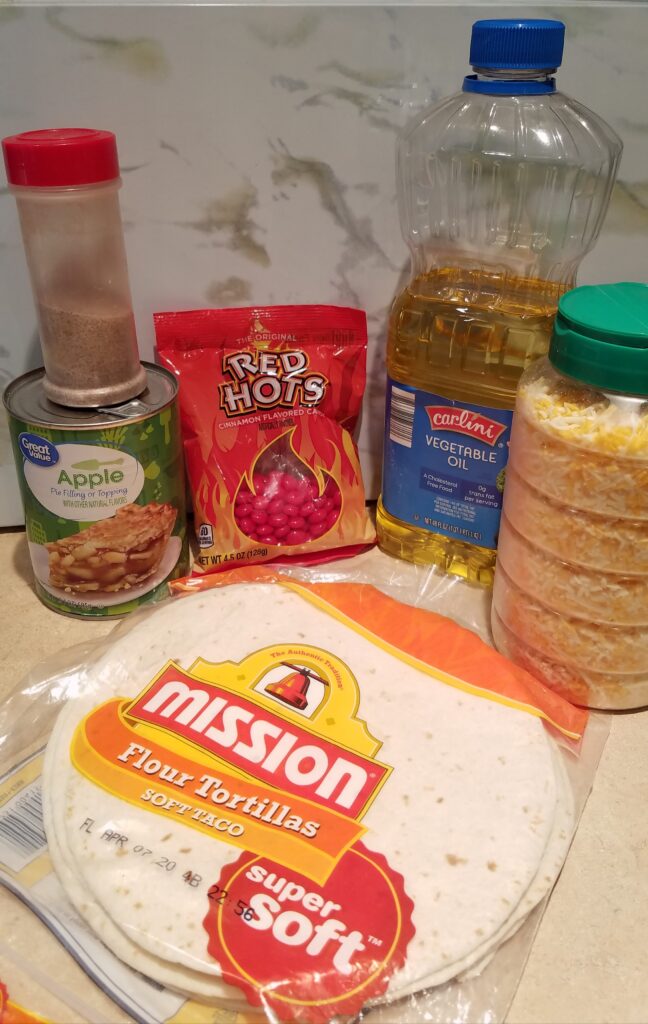 The Base
You need 6-8 inch soft flour tortillas. (Full recipe is at the end of this post). There are two ways to prepare the tortillas. You can either fry them in vegetable or canola oil, or you can brush them with oil or butter and bake them to get them crispy. If you fry them, be sure your pan is large enough.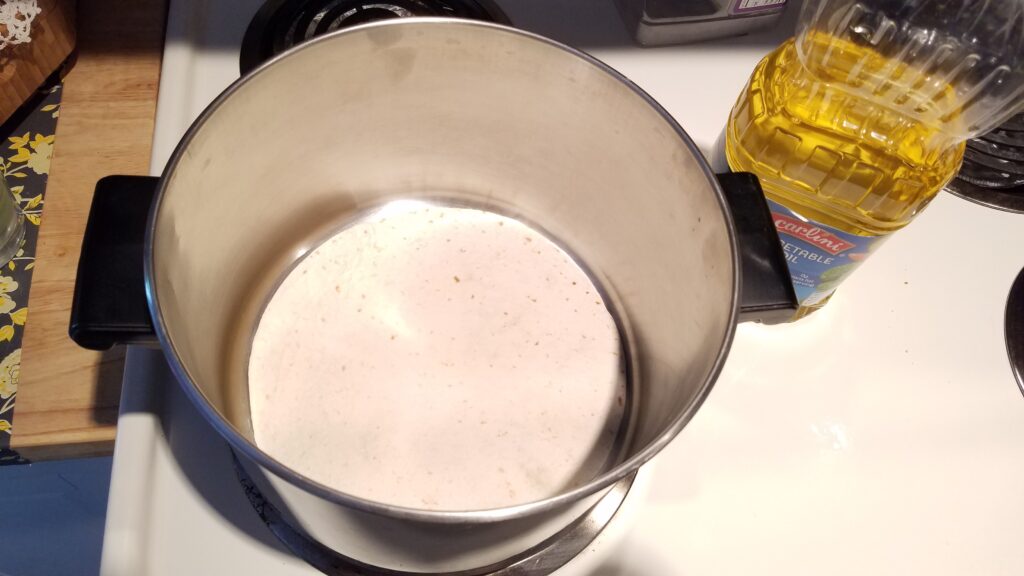 Fry until golden brown. The problem I had with frying them was keeping the tortillas flat so they wouldn't bubble up. Of course, years ago we had a special frying basket that kept the tortillas flat and fried several at a time.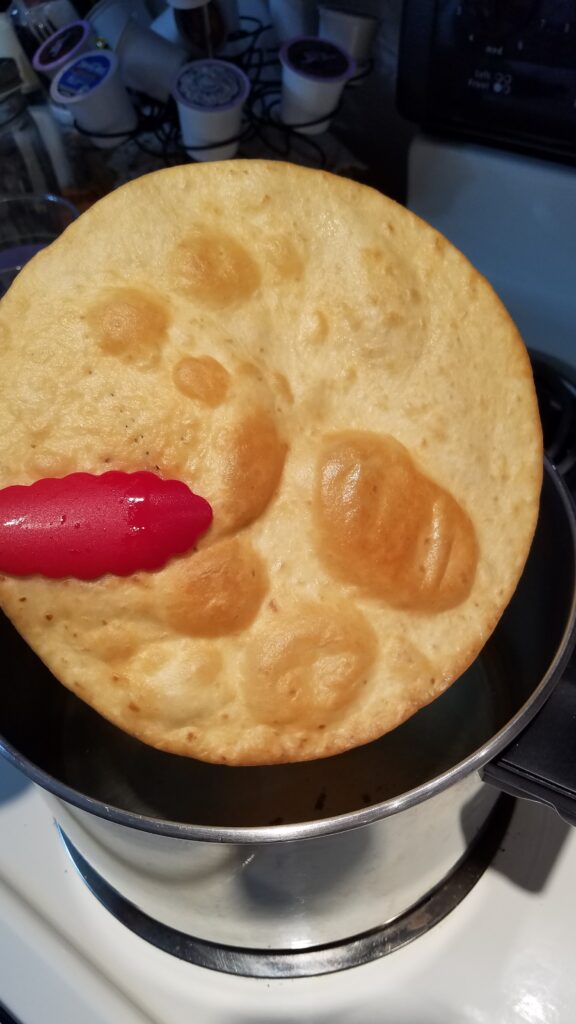 Did you Know?
We bought a Fixer Upper Farmhouse!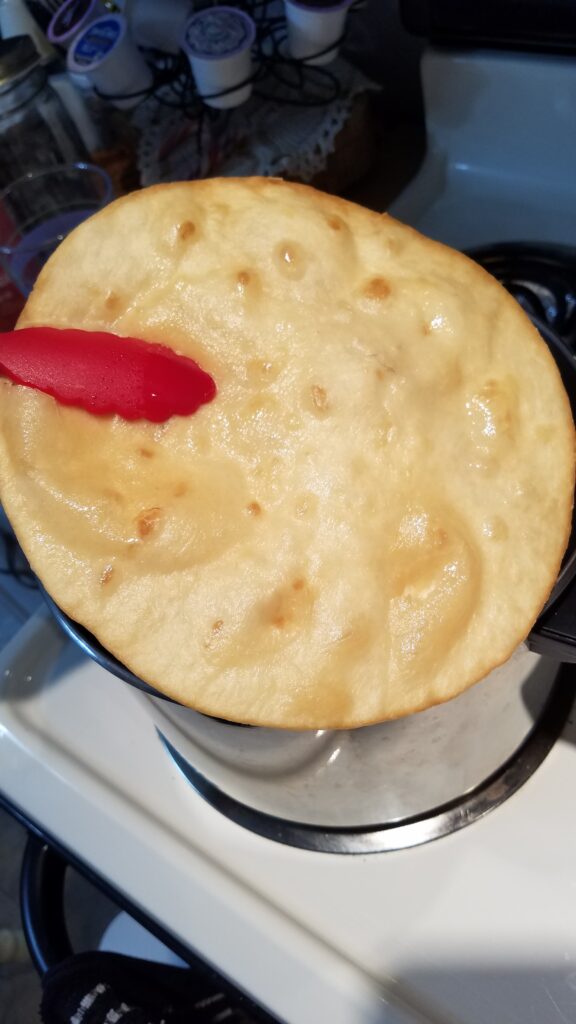 Mexican Food you might like:
So I tried a second method and I prefer this way when making these at home and not at a restaurant. I brushed oil onto both sides of the flour tortilla. Then I sandwiched two tortillas (that's all that would fit in a single layer) between two jelly roll pans. You could also use cookie sheets. This kept the tortillas flat while they baked.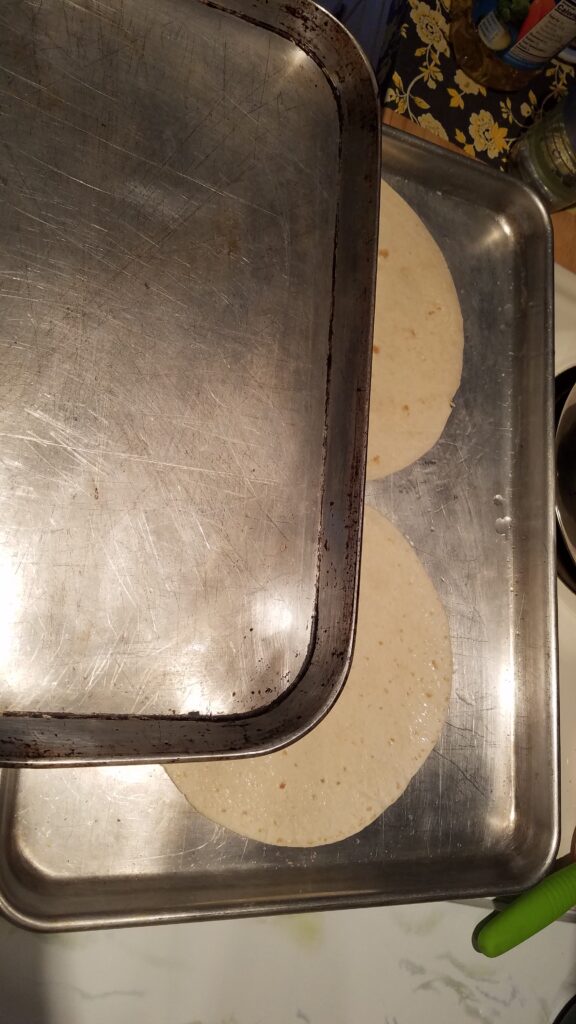 One side browned faster than the other, so I turned the tortillas partway through baking.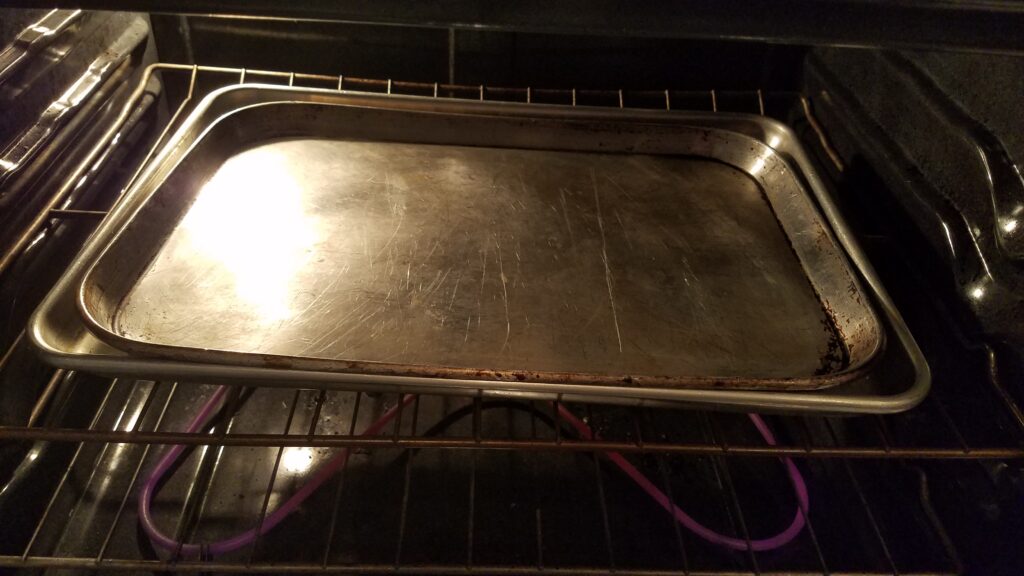 Immediately after frying or baking the tortilla shell, sprinkle cinnamon sugar onto both sides. If you do this over parchment paper, you can fold the paper to pour the unused cinnamon sugar back into the dispenser, wasting none!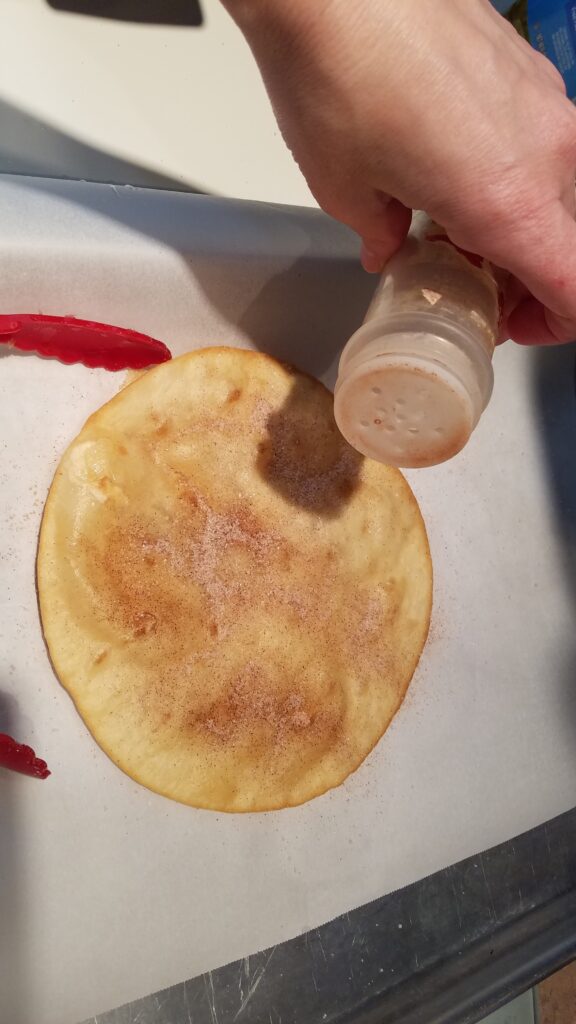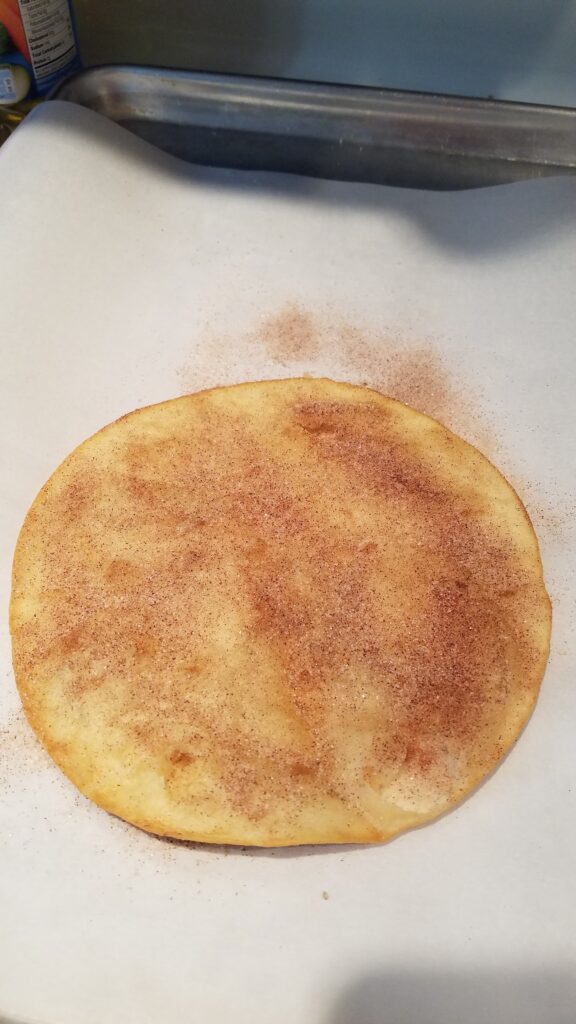 The Filling
The next thing you need is diced apple pie filling. I looked all over my local grocery stores, and could not find diced apple pie filling! All I could find was regular sliced apple pie filling.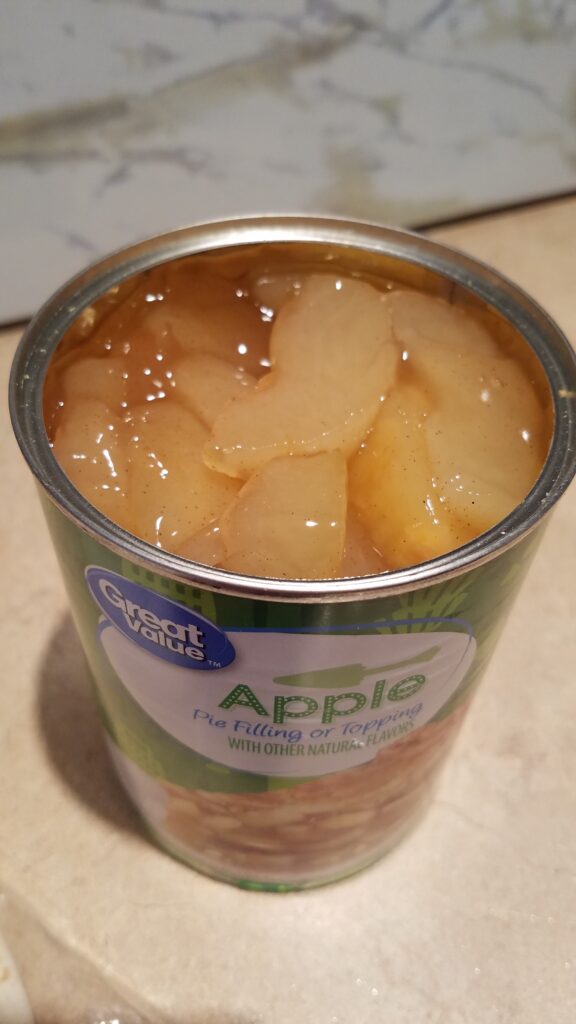 So I did the next best thing— I diced it myself with a huge chef's knife!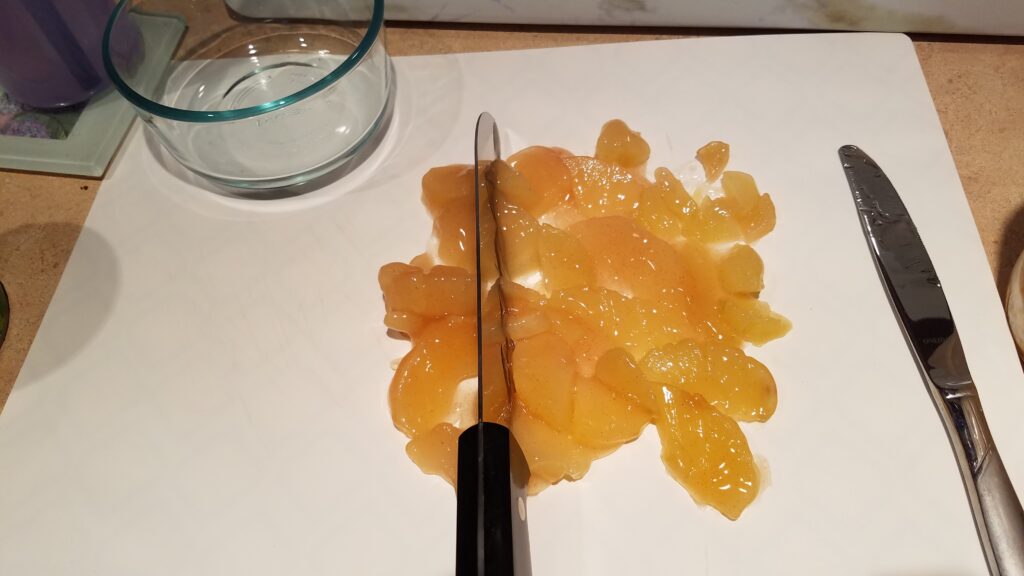 It needs to be diced pretty small.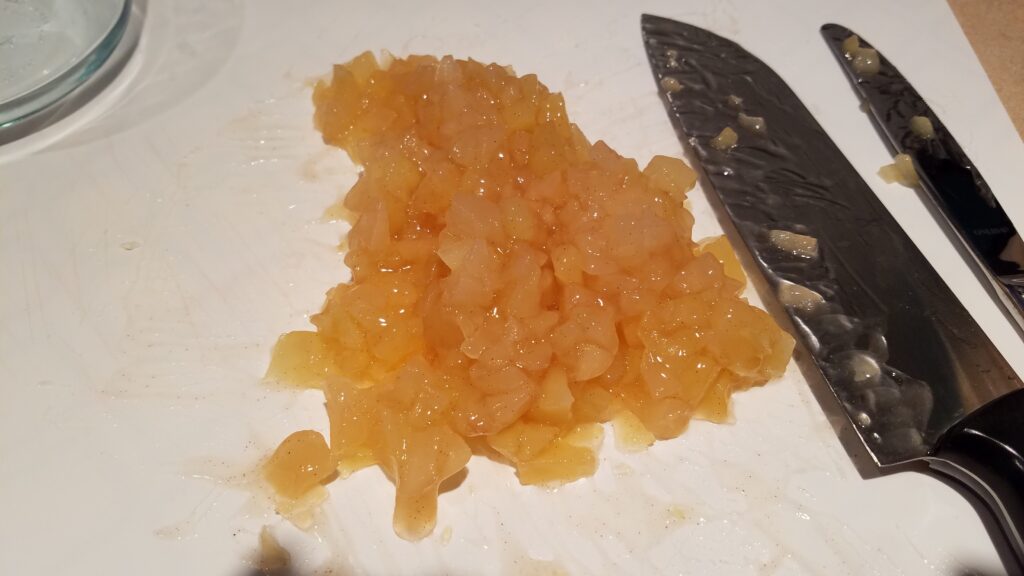 Heat the filling up in the microwave so that it is very hot. Spread half a cup or more onto the cinnamon sugar fried tortilla.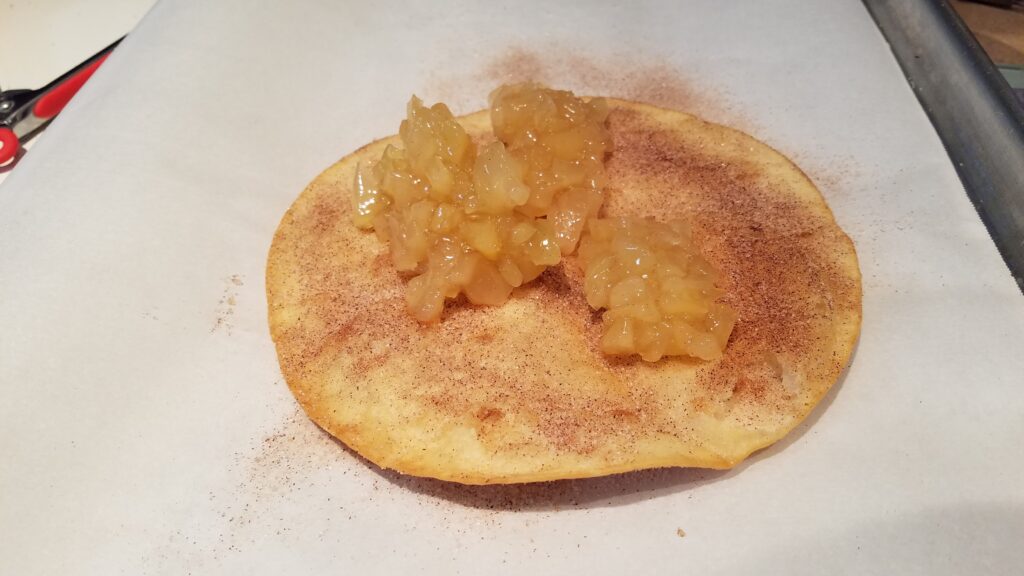 Spread it in a very thin layer, covering the tortilla completely.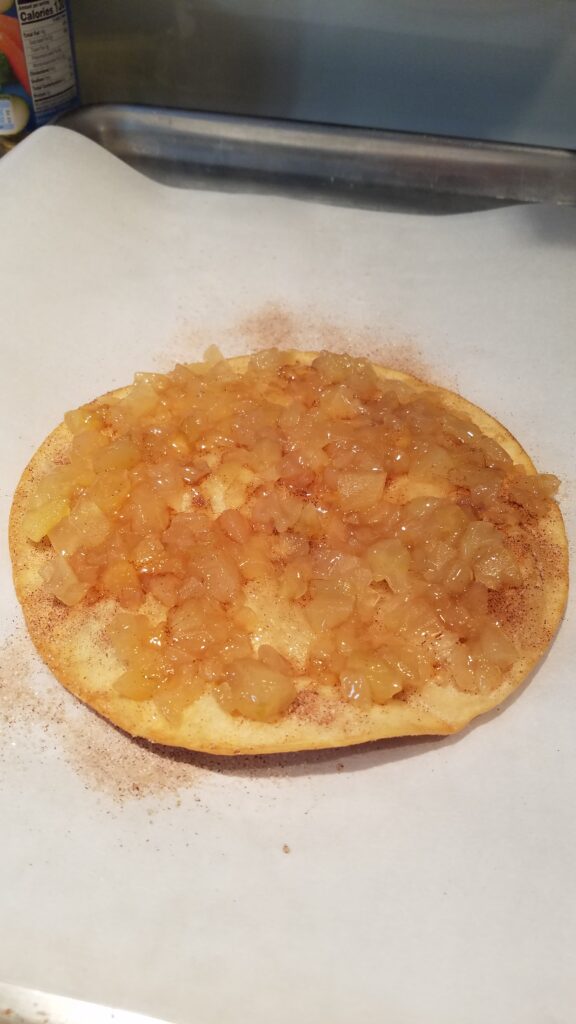 The Toppings
For the toppings, first sprinkle on some grated cheddar cheese while the apple pie filling is still hot. The cheese should melt a bit.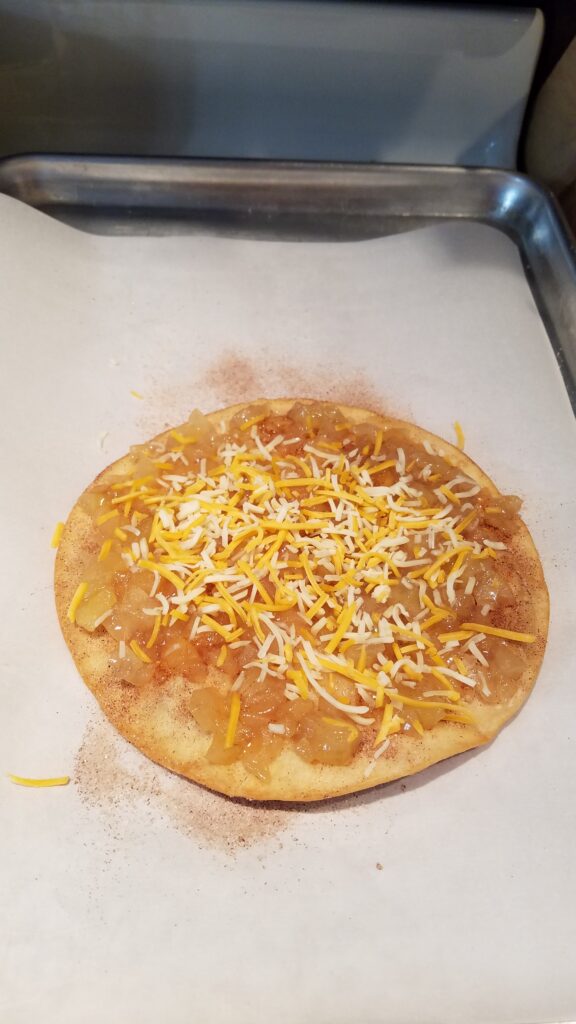 The last topping should actually be the first thing that you prepared. Hopefully, you have read the recipe completely through, and realized this before you began! This last topping is what makes this Apple Grande dessert so special. Remember those cinnamon red hots that I finally found? They need to be ground into powder. They grind up very quickly. Here is a video showing me grinding mine:
After I ground my cinnamon red hots into powder, I needed a shaker, but I didn't have an extra one. So I made one! You can make one, too! To improvise and make a homemade shaker, you can use regular aluminum foil. I had a foil cupcake liner, so I cut it to size. Then I used a bread twisty tie to secure the foil to the top of my little glass jar (it's a baby food jar!). Lastly, I used a toothpick to poke holes into the hole. And voila! A shaker!
If you make the red hot cinnamon candy powder ahead of time, it can get clumpy from humidity. Just stick a fork into it and stir it around to loosen it up again.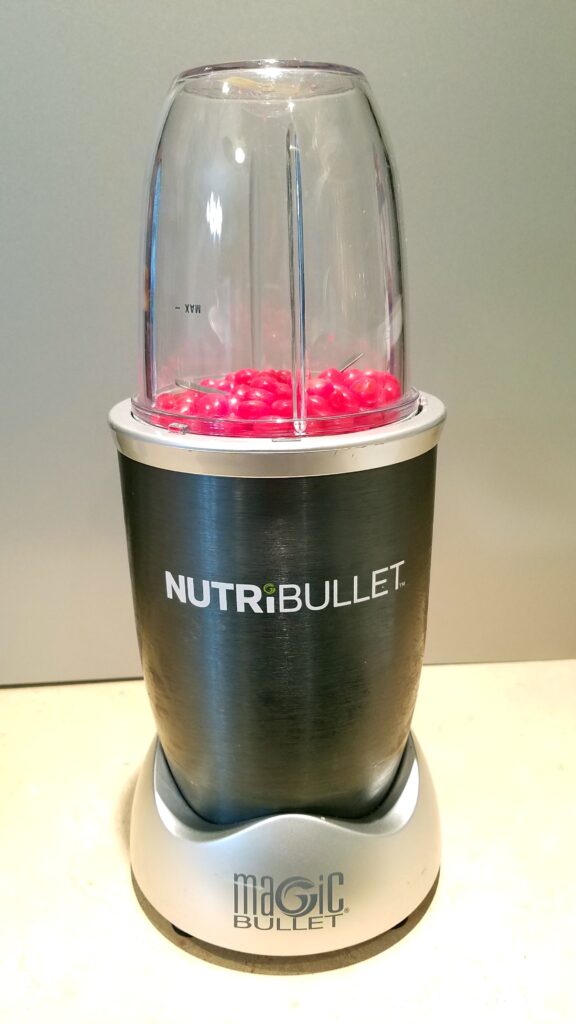 Sprinkle the red hot cinnamon powder (that you prepared ahead of time) on top of the shredded cheese. Sprinkle a little or a lot. I sprinkled a lot.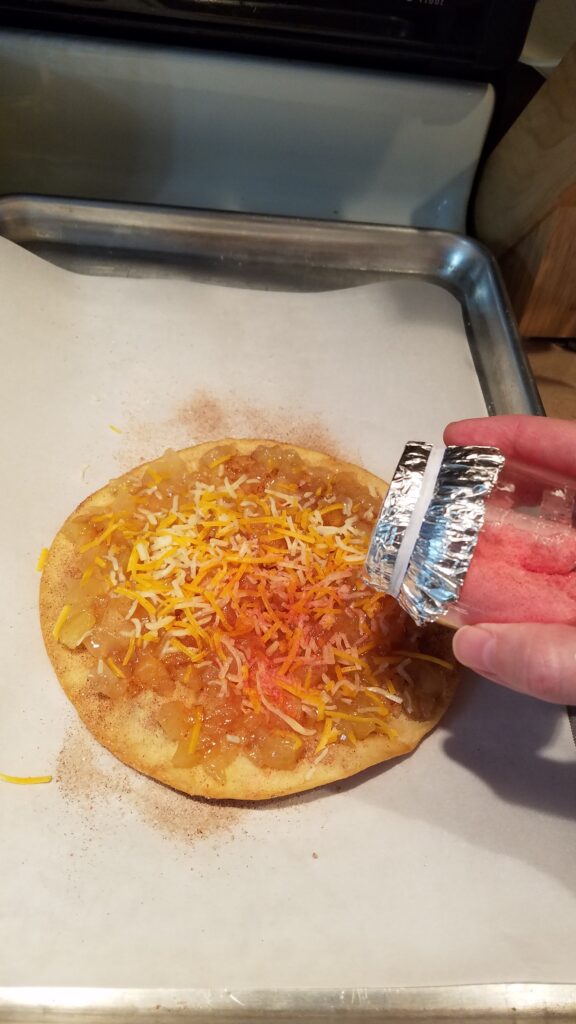 I just love the color of the pink powder with the orange cheese!! What color is that??!!
AFTER!!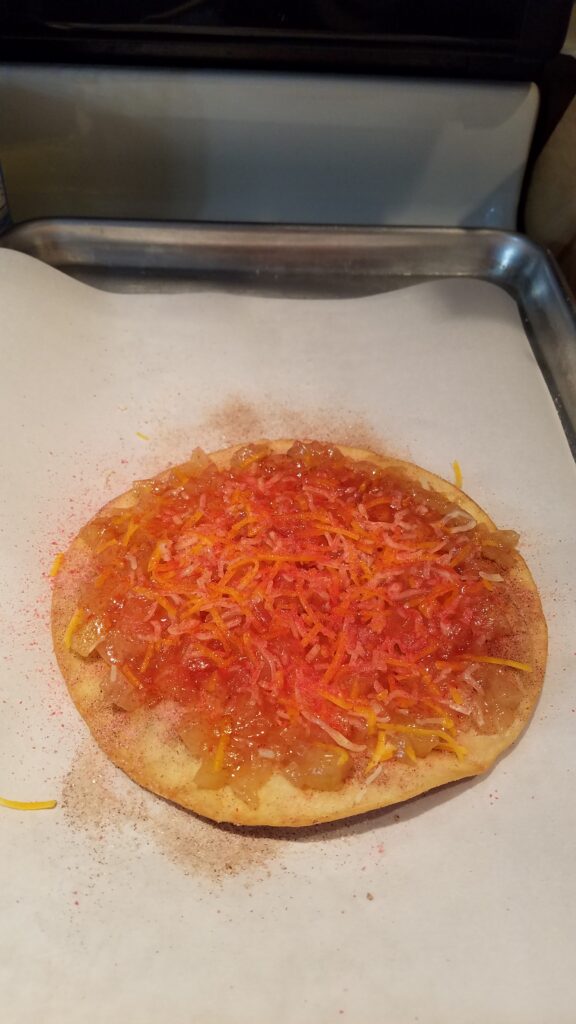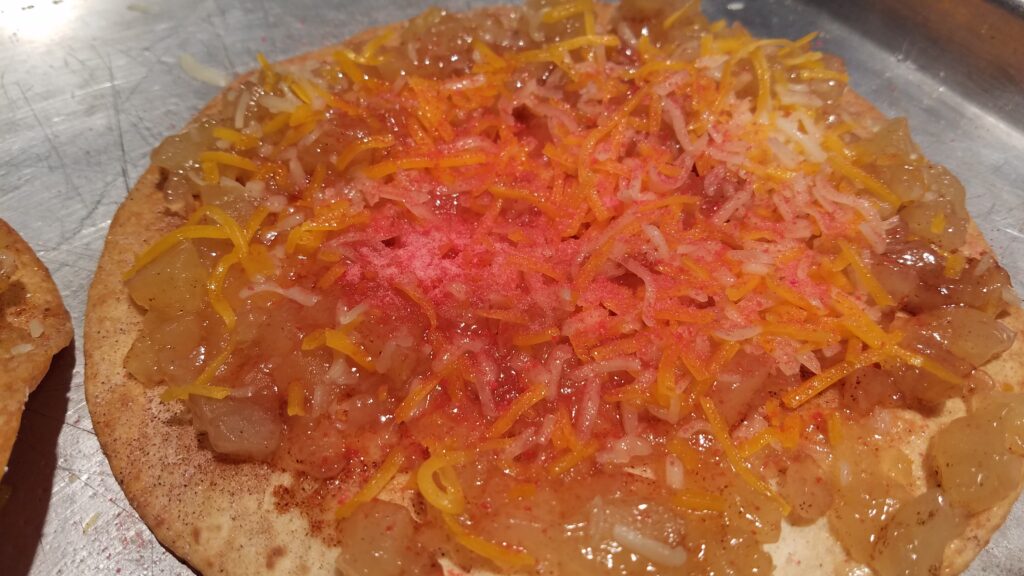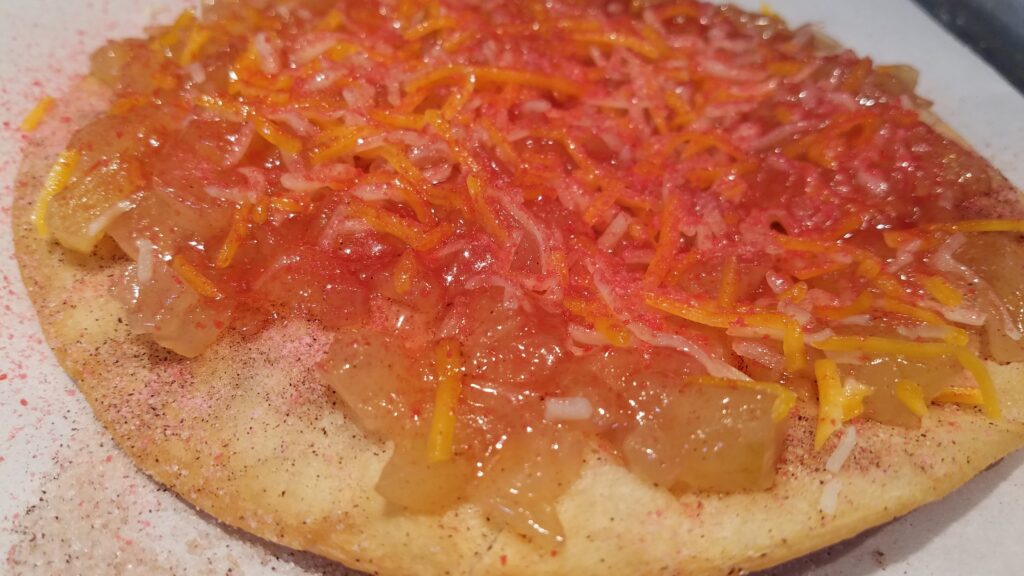 Use a knife or a pizza cutter to cut four slices.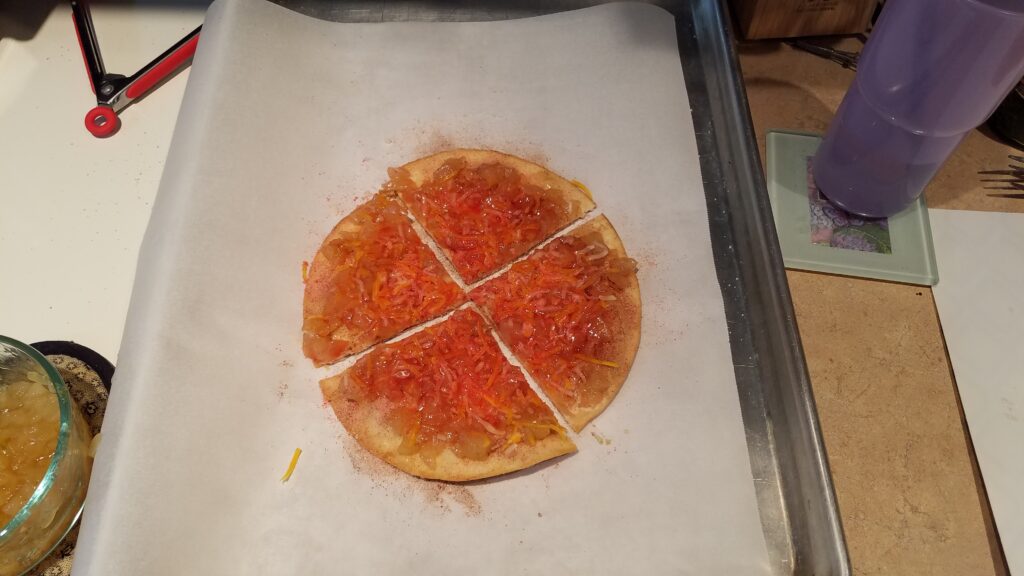 The tortilla should be crispy and crunchy. The filling and topping should be warm and gooey. And your mouth should be happy!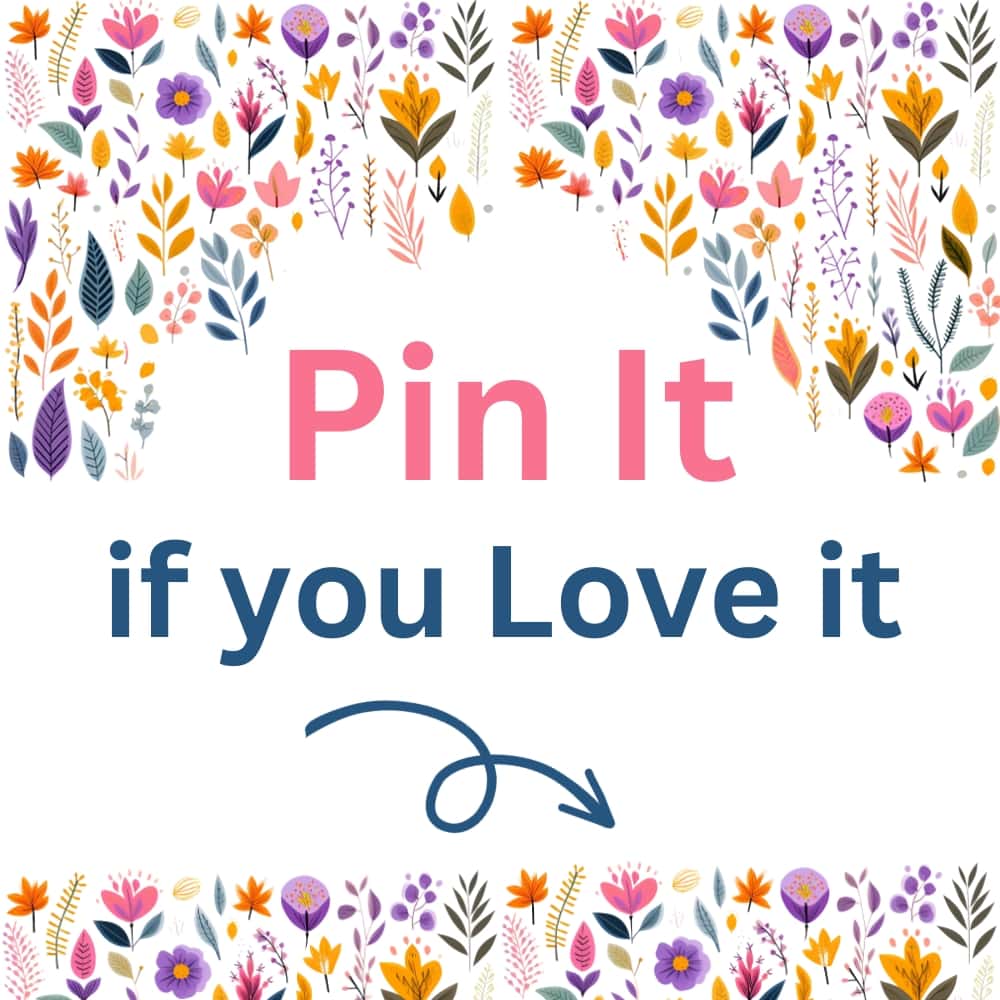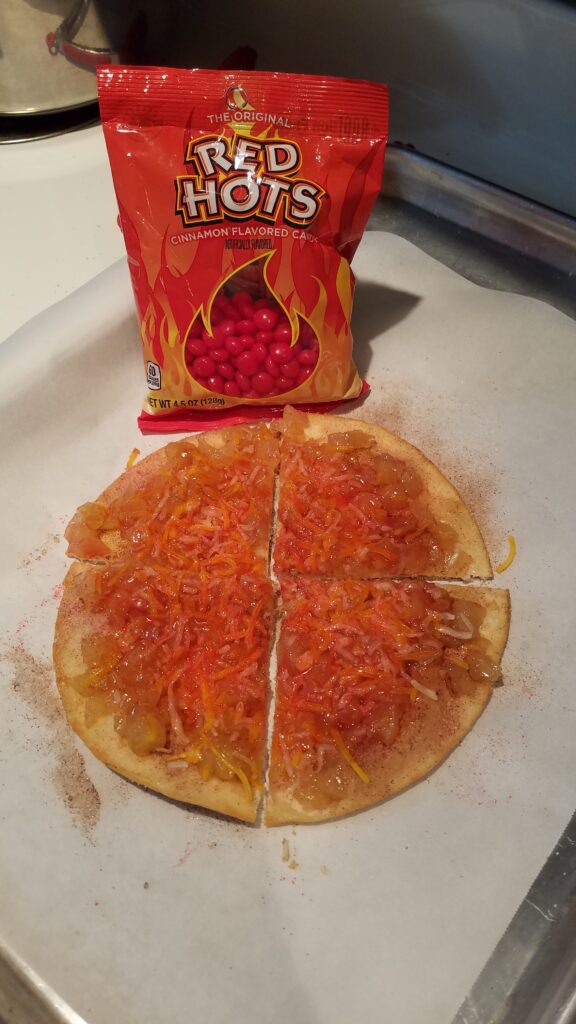 This would make a very unique apple dessert to serve to friends or special guests. Enjoy!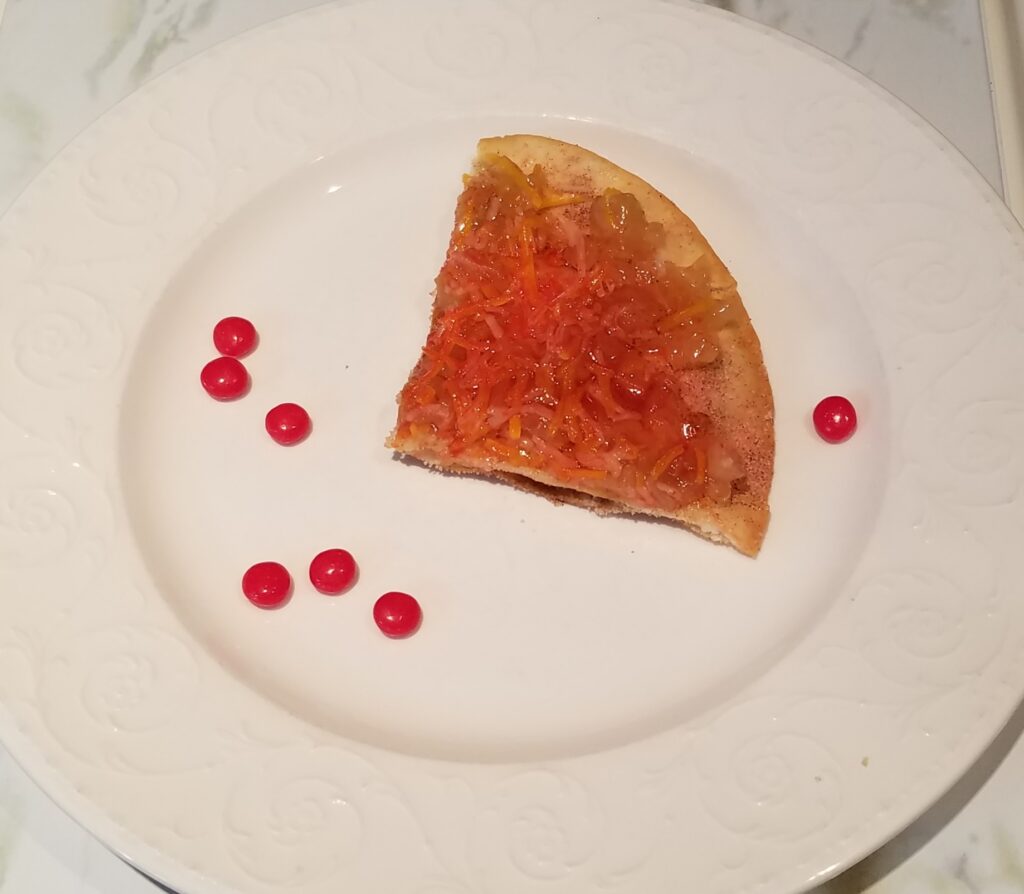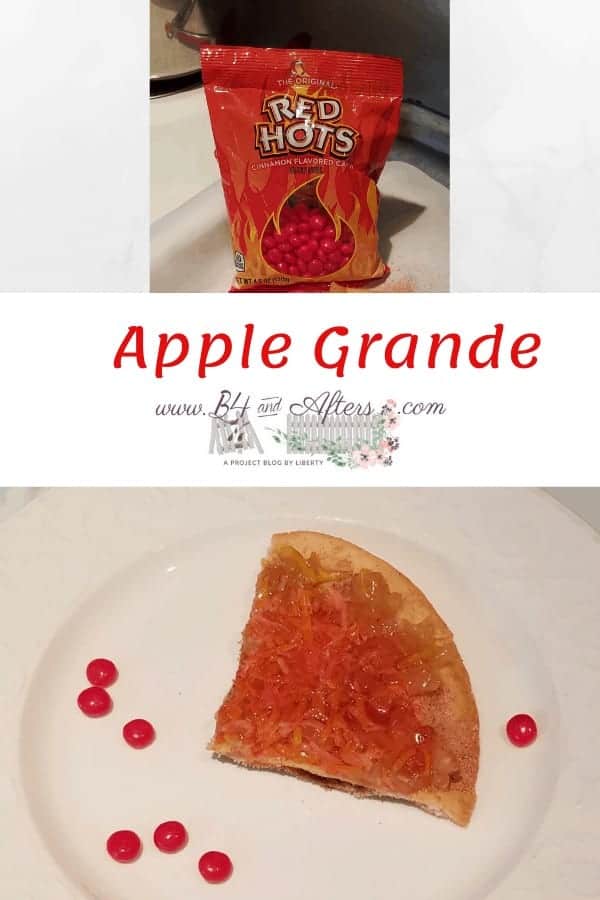 Apple Grande Recipe
two 6 or 8 inch flour tortillas
oil for frying or basting
cinnamon sugar
16 oz diced apple pie filling
4 oz finely grated cheddar cheese
red hot cinnamon candy powder
Prepare red hot cinnamon candy powder by grinding red hot candies into powder with a blender. Put powder into a shaker and set aside. Fry or bake tortillas until golden brown and crispy. If baking, baste oil onto both sides of tortillas and sandwich between cookie sheets to keep flat. Immediately after cooking tortillas, sprinkle cinnamon sugar onto both sides. After heating in the microwave, spread hot apple pie filling on top of tortillas. Sprinkle with grated cheese, then sprinkle with red hot candy powder. Cut into quarters and Enjoy!