How to Accomplish Craft Room Wall Organization Quickly
*This post is sponsored by @WallControl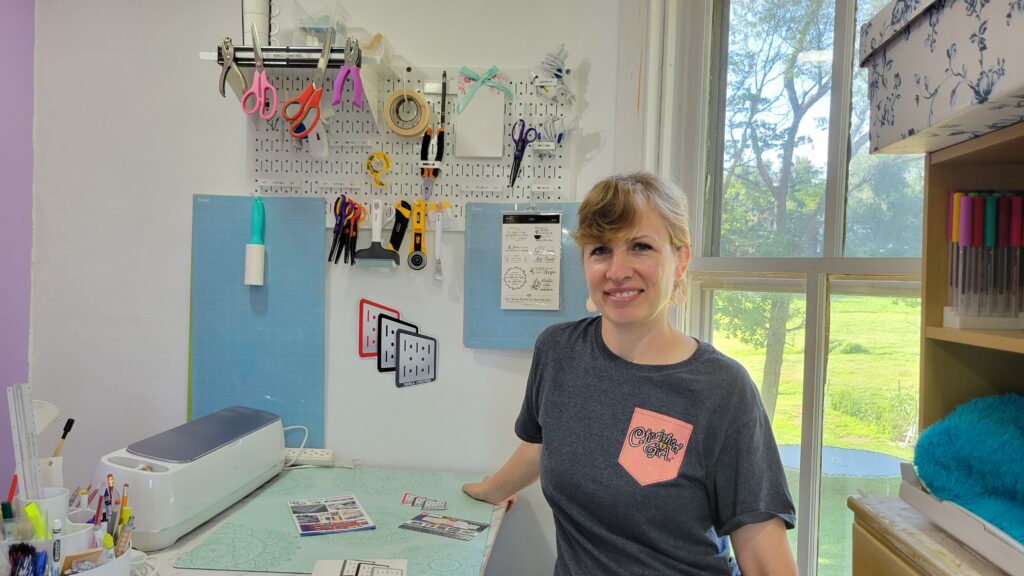 Today I get to show you the Wall Control system that I put in my craft room! It only took me about two hours from the time I marked the holes on the wall to the very end of organizing everything in their proper places— can you believe it?! (And that includes taking videos and pictures for you, too!)
The box came yesterday and I was so excited to get organized in my craft room– We've been at our fixer-upper farmhouse for about 7 months and alot of things are still very unorganized so you can imagine how happy I am to get even a small space looking just right!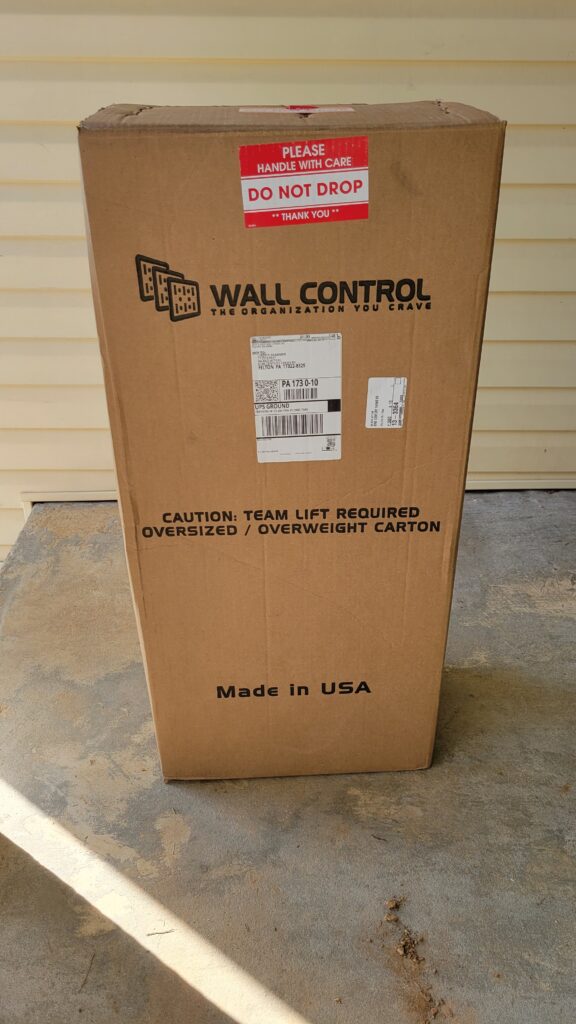 (*This post may contain affiliate links. By purchasing anything from these links, I may receive a small commission at no extra cost to you. More information is available on my
Disclosure
page.)
You can see what this craft room looked like the day we bought the house, in this 2nd floor Before video.
Now it has a new Woodhaven plank ceiling, and I painted the walls purple and white. …. I'm still working on the window trim, and one day I hope to have new windows. (We've replaced all of the other 2nd floor windows.)
Craft Room Before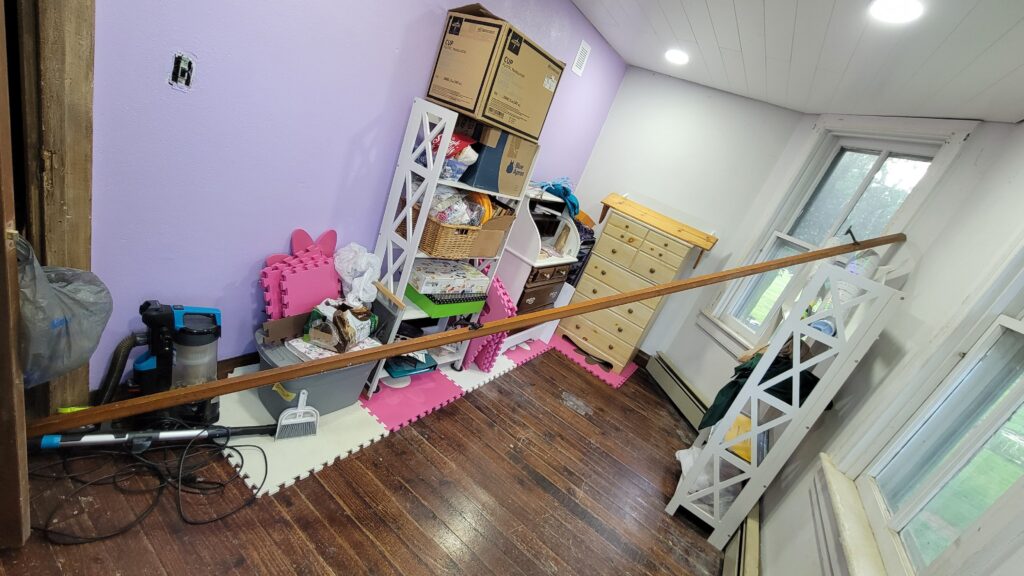 This is my very first time using Wall Control and I like it so much already. It was so easy to put up. I think I'm going to be wanting to use it in other places in my house, too.
Since we have plaster walls in our old house I was a little concerned about hitting a stud but everything went smoothly, thankfully! The six heavy duty screws that came with the system worked really well. I like things to be secure and I don't have any worries that this pegboard is going to fall off my wall. After getting all of the screws tightened then I began to arrange all of the accessories. It was really easy to just move everything around until I had all of the accessories in the right place that would organize my supplies most efficiently. I'm really looking forward to being able to craft more efficiently and quickly now that all my supplies are at my fingertips.
I first saw Wall Control at a conference I was at a couple of weeks ago and I asked if they would consider sponsoring some things for my craft room. I knew immediately that it would help me get organized and they have so generously supplied most of the items I am showing you today.
Craft Room Wall Before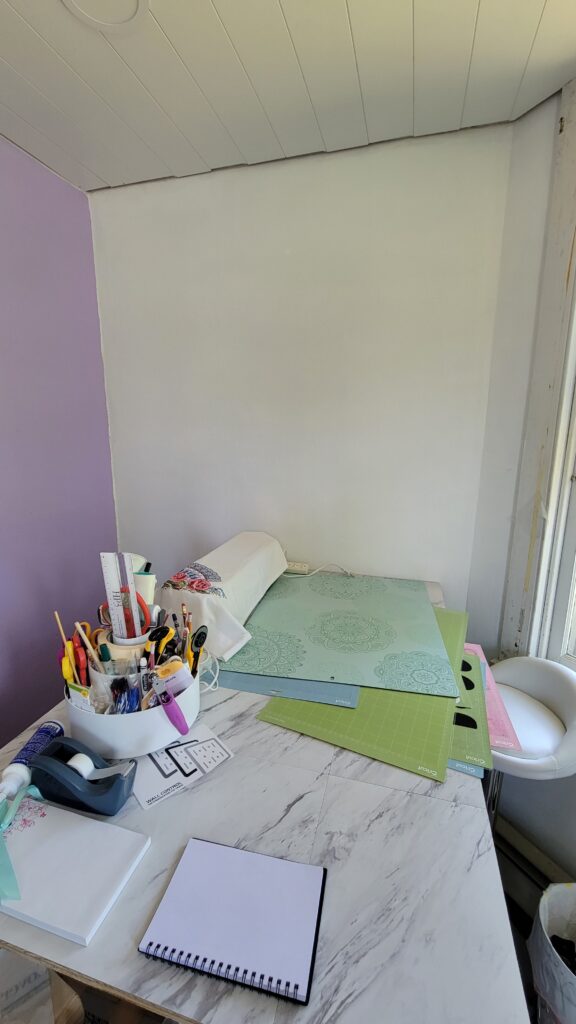 What is special about Wall Control is that their the pegboard is all metal. My son helped me mark the holes and then I drilled and screwed it to the wall (Making sure it was level, of course). All of the accessories are also metal except for the little bins.
These bins can attach to a bar or sit on a shelf. If you want all of them to attach to a bar, be sure to get the 14 inch bar….. I accidentally got a bar that was too short. But that's okay– I like that the bins are stackable and they fit just great on the shelf.
The shelf comes in three pieces… I can put all of the attachments anywhere I want on the board. I was able to maximize my space and put it right where I needed for these mats for my Cricut machine.
I got a magnetic bar and it attaches anywhere on this board that I want it to– I just decided to put it on the front of the shelf. I was so glad when I saw the magnetic tool holder– because I have a similar one in my bathroom medicine cabinet and I knew I would love it.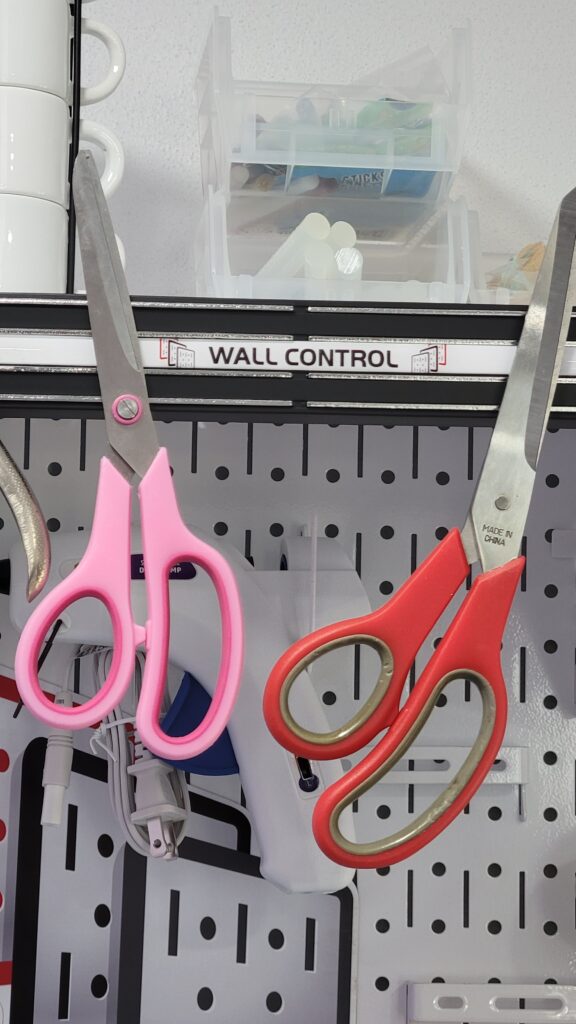 Everything's right at my fingertips and I feel so organized and ready to make things with my Cricut now!
Craft Room Wall AFTER!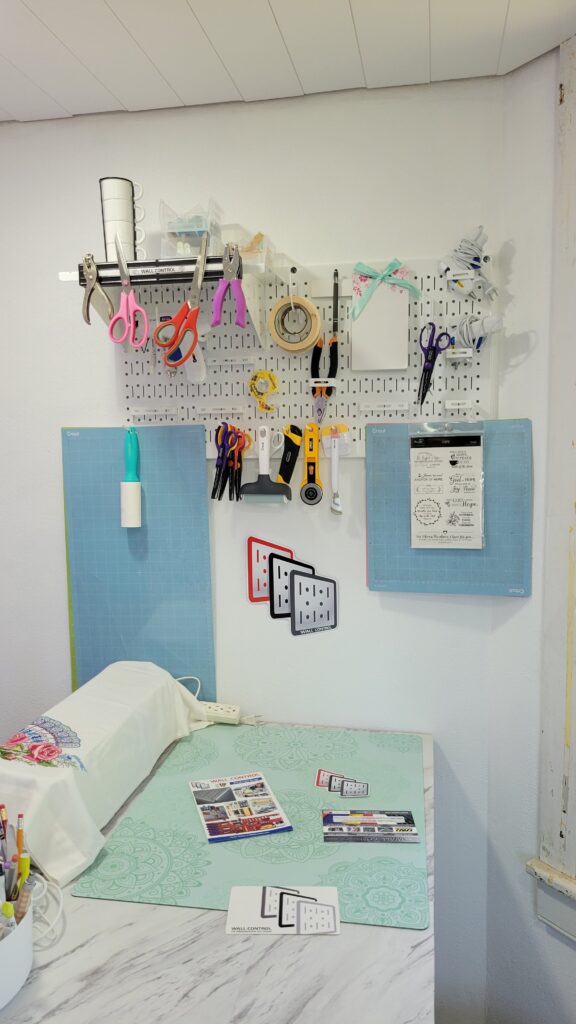 Click on the items below for more information. They are available in all sorts of colors, too!
What I Love about Wall Control for my Easy Craft Room Wall Organization
It's made in the USA.
You don't need anything else (other than a drill) to install it because of the built in flanges.
You can use other brands' accessories (the peg kind).
It's available in so many colors!!
It's strong– made out of sturdy metal that is designed to hold a lot of weight.
There are so many accessories– they've thought of everything!! Even the shelves are different depths, with optional sides, etc.
It was quick and easy to install…. I want more!!
Usually I can find something wrong with the quality or design of a project. Usually I can think of a way to improve something, something the manufacturers or designers should have thought of to make their product or service better. I'm full of great ideas like that.
Do you know the only thing I can think of to improve this system for fast and easy craft room wall organization (and many other types of organizing…)??? The only thing I can possibly think of, is to include a small detachable magnetic level, to help when installing the peg board, to get it straight. As it exists, I had no problem setting my level on the flange to get it straight.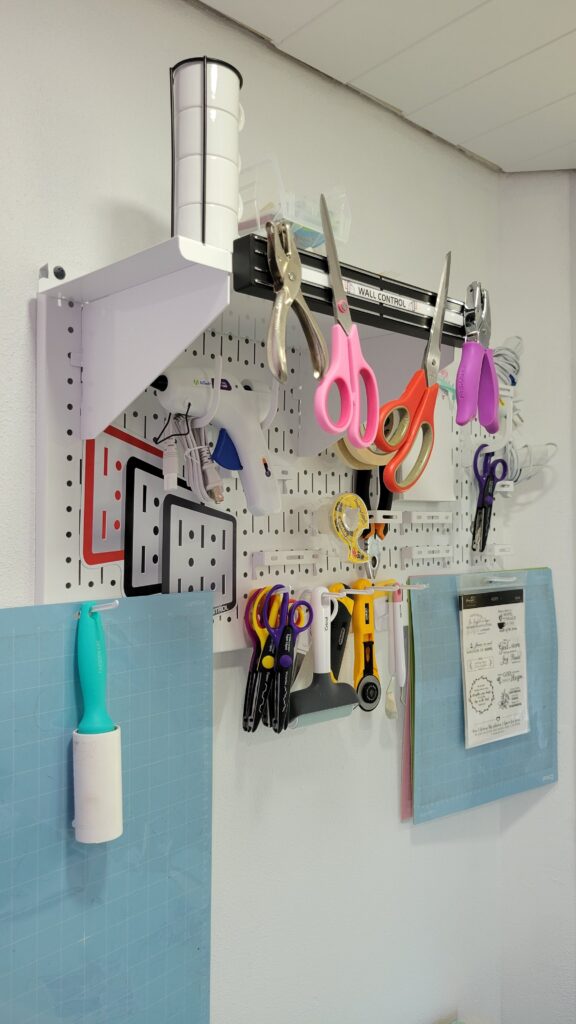 I hope you've enjoyed seeing my new easy craft room wall organization. Let me know in the comments below if you think you would like the Wall Control system as much as I do!!