For my son's 5th birthday I wanted to have a photo booth. Do you know the kind I mean? They are at amusement parks and zoos– there is a face cut-out and you stand behind it and have someone take your picture. I searched online to look for ideas. I also would have bought one if I could have found one. But I came up with nothing.
Before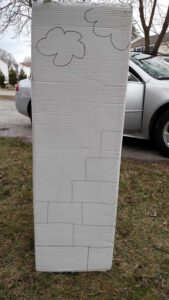 (*This post may contain affiliate links. By purchasing anything from these links, I may receive a small commission at no cost to you. More information is available on my Disclosure page.)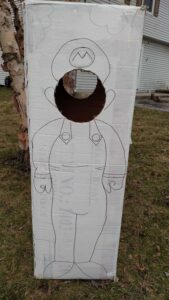 Then I realized that I could make my own, out of an old Christmas tree box that I had. First, I painted it white. I can't remember if I used spray paint, or just some latex wall paint that I had on hand. It might have even been just primer! I was not sure how to get started, until….. I started with the face cutout! That enabled me to look at a drawing of Mario, and then Sonic, and start drawing their shapes to fit the rest of the space on the box. I started with pencil. When I was satisfied, I outlined it in black permanent marker. The shapes were a lot easier to draw than I thought they would be.
Sonic the Hedgehog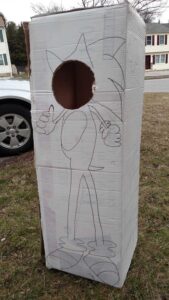 Super Mario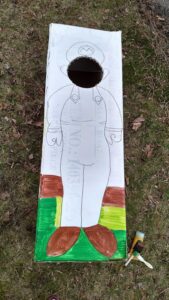 I had three good sides to use, (the fourth being the opening) so I made a Super Mario, a Sonic the Hedgehog, and then a plain game background. My son has a Super Mario costume and a Sonic Costume, so he stood in front of the plain background wearing his costume for some pictures.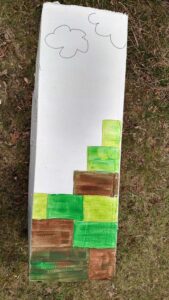 Can you guess what kind of paint I used to color it all in? I used what I already had– Finger Paint* in squeeze tubes and Crayola Washable Paints.* They are not weather proof or waterproof or anything, but my photo booth has lasted a year anyway!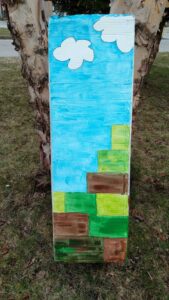 It was so much fun to see it all come together!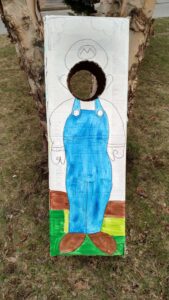 Super Mario AFTER!!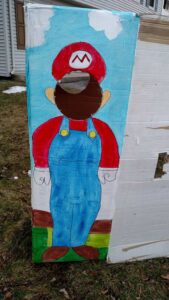 Sonic AFTER!!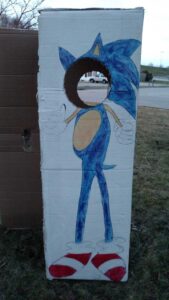 The birthday guests had tons of fun getting their pictures taken–and so did I! I even made a mustache for Super Mario, to hold on a bamboo skewer.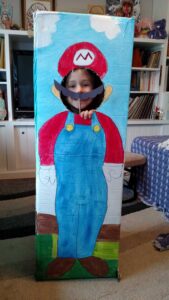 To see the details of the Super Mario and Sonic themed cake that I made for this birthday party, click here.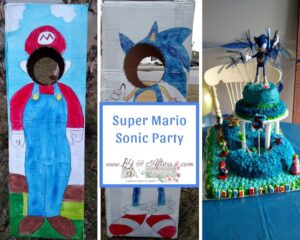 SaveSave
SaveSave
SaveSave
SaveSave
SaveSave
SaveSave
SaveSave