The Newest Progress on our House- Month 8 (and the ferocious animals we faced….)
This post contains links to affiliate websites, such as Amazon, and we receive an affiliate commission for any purchases made by you using these links. We appreciate your support!
What a month! Here we are– 8 months into our renovations. Here's the newest progress on our house… and the ferocious animals we faced….
Here are some of my recent posts– including more details on how we found our farmhouse. [But do not click on the first one– that is this post– and you will just come back to this page again…. for the 8 month video, Go Here.]
For the 8 month Video Update that goes along with this post, go Here.
Last Thursday evening as we were about to go to bed, I was on the floor organizing things under my bed when something got in my hair. I swatted it away….. and a hornet flew up toward the light. Hmm. I was on the phone, so I wandered downstairs to say "help me get this hornet" and what do you know– there was a hornet downstairs, too.
Before we knew it, there were about 6 hornets in the house. We had known some were outside a window, going in under the siding. Now we wondered how they were getting in the house.
David had already used up our Wasp Spray a week or more ago on the same spot outside the window….., so I drove to a nearby neighbor's house to get some more– and then the kids and I drove to Home Depot for even more spray. The kids didn't want to stay in an infested house– who could blame them! We were envisioning 100s of hornets in our house and I told them we could sleep in the camper.
By the time we got back, David had killed all 6 hornets with great effort. They were huge!! As big as my little finger. But they were not aggressive. We kept wondering how they got in the house….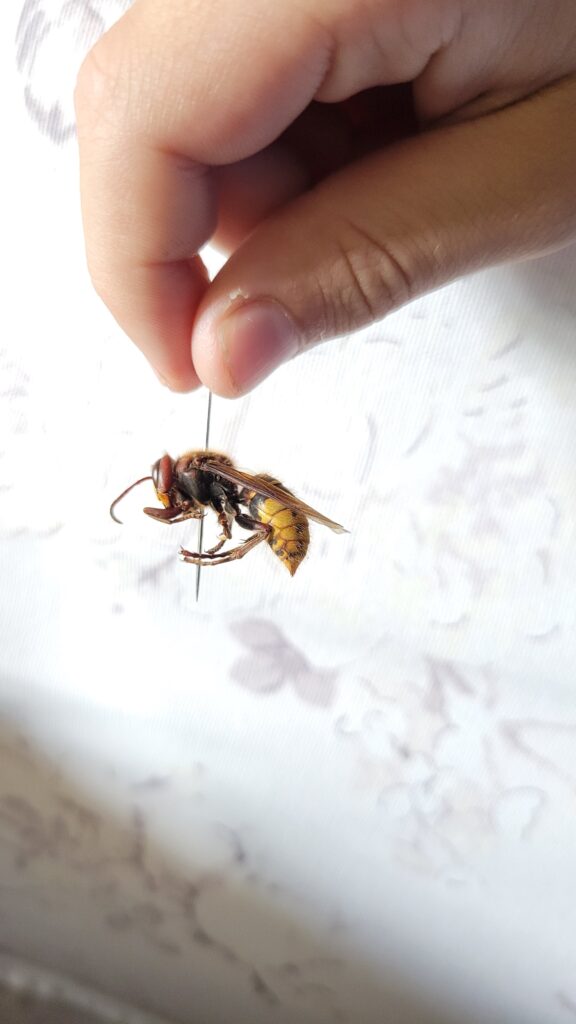 And then I found a window in our daughter's room that was open a little at the top– just big enough for hornets to get through. I had turned on the attic/ whole house fan and I guess the airstream/ airflow guided them in.
So it was comforting knowing that no more hornets would get in so we could sleep. I called an exterminator who called me back the next morning, and then another 24 hrs later they came out and took care of the hornets in the wall.
Now we need to get that spot sealed up so no other critters decide that it would make a good home. All in all, I'm thankful that this incident happened to help us realize that we needed help to do something about all the hornets in our wall!
I've enjoyed using this blue Free Form Paint Brush. The grip is different than normal paintbrushes, and my hands aren't sore when I'm done. I've put 3 coats (1 stain and 2 clear coats) on each side of 2 doors recently.
Isn't this a neat image of our house? This is what the mailman sees each day. A neighbor drew it over a photograph, then removed the photograph (because I don't have the skills or equipment to do that!). I love it!! (There are steps at the door on the right– there was a bench blocking the view in the photograph.)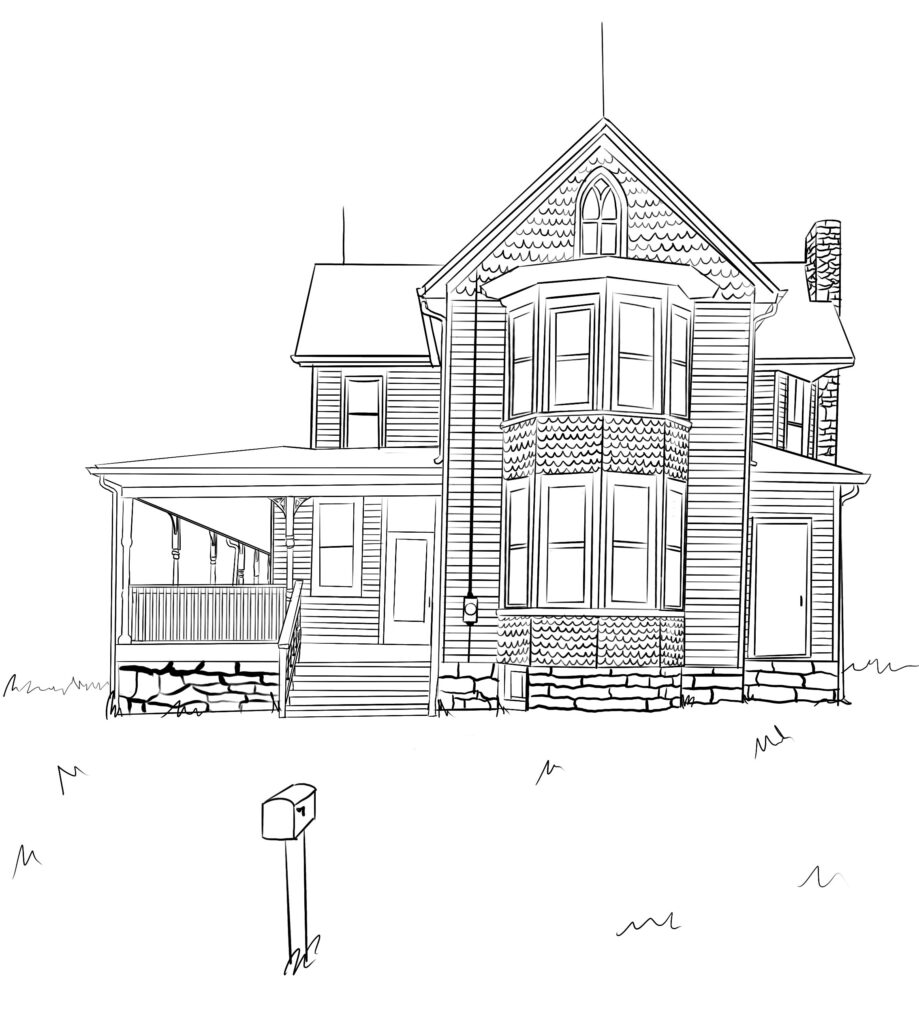 This is the vision that I have for our house– on all four sides! With the sidewalks all repaired, and some bushes on each side of the sidewalk, and flowers lining the steps. In my head there is a new front door, new porch railings, and none of the paint trim is peeling. There's probably a seasonal wreath on the door, too….. both doors!
I can hardly wait to put a Christmas tree in those windows….