Easy Barbecue Bubble Pizza
This recipe is so easy that you barely need the recipe! I love recipes like that. I hope you do, too.
Before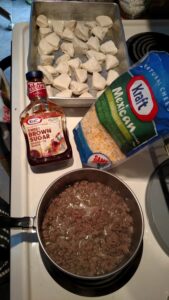 (*This post may contain affiliate links. By purchasing anything from these links, I may receive a small commission at no cost to you. More information is available on my Disclosure page.)
If you like barbecue, you will probably like this simple recipe. It is pretty easy to put together. It is a good choice when you are tired, because you don't need to keep looking at the recipe to measure out a bunch of ingredients.
I preheated the oven as I browned the ground beef. I also sprayed olive oil in the cake pan and cut the biscuits into fourths with my kitchen scissors. I usually use 90 percent lean ground beef, but this recipe works better with a higher fat content– then the biscuits don't dry out or brown too quickly before getting done in the middle when it bakes in the oven. When the beef was cooked throughout, I just added enough barbecue sauce to taste, without even measuring it.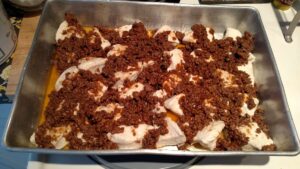 I would have used mozzarella cheese, but didn't have any on hand, so the Mexican four cheese blend worked just fine instead. However, I would not recommend cheddar cheese for this bubble pizza.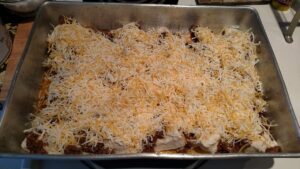 The extra liquid in the ground beef soaked into the biscuits as they cooked. I used one pound of ground beef, but I think 2 pounds would work great if you like a greater ratio of meat to biscuits. The biscuits "bubble up" as it cooks– and so you have the name Bubble Pizza!
AFTER!!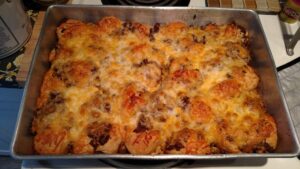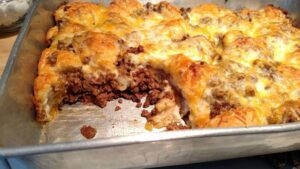 This tastes best right out of the oven, but it also reheats very easily for quick leftovers. It is also an easy recipe to adjust if you want to add onions or green bell peppers as you cook the ground beef. Enjoy!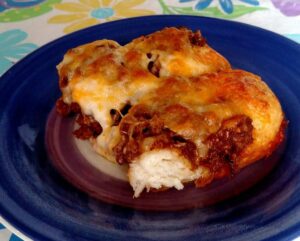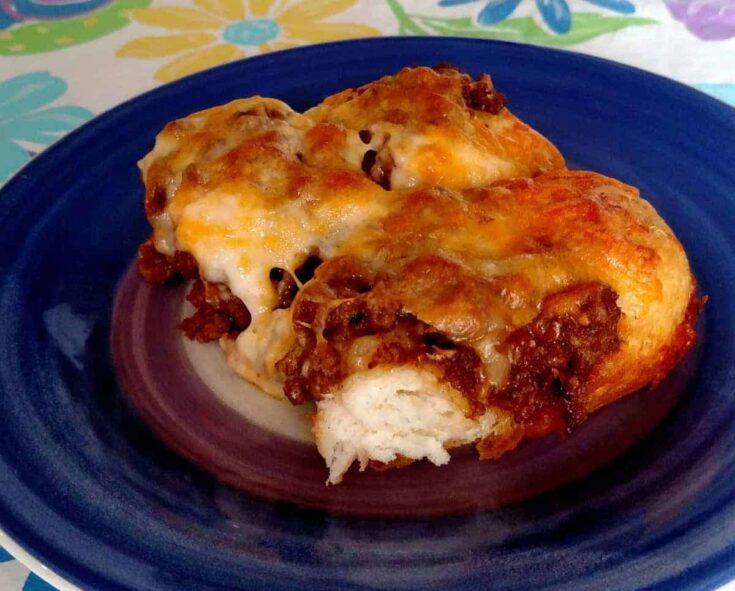 Yield:

8 servings
Easy Barbecue Bubble Pizza
This barbecue flavored kid friendly dish is simple and easy to put together. Enjoy!
Ingredients
1 can original buttermilk biscuits, cut into fourths
1 or 2 pounds ground beef
2 cups shredded mozzarella or Mexican cheese
½-1 c. barbecue sauce
Instructions
Brown ground beef in a pan.

Grease a 9 x 13 cake pan.

Cut (with kitchen scissors or knife) biscuits into fourths and put into cake pan.

Stir barbecue sauce into ground beef.

Distribute ground beef mixture over biscuits.

Add shredded cheese on top.

Bake at 350 degrees for about 25 minutes until biscuits are cooked throughout.