We have one tiny window in our basement above the laundry sink.
Before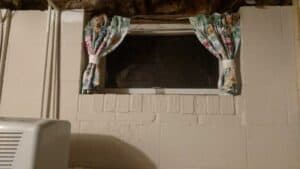 (*This post may contain affiliate links. By purchasing anything from these links, I may receive a small commission at no cost to you. More information is available on my Disclosure page.)
I really wanted a shelf there, so I could put plants on it. The sill was a little too high and narrow.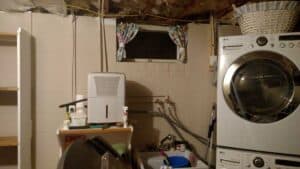 Enter some new corner wooden brackets that I picked up awhile back at a thrift store. You might notice they are longer on one side. The brackets had keyhole hardware and notches so that if you want to hang them the other direction, you can attach the keyhole hardware on the other side. That is what I did; so that the shorter part would be on the wall, and the longer part underneath the shelf.
The brackets needed a coat of primer and then some Hi-Gloss Behr white for trim Interior/Exterior.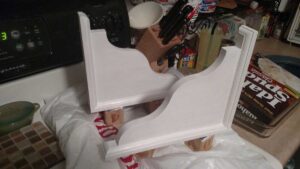 The shelf was a leftover from my free shoe store shelves. I used some extra contact paper on the shelf. I thought it would be a good choice since plants sometimes leak water.
So first, you need to drill holes into the concrete wall using a special masonry drill bit. Put in the anchors, then put in the screws that you will hang the brackets onto. Then lay the board on top, and secure to the brackets with more screws. (It's always a good idea to drill pilot holes first, so that the wood doesn't split.)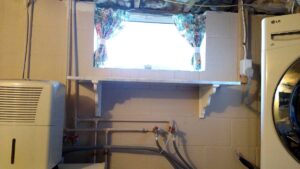 And now I have a pretty, cheerful spot nearby while I am doing laundry.
AFTER!!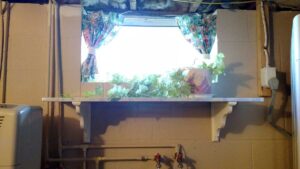 You can find some of the supplies here:
Zinsser Bulls Eye 1-2-3 Primer Gallon, Gray
* (I used white)
Purdy 144152825 Clear Cut Elite Glide Paint Brush, 2.5;
*

SaveSave
SaveSave
SaveSave