Adding Kitchen Cabinets
*This post may contain affiliate links to websites such as Amazon. By purchasing anything from these links, I may receive a small commission at no extra cost to you. More information is available on my Disclosure page. I appreciate your support!
This post is the fifth in my Kitchen Cabinet series. You can find the other posts here, here, here, and here.
Before I can tell you about how I painted my kitchen cabinets and transformed the look of my kitchen, I get to tell you about how I added Three Free upper cabinets! I found them on Craigslist, of course. They were in perfect condition, and even had nicer doors than my cabinets have. It didn't matter what the finish was, since I was going to paint them anyway. The finish did happen to be very close to my original cabinets, though. Did you see that I said they were FREE??!!
Free Cabinets
(*This post may contain affiliate links. By purchasing anything from these links, I may receive a small commission at no cost to you. More information is available on my Disclosure page.)
Refer back to the first post to remind yourself how very few cabinets my kitchen had. Then you will see why I wanted to add some more cabinets. Also, I try to think of the best ways to use every square inch. That includes not wasting any vertical space.
Right Wall Before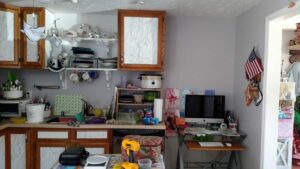 The first free cabinet went up in the corner. I wanted it there to hold and hide the computer printer. The kitchen is the best place for our computer, since we do not have an extra room for an office. I know that older homes often put a lower counter top and a desk area… and I can see why! Maybe one day we can redo our countertop to include the desk area.
The second cabinet went right beside the corner cabinet, with just a one inch gap left between the cabinets. I filled that gap myself, but I wish that I had done it differently– so I am not going to show you how I did it! I can't even call it a Pinterest fail, because it belongs entirely to me!
Right Wall After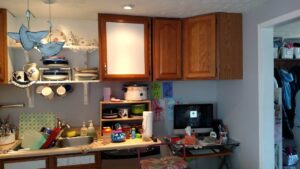 You may remember the fridge in the picture below? Well, I decided to move it to the opposite wall. That was its third and final home. That adventure will be told in another post…. but for now, just know that I had moved the refrigerator.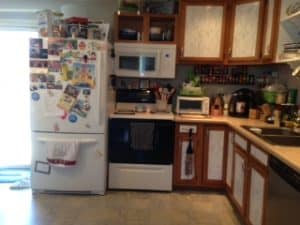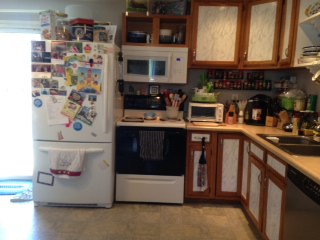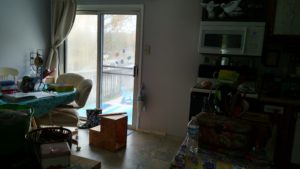 I had bought a baker's cabinet on wheels and used it for extra counter space. And I really did put baking supplies in it. It is nice to have them all in one spot. At first, I used the baker's cabinet for a very small kitchen island. Eventually I decided to put it to the left of the microwave, and to use it as a coffee station.
Left Wall Before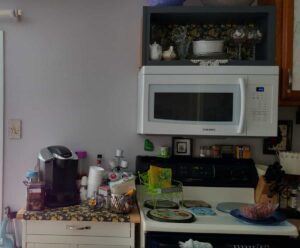 Wasted vertical space bothers me, so I knew exactly where to put the third upper cabinet! I brought it in and set it on the floor, so that my husband could see that I was ready for it to go on the wall. I even measured for wall studs, and started screws in the cabinet where I thought they would go.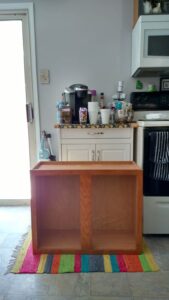 It sat like that for several weeks…. I like to do things myself if I can, but that cabinet was heavy. I figured it was a two person job at least. And then I thought of a way that I could put it up by myself. I used another cabinet and shims to hold it at just the right height while I put the screws in.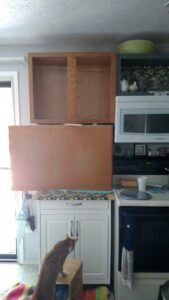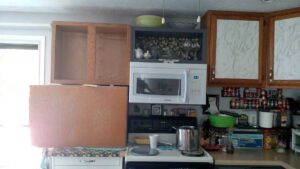 I even used a level!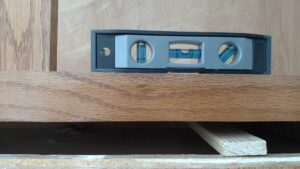 And ta-da! It didn't fall off when I moved the supporting cabinet. And it didn't fall off when I put things in it. It is still up there and I am so happy about that!
AFTER!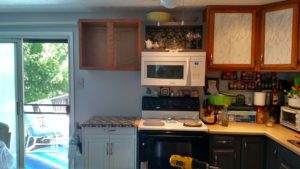 For awhile I thought that if I put that upper cabinet next to the patio door, that I or others might bump their head on it, but so far there have been no problems.
I am sooo thankful for the added storage that my three cabinets give me. Have you ever thought about adding more cabinets to your kitchen?
SaveSave
SaveSave
SaveSave
SaveSave
SaveSave
SaveSave