Blueberry Cream Cheese Spread
This post contains links to affiliate websites, such as Amazon, and we receive an affiliate commission for any purchases made by you using these links. We appreciate your support!
Have you ever made your own blueberry cream cheese spread? Until a few weeks ago, I had never thought to try it. I was amazed how easy it is!! You can buy it already made for about $3 for 8 ounces. Or, you can make it yourself for about half the price!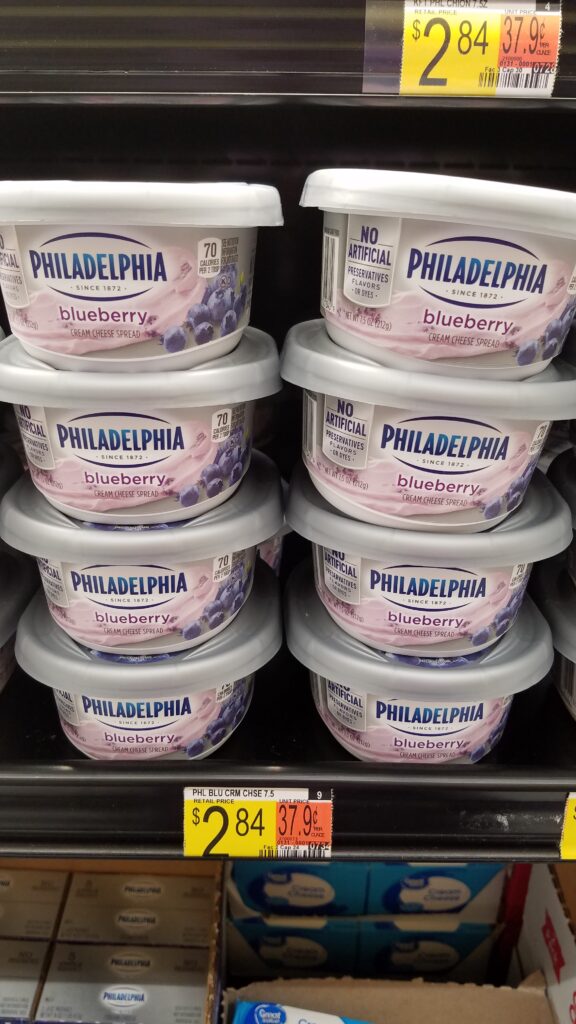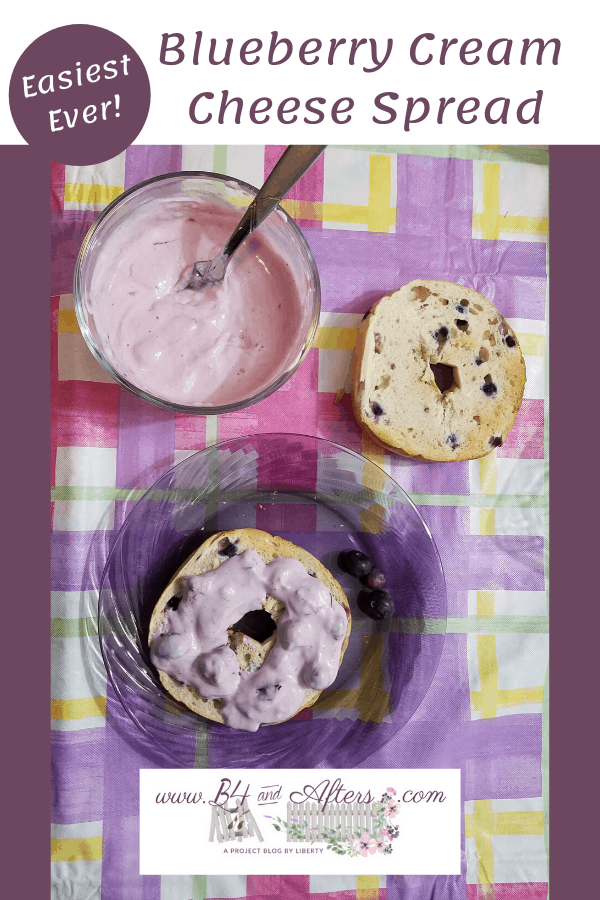 Can you use Frozen Blueberries?
I had fresh blueberries. I suppose you could just as easily use frozen blueberries, although I haven't tried that yet. I put a handful of blueberries into a glass microwavable bowl.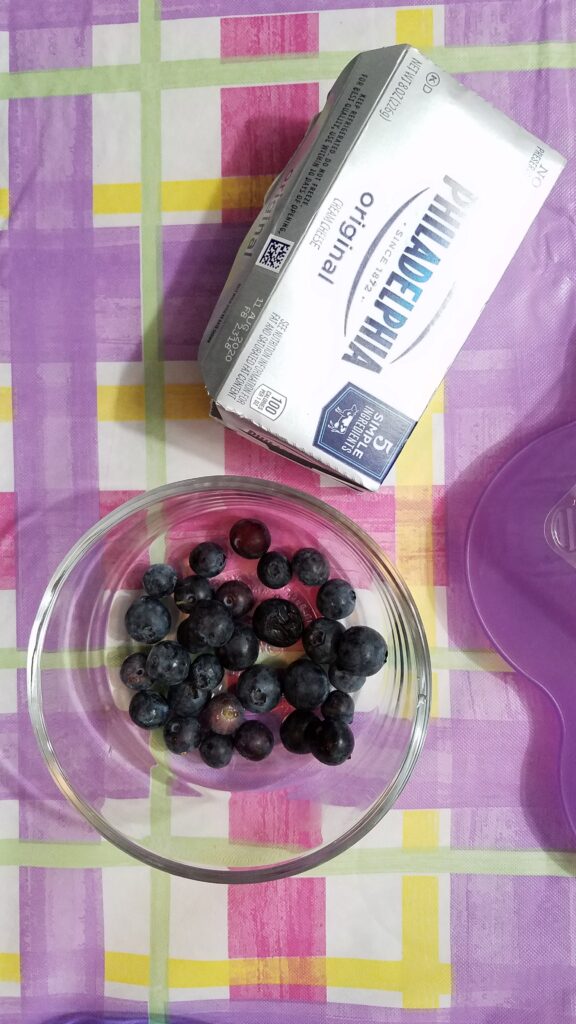 What kind of Cream Cheese should I use for blueberry spread?
My favorite cream cheese is Philadelphia Cream Cheese. It just seems to be the creamiest, and best quality. But when the price is high, or not on sale, I will get the store brand instead. I think after adding the blueberries it's harder to tell if you used the name brand cream cheese or not.
Then I cut my cream cheese brick in half, using only 4 ounces, and added it to the glass bowl.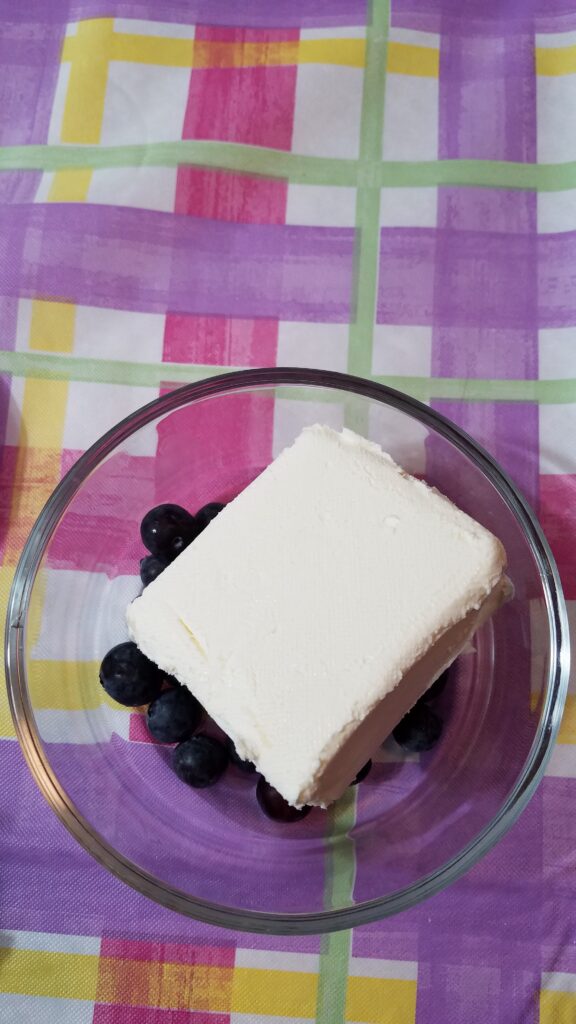 I had blueberry bagels, which I like to eat toasted with butter on them. But in this case…. I was making blueberry cream cheese spread! Microwave the cream cheese and blueberries for 20-30 seconds.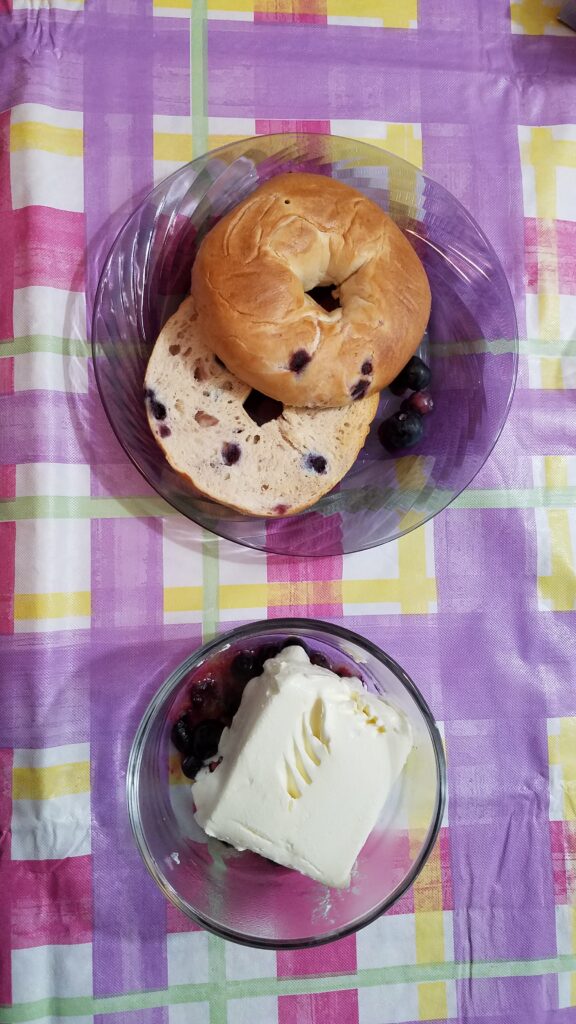 Then start stirring and mashing the blueberries with a fork! Because you microwaved them, they will be squishy and liquid-y. They will be sooo easy to mash up! Who knew?!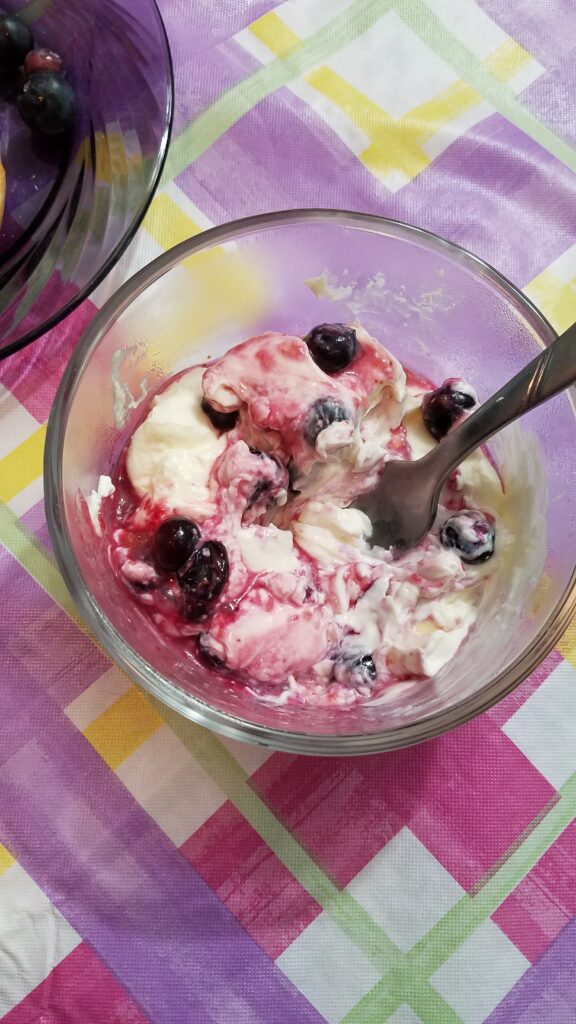 Leave as many lumpy blueberries as you like, or keep mashing. The cream cheese will turn a lovely shade of lavender purple.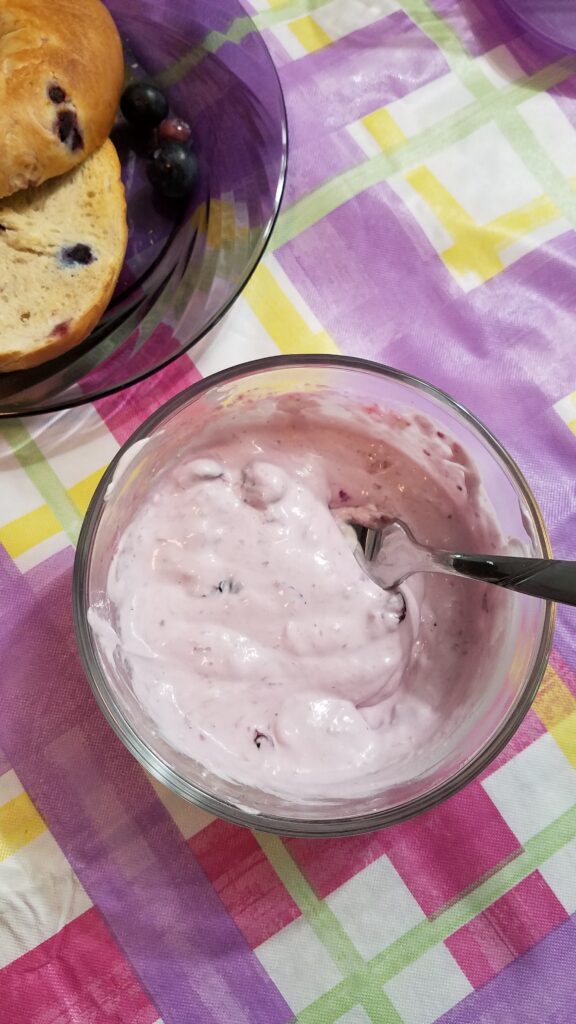 Then put the cream cheese spread on your bagel, or use crackers or plain toast. It will be a tad runny while it is warm. In fact, it is just as good as a blueberry cream cheese dip, as it is as a spread. Put the leftovers in the fridge and it will get firmer, but still be very spreadable! Whether you call it a dip or a spread, it tastes just the same!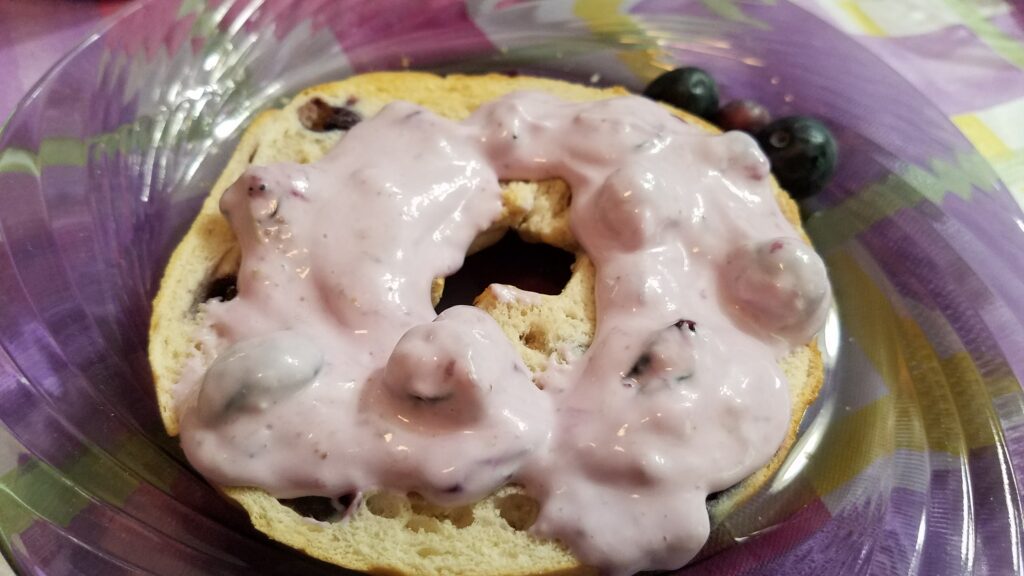 You could probably use this same method to add strawberries, or peaches, or whatever fruit you like. Somehow adding fruit makes me feel like eating the cream cheese is healthier!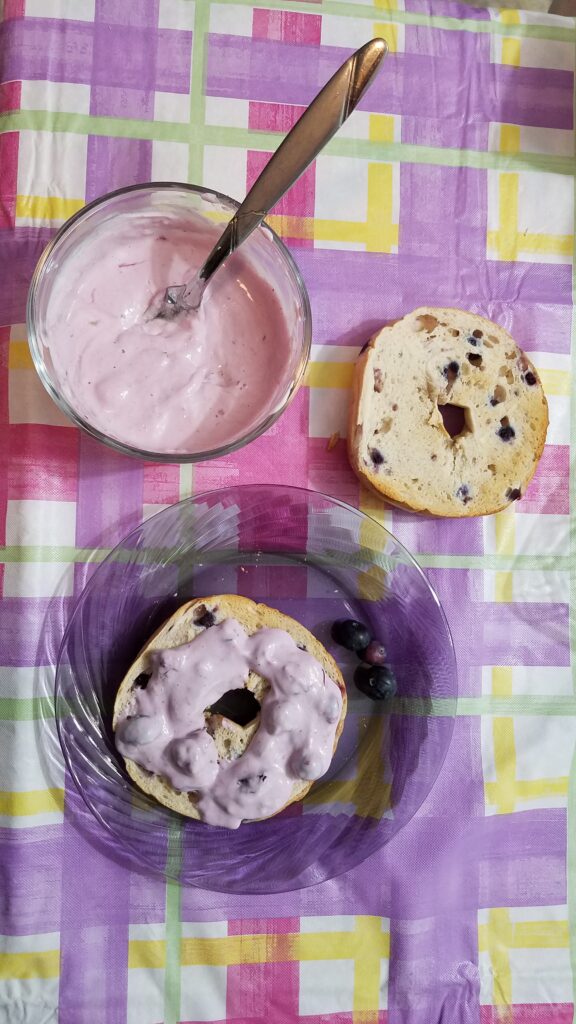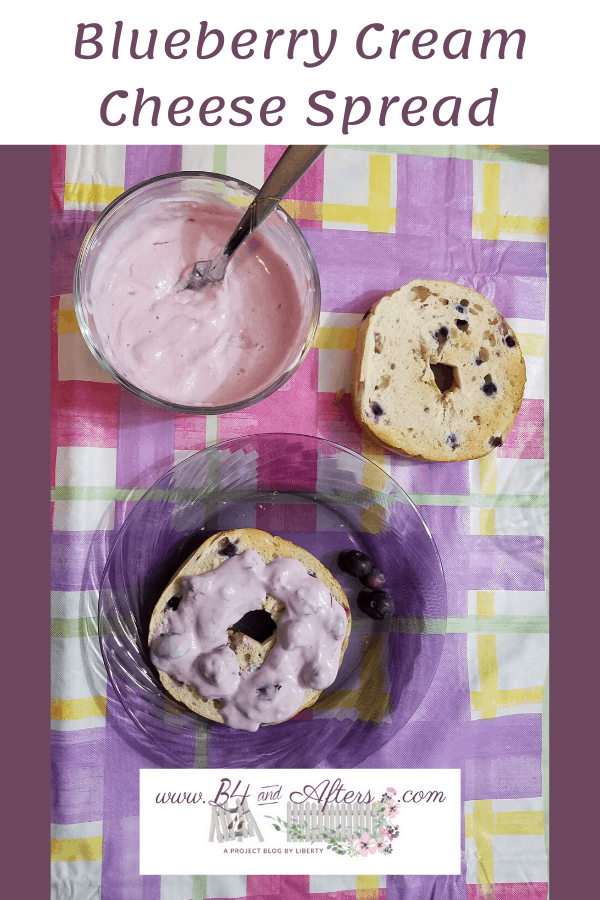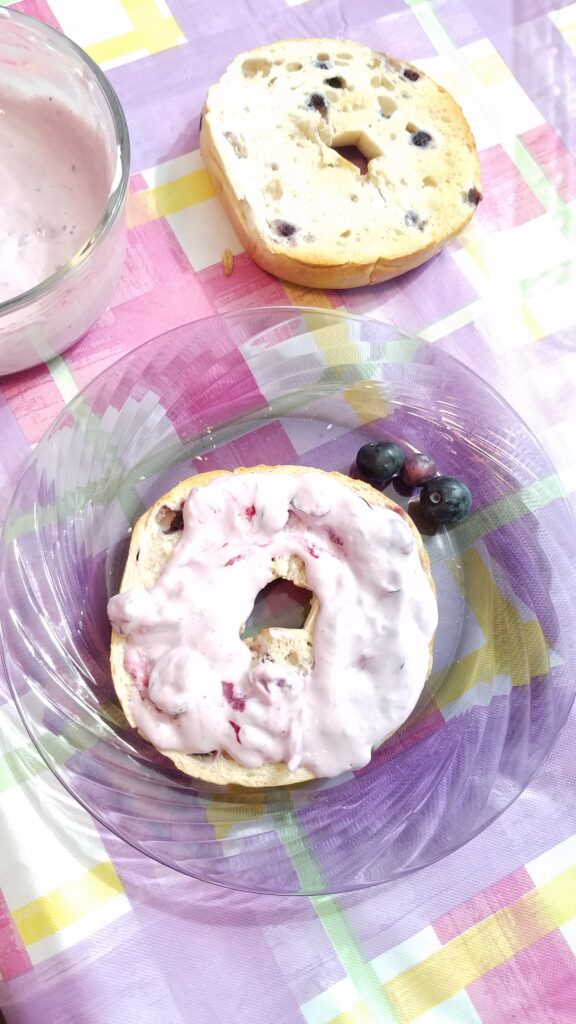 Blueberry Cream Cheese Spread by Liberty from B4andAfters.com
1/2 c. fresh blueberries
4 ounces cream cheese
Microwave together for 20-30 seconds in microwavable glass dish. Mash blueberries with fork, mixing into cream cheese until thoroughly combined. Use spread while warm, or after refrigerating several hours.