(*This post may contain affiliate links. By purchasing anything from these links, I may receive a small commission at no cost to you. More information is available on my Disclosure page.)
BEFORE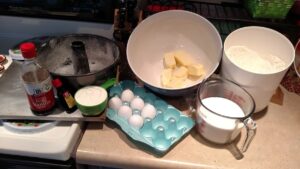 Six Ingredients
There are only six ingredients in this simple and easy to make pound cake. My husband requests that I make this cake for him. He has fond memories of his step-grandma serving him this cake, along with a whole lot of other food. But this is the only recipe of hers that I have. She was accustomed to people asking for the recipe, and had a copy ready to give to me. Hopefully, keeping it in my book will keep it from fading too much.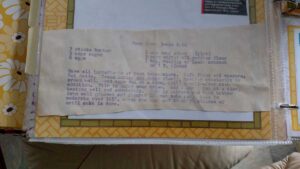 After all of the ingredients are at room temperature, cream the butter and sugar.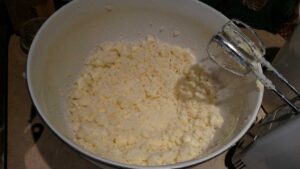 Add the eggs one at a time, and beat well after each addition.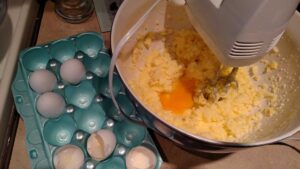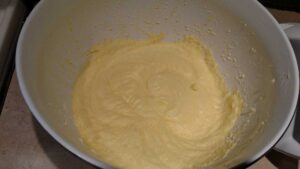 Stir in the sour cream. Add the flour 1/2 of a cup at a time, beating well. Then stir in the vanilla, lemon, or almond extract. (Sometimes I use vanilla and lemon.) I think at the time I made this cake, I didn't realize how much vanilla extract had recently gone up in price. So it's really nice that you can make a great tasting cake using lemon or almond extract instead. I think I prefer lemon.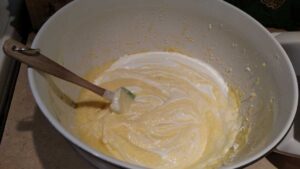 Pour it into a well greased and floured tube pan.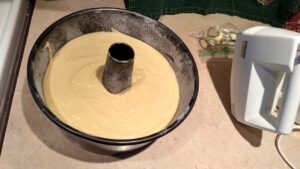 Use a Cookie Sheet Underneath
Bake at 325 degrees for an hour and a half or more until done. Put a cookie sheet under your pan in case it leaks. I usually do and don't have any problems— but this time I didn't put one underneath and the cake batter leaked out. That must be why I usually don't have any problems– because of the cookie sheet underneath.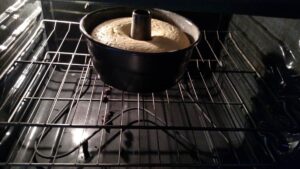 The cake will crack— don't worry– that makes it look pretty!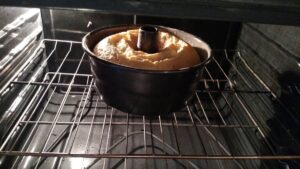 Let it cool.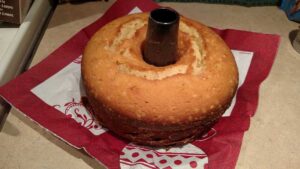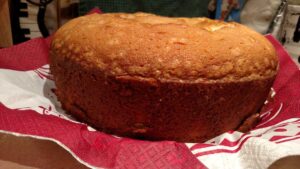 My husband likes this cake plain– no frosting needed– although a glaze would probably be delicious.
AFTER!!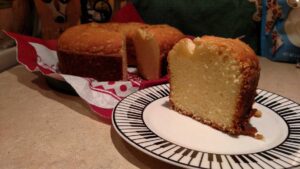 In the picture below, you can see that the top part of the cake slice is not quite done. I could have cooked it longer. It is a little tricky telling when this cake is done. Perhaps I should try cooking it at a higher temperature sometime.
A Cake That Travels Well
My husband likes his cakes refrigerated– so that's what happens to this one. It tastes good warm or cold. It is sturdy enough to grab and eat on the run– no need for a plate and fork if you don't want to…. It also packs well in a lunch to go.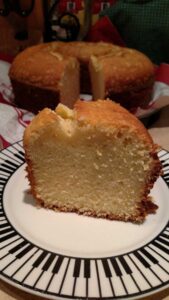 SaveSave
SaveSave
SaveSave
SaveSave
SaveSave
SaveSave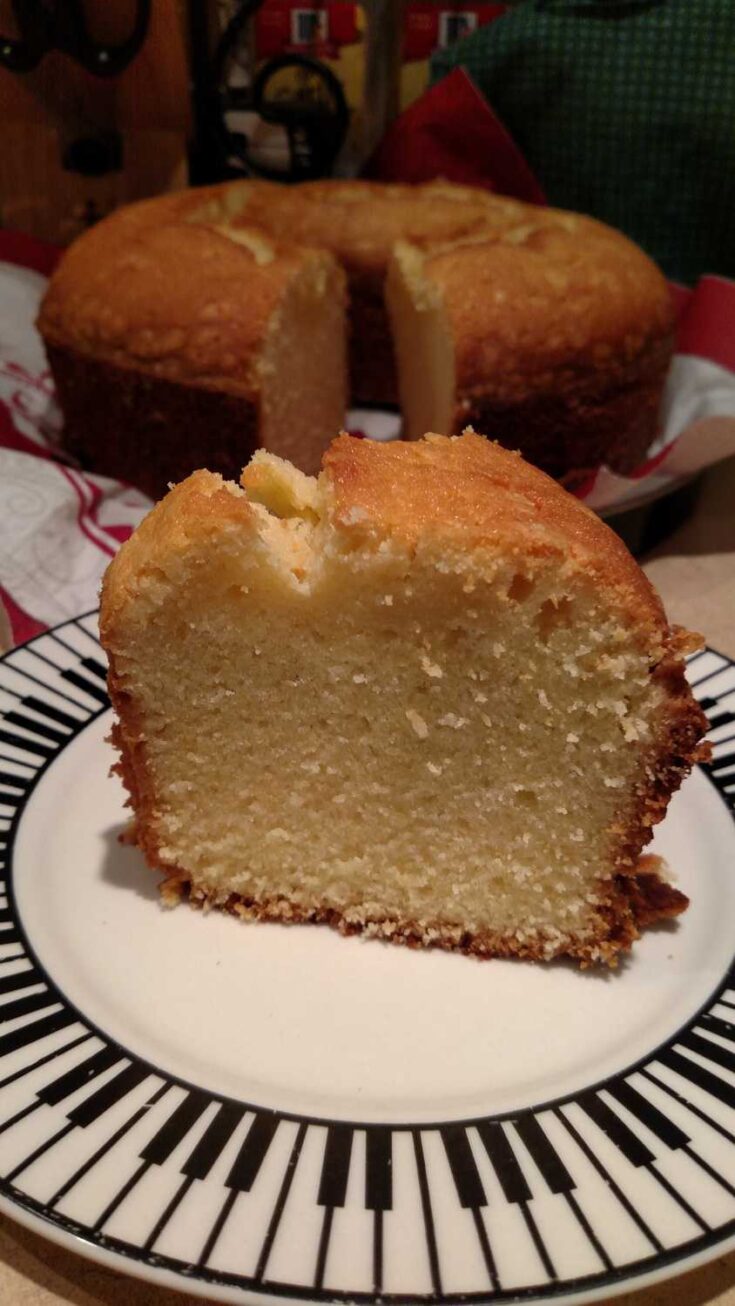 Yield:

25 servings
Grandma's Pound Cake
Cook Time:
1 hour
30 minutes
Additional Time:
20 minutes
Total Time:
2 hours
20 minutes
This old fashioned sour cream pound cake recipe is my husband's favorite. Try this recipe if you like a dense cake of good quality.
Ingredients
3 sticks butter
3 c. sugar
6 eggs
1 c. sour cream
3 c. flour
1 tsp. vanilla or lemon extract, or 1 T. almond extract
Instructions
Let first 4 ingredients get to room temperature.

Cream butter and sugar slowly, beating constantly to cream well.

Add eggs one at a time, beating well after each addition.

Stir in sour cream.

Add flour ½ c. at a time, beating well.

Stir in extract.

Pour batter into a well-greased and floured 10-inch tube pan.

Bake at 325 degrees for one hour and 30 min. or until done.

Let cool for at least 20 minutes before serving.