When I found this ribbon yarn on sale, I could not resist buying some.
(*This post may contain affiliate links. By purchasing anything from these links, I may receive a small commission at no extra cost to you. More information is available on my
Disclosure
page.)
Then I looked on YouTube to see how to turn it into a scarf. It turned out to be pretty simple, and the scarves work up quickly. So I went back to the store and bought more.
Here is the YouTube video I watched in order to learn how to make these scarves. They use five stitches across, but I liked the bit wider look of 6 stitches across so that is what I used.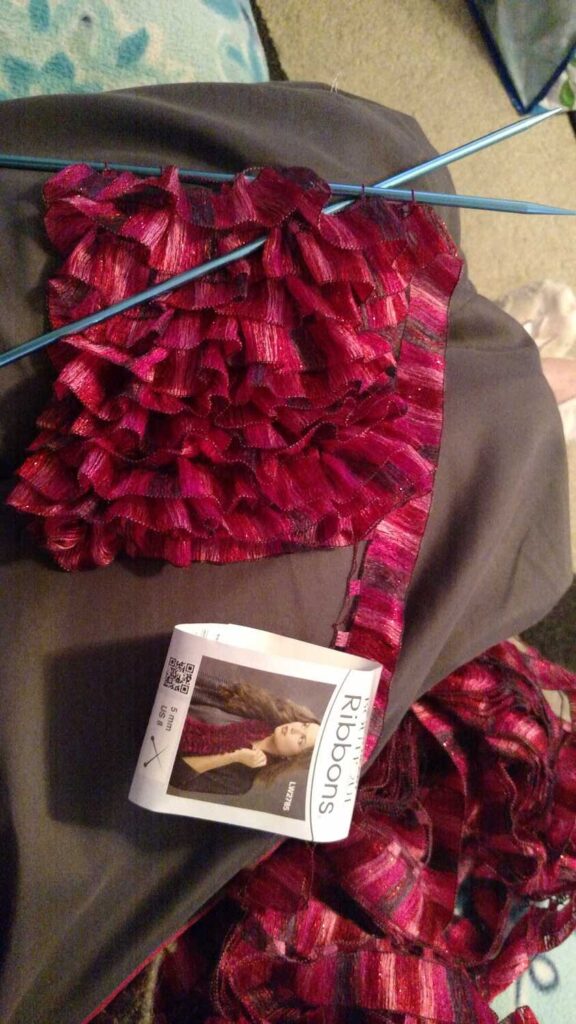 There were three colors of yarn: Pink, Black with Silver, and Brown with Green. All three colors have metallic thread in them– giving them just a little bit of sparkle.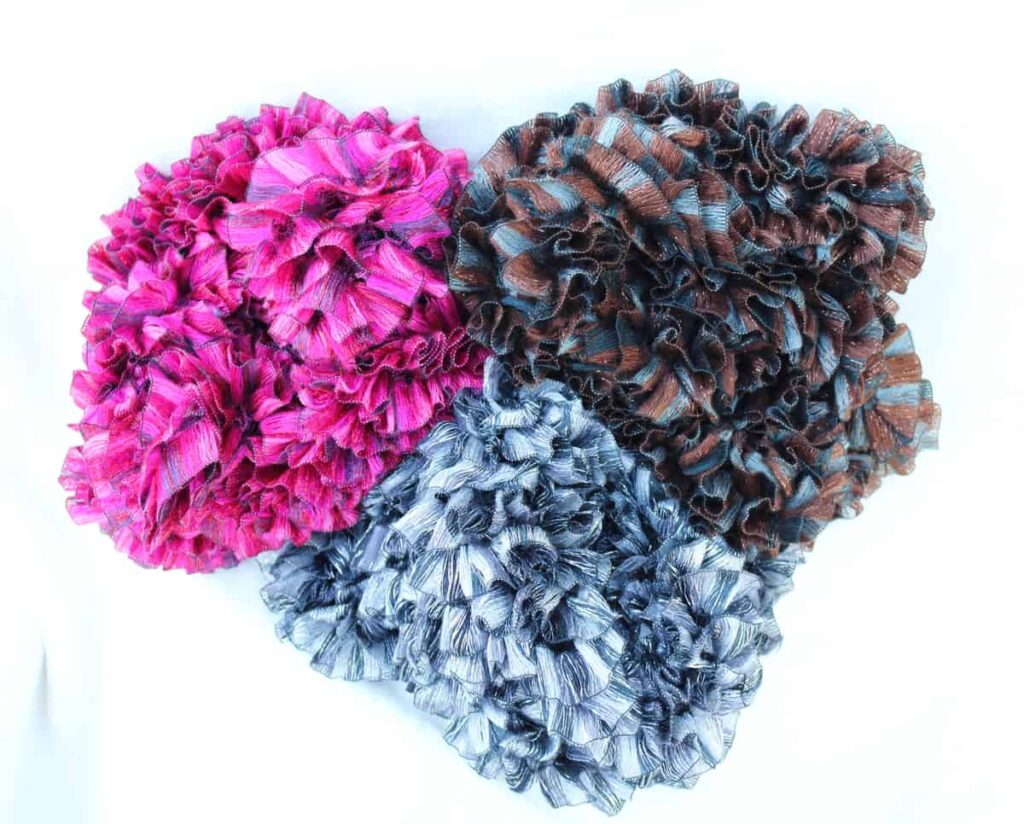 Here is a video of me finishing a Black with Silver scarf:
I like all of them, but I might like the Brown and Green the best. Or maybe the Pink. Except I do not look good in pink. (These photographs were taken indoors and make the pink scarf look more reddish.)
Here is the Brown and Green one all finished. It takes just one skein of yarn to make one scarf. I tried different ways to try to get a good picture for you:
Sometimes a knitted scarf will get stretched and twisted after you wear it awhile. I made a video to show you how to easily untwist and fluff your scarf back to normal when this happens.
I cannot pose stylishly to save my life. But here is a green and black sweater dress I have that goes well with the Brown and Green scarf. It is a pine green– a darker green that also has some sage light green in it. Or does the scarf only have sage, brown, and black? It is a little hard to tell.
I do like when fall comes and I can wear sweaters and other cozy pieces. This is a cozy outfit that I wore to church. I can also wear it to teach piano lessons or to the office.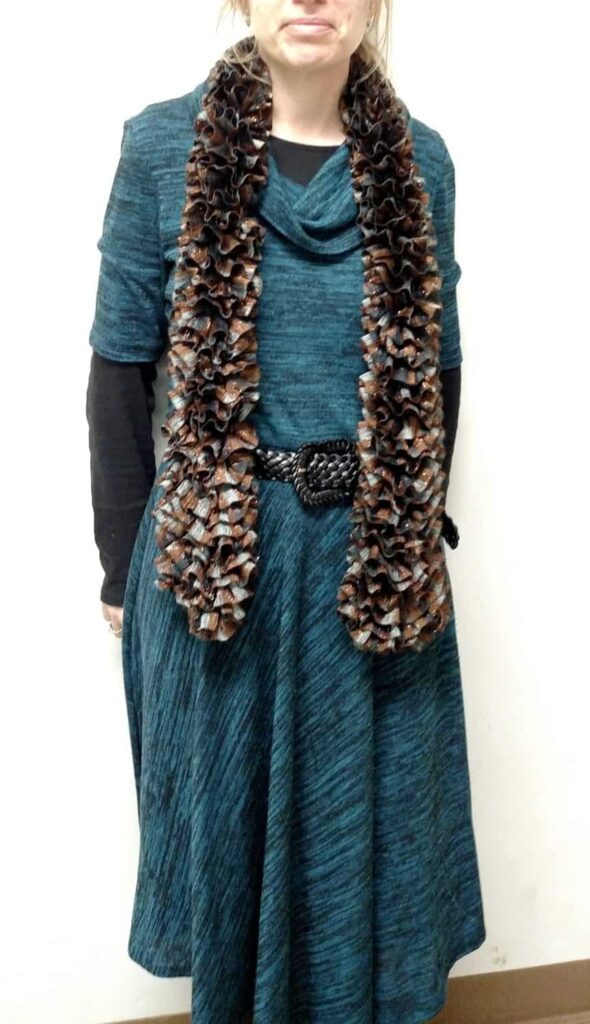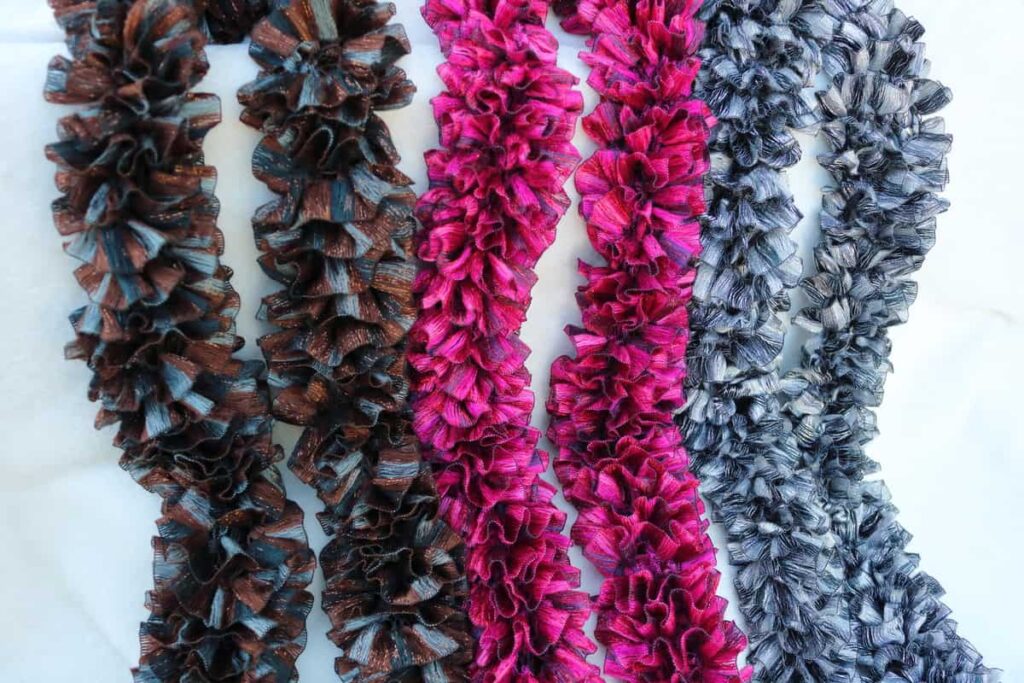 Mica from Away From The Blue participated with me in a Hand Knitted Scarf Giveaway (now finished)!!
Here is Mica wearing the Pink Scarf: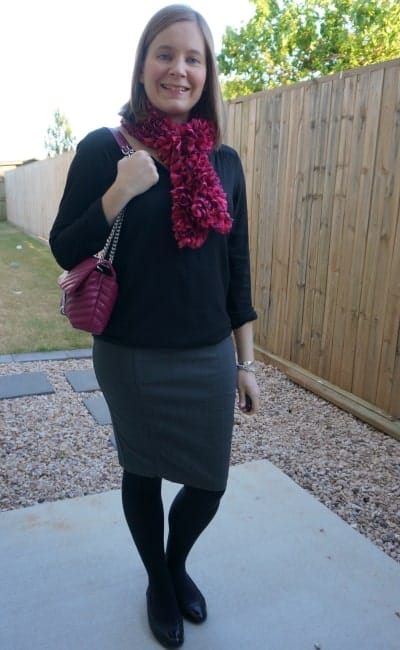 We would love it if you would Share and Pin!
What about you? Do you wear scarves very often?