Grand Piano Cake
*This post may contain affiliate links to websites such as Amazon. By purchasing anything from these links, I may receive a small commission at no extra cost to you. More information is available on my Disclosure page. I appreciate your support!
This was my first time making a Grand Piano Cake! I have played the piano for 34 years. When I found a vintage Wilton piano cake set on Etsy, I purchased it. But I didn't make the cake for several years. I was too busy making birthday cakes for my family! And then, my daughter said she would like a piano cake for her birthday! I was so excited…. : ).
Keep reading for all my best tips and tricks for making a gorgeous grand piano cake!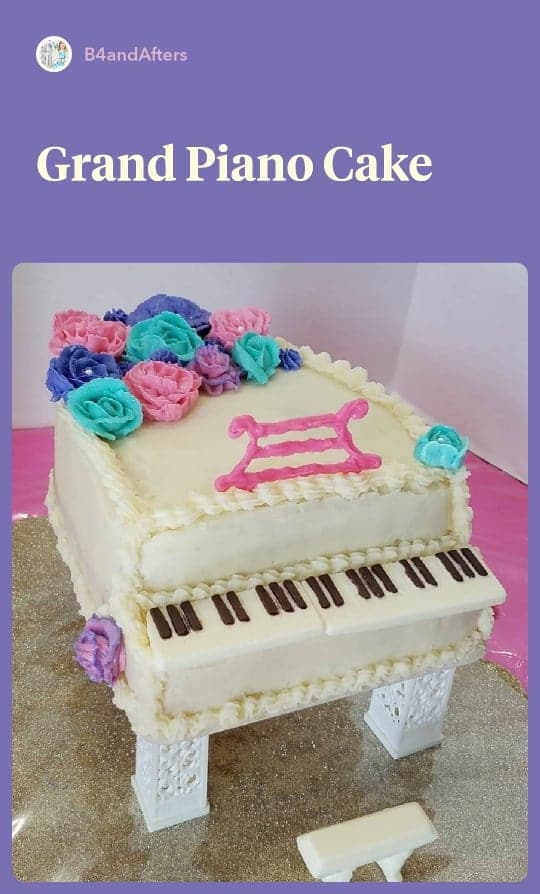 What does a piano keyboard look like?
One of my biggest pet peeves is when I see someone's creation of a piano, and I notice that they did not make the pattern of black and white keys accurately. In case you need to know, the pattern of the keys is NOT black, white, black, white. If you look closely, you will see a set of 8 white piano keys, with 5 black keys nestled among them in a certain way. Two black keys are grouped together, then 2 white keys, then a set of 3 black keys. Do you see the pattern? It continues to alternate in that way– 3 black, 2 black, 3 black, 2 black… for a total of 88 black and white keys on a full sized piano keyboard.
I realize that a cake baker may not be musical… but all it takes is a little attention to detail. : ) Even beginners who play the piano sometimes have a hard time when asked to repeat the black and white key pattern from memory. My advice is to find an image of a piano, and copy it– do not rely on what you think it looks like in your memory.
My Plan
Use Wilton grand piano cake pans or cut cakes to same shape.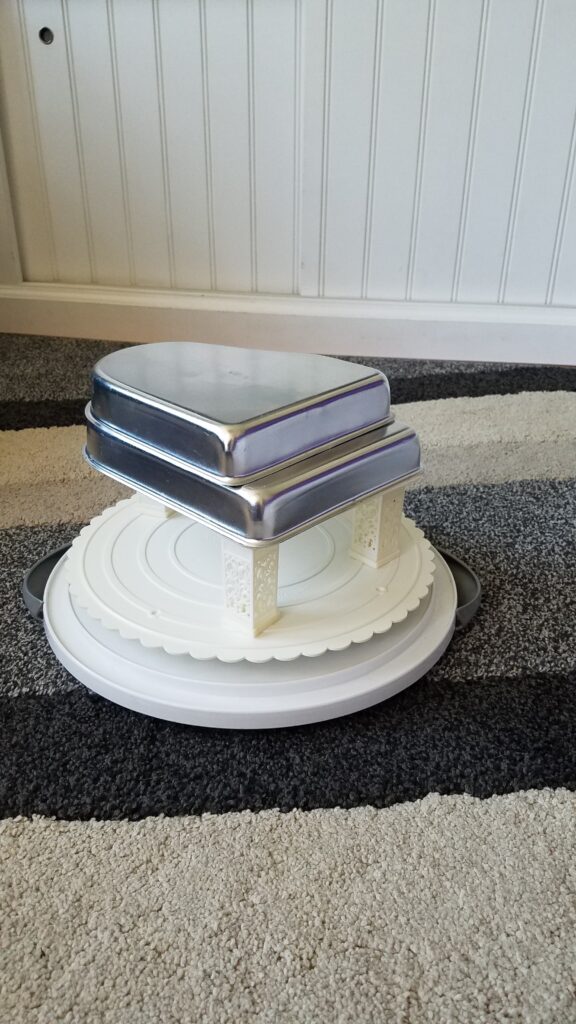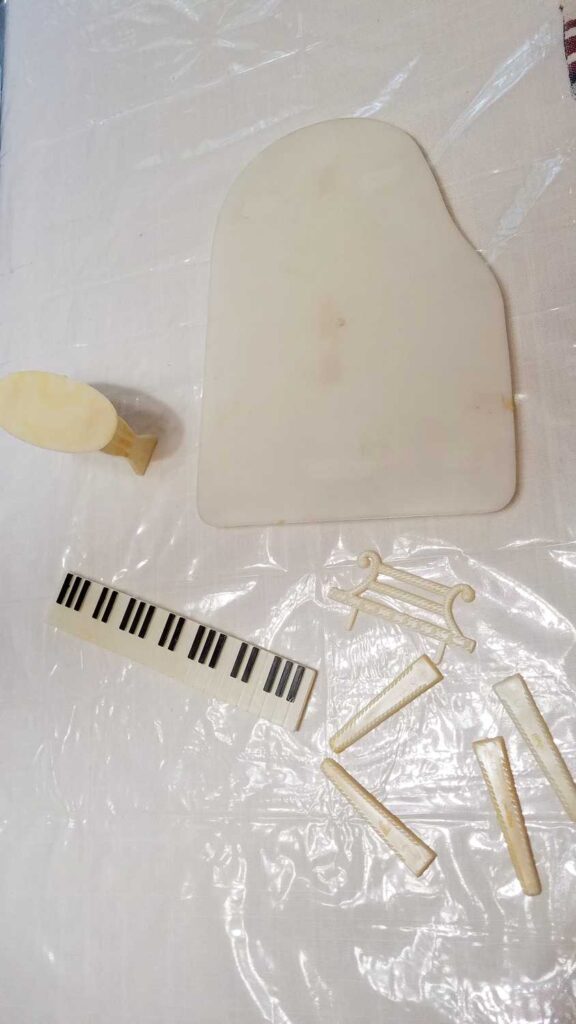 Make chocolate keyboard in advance. First add dark chocolate to mold, then white chocolate. Make two keyboards.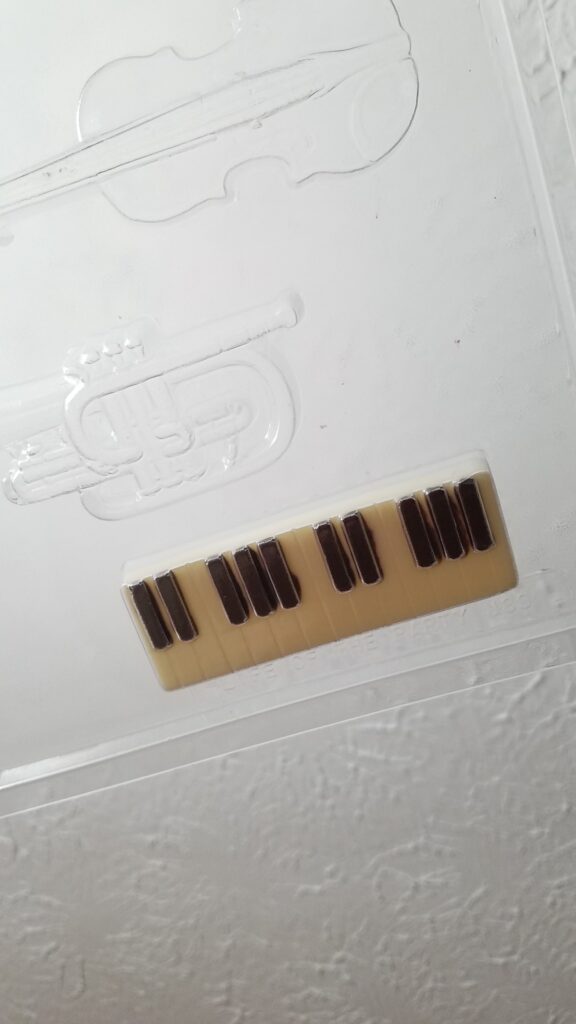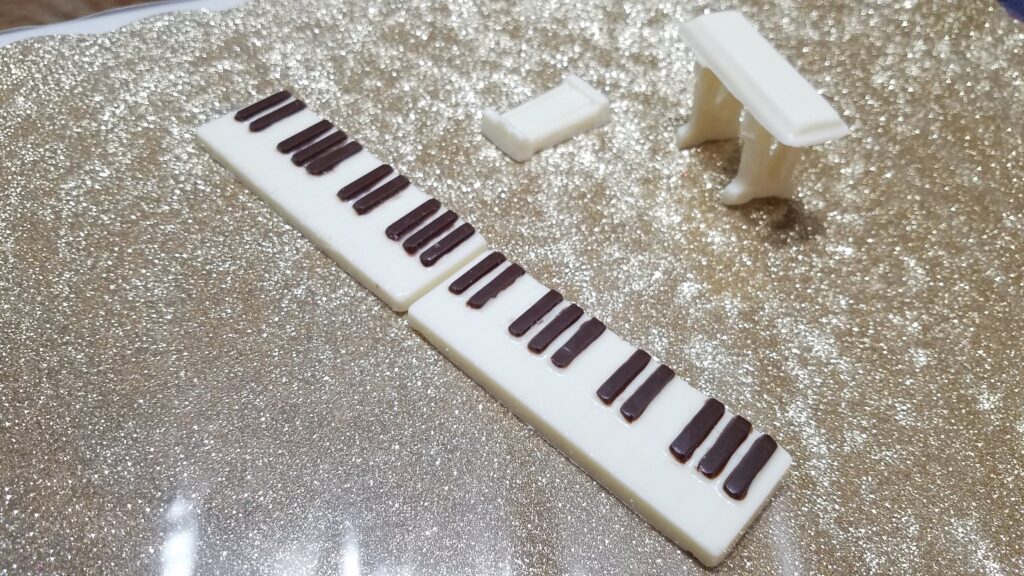 Make the bench using a chocolate mold.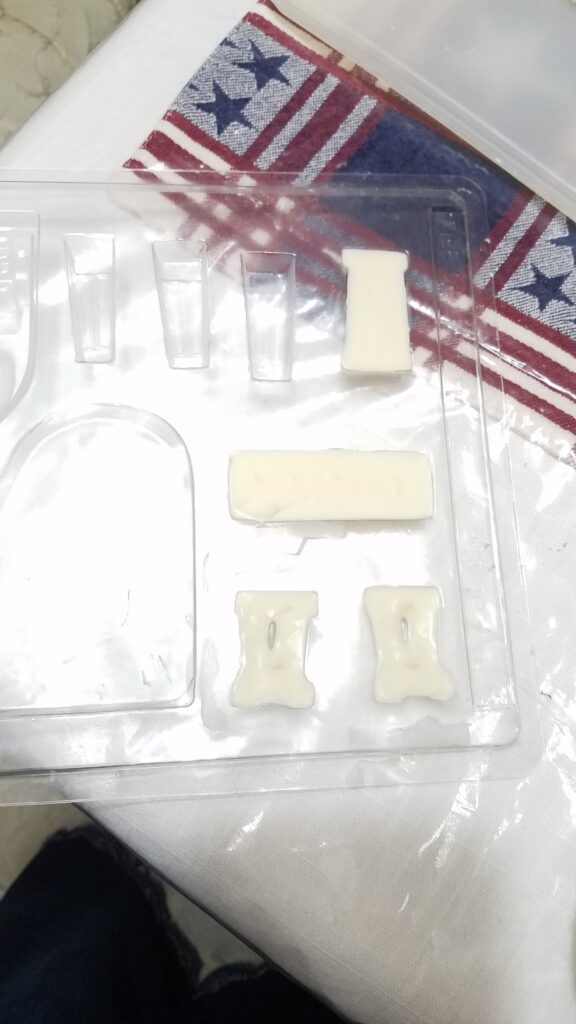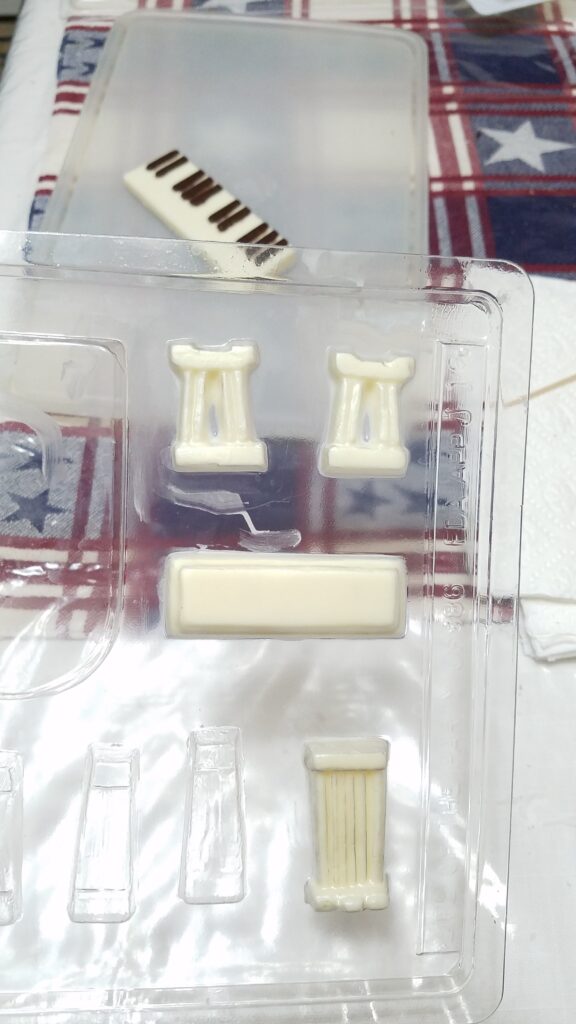 Assemble the bench and "glue" it together with melted white chocolate.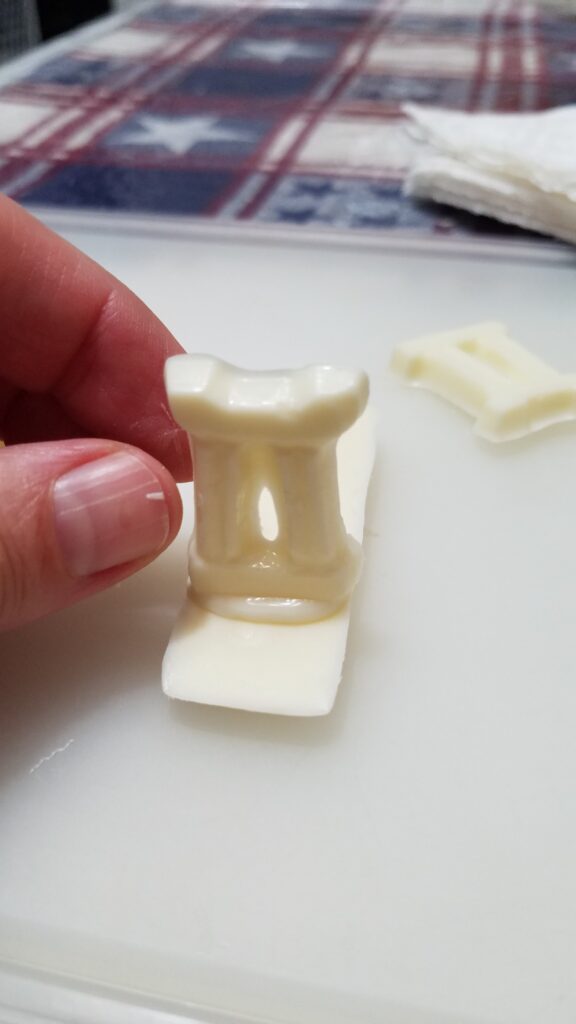 Make frosting flowers ahead of time (more details at the end of this post). It's okay if they harden a little. Set them aside until ready to use.
for more details!!
(The flowers have edible glitter!!)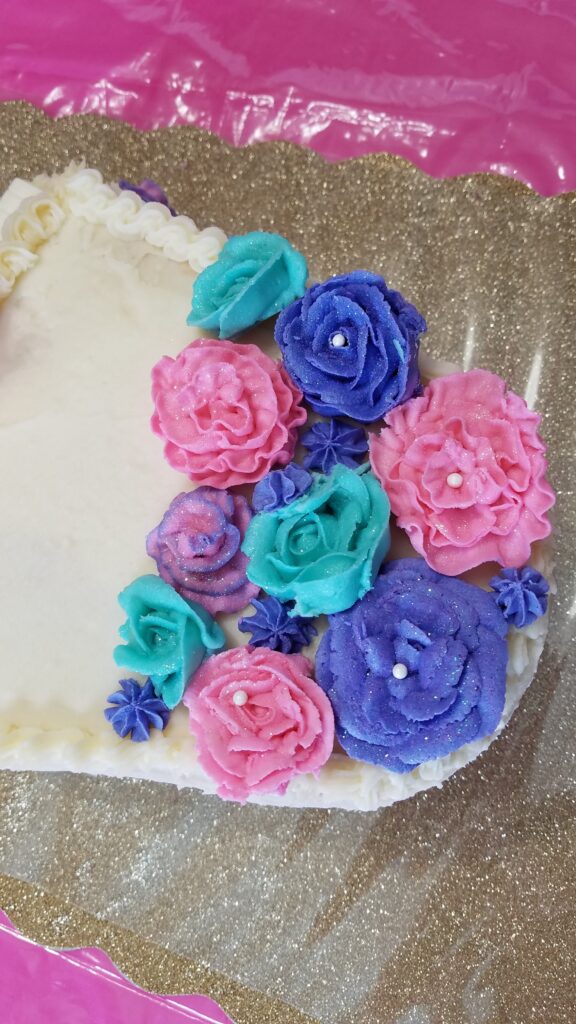 Squeeze pink colored chocolate over wax paper in the shape of the music holder. It helps to have a plastic or printed music holder under the wax paper to trace!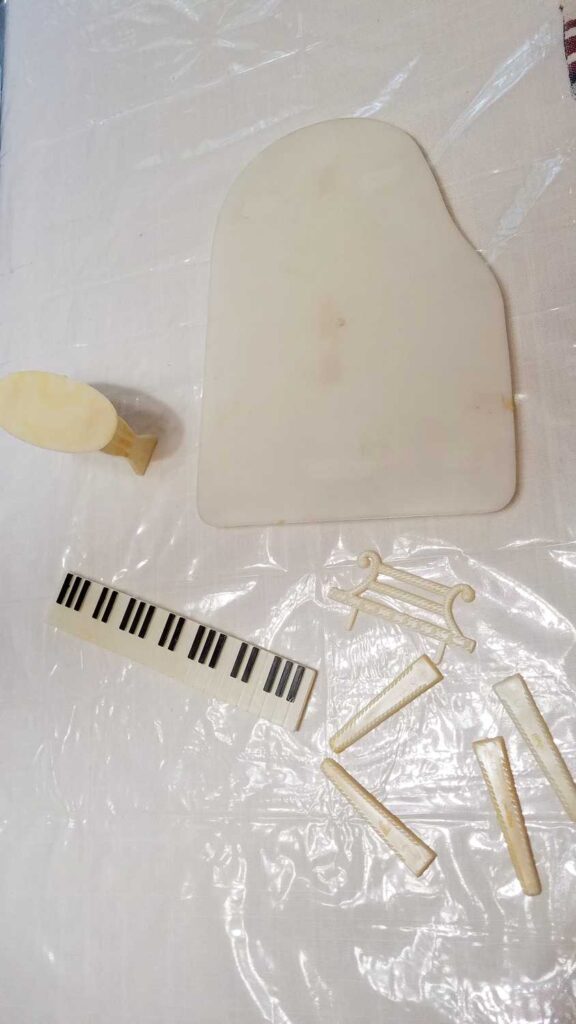 Bake the cake and put frosting between the two cake layers.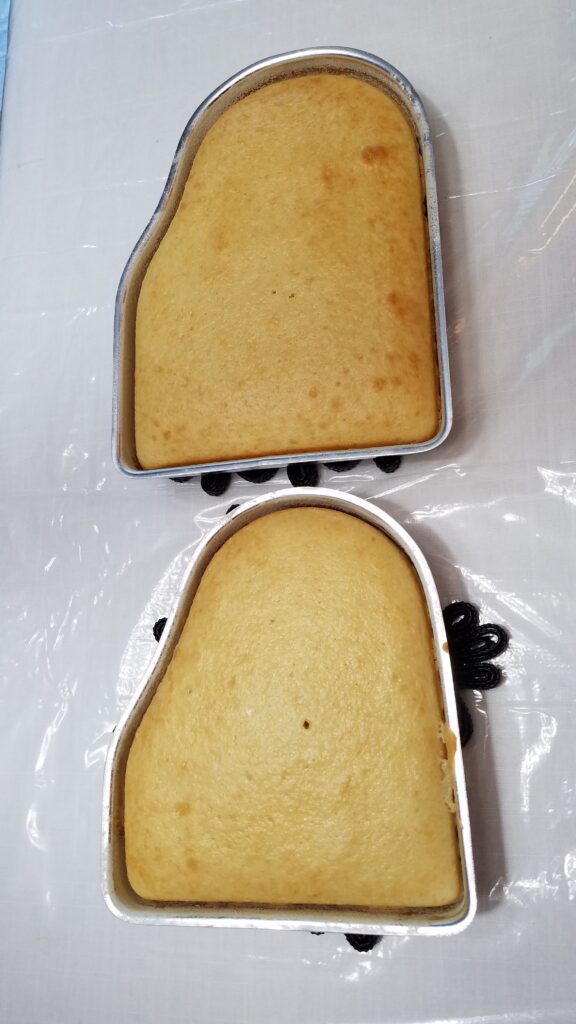 Frosting Recipe
1 lb. butter
8 oz. cream cheese
21 oz powdered sugar (approximately)
1 TBLSP vanilla
1 TBLSP milk
Directions: Use a mixer to beat butter and cream cheese together. Add powdered sugar and mix some more. Add vanilla and milk and beat until smooth and creamy. Add food color if desired.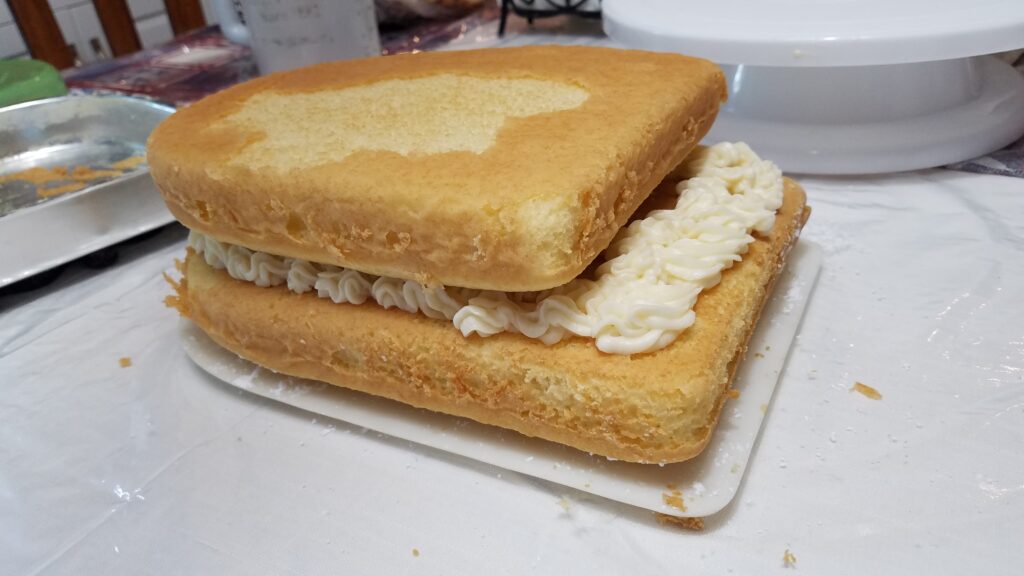 Crumb coat the cake, then refrigerate it.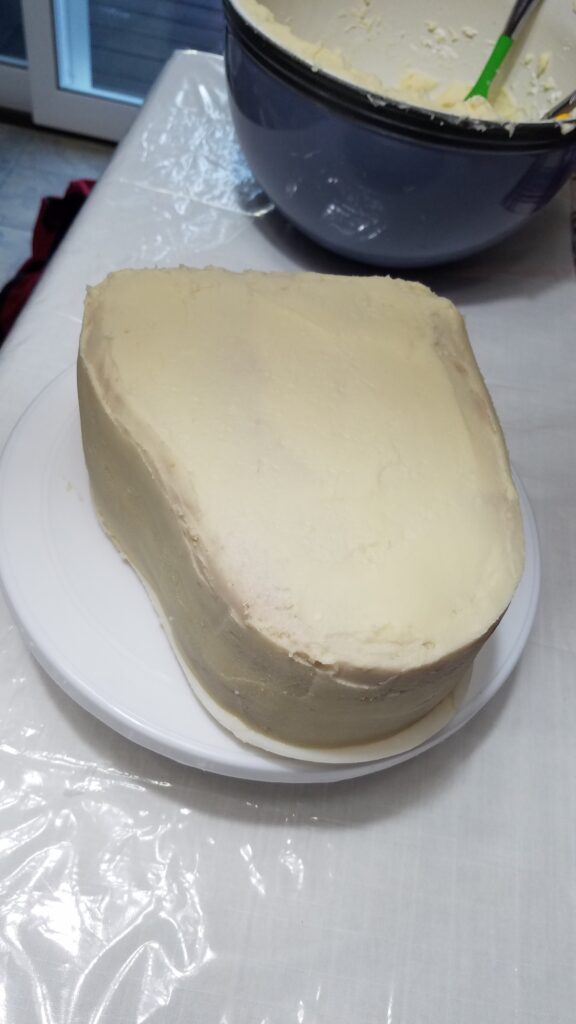 Put a shell edging around the edges.
Add the chocolate keyboards and music holder.
Arrange and attach the flowers.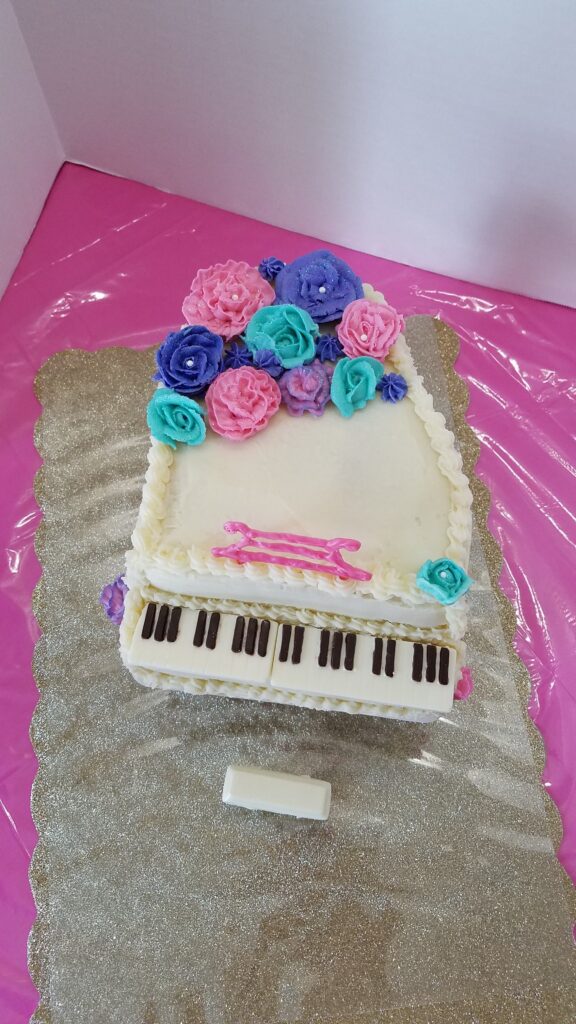 Grand piano cake… finished! It's actually easier than you might expect! If you have 3 pillars to use for the legs, use them. If you don't– you could make the cake another layer higher so the bench looks right.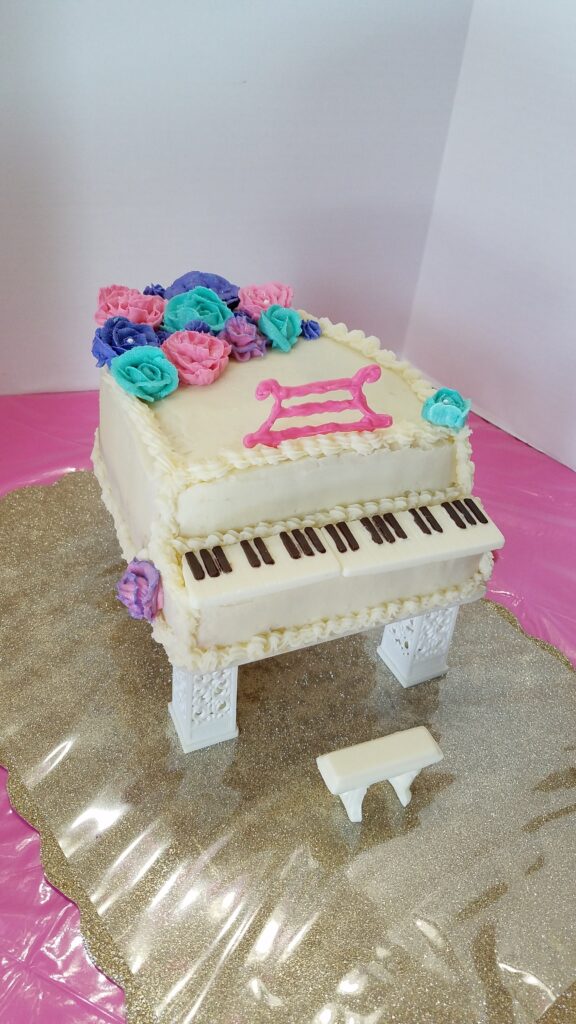 More Details and Tips on How to make a beautiful Grand Piano Cake
Guess what. Of all the birthday cakes I have made, I had never made one that used flowers! So these are the first frosting flowers I made. I was surprised how easy they are! I watched a couple of videos, and that greatly helped my learning curve (as it always does).
When I made the chocolate keyboards, the brown chocolate overflowed onto the white keys a little bit. To fix that, after the chocolate hardened, I used a toothpick to gently scrape off the brown chocolate off of the white chocolate.
And… I must confess, in case you did not notice, that the mold I used to make the bench is out of scale/ proportion. The bench is too small for the cake. I suppose it would be easy to make a simple rectangle shaped cake for the bench in order to make a bench that fit the size of the cake better, or even for a bench that you wanted to be sturdy enough to hold a figure, or frosting flowers.
In order to duplicate the music holder, I placed wax paper over the plastic one. Then I piped pink melted chocolate over top of it, tracing it. I let it harden, and it was a chocolate copy of the plastic one!
Edible pink glitter is tricky to photograph. In real life, the effect it has is AMAZING! It makes everything look so much more special. Even though a small amount is expensive, it lasts a long time.
I used small white edible pearls for some of the centers of my flowers.
Here is a list of some of the special supplies you will need to make a beautiful grand piano cake.
*Please Note: You don't need to have the cake shaped pans. You can cut out the shape from a rectangle. You will need two shapes, with one about 2 or 3 inches longer than the other for the keyboard/ bottom.
*Also Note: You see in my pictures some half pipe tubes where my frosting flowers (that I made using a "flower nail") are drying in a cupped shape. They were given to me by a former neighbor. I finally found out that they are called "flower formers." You will find them in the list below, or you can make your own by cutting a cardboard tube in half lengthwise.
Piano Cake supplies
These are some of the supplies you will need to make a cake that looks like a grand piano.
Photo Credit: www.etsy.com
Photo Credit: www.etsy.com
Photo Credit: www.etsy.com
Photo Credit: www.etsy.com
Wilton Flower Formers (half pipes)
Angled spatulas in various sizes
Cake turntable with angled spatulas
Piping tips, bags, and flower nail.