Introduction
I first made this pie at least ten years ago. I'm not sure why, but I don't make it very often. It was fun to make it for Christmas dessert this year. Maybe I will make it a new tradition. It uses only 7 ingredients when you use a premade pie crust. That's not my first choice, but it sure does save on the time factor!
BEFORE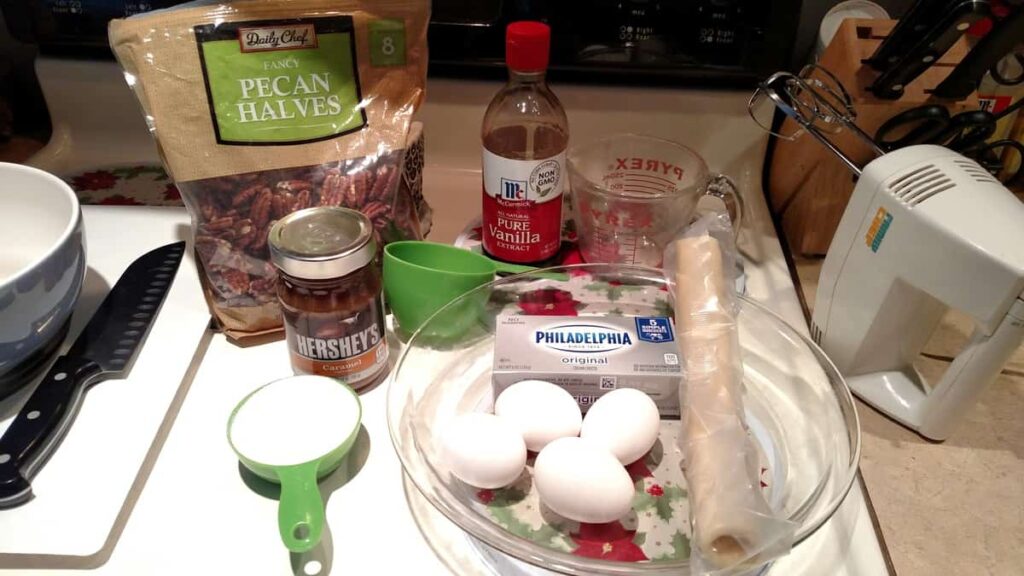 (*This post may contain affiliate links. By purchasing anything from these links, I may receive a small commission at no cost to you. More information is available on my Disclosure page.)
The Process
The pie crust and cream cheese should be at room temperature. You might as well get the eggs out at the same time, too.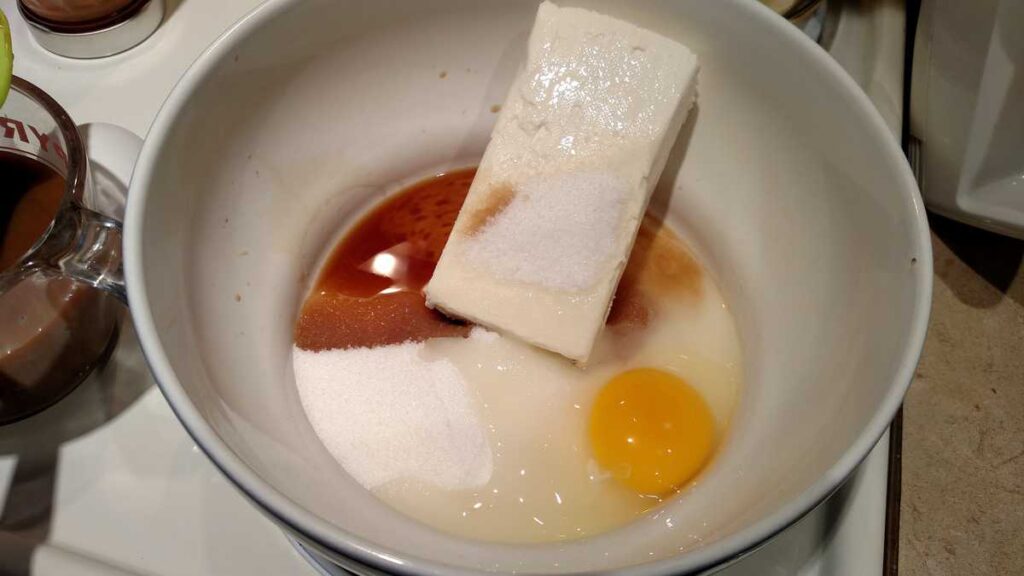 I beat the cream cheese, vanilla, sugar, and one of the eggs with my mixer until smooth.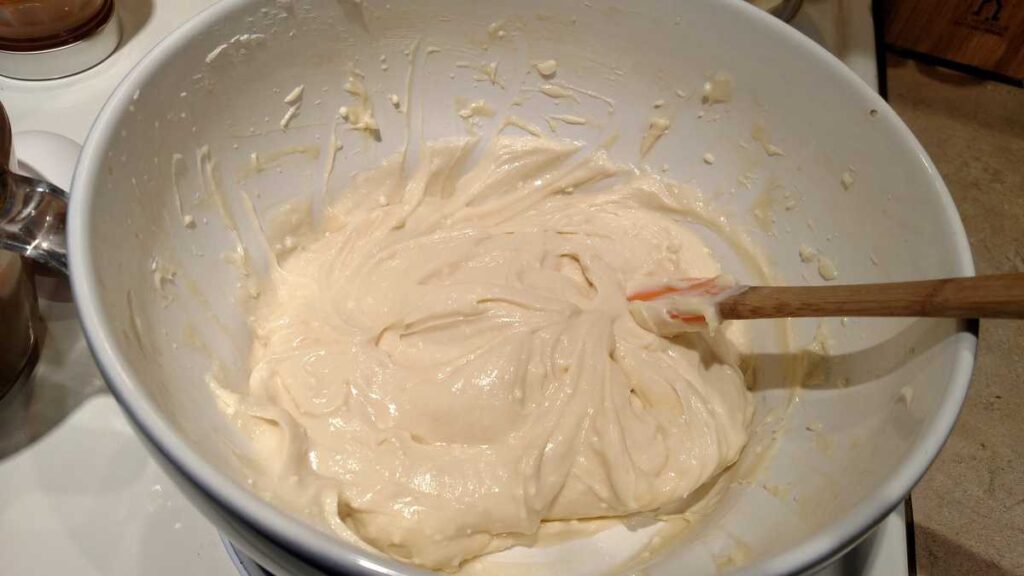 Then spread the cream cheese mixture onto the unbaked pie shell in a 9 inch pie dish.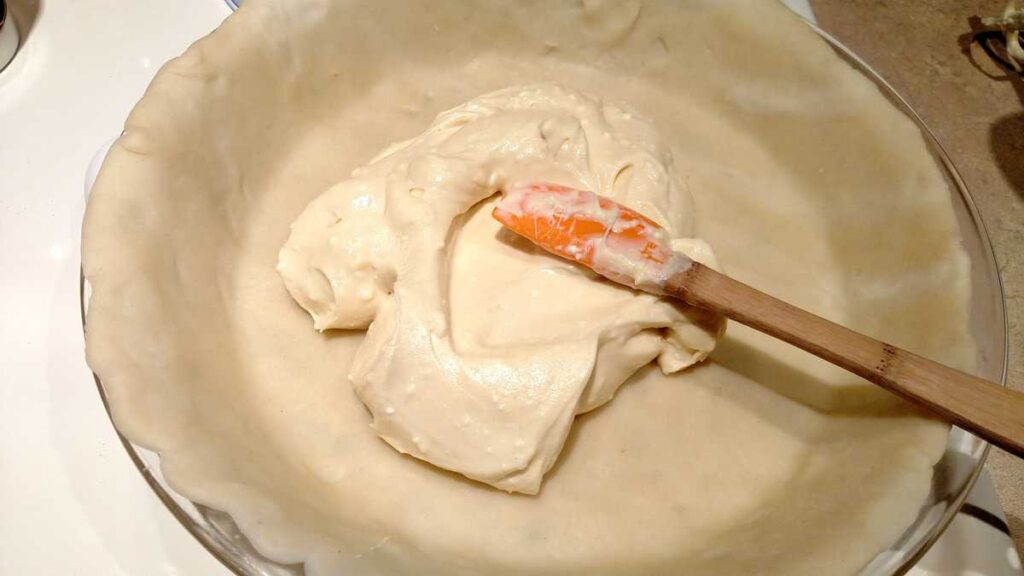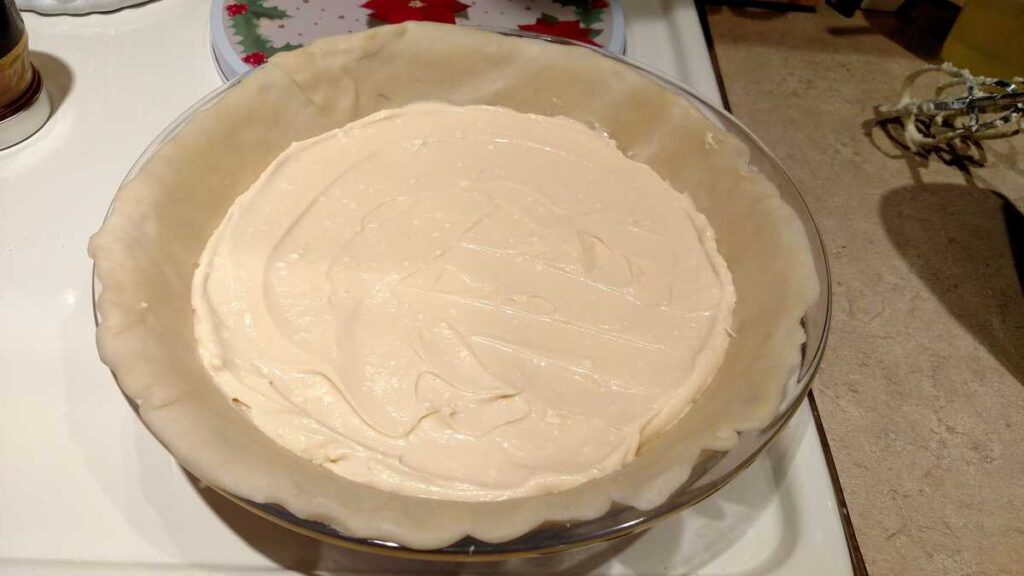 Sprinkle the chopped pecans on top of the cream cheese mixture. I like to buy my pecans whole and then chop them because they are a little cheaper that way. Also, if I need whole pecans instead of chopped, I have them already!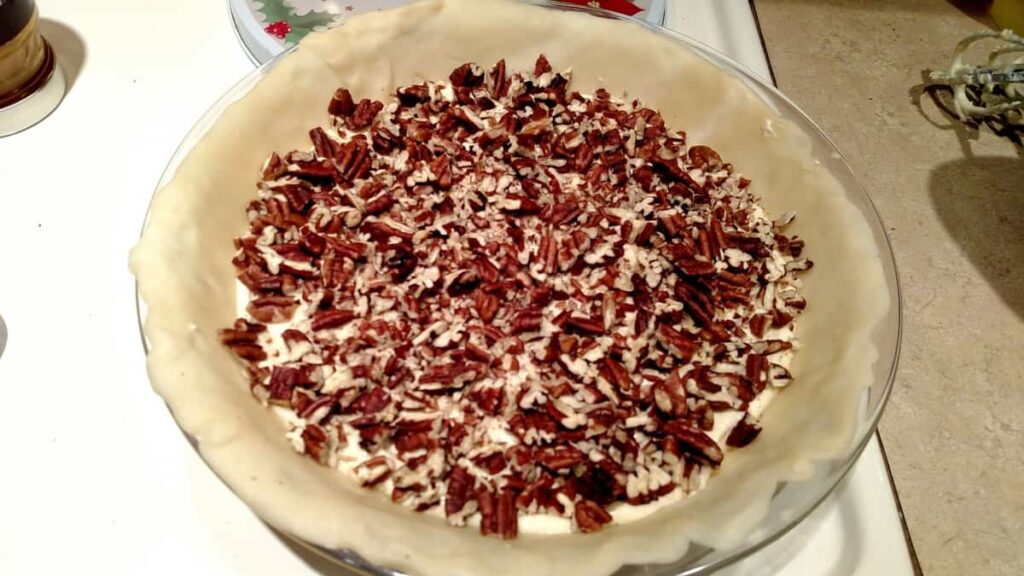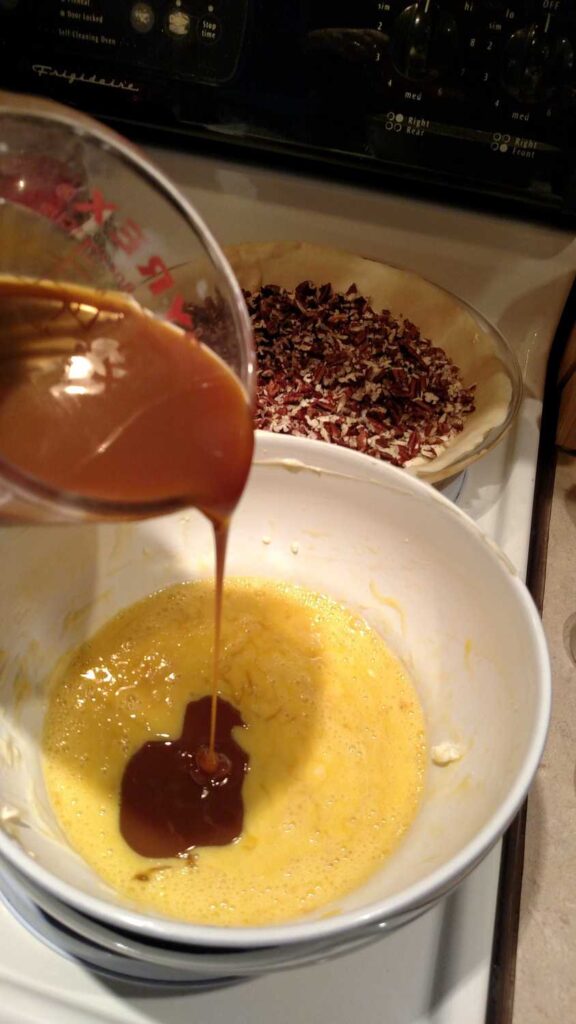 The recipe calls for 1 cup of caramel ice cream topping. You can use all of either a 12 oz or 14 oz jar. I used a 14 oz jar this time. First you beat the 3 remaining eggs, then slowly whisk in the caramel sauce. I used the same bowl because 1.) it is all going into the same pie and 2.) one less bowl to wash!
After the caramel sauce and eggs are well blended, pour it gently over the rest of the pie.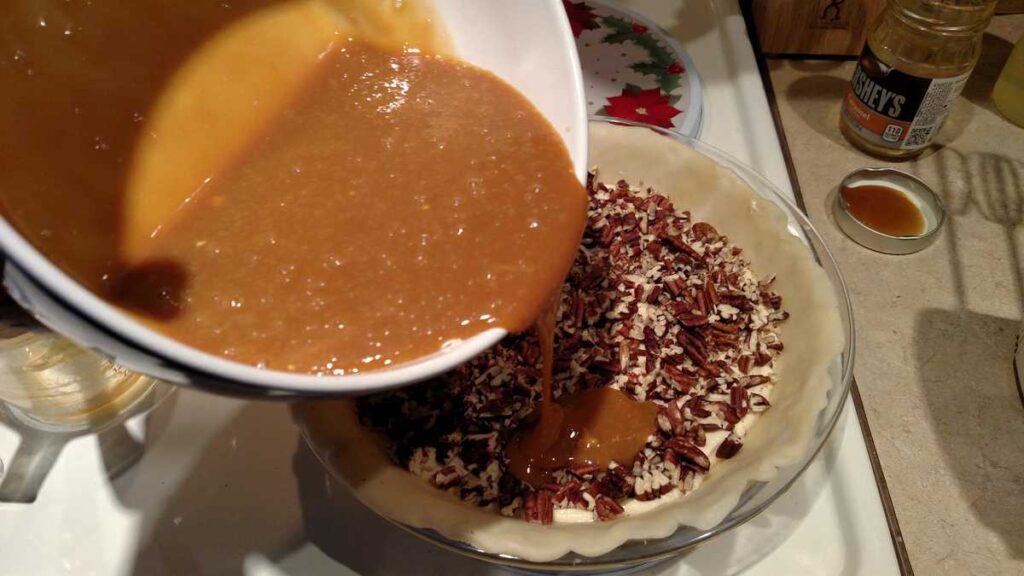 After 20 minutes of baking, you will need to cover the pie with foil so that the pie crust edges do not brown too much. After about 45 minutes of baking, my pie was still not done. You can see in the picture below that the middle still looks liquid-y. And it was. It should be rather firm and not jiggle when it is completely baked.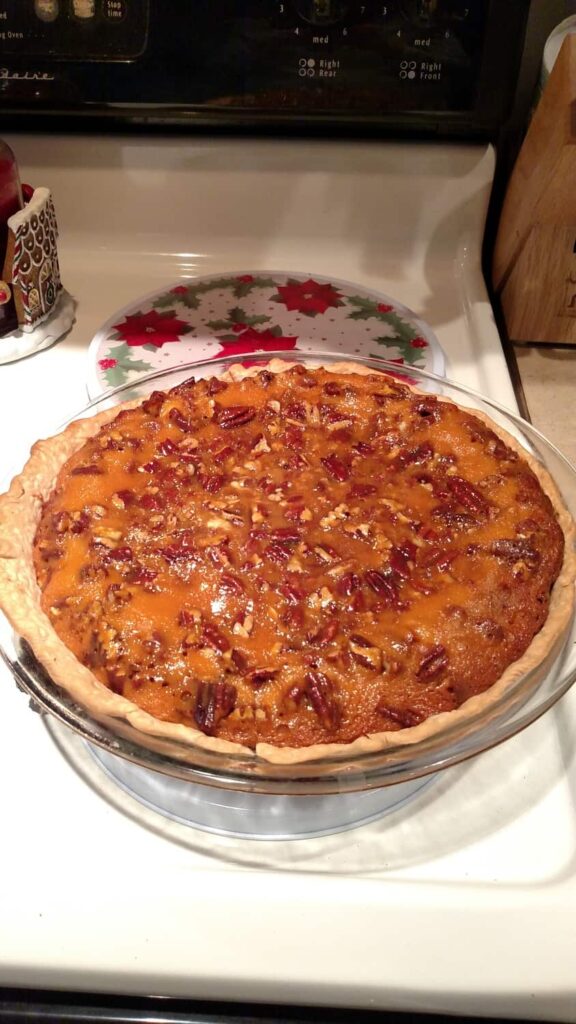 The Result!
Here it is straight out of the oven.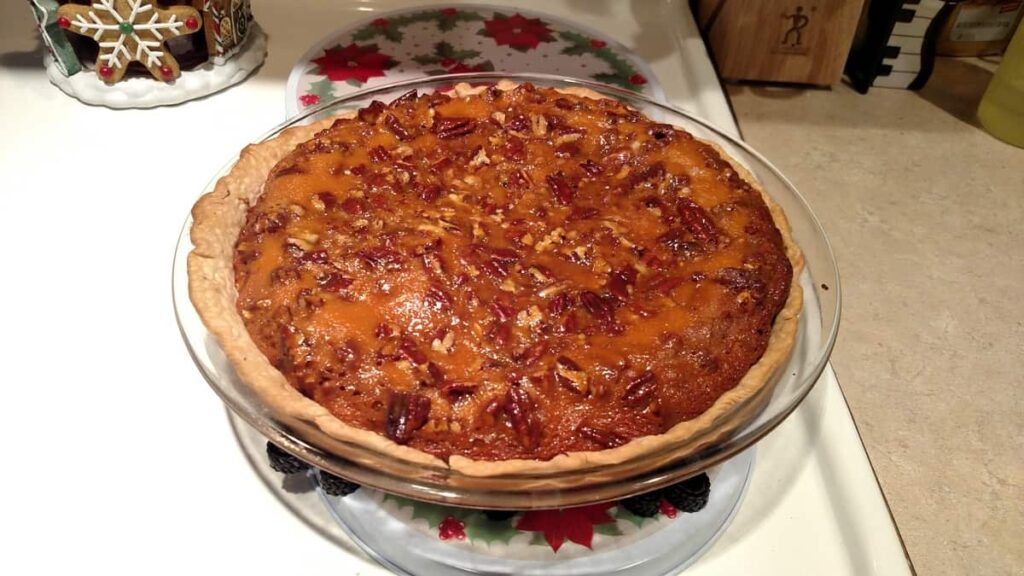 And here it is after it cooled a bit.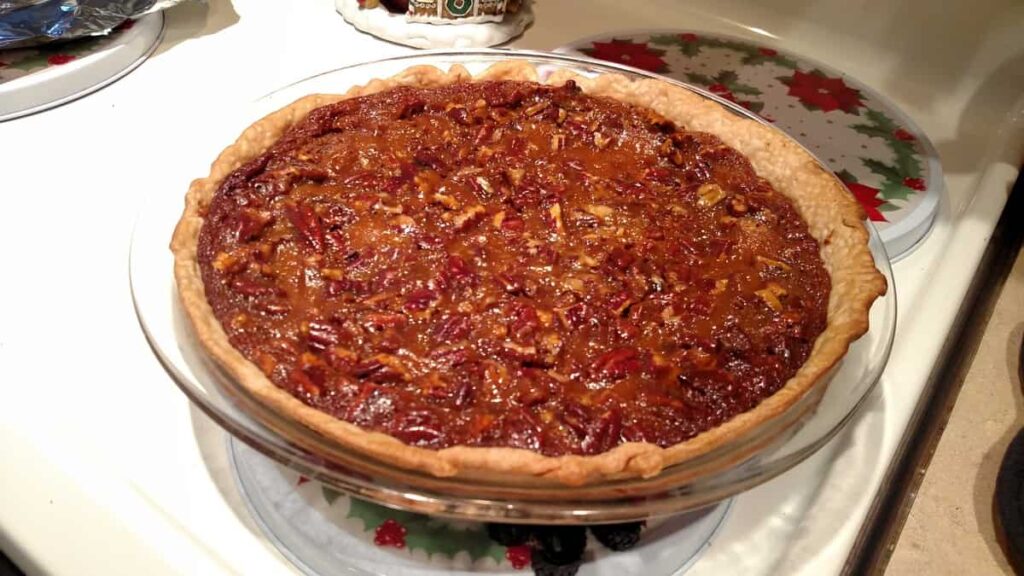 If you prefer it warm, it is just as good warm as it is cold! If you plan to serve it cold, be sure to allow time for it to cool in the refrigerator.
I made it for Thanksgiving this year along with my pumpkin pie.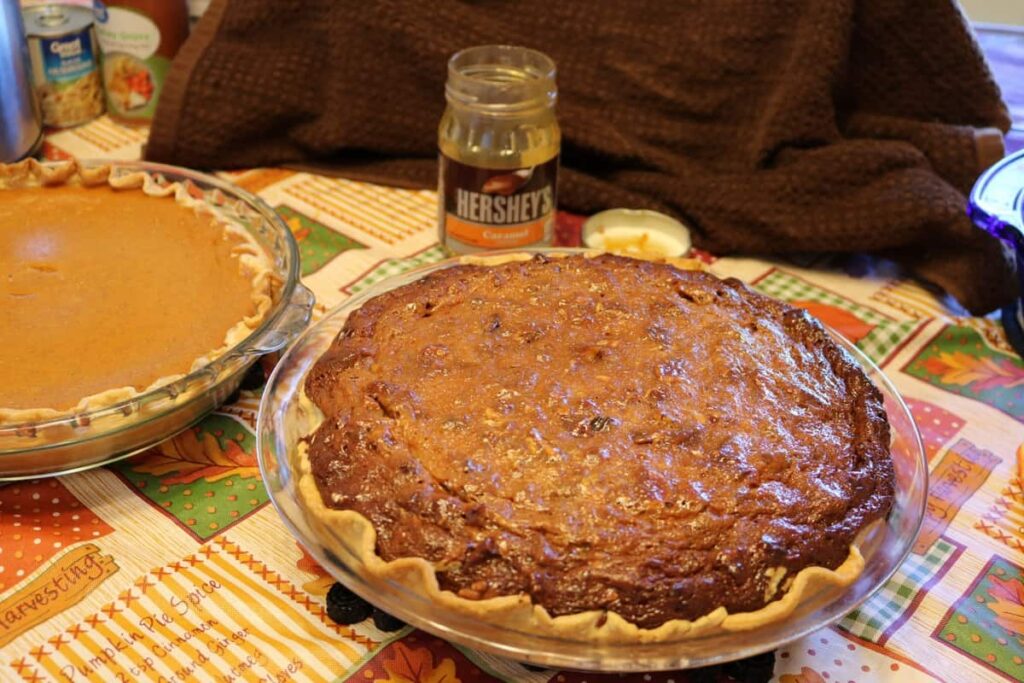 The recipe calls for a 9″ pie plate. For my 10 inch pie plate that I used here for Thanksgiving, I decided to double the cream cheese filling (adding one egg and another 1/4 c. of sugar, also). I really liked how this pie turned out!
Pecan Cheesecake Pie AFTER!!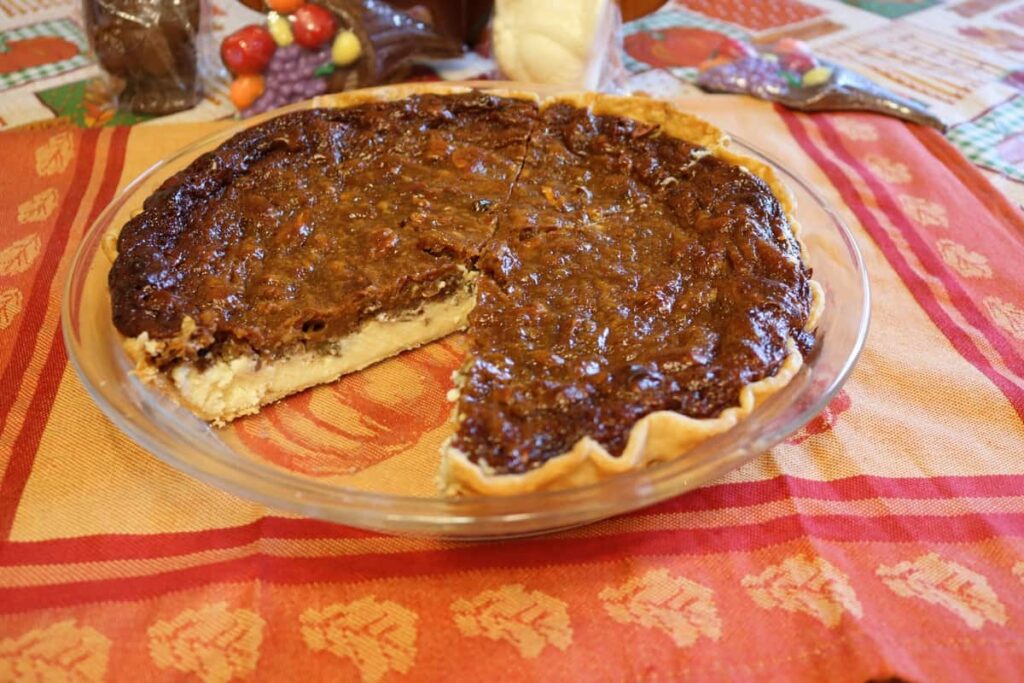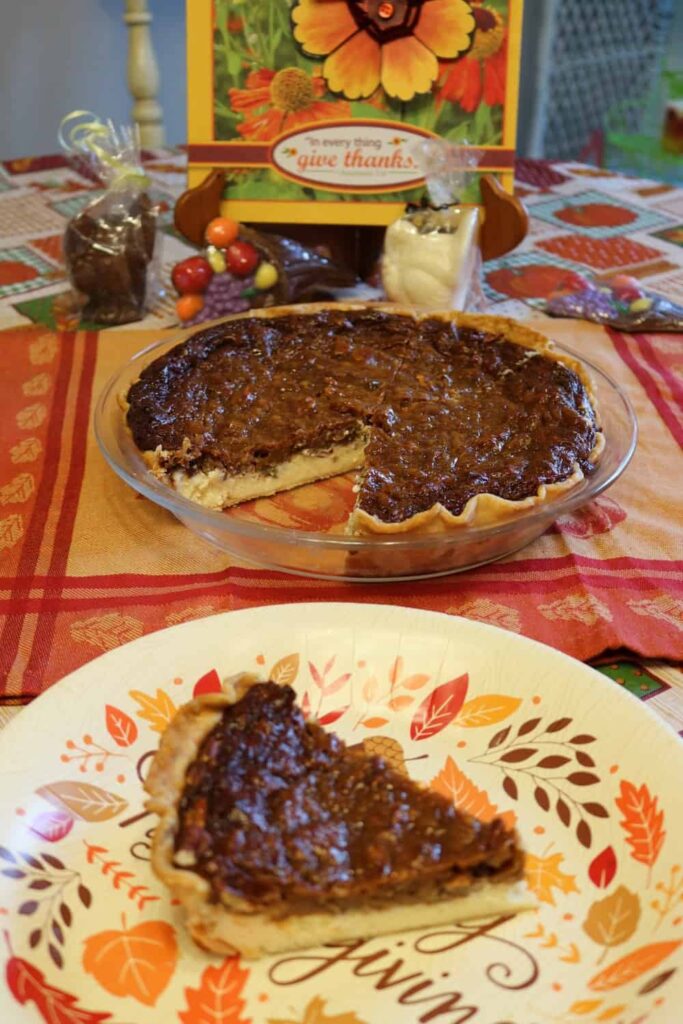 I love using Hobby Lobby's paper plates.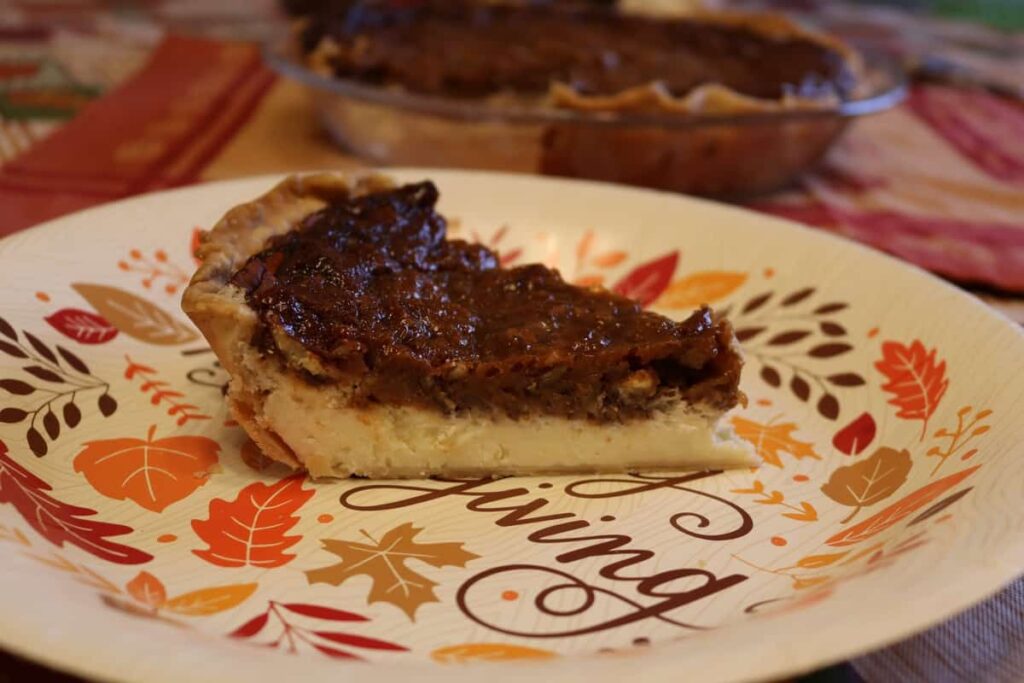 I also love using pretty napkins!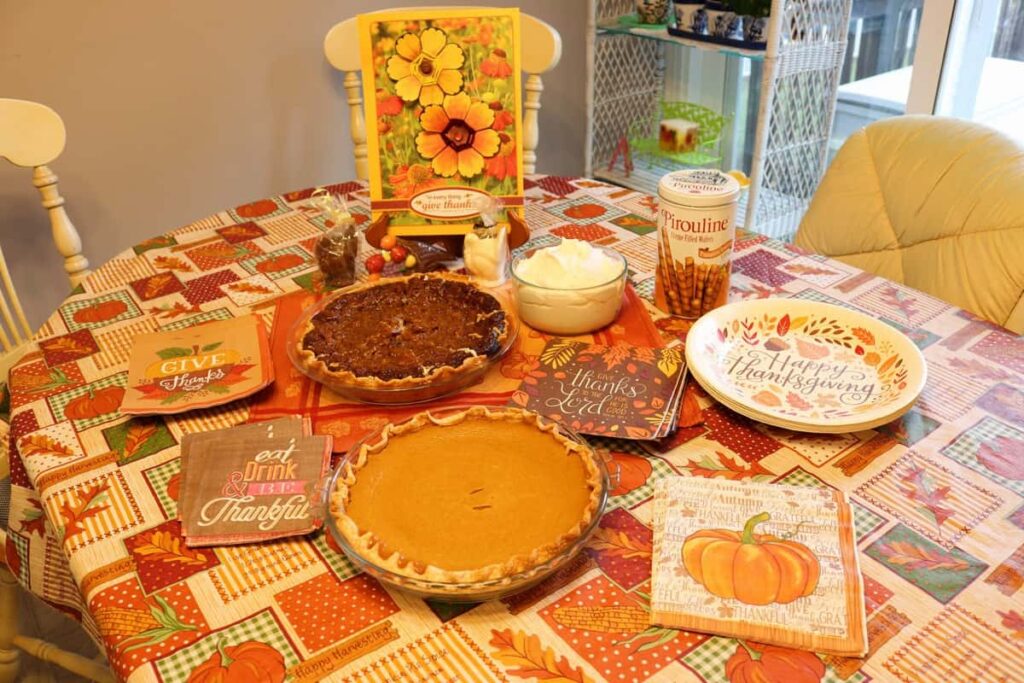 You can see that I had a good variety of Thanksgiving and fall themed paper napkins. : )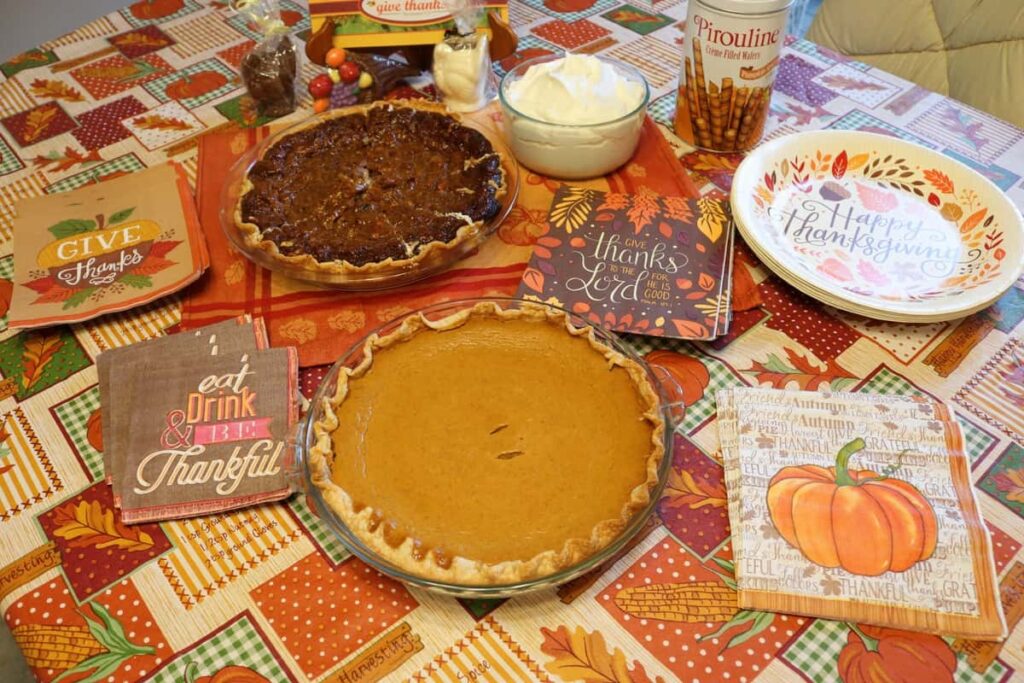 My daughter made the flower artwork for school.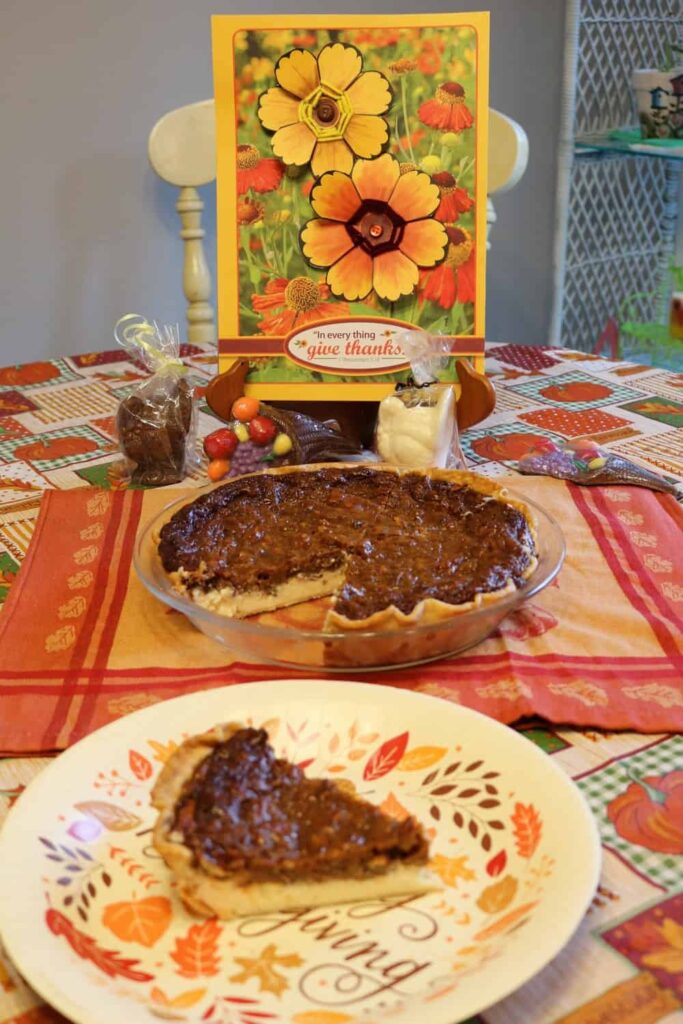 I had found pumpkin spice flavored wafer rolls. They adorned the pie perfectly.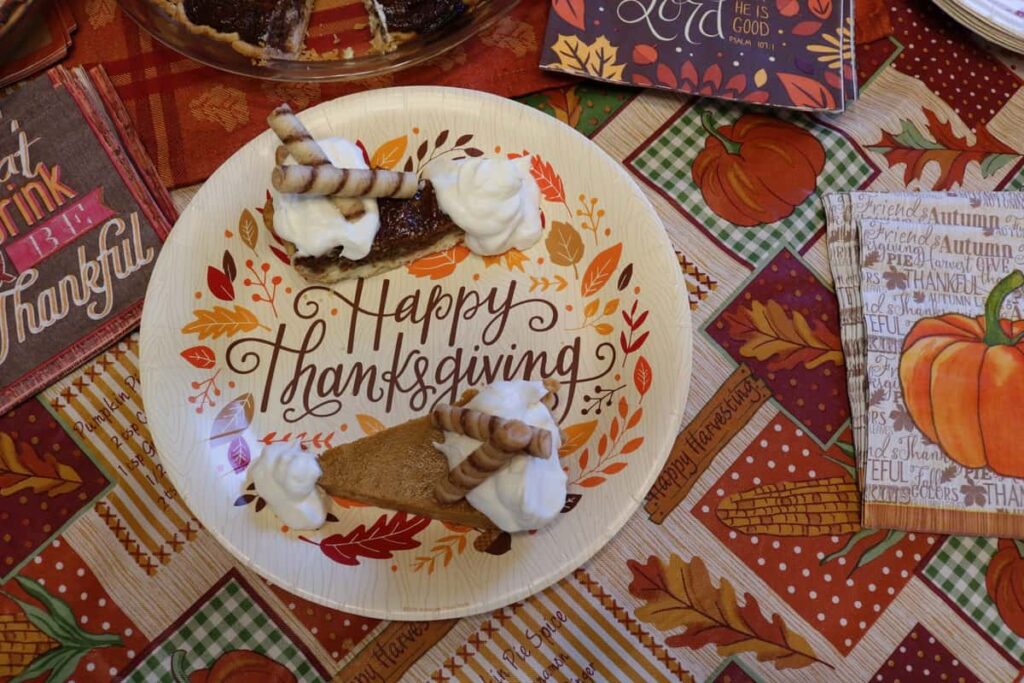 I added a tiny amount of maple flavoring (and sugar) to my home made whipped cream. It gave it a little bit of a caramel flavor that was just right.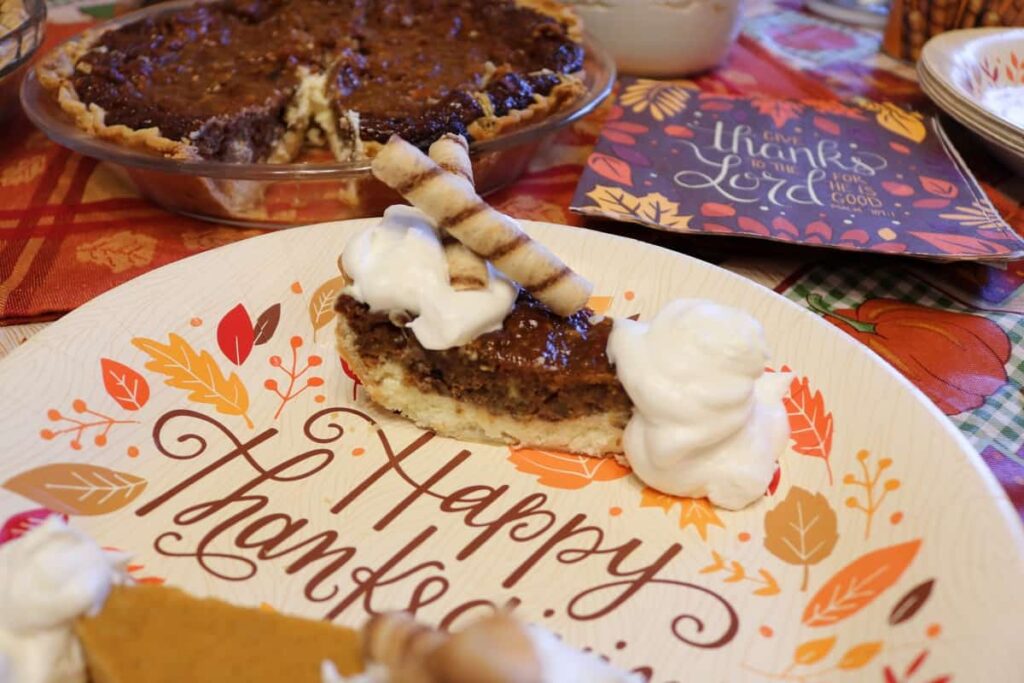 I made this pie two days before I served it for dessert after our Christmas meal. I sealed it well with plastic wrap and refrigerated it. It was delicious!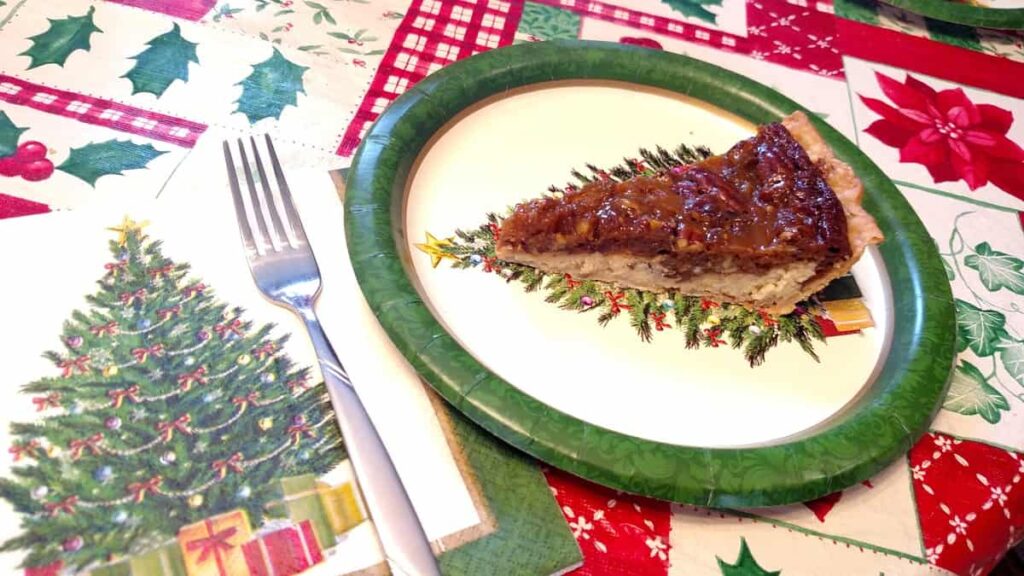 This pie is on the sweet side, but the cream cheese helps balance out the sweetness. My glass of milk helped, too!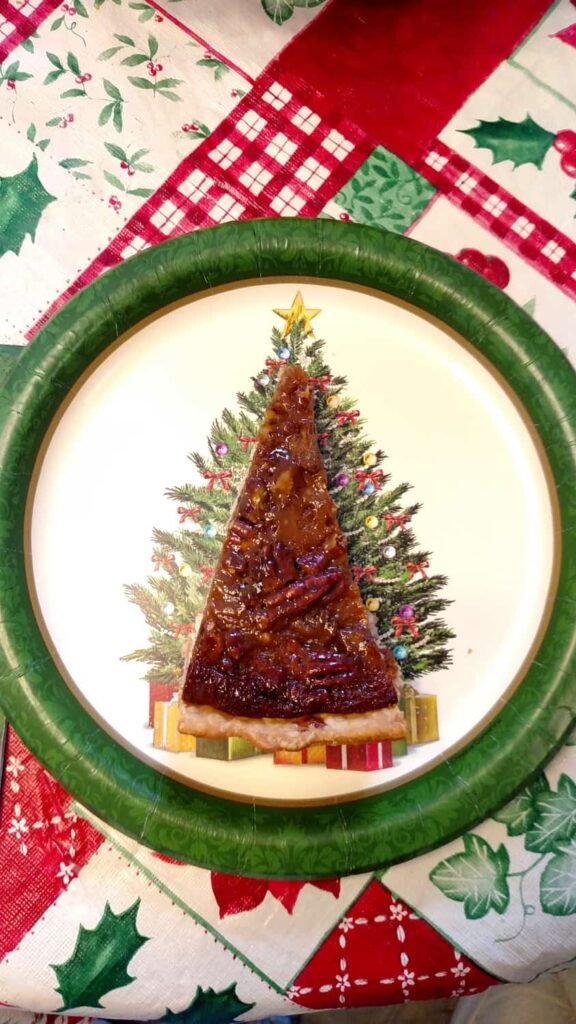 Pecan Cheesecake Pie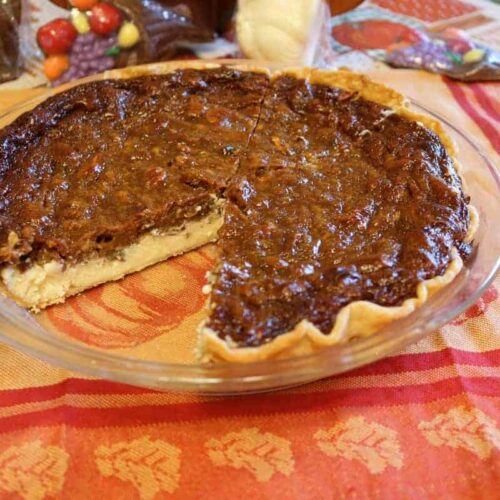 This is my most all-time favorite pie to make! It sounds complicated, but it's really not. You can use a store bought pie crust to make it even easier. Try it, and I think it will become one of your favorite desserts! It tastes amazing!!
Ingredients
8

oz.

cream cheese

1½

c.

sugar

1

tsp.

vanilla

1

egg

3

eggs

1

c.

caramel ice cream topping

1¼

c.

chopped pecans

unbaked 9″ pie shell
Instructions
Let pie shell, cream cheese, and eggs come to room temperature.

Beat first four ingredients until smooth. (If using a 10" pie plate, use an extra 8 oz. cream cheese, ¼ c. sugar, and one more egg– see directions in blog post.)

Spread cream cheese mixture into unbaked pie shell.

Sprinkle chopped pecans on top of cream cheese mixture.

Beat 3 eggs. Slowly add in caramel topping until well blended.

Pour egg/ caramel mixture gently on top of cream cheese/ pecans.

Bake at 375 degrees for 20 minutes, then cover with foil.

Continue baking for 20-35 minutes more, or until the center is firm and not jiggly.

Store in the refrigerator.
If you prefer a plain pecan pie without the cheesecake, you can find that here.

SaveSave
SaveSave
SaveSaveSaveSave
SaveSave
SaveSave
SaveSave
SaveSave
SaveSave
SaveSave
SaveSave
SaveSave